Things To Do In...San Francisco
If you're on your way to San Francisco, consider yourself lucky. Not only will this be Ricky Carmichael's last supercross for awhile, it's one of America's coolest towns. There's a bunch of fun things to do away from the stadium too, although we suggest getting to the track early and enjoying the whole spectacle of Amp'd Mobile Supercross!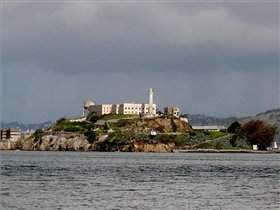 Alcatraz

Alcatraz Federal Penitentiary
www.nps.gov/alcatraz/
You definitely want to check out Alcatraz, the notorious prison which is known as "The Rock." The hours of operation vary with the season - departures are available about every half hour throughout the day beginning at 9:30 a.m. Evening tours and combined Angel Island - Alcatraz Island tours are also available depending on the season. Alcatraz is open every day, though it frequently sells out in advance, as much as a week in advance in summer and near holidays. For schedules, prices, and to purchase tickets in advance please visit the Alcatraz Cruises website.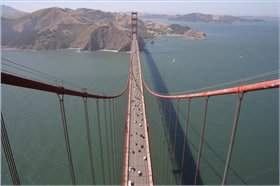 Check out this photo taken by EJ!

photo: Eric Johnson

Golden Gate Bridge
www.goldengatebridge.org
Whether you drive, walk, bike, shop, or just want to look, there is something for everyone at the famous Golden Gate Bridge, San Francisco's number-one attraction. Check out the website for more details, including things to do, directions, and history.
Fisherman's Wharf
www.fishermanswharf.org
Fisherman's Wharf is one of San Francisco's most popular destinations. It's known for historic waterfront, delicious seafood, spectacular sights and unique shopping. There's something for everyone here! (Check out Pier 32, which was the site of the first FMX event at the X Games)
Coit Tower
From Wikipedia.com:
"Coit Tower is a notable landmark built atop Telegraph Hill at the bequest of Lillie Hitchcock Coit to beautify the City of San Francisco. In her words, Mrs. Coit bequeathed one-third of her estate to the City and County of San Francisco "to be expended in an appropriate manner for the purpose of adding to the beauty of the city which I have always loved." Contrary to popular belief, Coit Tower was never intended to resemble a fire hose nozzle nor meant to be dedicated to firefighters, although there is a Coit statue dedicated to firefighters located at nearby Washington Square."
Monster Park
www.monsterparksf.com
This is what used to be Candlestick Park, home of the San Francisco 49ers. Worth checking out if you want to see a history park: It was the site of the last Beatles concert.
Cable Cars
Make your trip to San Fran complete by riding a cable car. It's an excellent way to tour the city. Click this link for more information!
Village Music Store
If you like music, this is one of the greatest record shops in the country! Cross over the Bay on Golden Gate Bridge and head north into Marin County.
A suggestion from Pingree: "Get a sourdough bowl of clam chowder at the Wharf. Or, rent some mountain bikes. Mount Tam is the place to go. Many of the trails have been closed, and I think there's even a speed limit in spots, but it's where the sport was invented."
Dubbed "America's crookedest street," the steep, hilly avenue was created with sharp curves to switchback down the one-way hill past beautiful Victorian mansions. The street is paved with bricks and is an amazing site to see
Wine Country
"Wine Country" consists of several counties just north of San Francisco, but the main destinations tend to be Napa and Sonoma. If you have an extra day and have an appetite for wine, this is a must.

Redwood City Honda Open House
Hosted by MDK Motorsports Riders Nick Wey and David Vuillemin; Meet the Top Privateer Team in the World MDK Motorsports!
This is a once in a life time opportunity to get the full tour of the only Bay Area based Supercross team, MDK Motorsports! Take a tour of the MDK Motorsports Transporttoday, January 25th from 4pm to 7pm at Redwood City Honda and don't miss your opportunity to get up close and personal with Nick Wey and David Vuillemin from 5-7pm!
Redwood City Honda will be having a tent sale all day Thursday, with savings on all the latest parts and accessories. There will be plenty of food and refreshments along with tons of giveaways! Don't Miss it!
For more information and details contact Redwood City Honda at 650-364-1104
Is Amp'd Mobile Supercross coming to your town and you have a suggestion for "Things To Do In..?" Send them over to letters@racerxill.com.