Hello, everyone, and welcome to the Rev-Up. In Hollywood, movie sequels typically leave a lot of seats empty in the theater, but in some cases, the sequel is better than the first. Take Rocky 3, for instance: who would have thought there would have ever been a tougher dude than Apollo Creed? Dude, Clubber Lang made him look like a Girl Scout! What about Terminator 2? While "Ah-Nald" was pretty harsh when he cut out his own eyeball in the original, he was even more badass when he asked Edward Furlong to "Lowah me into da steel" in the sequel.

James Stewart has pretty much been Rocky, Terminator, and Rambo all rolled into one unbeatable winning machine so far in 2007. And without Ricky there to stop him, it could get ugly as we speed into Anaheim 2 this weekend for the sequel (and it will be almost impossible to match the drama of those first five laps at the opener, or all twenty in Phoenix, even if he was). Yes, we will be missing one of the main characters, but I think we are still going to see a show worth its salt. Chad Reed's been on the mend, and he is going to have to step up and do a better job than the guy who replaced Wesley Snipes as Willie Mays Hayes in Major League 2, but I think he's up to it. There is a lot to get Revved Up about for the upcoming show in Anaheim 2, so let's get it on.
Supercross Lites
I don't care what you say, I am not wearing one of those cowboy hats.
photo: Paul Buckley
It only took French import
Christophe Pourcel
two races to get a win. Two races! The scary thing is,
Ryan Villopoto
was pretty much perfect at the season opener or #377 could have very easily been two for two. I see a battle of supremacy shaping up between these two as we return to the Big A. Villopoto had some problems in Phoenix, but Pourcel looked fantastic—especially when he wheelied into the first rhythm section each lap after the finish-line doubles.
Behind them, a power struggle has begun for the third place on the steps.
Josh Grant
was a mess in Phoenix, and there's no way he's going to finish out of the points three weeks in a row—he should be right up there with all those Pro Circuit Kawasakis (and kudos to Li'l Goose!).
Josh Hansen
seems to want it pretty badly, but he needs to fix the fade (which has to do with his still-sore collarbone) if he wants to get big orange on the podium.
Jason Lawrence
is riding really well and could be a guy to keep your eye on if the Monstrous duo of RV Park and C'Pour tangle. And DC came back from his West Coast tour with nothing but big words about Mathew Lemoine. There is a lot of fire in this class, and we should see a brawl no matter what the finishing order is. Fourth place through 22nd is tighter than Erin Bates' polo shirt!
Supercross
Does anybody remember the 2004 season? Chad Reed and Kevin Windham sure do. Three years ago, those two put on a spectacular show, trading main-event wins and battling for the title all season long. What was unique about that year? Ricky Carmichael was absent. Even so, they still sold out Anaheim three times and all saw great shows. And while there has never been and probably never will be anything like "The GOAT" and "The Future" going toe to toe, I don't think this weekend's main event is going to be a runaway.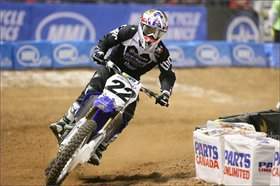 We need to see the Chad Reed that showed up in Toronto

photo: Paul Buckley
One of the most interesting quotes I have heard at the press conferences this year was one of the big three saying, "It seems like we only ride up to the level of our competition." I see some merit in that statement. James will grab another gear if he has to race Ricky, but I have seen him at his most vulnerable when he didn't have to push it. Remember in 2004 when Roncada passed him and almost beat him at Las Vegas, and then again at
Hangtown
? Remember what Everts did to him last September at the MXdN? Sprinkle in some crashes he's had while being clearly faster than anybody on the starting line, and I would make sure to watch till the credits roll this weekend.
I don't know, though. I'm basically just trying to rile you all up with that noise. James looks absolutely fantastic on the bike. Smooth and methodic, yet utterly relentless. The cool thing about "Stew" is that he is just about as exciting to watch with a 20-second lead as he is battling bar-to-bar with RC or Chad. Number 7 knows how to rock the house. One thing is for sure: there won't be any empty seats for this sequel.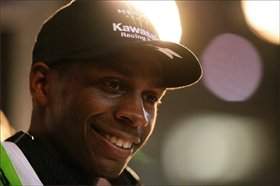 James deserves to be smiling
photo: Paul Buckley
And I have one request to the censorship board: no more helmet-cam endo shots! Watching DV12's ugly, ugly get-off was hard, man.
A motley crew of motocross madness will pack the big A once again this Saturday night, so shut off those cell phones, grab your popcorn, and sit back - the show is about to start.