Privateer Profile: Dennis Riley
Although he's not a privateer racer, Dennis Riley is a very important person in helping them. One way he's doing that is with www.mxresultz.com. Dennis is the founder and CEO of the site, so we spoke with him today to get the story on it. The site is free to join, so be sure to check it out.
Racer X: Dennis, we've been hearing a lot about MXResultz.com. You're the founder of the site, so give us the scoop.
Dennis Riley: The website is a tool for motocross racers, both amateur and professionals, to be able to promote themselves and their sponsors in such a fashion that they're able to project a professional image. They're able to do so without a lot of work. So it's a fairly painless process to where these racers could build a profile, come to the site on a weekly basis and distribute their results with a click of a button to everyone they have on their distribution list.
Where did the idea for this come from, Dennis?
I have been in motocross for a long time myself, and as I pushed past the age of 40 and realized I wasn't going to beat Ricky Carmichael, some of my efforts turned towards supporting some up-and-coming privateers. One of those riders that sticks out is Kevin Markwardt. Kevin was a very fast rider that didn't know how to get support. He knew how to ride but needed some help to get to the next level. So I began doing race reports manually for Kevin. I slowly began to automate it. The reason it made sense for me to continue to do this is because Kevin went from a guy that had a two-year-old bike to a rider who was picked up by a big local shop in Wisconsin and even got support form Suzuki. All of this came about because of his ability to market himself. When the dealer told me that their decision to sponsor Kevin had everything to do with the race results that he gave them every week, I knew there was a need out there that needed to be filled.
Have you found that there are a lot of shops and companies out there that would like to see this service for race results?
Yes. We currently have large sponsorship programs in place with FMF, UFO, DeCal Works and Twin Air. Additionally, we have team involvement with Tuf Racing in the AMA Arenacross Series, and just last night we had the GPS Arenacross team sign up with Brad Ripple. But our biggest project is the MDK/Yamaha/WWR program. Over the past week we have been importing all 24 riders in to MXResultz.com and MyMotoSpace.com. The entire team will be housed in both of our websites, and when you want to check results and do anything with the team, you just go to the MyMotospace.com team profile, and you'll be able to get all of the results. The Team profile still has a few bugs we're working on but you can check it out at www.mymotospace.com/srt.
Before we get any further, how much does this service cost a rider?
Great question. It cost me a whole lot of money, but it doesn't cost them anything! Our intent is not to charge the riders for any of our services.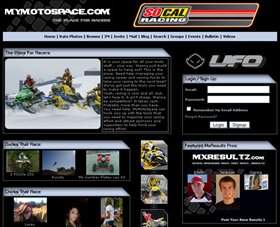 Dennis also founded MyMotoSpace.com

So all a rider needs is computer access and an e-mail address, and they can sign up for MXResultz.
It's as simple as that!
Another interesting feature I noticed is the ability for a fan or sponsor to donate money to their favorite rider. Can you explain that?
Yes, that's correct. And not only can they do it from accessing the profile of a rider, but when they receive the race results in their e-mail, they can click right there and donate money directly to the racer.
So if a sponsor would like to reward a rider for a win, each time they get a race result that shows a first-place, they can donate, say, $20, just as a little bonus. That's a very cool idea.
Exactly. But not only that, what really gives the sponsors some good tools to recognize good riders is the MXResultz site ranks riders according to how well they promote their sponsors, which is unusual in the racing world. We usually rank people on how well they do in the results. But we actually have a ranking system that is visible to everyone on the race results, that tells people how good this rider is at getting results out on his subscribers list. And when people are deciding sponsorship contracts, that's a very useful tool.
Not sure if you read the feature, but we ran a "Where Are They Now" with Jeff Glass, who was a pioneer in the '80s with bringing corporate sponsorship into motocross with Surf laundry detergent. Jeff wasn't the fastest guy on the track, but he did a fantastic job at promoting his sponsors.
He was a great guy. He raced back in my time, and I followed Jeff really close.
Now, say a sponsor wants to donate some money to a rider through MXResultz. Where does the rider get to use that money?
Right now we have a Parts Unlimited store in which they can use their funds in at an amateur level. So if you're an amateur, the money you generate on the site is matched by MXResultz up to 75 percent, depending on your rank within the system. That money can be used to purchase products in the store on the website. For pros, we offer direct cash. So if someone donates to you and you have a professional license, the money goes straight to you.
Speaking of pro riders, you have more than a few using your website already. Can you name a few?
Sure. David Vuillemin, Brock Sellards, Jimmy Albertson, Danny Smith, Justin Buckelew, Kody Molitor, Dennis Jonon, Jacob Saylor, Ted Campbell, Chris Blose and all of the Wonder Warthog Racing riders.
What is the response like from the riders?
They love it. They love how easy it is to use, and that they're able to keep the people in the loop who are always interesting in their racing, whether it's their neighbor, family, or sponsors. It's a way they can safely and easily keep everyone in the loop. This is a site for them, and they control all of the content. They can control how they market themselves, and prior to this they had no idea how to do it. We also have a lot of parent's on the site. It's just a great way to show how you're doing.
And with today's technologies, kids can upload digital images to the site as well, right?
It's actually even more extensive than that. What gets e-mailed is the rider's profile, so there's no photos to click on or anything. The profile is like a static website that gets sent out, so whichever photos they have uploaded, which they can change every day, is the photo that gets e-mailed. They can also drop html code into the comments box, so Mom and Dad could have the video camera and shoot some footage of that particular event, and on Sunday night they can upload it to YouTube or whatever, and then take the code and dump it into MXResultz, so that rider can really have a customized result that goes out.
It really sounds like you're on to something here. Have you been advertising this, or how have you been getting the word out on MXResultz.com?
Well, we attend events in the Midwest, but most importantly the biggest promotion we're tackling right now is that we are a very integral part of the MDK/Hog Haven/WWR racing program, and most of our efforts over the past few weeks have been going into building a home for them. Our intent is to get out to these races and be able to provide an interface where the fans can communicate with this privateer effort and these individuals, so it becomes a more personal interaction with these fans. And because we're a grassroots effort, word of mouth is our biggest tool, and our numbers grow everyday because of it. We grow over one hundred members a day, and our membership right now is 12,000 riders who send out results to around 15,000 supporters.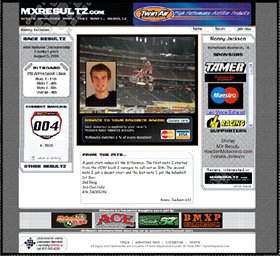 Ronny Jackson's MXResultz page

What's in store for MXResultz.com in the future? This site is pretty new, since you only started in July of 2006.
There are big plans that we have in place for 2007. The biggest one is a program that will allow amateur and pro riders to be able to get debit cards, so when money is donated to them, it will automatically go on their debit card so they can pay for tangible items like gas or groceries. We also intend to take MXResultz.com and create more of an environment to where they can create more detailed resumes and have continue to have links to MyMotoSpace.com, so people can also build their resumes on that environment also.
For people who don't know, you're also the man behind MyMotospace.com as well, so how are things going with that?
Everyone is quite surprised at how well MyMotoSpace.com has been received. We were pretty surprised to see the numbers grow as quickly as they did, but I think we're more surprised at the numbers it generates. It has a different appeal and it's able to coexist with a lot of the other motocross sites. It's not really industry insiders or even pro racers—these are just pure enthusiasts and supporters of the sport. It's a great environment and has all of the features of other more popular community sites, including html, instant messaging and chat capabilities. It also has a place to display your MXResultz in your profile.
Well, there's a big weekend coming up, and you probably have a lot on your plate for Anaheim 1.
I'm flying out tomorrow, and I'll be in California till Tuesday to meet with prospective advertisers and current supporters of the site.