Where Are They Now: Jeff Glass
December 29, 2006 11:03am
Jeff Glass is to outside sponsorship in motocross what
James Stewart
is to the scrub. Long before
Ricky Carmichael
's RM-Z became a flying billboard for Makita, and before
Chad Reed
started running a dreamcatcher on his radiator shroud, Glass was the man flew the bright orange-red-and-yellow Surf Laundry Detergent flag.
The Duncansville, Pennsylvania, native turned pro in 1983 and by 1985 realized the factories didn't want him. Glass could have toured the country, busting his hump for paltry purse money and barely breaking even, but he instead decided to find someone who'd give him a paycheck.
After meeting with several different corporations' marketing teams, Glass finally struck a deal with the brass at Lever Brothers, who wanted Jeff to promote their Surf Laundry Detergent. He showed up at the '86 Southwick National with a brightly colored Honda with Surf logos all over it.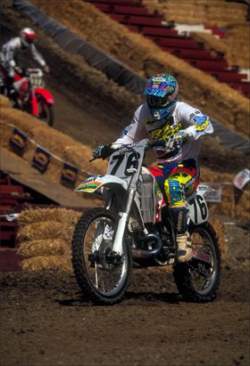 Jeff Glass at the L.A. SX in 1992
photo: Davey Coombs
Over the next decade or so, Glass became synonymous with Surf and was hailed as an early champion for privateers. The ever-happy racer/manager/team owner never nailed down any major wins or championships, but he certainly earned his share of fame and respect.
Today, Glass still resides in Duncansville, near Pittsburgh, with his wife, Ginny, and two young daughters, Sydney and Sawyer. Although he's not directly involved in professional motocross, he occasionally pops up on the radar. In the recent past he's been part of Plano Honda and ran a marketing company called AST, which landed Ricky Carmichael and Jeremy McGrath signature T-shirts in stores such as Wal-Mart. Glass also has business interests in the real-estate industry and owns a company that builds sports fields up and down the East Coast.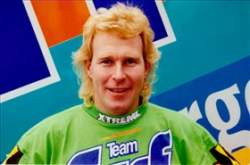 Jeff Glass circa 1990
photo: Davey Coombs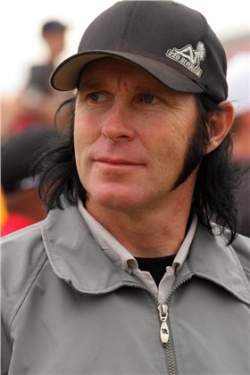 Jeff Glas today
photo: Matt Ware