Time to take one last look back at 2006, plus a look ahead.…
As you might recall, a month ago here on Racerhead we did our Best/Worst of 2006 before the Toronto SX, where we mentioned some of the funny stuff of the year. But '06 wasn't all good, as you are no doubt aware. With that in mind, I thought I would list here the ten things that were not so great.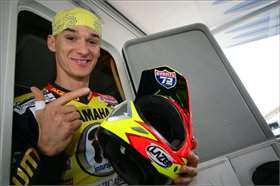 We salute Stefan Everts
photo: Simon Cudby
10. After ten titles, this is the last we will see of
Stefan Everts
. He's the best there ever was from over there, the last of the Grand Prix gladiators. He was a class act, and the entire motocross world will miss seeing the smoothest style ever (sorry,
Dogger
,
K-Dub
,
JMB
—Everts gets my vote).
9. More riders signing "supercross-only" deals in America. My opinion is that until you're someone like Jeremy McGrath and have championship motocross credentials, the nationals still matter to the fans and the OEMs. But the nationals must have a better TV deal, for starters, to make them more worthwhile—supercross already occupies seven months of the year, and nobody can be faulted for wearing out.
8. The slow extinction of two-strokes is now almost complete as the CRF150R is introduced just before the AMA Board decides not to give two-strokes a better chance (and the riders who still have them a more level playing field) by not accepting AMA Congress' recommendation to put all 250s—two-stroke or four-stroke—in the same class.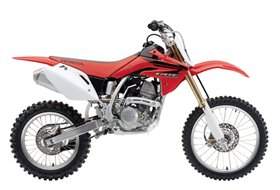 The little red rocketship
7. The whole "Ricky's bad gas" penalty in supercross and the ensuing confusion that surrounded his getting the points back.
6. Jeremy McGrath not pulling a very big crowd for his first invitational supercross, then compounding his disappointment with a frighteningly bad crash that left him with a fractured neck.
5. Ricky Carmichael's final full season ending in the Asterisk Mobile Medics' rig with a bum shoulder. Now he's a part-timer, which means his 15th major title—2006 Toyota AMA Motocross Champion—is his last on two wheels.
4. James Stewart gets slammed and even insulted after the Motocross des Nations for riding for the team and coming home with the trophy he went to England to get: the Peter Chamberlain Cup. Then the ridiculous rumors that Team USA would not show at the MXdN if they were tested for sound/fuel/drugs. I have a feeling Stewart will approach the '07 MXdN at Budds Creek with a much different attitude. As James himself might say, it's on.
3. The increasing problems we're having all over the world with noise. If we don't tone it down, communities are going to shut us down.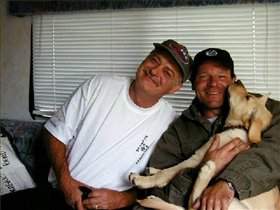 The late Jim Pomeroy and Marty Moates
photo: Courtesy of Keith Lynas
2. Two of the "First Americans" are gone:
Jim Pomeroy
died in an auto accident at age 57 and
Marty Moates
committed suicide just before his 50
th
birthday.
1. The devastating, career-ending injuries to James Marshall and Ernesto Fonseca, along with terrible injuries to a few young men who never really got the chance to shine. All are brutal reminders that racing can be a cruel mistress.
Now it's time to guess what some headlines and stories we will be covering in the future….
The first big battle of the year involves James Stewart's helmet, Red Bull, and Monster Energy Drink. In a nutshell, Stewart rides for Red Bull, and he owns the real estate that is his helmet. But Kawasaki just did a comprehensive deal with Monster Energy Drink that will make his bike (and all Team Green bikes, off-road bikes, road race bikes, and Pro Circuit bikes in the Kawasaki family) wear Monster logos. This will be the biggest story before the gate falls on Anaheim 1. Who will win? Ultimately, James Stewart.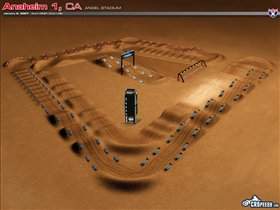 Look for more of Mike Fisher's track maps, presented by Progressive Insurance.
The live TV showing of Anaheim 1 is a smash success for the sport and the series, which can use a pick-me-up after the death of President Ford and his funeral (set for tomorrow) causes a pre-emption in some major markets of the CBS Supercross Preview Show.


With the points lead, Ricky Carmichael makes good on his word to park his Makita Suzuki after Phoenix, skipping Anaheim 2. He's back for San Francisco—that's his homecoming race for Fox Racing—then he will do Atlanta. By then, it will have sunken in: Ricky's almost done.
The Lites West is a war between Ryan Villopoto and Josh Grant; the East is between Broc Hepler and Brett Metcalfe and Mike Alessi.
A bidding war erupts over the services of Villopoto, who proves that 2006 was no fluke. Smart money is on green. But then again, isn't all money green in this great nation?
Josh Coppins wins the MX1 world championship left behind by Stefan Everts while Tony Cairoli avenges his '06 defeat by Christophe Pourcel in MX2, then both pack their bags for America—Tyla Rattray is not far behind in both cases. MXGeoff Meyer needs a hug.
Jessica Patterson and Tarah Gieger and Sarah Whitmore and Leah Cantrell all battle with Katherine Prumm for the WMA title. This might be the best title bout of the season. Who wins? Everyone in women's motocross. (And the very capable Ashley Fiolek is just a year from joining the elite of the WMA.)
Jo Jo Keller wins the +45 class at Loretta Lynn's.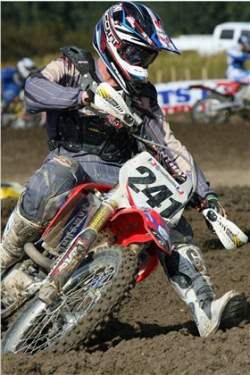 photo: Glenn Gardner

Trey Canard turns pro and actually does better in his debut that Josh Hill or Ryan Dungey did last year, though not as well as James Stewart did at Glen Helen back in 2002.
Stewart takes control of outdoor motocross in America, though he gets a spirited challenge from Kevin Windham, who sees this as his last shot at an AMA Motocross title.
Carmichael's last race sees him line up at Budds Creek for Team USA with America's two new AMA Motocross Champions, James Stewart and Ryan Villopoto. They kick ass, with Stewart leading the way. The internet implodes.
Travis Pastrana repeats as national champion—of rally racing. His motocross racing career is officially over.
That's it—those were just guesses, of course, but it's always fun to make predictions.
Now, let me point you to a great pictorial year-in-review by Racer X contributor Trevor Hawk: His 86 Best Photos of 2006.
Also check out his favorite RC sequence.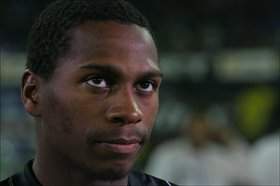 James might be the Man of the Year at the end of 2007
photo: Matt Ware
We got this note from reader
Gary Kennedy
: "I was just on MXLarge and they have a link to www.Vitalmx.com. This site has the ABC broadcast of the 500 USGP which
Marty Moates
won. Granted the video is grainy, but if you didn't see it when ABC's
Wide World of Sports
aired it in 1980, it is still cool to see."
And finally, two sad notes to close the year:
You may want to know that Michael Burlingham, 51, well-known and respected motorcyclist from Michigan, died Tuesday eve in a private plane crash in Tennessee. He was en route to Florida after spending Christmas with family and friends here in Michigan. Mike was a former president of the much lauded Cycle Conservation Club in Michigan, with a great deal of involvement in Michigan's extensive offroad trail system. Godspeed, Michael.
Glenn Jaffas
Is there any way you could post the passing of Herman Loaiza #71? He was a well-known local at I-5 MX in Gorman, CA, and was killed in an automobile accident on 12/23. Thank you.
James Boldizar
Let me turn this over to Ping right here…
2006 has been a rough year. We've lost so many great people in the industry, and had so many bad injuries that it's made it a difficult year for a lot of people. Today, Cahuilla Creek held a ride day for one of the great guys that left us too soon, Darin Matoda. Darin was the Bell Helmets rep and he and I got to be friends during the 2003 season when I rode for Motoworld Racing. He was one of the friendliest guys at the track and he always had a smile for you. He is one of the people that this sport will truly miss.
The battle over riding areas in Southern California continues and the latest casualty is Michael LaPaglia. Michael has his own private track on a multi-acre property in Murietta (a suburb of Temecula). He and his father have all the permits that were required to build the track and the city law even states that you may have a motocross track on your property! The law was created to keep people from riding on other people's property.
Still, the sound of bikes became too much for at least one neighbor and an injunction has been given to the LaPaglias, affectively keeping them from riding on their track. They intend to argue the situation with the county but, for now, it isn't good. The new decibel law that was passed this summer is still tied up in court. A lawsuit was filed against the county claiming that the law was unfair. The law states that you cannot operate any machinery that produces more than 50 decibels of sound at your property line (with the exception of yard-care equipment). Fifty decibels is just slightly quieter than the sound of a hairdryer, to give you some perspective. It is obviously aimed at motorcycle riders and if it becomes law it will be a huge setback for motorcycle enthusiasts in a county packed with motorcycle enthusiasts.
As for me, the guy that puts the "ass" in assistant editor here at Racer X, the last few days have been tense ones. My wife was due to have our first child yesterday but as of 2:00 p.m. Pacific time on Friday... nothing. I've heard all the statistics about how much a child will cost you over the course of it's life and all I'm asking is that she gets here before the first of the year so I can get the 2006 tax deduction. Is that too much too ask?
Back to the waiting room, Ping—and good luck!

Also, this just in:
MX Sports announces the official rulebook and classes for the 2007 Air Nautiques/AMA Amateur National Motocross Championships at Loretta Lynn's. Rulebook changes include redefined rules in the Stock Class, and rules regarding the eligibility of the Honda CRF150R in specified classes. Class changes include: adoption of new names to reflect AMA Pro Racing's Motocross and Motocross Lites designations; the Vet 30 class gains B/C designation, and all 30+ A riders will run the 25+ class; and the schoolboy class has now been further redefined into two separate age classes.
The full rulebook and class list are listed below. They act as a supplement to the AMA Sports Amateur Competition Rulebook. For more information, check out www.mxsports.com.

Thanks for sticking with Racerhead for another season. Next year will be bigger and better than ever. I promise. Happy New Year, everyone.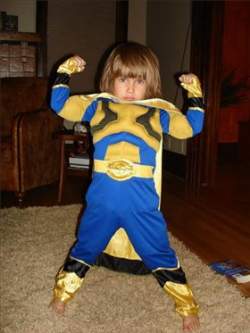 Kid Power
photo: Coombs