This is as off-season as it gets here in America, but there are still riders scattered all over the planet racing. For instance,
Nick Wey
is racing in Barcelona, while
Jeremy McGrath
has headed Down Under to race in his old friend
Chad Reed
's last two Australasian Supercross events. And even
Jason Lawrence
is getting back on track—he flew to Italy on Wednesday night for this weekend's Genoa Supercross.
J-Law
down on the phone yesterday, just as he was boarding the airplane to fly across the Atlantic. I think I was as surprised as he was! "Well, you got me," he laughed when I asked if it was
the
Jason Lawrence
on the phone. "We're going to Genoa, Italy, right now to do a little race. I went last year. I've been to Italy maybe three times. This race is totally cool. It's like a real small arena and the crowd is crazy, so I'm pumped on it."
In case you're wondering, Lawrence's suspension ended the Tuesday after
Steel City
(Labor Day was Monday) when his fine was paid. He could have raced the U.S. Open in Las Vegas but elected not to. Now he's based himself down in Tallahassee, where he is riding under the watchful eye of fellow Monster man
Ricky Carmichael
. He will be riding a black Yamaha of Troy bike, with Wey as his teammate….
Okay, scratch that last part. There has been some discussion about Lawrence setting up shop in Tallahassee, but according to someone very, very close to the Carmichael Camp, no one has seen
J-Law
just yet, and they aren't sure if they ever will. As it stands,
Ben Townley
just got back to town after a trip home to New Zealand, followed by an extended training visit to
Jon Tomac
's place in Colorado. Now Jon and his Factory Connection Honda-backed son
Eli
are in town, headed for the Mini Os this weekend in Gainesville.
Also back in town is Townley's Honda Red Bull Racing teammate
Ivan Tedesco
. In fact, Ivan has been in town since after the U.S. Open, where he finished second overall to
James Stewart
. According to our man inside, Hot Sauce is looking really fast. Also, he and
Teresa
just got settled into their new house in Tallahassee.
Mike Alessi
may end up going old-school and riding in the Florida Winter-Am Series to get back into shape. Alessi has been out since he broke his leg at the Suzuki SX track, and the family now has a home in the Sunshine State, which would make getting in shape on the tour founded by
Bill West
way back in the early seventies a convenient training ground. The question is, at what point will he get back on the AMA supercross circuit?
And finally, Rockstar/Makita Suzuki rider
Ryan Dungey
has been working out at RC's as he looks around the area for property of his own. Apparently, he and
James Stewart
aren't working as closely together as they were over the summer—let alone after their little run-in at the U.S. Open—and now Dungey is in a different section of Florida altogether….
If you were going to make a reality show or soap opera about motocross, what better place than Florida? Like sands through our spokes, these are the days of our lives….
There was a very interesting Reader Q&A deal on NYTimes.com where
James Stewart
took questions from the
Times
' online readers. "MX Pilot" asked about the recent comments that Reed feels the RM-Z450 is better than the Yamaha.
Stewart: "Well, Chad is certainly entitled to his opinion — and that is just what it is, an opinion. There is no truth to any of that. Any bike can have its advantages and disadvantages, but it's the rider, who twists that throttle and makes the bike perform, who will win the championships."
Over on Motodrive/Vital MX Forum, someone asked
Sean Hamblin
if he had any plans sewn up for 2009. His answer was not exactly uplifting as far as his career goes:
"At the moment there is nothing really…....I have an offer to go over to Australia and do those races and still have some time to do the last few outdoors. I spoke with Steve Dixon over at U Tag Yamaha and right now its too late to get anything really started in the GPs. Wish I had more positive to talk about but that is all there is. I am pretty bummed about quite a few things right now and if the Aussie thing doesn't work out I think that I am really gonna hang it up and look for something a little more consistent in the work department. Sometimes we all just need to grow up I guess right???"
When his friends and fans pleaded with the Yamaha factory replacement not to throw in the towel, the always-cordial Hamblin responded, "Just being realistic guys… That's all. It would be really difficult to walk away from this sport but to be honest, as many times as I have been down yes I have dug deep and brought things back but there is only sooo many times that I can deal with this and keep my head up and keep getting up every time I am down. This is a sport that I love and it has made me what I am but things aren't looking too great anytime soon!"
Steve Dixon
over in England or
Jim Perry
here in the States—it's too soon for #105 to quit racing now. Funny thing an agent told me over in Paris last week: If you bide your time, stay in shape, and wait long enough, a call will come from some factory team that needs to replace an injured rider. Hamblin must be at the top of that list.
Here's a letter from reader
Manny Ornellas
:
I was looking at the 2009 Teams that you guys listed and I noticed a missing name: Jake Marsack (#57-2009) on the Solitaire Honda Team. He'll be the 450 rider while Ryan and Phil will ride the Lites (Yup, Ryan on a 250F!) I bring this up because I'm pretty happy for Jake. He's never really been on a team with this much support; yet, he's landed on the podium! He should have a good season with such a solid team behind him.
More Florida news: "Engine Ice"
Dave Kimmey
posted a really cool movie trailer that includes a nice endorsement at the end for his brand of engine coolant.
Check it out
.
We posted a Flash Trivia contest late last night, asking our readers to ID a rider and the year in one of
Simon Cudby
's photos. We received hundreds of entries, most a little off the mark—they thought it was
Danny Smith
in 2002, but it was actual
Rodrig Thain
in 2001. Congratulations to Josh Welsh, Tyler Kimler, Rob Schroyer, Devin Davis, Paul Rudat, Brian Benline, Jim Barberie, Julian Hammonds, James Wild and Dustin Benton for getting it right. Your Scott swag should be in the mail on Monday.
Johnny Aubert
into enduro racing in Europe, and he just signed a two-year deal to compete on the French and World Enduro Championship circuits. He is also dating a fellow racer, a beautiful girl named
Ludivine
, who is also racing the enduro circuit in the women's class.
In other European news,
Marc de Reuver
underwent a successful operation on his knee this week. The inner meniscus of his right knee was completely torn, and the doctor found it surprising that he could ride at all with his knee in that condition. A piece of the meniscus was removed, and the rest was sutured. De Reuver is fully motivated for the 2009 season, and will soon resume his training.
And former world champ
Steve Ramon
won the crazy Red Bull Knockout Beach Race in Holland, outlasting one thousand other riders in what used to be called the Veronica Beach Race.
Here are some highlights
.
Here's some words for
Ping
, who has his own announcement to make…
I rode at LACR this week to check out what the track will look like for A Day in the Dirt, which takes place next weekend. It was honestly the best layout I've ever seen up there. There is a huge pit that was excavated for sand and the course drops down into it several times. The track will be longer and different for next weekend's event but the pit will obviously still be a major feature. If you haven't been to this race before you should check it out.
And here's some industry dish for you: I got a new job this week. The Troy Lee Designs/Red Bull/Honda team was in need of a team manager and I seemed to fit the position. I've got some experience in AMA Supercross and Supermoto so I understand the rider's perspectives. I've been working with Troy Lee and his company since 1995 when he painted my first helmet and I'm excited to be a bigger part of the company. Troy is one of the most creative, outside-of-the-box thinkers I've ever met and he is a lot of fun to be around, especially after he's had a Red Bull and vodka or three. I love the new challenges that this position offers and I'm more excited about round one of the SX series than I have been since I was racing.
Thanks Ping, everyone here is stoked for you and we can't wait for you to be those team manager's radio headphones on so we can be even louder as we make fun you behind your back…
Just kidding. I've always thought of Ping as one of the brighter guys who has raced and, like an Erik Kehoe, Mike Fisher or Larry Brooks, he would make a great team manager. Good luck, Ping, from your part-time crew at Racer X!
Okay, I will turn it over to
Steve Cox
for some California news here:
I went out to the Kawasaki test track yesterday to catch up with new Monster Energy/Pro Circuit Kawasaki rider
Jake Weimer
. He hasn't been riding a lot lately due to illness, but he's getting up to speed now and looks pretty good – although he has a lot of testing to do before Anaheim (if he is riding West, which he may be forced to do now—more on that later).
Ryan Morais
was out there too and had some interesting things to say about his new team and bike. Anyone who was around races while Morais was at Yamaha of Troy tended to notice that he would rev the piss out of his YZ250F in the air a lot. He says it's a habit he's trying to break now because his KX250F seems to have more power on tap if he doesn't do that, whereas his YZ250F seemed to have more power on tap if he did do that before landing.
Morais also said he was bummed that he lost his training partner,
Austin Stroupe
, for the time being with a broken collarbone. Morais says Stroupe hopes to be back riding in four weeks from his injury, and that's not impossible. If you'll remember
Ryan Villopoto
in his rookie year, he broke his collarbone and was back riding in less than four weeks in order to race Anaheim 1.
To make the day Stroupe hurt himself worse, his van was stolen from the driveway of his house that night in Corona, along with some gear, including a Leatt-Brace and some other things. Keep your eyes peeled for someone riding around with an
Austin Stroupe
brace or other gear at your local tracks.
There were no stories of anyone stealing anything from
Ryan Villopoto
, though, who was out at the Kawi track shaking down his fuel-injected KX450F. After all, who would steal from him? He probably has the California National Guard's armory in his house! Villopoto looked strong in the time I was there. It looks like he's adjusting well to the 450, and throwing him in the mix with
Chad Reed
,
James Stewart
,
Kevin Windham
,
Tim Ferry
, all of Honda Red Bull Racing guys and the rest of the 450cc class is going to make for some great racing.
In addition to Stroupe getting hurt and Weimer just coming back from his illness, we have GEICO Powersports Honda's
Brett Metcalfe
,
who recently went over the bars at his practice track and tweaked his ankle. He'll be forced to stay off of it for about another three weeks or so. But given that his teammate
Dan Reardon
has a shoulder injury and
Trey Canard
is just coming back from his broken femur, it's still up in the air as to who will be riding East or West for the team come Anaheim 1. Sometimes it seems like the off-season claims more victims than the season does.
That's it from Cox, who hit "send" before he realized there was another downed rider to add the DL.
Christophe Pourcel
also broke his collarbone, in the exact same spot that Stroupe crashed at the Kawi track! Not long after they got Chris up and off the track, they reportedly bulldozed the obstacle out of existence, with plans for a whole new track to be built next week.
Tyla Rattray
. Apparently,
Ratters
said something to
Mitch Payton
at the MXoN in England about still being interested in riding for him, but Payton told him his agent—or maybe ex-agent—wanted too much.
Tyla was in the States recently for a friend's wedding, and he did some riding in California—check out
Simon Cudby
's video
here
—and visited the Pro Circuit race shop a couple times. They have continued talking about a future deal, though it's now gone from a 2010 possibility to, well, right now.
I tried calling Mitch this afternoon, but he's out at the Kawi track. (I left my
Ben Townley
imitation on his voice mail, so if you get a call from him, Ben, send him my way!) I personally think this is a long shot at this point, but stranger things have happened, and much later in the off-season—Jeremy to Suzuki, anyone?
I was working on some filing and trying to get some ideas for next year when I went back and checked out some of the
Racer X Motocross Shows
on Motocross.com. The first thing I watched was the
Glen Helen pre-show
featuring
Jason Weigandt
and
David Bailey
as host and color, respectively, working together for the first time ever. The first piece of moto knowledge that came out of Bailey's mouth was this: After Weege said something to the effect of, by the looks of today's practice times, "James doesn't look like he lost much speed off the old fastball," to which Bailey replied (paraphrasing), "This could be like 2004, when
Ricky Carmichael
sat out supercross with a knee injury, then came back and went undefeated.… We could be seeing the same thing from
James Stewart
now…." That's why he's the Icon!
If you want to get a motocross fix during the weekend or throughout next week's holidays, check out
www.live.motocross.com
for all 24 pre- and post-race shows from the 2008 AMA Toyota Motocross Championship, directed by none other than Vurbmoto.com's
Wes Williams
. There's some excellent stuff in there!
Also, Wes and his crew will be posting videos and stories all week long from the Mini Os down at Gatorback Cycle Park in Gainesville, FL, so check Vurbmoto.com daily, or you can follow links from Racer X Online. Also check out
www.amateurmx.com
for updates from one of the longest-running amateur races of all!
Mike McDade
, Honda-backed
Joey Savatgy
,
Kyle Engle
,
Nick Desiderio
,
Brandon Mays
,
Cooper Webb
, and more. DeCal owner
Ron Joynt
has always been a champion of the underdogs, and his stable now includes a lot of champions. In tough times for sponsorship—and it's never been tougher than now—these guys are actually stepping it up.
And here is a belated congratulations to the entire Bowyer family on
Clint
's championship in the NASCAR Nationwide Series, which is just a HUGE accomplishment for such a relatively young driver. We've had the pleasure of watching (and teasing) big brother
Andy "Rev-Up" Bowyer
over the past couple of years while at the same time wildly cheering for Clint, who was a Loretta Lynn's regular before adding a couple of wheels to his racing. Bowyer is a working-class fan's dream driver—he was working in a body shop in Kansas just a few years ago, driving on the outlaw dirt tracks, when all of the stars lined up at once and catapulted him on his way to the top. He's also a big favorite of the dirt bike crowd, for obvious reasons. Well done, Clint!
In a motocross sweep of NASCAR, former Suzuki R&D Racing rider
Jimmie Johnson
snatched his third straight NASCAR major championship, the Sprint Cup. Jimmie is a cousin of
Rick Johnson
, and he grew up in the famous El Cajon area of Southern California. Now he's got a dynasty going in stock car racing. Nice!
British motocross artist
Rob Kinsey
sent over this photo of our own
Langers
in his homage to
Jeff Leisk
in Apico clothing from his Schoolboy days.
Here's some news from the WMA's
Miki Keller
:
Katherine Prumm
broke several vertebrae when she over-jumped a triple step-down at a practice track. She damaged her spine with the T6, T9, and T12 most affected and underwent a six-hour surgery. I spoke to 2001 WMA Champion
Tania Satchwell
, who is back in her native New Zealand, to see what she was hearing about Katherine. On Wednesday the Taupo morning news aired an interview with Katherine after her surgery. Apparently it took 40 minutes for the ambulance to make out to where Prumm was practicing. Prumm was in good spirits and was shown walking in a back brace. She now has a six-month recovery ahead of her. Many racers and fans have expressed their concerns for Katherine and send her well-wishes. Prumm won the WMA Cup last year and in 2006 she won two of four WMA Nationals that she raced in and made a strong impression on U.S. motocross fans.
In other FIM news, FIM Women's Director
Stefy Bau
was traveling this week to Monaco for the FIM Awards Banquet where the GPKR Kawasaki rider
Livia Lancelot
will receive her Championship Award. Livia's countryman
David Vuillemin
helped get Livia to the U.S. to race the Nationals in 2005.
Meanwhile our very own
Tarah Gieger
is across the pond riding with
David Knight
. She raced last week's Red Bull Knock Out above The Hague in Holland; I haven't found out how she finished, but seeing the video mentioned above, it looks like it's more about
if
you finish!
Tarah's Red Bull teammate,
Ashley Fiolek
, was busy last weekend as a featured presenter at the American Sign Language Expo in Marlborough, Massachusetts. She signed autographs at the T-Mobile Sidekick display that featured a new T-Mobile-produced video of her riding. Check out the custom hard shell cover they made for her personal Sidekick.
Sara Price
for Monster Energy's Favorite Female Monster Athlete
here
.
Thanks for the good news on Katherine, Miki, and everyone stay tuned for news on the 2009 Women's Motocross Championships in the coming weeks.
Greg Fox
of
Fox Racing
recently had a chance to take a Superbike out on the famed Laguna Seca course. According to our calculations, the current racetrack is 2.238 miles in length (3.602 kilometers) with a 300-foot (91 m) elevation change. It has eleven turns, including the famous "Corkscrew" at Turns 8 and 8A. It also had Greg smiling the whole way around, every time around!
If you get bored tomorrow watching college football, click over to ESPN Classic if you have it for some AMA motocross, as they show some classic battles between Carmichael and Windham from the '03 season. Here's the
full schedule
.
Finally, the eBay auction for the Blair Morgan Recovery Fund has ended, and the 24 items up for bid fetched $11,663.75, with
James Stewart
's MXoN signed jersey capturing the highest bid at $2,000. The WMXF and our own
Steve Matthes
would like to thank everyone who put in a bid, and all the money raised goes directly to Blair. Thanks for helping out a Canadian icon!
That's it. Thanks for reading Racerhead. See you at the races!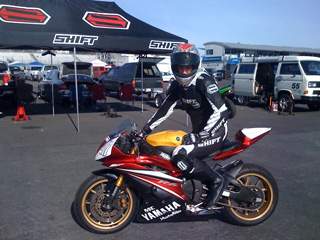 Greg Fox