"Nothing great was ever achieved without enthusiasm."
- Ralph Waldo Emerson
Hello, everyone, and welcome to the Rev-Up. I always enjoy this time of year, just coasting through the last remaining gasps of the year, still fat from our holiday indulgences. The "Give-A-Crap Level" is riding around the bottom of the motivation meter as the masses await the tick of midnight on December 31 to begin a new quest for a healthy, productive, goal-oriented existence.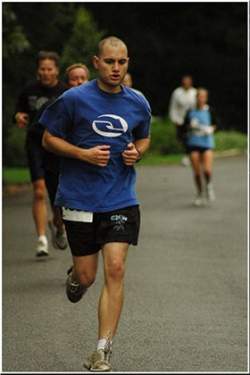 Even the announcers are training for this one!
The birth of the New Year and the promising possibilities of a clean slate bring so much hope, and there is never anything wrong with rekindled hope. The way things have been going the past few years, it's a good thing the year only consists of 365 days before the global restart button gets pressed.
As we count down these last days of 2006, you can feel the anticipation hanging in the air. As you read this, the men that will be competing in the 2007 Amp'd Mobile AMA Supercross Series have but one thing on their mind: the first gate drop of Anaheim 1. The new season for them has long been underway, as they long ago began testing their new steeds and breaking down their plans of attack for the 2007 supercross season. I already have the Rev-Up written in my head for next week, and the brief thought of it just made my palms sweat. Ah, but all good things to those who wait. For now, lets get Revved Up about what might be going through the minds of some of the gladiators who are putting in the final paces of their training as the gates of fire draw closer.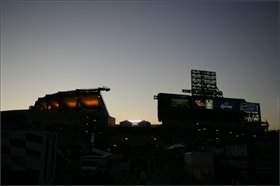 Ready?
A lot of riders have different agendas. Some, like
Ivan Tedesco
,
Andrew Short
, Andrew McFarlane,
Brett Metcalfe
, and
Davi Millsaps
, are trying to rehabilitate themselves from crashes and injuries. They say most professional athletes never have the luxury of taking to battle with a perfect bill of health; most NFL players admit that with every passing play, their bodies hurt somewhere, whether it's turf toe, a sore knee, or smashed fingers. Motocross isn't much different. Very rarely does the event exist that you line up on the gate with three months of hard-core riding and training at your back. All the same, getting ready for whenever their seasons begin remains their focus. Every pedal of the stationary bike and every ounce of sweat shed has been produced through gritted teeth and a mindset of just being able to make the race.
Meanwhile, the healthy guys like
Grant Langston
and
Kevin Windham
are pounding out lap after perfect lap trying to go faster and faster. They know if they want to win, they are going to have to be faster than they have ever been. They have to get comfortable riding the razor's edge, which is easier said than done and has the tendency to produce crashes and dreaded preseason injuries. The preseason broken arm K-Dub suffered last December has to be in the back of his mind as he skates his Factory Connection CRF450R across the baked adobe of the Honda test track.
I think this is the most important week of the year. Months of training (or lack thereof) will determine their fate next weekend. Just imagine the pools of sweat left at the gym and the thousand-yard stares of the championship contenders. To riders, Anaheim 1 is the practically the Super Bowl, or maybe better yet the Daytona 500, rolled up into 20 laps of gnarled conflict. I know of one particular man who has been training like an animal, his focus and ambition easily numbing the pain of the lactose burning his legs and back muscles. He is probably wearing an evil smile when he wakes every morning and begins his stretching routine. He is a man who has accomplished so much but has thus far been denied the holy grail of the sport he loves. You know who I'm talking about. But we'll get to that (and much more) next Thursday.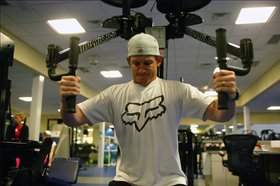 RC is, as always, hard at work.
For now, take a few minutes and reflect on your year. Close your eyes and try to think back to this time last year and recall the New Year's resolutions you set for yourself. Were you able to get them done? Or do you have a $537 bill for unused hours at Bally's Total Fitness and still have the tags on your $100 Nike workout uniform? Been there, man. But last year I had a different resolution. In fact, I had several, and most of them came to fruition (although I do only have three days left to make it to the recycle shop and turn in my plastic bottles). But for the most part, I remember making the most of the quote at the top of this column. I have tried to be enthusiastic about whatever I involved myself with, and whether it was drunken karaoke or pecking away at this keyboard, I am pretty stoked on my enthusiasm in 2006. And for the greatness that is supposed to come in its wake, well, just talking to you guys once a week is great enough for me.
Thanks for reading, see you next week. Happy New Year!