Racerhead #51
December 22, 2006 12:53pm
First, it's Friday. Second, it's almost Christmas and we want to go home. So here's Racerhead!
Since there are no major races during this time of the year, it's been rather quiet this past week. We'd like to start with our condolences and deepest sympathies going out to the family and friends of Jeff Michel. Jeff passed away in a tragic snowmobile accident on December 16 in Montana. He was an avid supporter of the NDMA (North Dakota Motocross Association) and will be dearly missed by us all.
We got this from NDMA Board Member Kelly Neis:

"This Sunday just a little past 2:00 p.m. while watching the miserable
Minnesota Vikings, my good friend Steve Drewlo gave me a call. I was excited to hear from him because he's always an amusing guy to talk to and it would take my mind off of those dang Vikings losing yet again. But my excitement didn't last long because Steve hadn't called just to brag about how he was going riding today, but to check if I had heard the terrible news about our good friend Jeff Michel's death in a very unfortunate snowmobile accident in Cook City, Montana. I was shocked, saddened and just so totally knocked down by this news. Tears instantly formed in my eyes because I've never met a more devoted father, husband and all around great guy in my life, my thoughts and prayers instantly went out to Julie and their children because I couldn't even imagine what they are going through at this moment.
"Jeff was an all around fun-loving guy, with a great sense of humor that
always left you with a smile on your face, but what impressed me the most was just how close he was with his family, how devoted he was into helping his boys achieve success on the race track and in helping provide quality racing in North Dakota for all of us moto-heads to enjoy. Please keep the Michel's family in your thoughts and prayers; this is truly a big loss for all of us.
"Wishing his family and close friends all the best God speed Jeff, I'll miss you!"
Moving on, Etnies'
Ryan Cropley
sent us
this link
to a contest to win some autographed copies of
Brian Deegan
's new DVD,
Disposable Hero
.
Also, here's the movie trailer.
In addition, Cropley told us about a semi-top-secret contest going on. If you plug in the "web code" that was on the recent Josh Grant Etnies ads ( jgklr ), the code takes you to a contest to win an autographed Josh Grant jersey.
EVS also has a contest of their own going on. Check out www.ignitionmx.com/evs.
There's still fallout from the Tyler Evans-Keith Johnson fight in Vancouver. On Tuesday the FIM's John Gallagher came to a decision regarding the incident:
"Both Evans and Johnson were suspended from Vancouver's scoring, which means they didn't earn about $600 each for ending the LCQ in a pile. They still got credit for participating at Vancouver's Amp'd Mobile World Supercross GP, and that will keep them in the bonus points fund for the GP series.
"For starting the fight, and considering Mr. Evans had done this same action and was warned last year at the Detroit SX; the next step in penalization is that Mr. Evans shall be fined $1000 for his actions, and warned that if this happens again, at any time, at any event, he will be suspended for up to two races. Fighting and intimidating riders or officials with verbal threats will not be tolerated."
Scott Wallenberg wanted us to mention that the late Marty Moates is now featured on the main page at Vintage Monark website.
Check out this "Two Stroke" Junior music video.
Last weekend was the Oakley humanitarian event, attended by our own David "Langers" Langran on Saturday. He had this to say:
Around this time of year, it's very easy to get wrapped up in holiday cheer and forget about all of our troops overseas who are fighting for us and won't be seeing their families this Christmas. There are also a lot of families who have lost loved ones in the war and for them; Christmas will never quite be the same again.
To honor these fallen heroes and their families, Oakley put on an event called the Snowball Express on Sunday, December 17, at the Oakley headquarters in Southern California. Oakley went all-out for the event, building a full-size vert ramp and skate park in the Oakley parking lot and inviting some of the world's top action-sports athletes to put on a show for the families. The roster of athletes looked like a who's-who of the X Games and included such household names as Tony Hawk, Bucky Lasek, Bob Burnquist, Ryan Sheckler, and a host of others.
The weather could have been better, with rain on and off throughout the day, but the skaters and BMXers braved the elements and the sticky (due to the damp conditions) half-pipe and put on an amazing show. Worth noting is that a lot of the pros who turned up were not even Oakley athletes; they just wanted to show their support to the families on hand.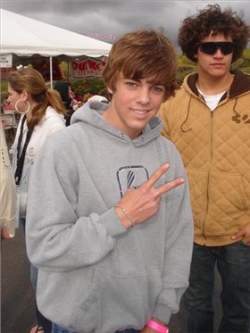 Ryan Sheckler
photo: Langers
There were numerous activities for the kids to participate in throughout the day including a rock-climbing wall, arcades, indoor crafts, and bounce houses. There were also food vendors, face painting, clowns, and even a flyover from the U.S. Air Force!
It was a great event despite the weather, and everyone in attendance had a smile on their faces and was happy to be there. Spare a thought for these families and their lost ones during the holiday season.

Thanks, Langers.
Now here's a note from Ping:
It's been a quiet week here in California. Most riders put in a few days at the test tracks early on and have since headed home for the holidays. For some of them, it will be their last break until spring. This is also a very difficult time for riders as they stare down Anaheim, just two weeks away. You feel like you should be putting in the hardest two weeks of riding and training yet, but for many, that will be a mistake. After several months of riding motos, testing, cycling, working in the gym and running, their bodies have been pushed to the limit. With cold, winter weather blanketing the country, including here in California, cold and flu season is ramping up. Between all that and the stress and nervous tension of the season opener, riders' immune systems will be particularly vulnerable. It's common for many riders to get sick this time of year, and it is the worst possible time for them. Just when they want to be peaking physically, they are dealing with cold or flu symptoms. That is one of the behind-the-scenes pleasures of the season opener. Cold sores are another little gem brought on by stress, but I won't even get into that.
As for me, I've been shredding through Christmas cookies, one tin at a time, like an angry wood chipper. I've somehow managed to sidestep the candy-corn pitfall of October and November, only to go straight over the bars on the holiday-cookies kicker. I'm going to need an extra ticket to get my love handles in the gate at Anaheim 1. My wife isn't helping the situation, either. She's nine months pregnant and her hormones are raging out of control. She doesn't usually eat beef, but last night the world was absolutely going to spin off its axis if we didn't get roast beef and cheddar sandwiches from Arby's. I figured if I was going to be eating that acrylic cheese that they pour over the top of those things that I might as well wash it down with some curly fries and a shake. Right? That baby needs to hurry up and get here or I'm going to look like that Fat Bastard character from the
Austin Powers
movies. That's it from here. Merry Christmas!
Thanks, Ping. There's definitely a lot of moving and shaking taking place out in California right now for the top riders, and we're not talking about earthquakes. We have the latest info on one rider who has switched teams in the off-season, Broc Hepler. Check out our Ready Racing Five Minutes with Broc and our Racer X Films um, film of him as well.
Here's a good opportunity to let everyone know that we have all of our 2007 inventory of Racer X Brand clothing in, so go check it out at www.racerxbrand.com.
Finally, we got this from The Register-Mail, which serves central Illinois.
Motocross movie showing a benefit for kids
Admission: One new toy for a needy family
Thursday, December 21, 2006
By JANET KLOCKENGA
The Register-Mail
GALESBURG - The Galesburg Motorcycle Club Inc. is planning a toy drive combined with a showing of the new film about motocross star Travis Pastrana Friday evening at the Orpheum Theatre.
The film "Lock 'n Load" will be shown on the big screen at 7 p.m. Friday. Admission is one unwrapped new toy or $5 per person. All toys will be collected and money raised will be used to buy toys for local families selected by the Salvation Army.

Organizer Jamie Bastian said a representative from the sports drink Red Bull contacted him and asked if members of his club would be interested in previewing the movie when it was released in November.
Bastian and Brad Fell, vice president of the motorcycle club, came up with the idea of combining a public showing of the film with a toy drive to help needy area families.

"I thought maybe we could do something instead of just sit around with a bunch of guys (watching it)," Bastian said. "We said, let's do something during the holiday season. It would be nice to give something back to Galesburg."

"Lock 'n Load," a film by Travis Pastrana and Gregg Godfrey, is a fun movie for families, Bastian said. "It's about the crazy antics of Travis Pastrana and the fun that these guys have," he said. "He's an X Games gold medalist and a veteran of motocross. Right now he races rally cars." Additionally, two Pastrana jerseys autographed by the racer will be raffled off after the showing of the film. Other prizes to be given away include copies of "Lock 'n Load" and other prizes.
So there's that. Locked and loaded.
The staff of our sister publication,
The Racing Paper
, got their Christmas gifts out early, as the latest issue of the official newspaper of AMA District Five is now in the mail. This issue features a look at a couple of promising local talents who qualified for the Amp'd Mobile SX in Toronto, as well as some great year-in-review features that should please everyone in the Pennsylvania and West Virginia racing areas. After last weekend's warm spell put everyone back on bikes for a few days, the weather now is putting everyone back into shut-it-down mode. So enjoy the paper! Also, we just received the latest copy of
Motocross Magazine
, which is designed for the European folks who speak a different language than we do.
Feliz navidad
or whatever is appropriate there!
That's all we have. From everyone here at Racer X, have a safe and fun holiday weekend. Merry Christmas, and thanks for reading.