5 Minutes With ... Broc Hepler
Simon Cudby put together a Racer X Film with Team Yamaha's Broc Hepler. He only has a few days riding his new bike on an actual supercross track, but judging from the film, he looks pretty comfortable already. We gave Broc a call today to talk about his new ride.
Racer X: Broc, we see your video up on Racer X Films, and from what we saw, you look really good on your new Yamaha. Give us the scoop on the new bike.
Broc Hepler: Well, I think the bike is really good. We started with a stock bike, and as I got comfortable, we started making changes with suspension and the motor and all of that good stuff. From the get-go it steered really good, so I didn't struggle too much with that. I really like it.
You've been on Suzukis pretty much your entire career up to now. Was it difficult making the transition? Did you feel a little slow at first?
I'm sure I was a bit slower at first, but I rode it some at home first before I came out to California. But riding on it back at home made me feel a little more comfortable before I came out and had to ride whoops.
Whoops can make or break you in supercross. How does the YZ250F feel through those?
I'm not really struggling with them. I've been trying to practice with Chad [Reed] a lot, and I think it's helping me a lot. I try to follow and learn from him, because I think him and Stewart are probably the best in the business through the whoops.
Does Chad help you younger guys at the test track?
Yeah, Chad is a lot nicer than I expected. Sometimes he has some interviews that aren't that exciting after he loses or something, but he's a totally different guy at the test track, and if I have any problems he'll definitely help me out. He's really cool.
How is it working with the Yamaha personnel?
I think it's really good. Since the entire factory team are all new—with me, Langston, and Hill—everyone is really gung-ho and ready to go. They want to work hard and want to win some races this year.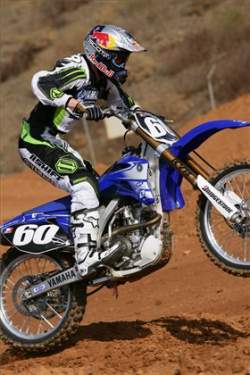 Hepler hammers the whoops at the Yamaha test track

Lee McCollum was your mechanic your entire time with Makita Suzuki, but he didn't come with you to Yamaha, did he?
No, Lee stayed at Suzuki. He's been there a long time, and it would've been cool to work with him, but I don't think he has a lot of years left, so I just let Yamaha pick my mechanic, and they chose Ray Johnson. He used to work for Damon Huffman in Canada, and he worked for Heath Voss last year. I think he'll be good.
Is Ray working with you at the test track?
Yeah. Yamaha is really cool because they have the mechanics out at the track pretty much every day. At Suzuki they just kind of had test guys, and your mechanic didn't work with you on practice days. It's different here.
How are your new teammates looking out there?
Grant Langston is really going good. We're all pretty close, but of course Chad is the fastest. I've been doing motos with Josh Hill, and we're just trying to get him ready for Anaheim 1.
Hepler is riding Yamaha, wearing Shift and drinking Red Bull in 2007

Besides being on a brand-new bike, we see that you have a new energy-drink sponsor on your helmet. Tell us about the Red Bull deal.
The Red Bull deal just came together at the last minute. I'm really excited to be on the team. They're very selective on who they have, so it's an honor to ride for them. I think it'll be good for me down the road. They're the biggest energy drink out there, so I'm pumped with the deal.
Do you know which coast you're racing in the Amp'd Mobile Supercross Series?
The plan is to ride the East Coast. I just have a few more things to do with the bike to make it a little better. If you count the actual days, I really haven't ridden the bike that much, so I think another two months would give me plenty of time to do what I want. After Christmas I plan on putting my foot down and getting the bike to where I want it to be.
Finally, you have any big plans for Christmas?
I'm actually going back home for about ten days. Since I'm doing the East Coast, I don't have to stress out over the holidays. I'll probably do some trail riding and just have some fun over the holidays.