Privateer Profile: Cole Siebler
After the Glen Helen National, a lot of the top racers choose to take a break from racing before the supercross season starts in December. Not Cole Siebler. The Idaho resident has stayed on the bike, participating in the Jeremy McGrath Invitational, the U.S. Open, and several overseas supercross events. The seat time seems to have paid off, as Siebler put in two good races in the first two rounds of the Amp'd Mobile World SXGP in Canada. We tracked him down today for this installment of the Sponsorhouse.com Privateer Profile. Make sure to show Cole and his sponsors some support by clicking on the links at the bottom of the page.
Racer X: Cole, what's going on?
Cole Siebler: Oh, not too much, Billy. I'm actually on my way up to Castillo Ranch to do some riding.
Nice! Well, you qualified for both Supercross main events at the first two Amp'd Mobile WSXGP rounds up in Canada, so that's a good way to go into the holidays.
Yeah, they were both good races for me. I was working hard this off-season, so I had high expectations, and Toronto went pretty well for me. Vancouver went decent, but I DNF'd the race because my rear brake line broke with a few laps to go, so that was a bummer. But my results definitely helped my confidence.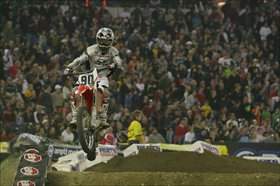 Cole Siebler had a good showing in front of the Canadian crowd

Where were you running before that happened?
I was running in 13th.
That's not too bad.
Yeah, I was had a few guys in front of me, so I was hoping to get into the top ten.
Have you been doing a lot of preparation after the AMA motocross series?
Actually, right after Glen Helen, I moved down here to California because I signed with a new team, and I started practicing. I did the McGrath race and the U.S. Open, and then I did a few races overseas in Germany. I just tried to stay on the bike and race a lot.
Wow, no rest for the weary.
For me, I haven't taken any time off. I got injured in the summer during the nationals and had a little time off, so I figured when the outdoor season was over, I was going to focus on supercross.
You mentioned that you were on a new team. Can you tell us about it?
Yeah, it's called Wyvern Motosports. A guy named Scott Price started it up, and he funds the team out of his own pocket—we don't have any corporate sponsors or anything. He bought Subway's old semi from last year, and Leighton Lillie and I will be riding the 450 class and Daryl Ecklund will be riding the Lites class.
Are you guys all using the same equipment and gear?
Yeah, we're all riding Hondas and wearing AXO gear.
So what is Scott Price's background with motocross?
He's just a fan of the sport. Him and his family all have motorcycles, and they ride for fun. And he owns a company called Mirada Petroleum, an oil company. He owns a bunch of oil wells down here in California, and his son is the one who wanted to get the team going and wanted to be a team manager. They started it up last year and kind of got it going. They just had a trailer, and they were pretty happy with how things went, but they really wanted to step it up this year.
How did you get in touch with those guys?
Well, Leighton Lillie is fro Lewiston, Idaho, and I'm from Boise, so we've been good buddies for a while. He rode for them last year and was telling me how much the guy helped him out. I was pretty impressed, and the main thing for me is having a good bike and setup, which this team provides me. I called the guy and came down and interviewed with him and we worked a deal out.
What's in store for you over the next couple weeks leading up to Anaheim 1?
We're going to do a lot of riding and suspension testing. We're going to go home a few days for Christmas, but other than that, we'll be riding. The team is taking it really serious. They got us a team trainer, and we all live together in the same house, and we've been training and riding a lot.
Two thousand seven looks to be a make-it-or-break-it season for you.
Yeah, exactly. I had a few rides in the past, but I'm hoping this is the season where I put in some good results.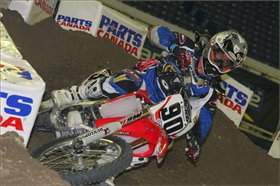 Siebler is a member of the new Wyvern Motosports team

You've been racing professionally for a few seasons, so looking back, what do you feel is your biggest accomplishment as a pro so far?
I think my first year racing supercross, probably. I started off good and had some good results, but then I was plagued with injuries and struggled for a little bit. But I feel this year that I'm riding good, and I'm ready to turn some heads this year.
What do you think it's going to take to attract the attention of a factory team manager?
I think the only way to do that is to beat some of the guys who are factory riders, or guys like Nick Wey, Michael Byrne, and David Vuillemin. Those guys are all great riders.
Do you think you're far off of that pace?
Speed-wise, I don't think I'm too far. I raced the U.S. Open, and that was a good race for me. I got ninth and I finished right behind all of those guys. I know what I have to work on, and starts is definitely one of them. I think when the season starts up I'll be ready to run top-ten.
Cole Siebler's sponsors:
Wyvern Motosports
www.axocycling.com
www.bellhelmets.com
www.utopiaoptics.com
www.motonation.com
www.devolracing.com
www.whitebros.com
www.mb1suspension.com
www.maximausa.com
www.tagmetals.cc