Last week in Racerhead, Simon Cudby mentioned an incident involving Martin Davalos and the Alessi brothers at a KTM photo shoot that was relayed to him by Wil Hahn. It caused a real firestorm over on Mototalk, especially after Jeff Alessi went in and challenged the accuracy of the report and Racerhead in general, stating that there wasn't one thing in the report that was true and that the whole thing was fabricated to make him and his brother look bad. After seeing the whole thing get out of control quickly, I stepped in, apologized for not calling everyone involved, and took full responsibility for the information and not having checked it out more thoroughly.
This week, I spoke to every person involved in the incident—
Martin
,
Mike
and
Jeff
, plus
Zach Osborne
—as well as
Tony Alessi
and KTM team manager
Kurt Nicoll
, plus
Chris Onstott
from
Fox Racing
and
Jeremy Mallott
from Red Bull, who were there for the photo shoot and literally standing there. As one might expect, there are differing versions of what did or didn't happen, but the one thing that is obvious is that the whole Red Bull KTM team wishes to put it behind them and focus on the future races ahead, and we should all respect that.
But I stand firmly behind Simon Cudby—he's one of the most trustworthy, dependable people I have ever known, he did not make anything up, and he certainly didn't mean to trigger so much drama—though both he and I now regret passing along the term "ghost ride" because it is now apparent that is not exactly what happened. It's not really worth going into what did happen either; it wasn't that big of a deal until it got going on the message boards and took on a life of its own, and I take responsibility for that too. Now I just can't wait for the racing to start up again so everyone can just enjoy and comment on what's happening on the racetrack, and not the drama—big and small—at the practice tracks.
Meanwhile, over at the Yamaha track… Just kidding. Simon paid a visit to Chad Reed and put together a pretty cool Racer X video, which you can watch right here.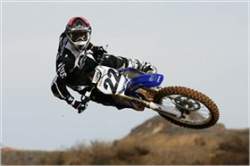 While Chad was testing, Simon was filming. Check it out.
photo: Simon Cudby
We have received tons of email this week about the
Tyler Evans
/
Keith Johnson
LCQ problem, which played out ugly on Speed TV's coverage of the Vancouver SX. Obviously, something will be done, but the FIM's Race Director
John Gallagher
told me today that he is in contact with the FIM about what kind of action might be taken, and that he has not had any contact with Evans this week but plans on speaking to him as soon as possible.
Also, the FIM rulebook clearly states that fighting means disqualification, but in this case it might not be enough: Neither Evans nor Johnson qualified because as they rolled around on the ground, the rest of the pack went by. It was eerily similar to the incident involving Evans and Doug DeHaan at last year's Detroit SX, but that was an AMA round, not FIM. Regardless, there's a pattern here…
The defense rested on Wednesday, December 13th, in the Mike Goodwin murder trial out in California. Ironically, at that point it had been five years to the day Goodwin was arrested and charged with orchestrating the murders of Mickey and Trudy Thompson, his former business partners, and nearly 20 years since the actual double homicide took place.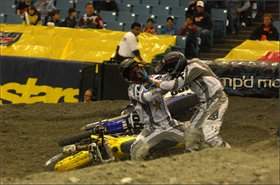 The Evans/Johnson on-track scuffle will likely see some penalties handed out
photo: Allison Kennedy
This week, the jury also went out to the old Thompson house to look at the scene of the crime, to check sight angles and arguments from each side, and then they should begin getting deliberation instructions as soon as Monday.
Goodwin continues to maintain his innocence, though, at his attorney's urging, he did not take the stand in his own defense. It's no secret that he was not a very likable character for many, and with the seeming lack of physical evidence, it's up to the prosecution to proof that he did it, not for he himself to prove that he didn't. Right or wrong, that's the way justice is supposed to work in America.
On another sad note, the memorial service for Marty Moates was held on Tuesday, with an amazing turnout of friends, family and motocross acquaintances. His longtime friend Mark Simo of No Fear and former competitor and friend Rick Johnson gave moving eulogies, and so did Steve Bauer, one of the good guys behind Wonder Warthog Racing who was one of Marty's best friends ever since their old racing days growing up in Southern California. And adding to the moment was the presence of the 1980 LOP Yamaha that Moates used to win the Carlsbad 500cc USGP, on loan from Greg Primm, with restoration help from Rick Doughty of Vintage Iron.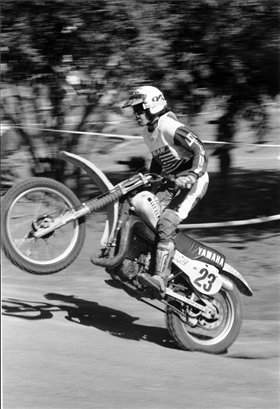 Marty Moates was laid to rest this week
photo: Dick Miller Archives
Also,
Bill Center
of the
San Diego Union-Tribune
did a great piece on Moates. Check it out
here
.
(Thanks to Chris Mangen for sending that link over.)
Why exactly Moates shot himself remains a mystery, but the San Diego newspaper story did offer a glimpse of what some feel might have been related: "We do know this. Like so many other motocrossers turning 50, Moates lived in great pain. He had recently gone through a third round of back surgery without achieving much relief…" Moates also appears to have been suffering from stomach ulcers.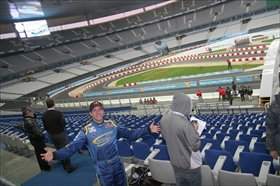 Travis at the Stade de France this afternoon
photo: MX Max
After NASCAR's new champion
Jimmie Johnson
fell off the roof of a golf cart and broke his wrist (seriously), he dropped out of the Race of Champions' Nations Cup in Paris, where he was going to be teamed with
Travis Pastrana
. He has been replaced as Pastrana's teammate is
Scott Speed
, the only American driver in Formula One. Tomorrow's race is for drivers (and a few riders) from many different types of racing, competing as teams against each other on a rallycross track inside the massive Stade de France.
But then we got an email from "MX Max" who was there snapping photos at practice, and he said that now Scott Speed is hurt, ironically enough, so Travis is all alone to win the Nations Cup unless they can find yet another American. During the press conference he said, "No Problem, I want to race. If my partner is not here, I'll do the both." Max promises to send over more photos and a report tomorrow.

But this just in: Debbie Pastrana just called us to let us know that the if you want to check the race out live tomorrow, visit www.eurosport.com and go to the Motorsports page, where the race will be on at 10:00 A.M. EST! Sweet!
Chris Jonnum from Road Racer X talked with former road racing hero Randy Mamola this week, who like everyone else in the industry, was really affected by Marty Moates' recent passing.
"I was utterly shocked—so knocked down by it," Randy said. "It's weird coming from different disciplines of your own sport and kind of coming up in the same era. Marty's just over a year older than me—I'm 47, and he would be 49. He won the USGP in 1980, and I was second in the [500cc road race] world championship that year. Although we were in completely different categories, it was just something where we were both working and trying to do the best we could do, at the same time, but we didn't know each other for so long. It's the same with people like Mike Bell, who I'd never met prior to doing Yamaha's Weekend of Champions. That event has always brought so many people together—people like Pierre Karsmakers, who I read about but never really knew. I knew Eddie [Lawson] and Wayne [Rainey] and those guys, but I didn't know guys like Bob Hannah. They're all on that [Weekend of Champions] poster, and Marty was one of them too. Once I met him at that event, he'd always shake my hand and ask how the family was. He was just a really fun-loving guy, it seems, and we're going to miss him at the next Weekend of Champions."
To read more about Randy, check out CJ's Road Racerhead today at www.roadracerx.com.
Moates' passing did not go unnoticed by the mainstream. Hall of Fame sports writer Shav Glick wrote the obit for Moates for the Los Angeles Times, and even the Howard Stern Show on Sirius Satellite Radio included it in the news.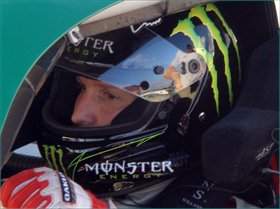 RC is straddling two worlds now…
photo: Scott Taylor
Also, a few readers spotted this
10Q with RC
over at the official NASCAR website.
And Scott Wallenberg sent us this link to Tea Games motocross:
From Ping:
I checked in with Paul Lindsey yesterday to see how things were with his crew. The Motoworldracing.com team has been hit with a barrage of injuries lately. Sean Hackley got hurt, then Justin Brayton hurt his hand in Geneva last weekend and even Michael LaPaglia has a sore foot from an incident at their test track. Fortunately, according to team manager Paul Lindsey, LaPaglia will be ready for Anaheim and Andy Bakken will also ride out of the team semi.
Branden Jesseman and Hackley are scheduled to ride the east coast and should be ready to go for that opener. In fact, Branden Jesseman won the Lites main event in Geneva and has finally (keep your fingers crossed) fixed the wrist that has been bothering him for so long. The kid has skills coming out his hoo-ha, he just needs to stay together long enough to build up some confidence again.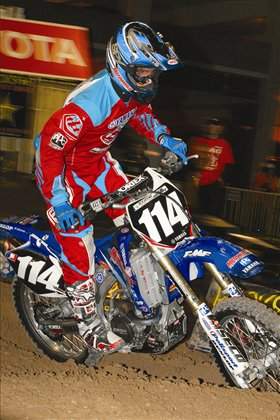 Unfortunately, Justin Brayton hurt his hand in Geneva last weekend
photo: Matt Ware
As for me, I am on my way to Italy for the weekend. The Bologna Motor Show is one of the bigger motorsports expos over there and I am scheduled to compete in the Bomb Boogie Super Motard race along with
Micky Dymond
and
Cassidy Anderson
. I've actually been to this event before in the mid-nineties but it was for the Supercross race they used to have. It is an outdoor venue and always freezing cold and cloudy with a 100 percent chance of bad food and cigarette smoke.
On the upside, there are supposed to be some MotoGP riders signed up for this event also, and Valentino Rossi is rumored to be entered in a car race sometime during the weekend. But, rumors tend to fly about him when it comes to any motor event in Italy. In that boot-shaped country he's like Mick Jagger, but with thinner lips—very, very popular.
Thanks Ping…
Looking ahead to Anaheim, Jimmy Button checked in today to let us know the Road 2 Recovery eBay Auctions are going to include Knothole tickets to each of the three Anaheims! The Knothole Club is where all of the Los Angeles VIPs who are into supercross—like Matt LeBlanc and Pamela Anderson—watch the races, along with a ton of industry folks. They really are the best seats in the house, if you can get in there. Now you can, and you can help out Road 2 Recovery too. Check it out.
Wrapping this up, a tip of the visor here to James Stewart. After all of the craziness of the Toronto race, followed by the fines, #7 really put his head down, rode in pain and got out of Canada with two podiums. He's third in points, but he's right there with Chad Reed. No matter what you may have thought or felt about what happened in Toronto, Stewart was hurting big-time, and the fact that he went out there, rode one practice and then very nearly won the main event says something about the kid's commitment to winning the championship in 2007.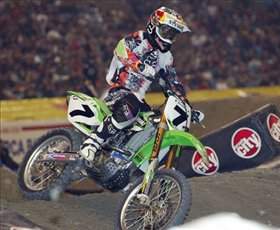 James Stewart's Vancouver effort was admirable
photo: Steve Bruhn
In his post-race interview with Miss
Erin Bates
on Speed, James said, "I crutched myself into the airport and had to leave them—Pops told me we're not going racing with crutches." He added, "With what happened last week, I'm lucky to even be here."

The Blair brother's band, The Main Event, is in some Rockstar battle of the bands thing and looking for help:

"Whats up everyone? Daniel Blair here! Just wanted to post some info for you guys on some recent developments on my rock band "The Main Event." I also need some major help from the MX world! There is a huge online battle of the bands going on right now and we really need/want to win this thing. This huge tour called the "Rockstar Energy Drink Taste of Chaos" featuring artists like "The Used" and "30 Seconds to Mars" is coming through our area and they are giving unsigned bands the chance to win a slot on the main stage! Each venue holds over 10K peeps and this would be a major accomplishment if we could win this thing. We really need your help, because the win is based on online votes. Now here is the deal. You can only vote once from each computer (IP address is tagged) so we need to get the word out as much as possible. It will only take a few minutes to do this, and this is how.

Go to www.battleofthebands.com/rockthemainevent and when you get on our page, there is a "vote" link underneath the song player. Click that link and follow the directions. You guys have no idea how much this means to us. If we win this thing, it will take our career to a whole new level. Thanks!"
Well, let me try to close this on a brighter note than it started. Our "Things to Do This Weekend" online feature has hit neutral since there are no races (other than the one in Munich that Jason Thomas is flying to Germany for). But here's a list of some of the things that the staff of Racer X might be doing this weekend…

Join a Supercross fantasy league (www.motoxdream.com) and see if you can build a team as mighty as the NFL squad of Bryan Stealey's that has dominated this season: LaDanian Tomlinson, Drew Brees, Chad Johnson, Reggie Wayne, b, and all-time underdog pick Marques Colston, a seventh-round draft pick who Stealey called "rookie of the year" before he ever put the pads on.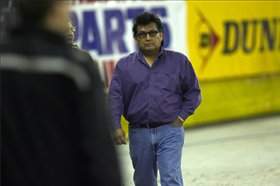 Want to find out more? This would be a good weekend for some research.
photo: Mario Marini
Learn more about the San Manuel Band of Mission Indians (
http://www.sanmanuel-nsn.gov/
) and have a better appreciation of who they are and why they're fully behind the L&M Yamaha team.
Watch the Vancouver coverage of the Lites class on Speed TV tomorrow afternoon at 6:00 p.m. (And if you have TiVo'd either of the first two episodes of the extraordinary Motocross Files: Season 2, featuring Jammin' Jimmy Weinert and Marty Tripes, by all means watch them again!)

Go riding, because the weather is downright spring-like here West-by-God Virginia.

Go driving… Well, if you're WSXGP points leader Ricky Carmichael and you didn't get enough on Monday at your last visit to a stock car track.

Keep working hard like every supercrosser, but also finish up some Christmas shopping for that one day off you might have on the 25th. Buy a Playstation 3 off of eBay for $2,000 to play the new ATV Fury game. (www.ebay.com)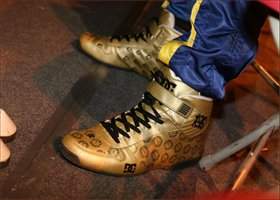 photo: MX Max
Scour the AMA Record Book for typos, such as last year's gems: Listing
Rich Taylor
as the 1998 Binghamton 250 National winner, as well as
Blair G. Morgan
as the winner of the same 1998 Binghamton 250 National, and who can forget the 1995 Daytona 125 Supercross winner,
Tyler Evans
? Okay, accidents can happen in publishing—we know that as well as anyone.
Put Travis Pastrana and the Nitro Circus' Lock & Load up on your DVD and count how many things you would or wouldn't try.

That's it for now. Have a great weekend!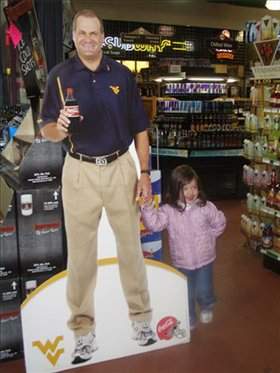 Rich and Chloe choose Coca-Cola!
photo: Jessica Coombs