Thor/Racer X 450 Words: Vancouver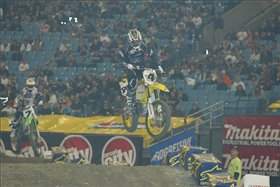 Back to normal: Ricky versus James.
Ricky Carmichael battling James Stewart has become the rule rather than the exception. Last week's race Amp'd Mobile SX opener in Toronto might have been a wild one, but Vancouver brought things back to their superb standard fare: an epic clash of the titans. Only now, the end is near. Carmichael went out and won the race, and he looked very efficient doing it. No doubt, he was way ahead of where he was one year ago, and with no championship pressure on his shoulders, he may be enjoying racing now more than ever.
But for how much longer? Carmichael may be passing the torch, but he would still be the favorite to win the 2007 supercross titles if he chose to compete for them. But he says he is not, and you can tell by his relaxed attitude that he means it. When you're the GOAT, what's the difference between 15 titles and 16, anyway?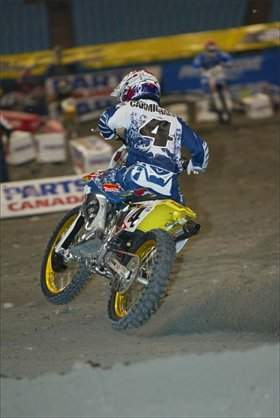 RC is going away.

If anything keeps RC pushing in practice, testing, racing and training, it must be the draw of just a few more great races with James. "Me and that guy, we've had some epic battles, man," said RC. "Almost as many as I had with MC (Jeremy McGrath). And I have grown to have a lot of respect for him. We were really cooking out there, and we raced clean."
As for Stewart, his right foot was definitely hurting. He limped through the track walk and up to the podium, and wore sandals when he didn't have riding boots on. But he said walking hurt more than riding, and just like he did at
Southwick
—when he gave Carmichael all he could handle after his huge
High Point
crash—he stepped up. "I'm a racer," said Stewart. "I feel like, when it's crunch time, I can step up and do what I have to do. We work too hard to just give it away like that."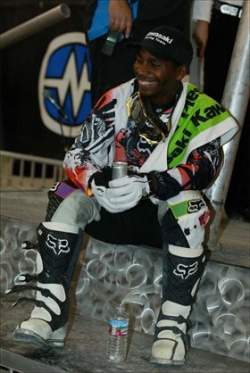 Stewart was in a much better mood after this one.

As for last week's issues, Stewart said, again, that he works too hard to ever put himself or someone else in harm's way, especially a guy like
Ivan Tedesco
. And he says he would rather talk to Ivan about everything first instead of talk through the press.
Consider Canada a push for
Chad Reed
. He wasn't on the pace in Vancouver, but he was in Toronto, and best of all, he looks really happy. The same could not be said after the Canadian races last year. While making up a half-second a lap is probably the toughest task in this sport, at least
Reedy
is attacking it with a new attitude.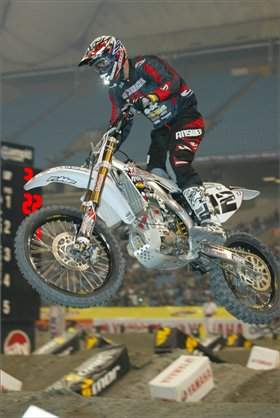 David Vuillemin is finding his old mojo.
Finally, there's David Vuillemin, who is on the verge of being a serious podium threat again (especially after RC parks it).DV12 has found the combination in MDK he hoped to find at BooKoo last year, which is a privateer team with strong enough equipment to run with the leaders. The pressure-free life has done wonders for him, too. Vuillemin, considering retirement a few months ago, has now signed a two-year deal and believes he might even have four more seasons in him. In that way, it appears that all of the top contenders may have finally found a way to outlast
Ricky Carmichael
.