Bench Racing Ammo: Canadian World SX History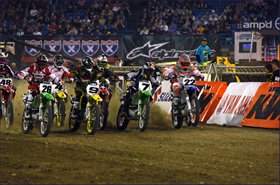 Are you ready for this weekend?
For the past two years, the best riders on the U.S. circuit have invaded our neighbors to the north as the World Supercross GP Series goes to two major Canadian cities: Toronto and Vancouver. This was a big change from the earlier days of the series, where trips across the Atlantic Ocean to Switzerland, Spain and Holland made it tough on the regulars. But the races in Canada made the World SX series a lot more accessible for the hardworking American privateers, because to be eligible for the lucrative series awards and bonuses, you must compete in the first two World SX rounds.
But the Canadian rounds not only became popular with the privateer riders. Each year we've seen more and more of America's top factory superstars signing up to compete in the World Supercross GP series, and last year Team Kawasaki's
James Stewart
scored his first major championship when he took the WSXGP crown from his arch rival,
Ricky Carmichael
.
Besides the two Canadian rounds, the Amp'd Mobile World SXGP series counts 15 of the 16 AMA races (Daytona is not included) for a total of 17 World SX rounds. But as we've seen in the past two seasons, the Canadian rounds play a significant role in the outcome of the championship as the past winners of these races went on to become World SX champ.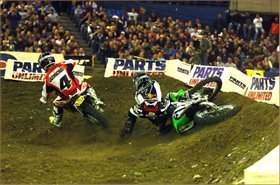 Will we see a battle like this again this year?
In 2005 Makita Suzuki's Carmichael started his assault on the WSXGP championship with a win in both Toronto and Vancouver, paving his way to his first World SX championship. And just last year we saw
James Stewart
steamroll the competition, winning the first two Canadian rounds over a stacked field, including RC and Team Yamaha's
Chad Reed
, among others.
So with the new season already starting this weekend, and RC and Stewart knotted with two wins apiece in Canada, who will break the tie this weekend in Toronto? With RC racing a limited schedule, each and every race he does will be a "can't miss" event. If you're not making the trek up north (or forgot to get a passport) be sure to tune into the Supercross Live! on
www.supercrossonline.com
.