Welcome to Racerhead. It's been a very interesting week—especially if you've been watching the BooKoo situation down in Texas.
Let me begin by going backward a little. In an interview we did with Crown Management's Scott Sepkovic before the Monster Energy Drink/Kawasaki Triple Crown of Motocross wrapped up at Steel City, Scott was asked how long the energy-drink boom in motocross might go on. He answered that while it certainly had some years left in it, he couldn't see some companies sticking around for long because "there just isn't enough room on the podium for everyone."
He was right. The Texas-based BooKoo Energy Drink told Holigan Racing principal
Michael Holigan
that they could not back his team in 2007 after all, basically pulling the rug out from under the team and riders
Josh Demuth
,
Brock Sellards
and
Kyle Partridge
due to a change of ownership. It was such a late development that Holigan was left without time to garner a new sponsor, so he had to break the news to his three riders and the entire crew that they would not be racing in 2007.
With arenacross already in full swing, there aren't many options for them. Sellards couldn't believe how long the company waited to tell him about the team's fate.
"I packed up all my stuff and drove from Ohio to Texas to start testing and filming for the TV show," Sellards told Ping. "Everything seemed fine the day I got there. We went testing the next day and rode all day long. When we went back to the shop that evening we were told that the team was done and that we were all out of jobs, basically. If they would have just told us earlier, then we could have found something else. I don't know what the heck I'm going to do now."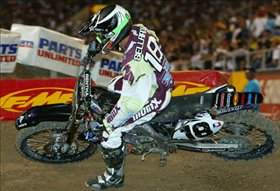 Brock is looking for a ride—can you help?
photo: Steve Bruhn
That's just a bad situation for all of them. Any teams out there looking for good riders …
are you reading this??
This afternoon I called Michael, who I believe is a true visionary in this department, what with his Reality of Speed show and the whole setup, to find out more.
Racer X: Michael, I really feel bad about what happened, but that's the nature of motorsports business and sponsorship, isn't it?
Michael Holigan: Yes, unfortunately it is, and it's a bad deal for me. I lost the business that I love, but it's very bad for our three riders and all of the team members, because that was not only something they love, but it was their total livelihood.
What is the short-term outlook for everyone involved in the team? Are you looking for new sponsors, or is this a done deal?
You know, Sulli, of course, ever since we got the notice, he has jumped on the phones and the computer and has been banging away at people who were talking about being associates and trying to get them to step up to a higher level, but realistically, it's not going to happen for 2007. It's just too short of a time frame to do anything.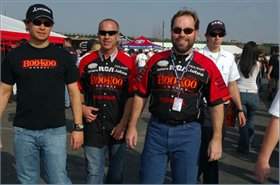 Michael Holigan is hoping to get something going again for 2008
photo: Steve Bruhn
I know that as far as being a team owner, you're a very "hands-on" person. How hard was it to talk to Kyle, Josh, and Brock to explain to them what had gone on?
Yeah, unfortunately, they were spread all over the country. Kyle was driving to California at the time and had bad reception. Josh was up in Canada, so the only one here was Brock, and he has just been here for a day. So it was a bad deal to sit down with him and the other team members that were in town and say, "You're not going to believe this, but it all just blew up."
The series starts in two weeks.…
Yeah, we're supposed to be in Canada in a couple weeks, and we're signed up for both rounds. We raced the U.S. Open, and we figured out some changes that we wanted to make, and we were ready to go. And here we are.
I wish you the best with this, Michael. If things ends as it is, I hope you know that the legacy of your team, that you guys were real groundbreakers and certainly showed people how a team can be run.
I do appreciate that, and I sure hope it isn't the end, because I love the industry. People have been great, and I really appreciate everyone's support here in the bad times, as well as when we were doing good.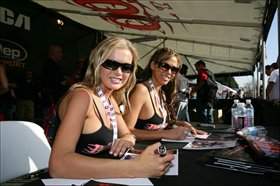 Supermodels for hire—will work for salad
photo: Simon Cudby
Hey, can we hire your models?
[
Laughs
] Sure, they need the work!
In other BooKoo news, they will continue to back Mike Kidd's Arenacross Series, according to a press release that Kidd released earlier this week. "We have had numerous meetings with the new management of BooKoo Beverages. Our discussions have always been positive in our mutual efforts to promote and brand the BooKoo Arenacross Series and BooKoo Energy Drinks," said Kidd in the press release.
By the way, one of the first people to step up to help Sellards was Tuf Racing's Dave Antolak.
This post appeared following the BooKoo break-up, from Antolak, on Mototalk: "We actually let Brock out of a contract with us to take the substantial offer from Holigan Racing. Brock rode the first AMA round for fun, he could not do the second round because he had to go to Texas for testing. Now he as well as Josh are out of the points for any of the top overall bonuses. We will take Brock to the Reno round, but we only have the budget to do the two riders we have already signed for the rest of the series. If anyone out there knows of a sponsor that could help us take him to the rest of the series let me know. You can reach me at Dave@tufracing.com. This is how these riders make a living and to leave them hanging like this is just not right."
Ping was on hand in California yesterday when another team, Yamaha, officially introduced their 2007 lineups at the company's headquarters in Cypress: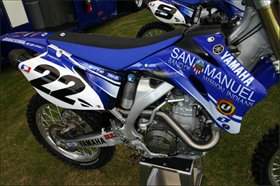 Chad's bold new graphics
photo: Ping
It wasn't exactly an unveiling because everyone knows that
Grant Langston
,
Josh Hill
and
Broc Hepler
will be racing out of the big blue truck this year and
Chad Reed
and
Nathan Ramsey
will be riding Yamahas but for a private team funded by a very generous band of Indians here in Southern California and their casino profits.
Langston said that testing has been going well for him so far and that the entire team looks strong. Hill still hasn't been told what coast he will ride, though the West Region seems to make the most sense since Hepler wants to ride on the East and Josh lives out West. Josh was hanging out with his mom and his little brother, who has the biggest feet I've ever seen on a kid. Josh said his little bro has some game, and we might just see more of him in the future. His parents have been splitting their time between taking Josh to the test track and taking his brother to local tracks to practice.
Yamaha also announced that they would have Nate Adams back as their main freestyle rider, along with Tommy Clowers and Jeff Tilton and their successful Red Bull demo program. Doug Henry, Mark Burkhart and Brandon Currie will remain on the factory Yamaha Supermoto team for 2007.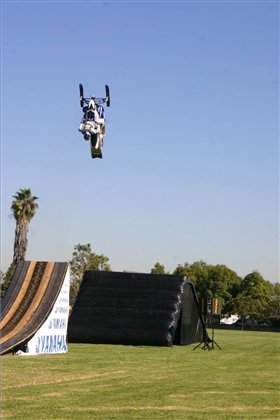 Jimmy Blaze gets inverted
photo: Ping
Every road racer, four-wheeler, and snowmobile rider that Yamaha backs was in attendance for the event. One guy in particular blew my mind.
Jimmy Blaze
joined the freestyle riders in a demo behind the Yamaha race shop. The snowmobile rider pulled the biggest back flip I've ever seen on a snowmobile. It was nuts.
After chatting with him and Nate Adams a little bit, I found out that there will not be motorcycles at this year's Winter X Games in Aspen. Moto X Freestyle has been replaced with snowmobile freestyle. It actually makes more sense, and the fact is, these guys are pretty entertaining on the sleds. Besides, whose idea was it to ride dirt bikes on ice? None of the riders liked it, and when the conditions were bad, the event had to be postponed, which caused a lot of problems for ESPN.
Nate had a really scary moment during the demo session. The ramp he was hitting had less pitch than the ramps he's used to, and as a result, the front end of his bike would fly much lower than usual and his back end would come up. During a Superman seat grab, Nate went to pull himself back on the bike, but because the back end was higher than normal, he hooked his pants on the rear fender and rode the bike all the way to the landing, with his butt just above the rear wheel. When he landed, the rear wheel sucked him up and tore his chest protector off as he and his bike slid to a stop. Amazingly, Nate was uninjured. Yamaha employees must think he is a nut.
Switching gears here, I've known Victor Sheldon for a long time. The eight-time Jet Ski world and national champion has been hanging around the motocross races for as long as I can remember. He's always been a fan of our sport (it doesn't hurt that his best friend is Jeremy McGrath), and he rides on a regular basis. He is one of the nicest guys around, but as long as I've known him, I've never seen him ride a Jet Ski.
Well, this week, that changed. Victor invited Ryan Villopoto and me down to Mission Beach to do a little bit of his kind of riding. There is a certain spot down there where Victor and his buddies set up a course with bouys and race, moto-style. RV had only ridden a ski one other time in his life, so I was feeling pretty good about my chances of turning faster lap times than him.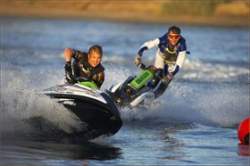 Ping is multi-talented
photo: Frank Hoppen
Rich Van Every
showed up to shoot some pictures (with his shirt off, of course), as did fellow moto-journalist
Frank Hoppen
, who happens to be a former German Jet Ski champion. Sheldon brought out two of his personal race skis and a couple stock skis for us to try. Now, I have an old 550 Kawasaki at home that I thought was pretty sweet—she has a pipe and a carbon-fiber air filter cage, so I thought she was the fastest thing on the water. But I'm an idiot. Victor's Jet Ski was so fast, I could barely hang onto it! I came unreasonably close to whisky-throttling his pride and joy straight up onto the beach because I couldn't let go of the finger throttle.
I got a little better as the day went on, and I am proud to say that I worked RV, big time. But the little guy did improve drastically over the few hours we were there. He even made a couple calls to Kawasaki on our way out to see about getting a couple skis for himself. Good thing he has an allowance with his employer for non-motocross-related toys and OHV vehicles. (I think he's just mad that I was faster than him.)
Sheldon is absolutely amazing on a Jet Ski. I don't know what I expected to see, but his skills pretty much blew my mind. Thanks to Victor and Slippery for inviting us out. It was a blast.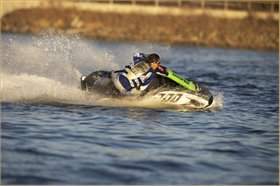 Victor is the Jeremy McGrath of Jet Ski racing
photo: Frank Hoppen
Oh, and one last note: Those of you who watched the outdoor nationals or the AMA Supermoto series on OLN might be wondering what happened to the channel, as it is no longer available. The company simply changed its name and is now called the Versus Network.
Okay, that's it from Ping—for now. Last weekend I mentioned that I was in New York City and also included a note about Jeff Spencer helping out Lance Armstrong in the marathon there. Turns out that wasn't the only motocross connection to the foot race. I got a note from former pro Andy Stacy, who was also there—but not running himself:

"I was in NYC for support last weekend. You see, my wife Jackie also competed in the marathon. She finished with a time of 3 hours, 42 minutes. It was a fun trip. I also got to see Lance at mile 16—he had a motorcycle escort he was hard to miss!"
Last weekend Eric Johnson was at the NASCAR race in Phoenix, where he ran into Ricky Carmichael a few times. "What a different context!" said EJ. "It was pretty charming to see him walking around the place and getting his head wrapped around it." RC was there to listen and learn.
And speaking of RC, I saw this and had to scratch my head: Over on a Croatian MX website (www.motocross-jasport.com) they ranked "2006's world top 10" and Everts is #1 with Carmichael #2. Hey, they love Stefan over there, and rightfully so. But check out number seven on Zagreb's list:
CROATIA
2006 TOP 10
1. Stefan Everts, Belgium (yamaha)
2. Ricky Carmichael, USA (suzuki)
3. James Stewart, USA (kawasaki)
4. Christophe Pourcel, France (kawasaki)
5. Ryan Villopoto, USA (kawasaki)
6. Steve Ramon, Belgium (suzuki)
7. Travis Pastrana, USA (suzuki)
8. Ken de Dijcker, Belgium (honda)
9. Yves Demaria, France (KTM)
10. Mat Rebeaud, Switzerland (KTM)
You MUST check out this video of James Stewart that was apparently on his MySpace site.
I absolutely can not wait to see James Stewart race in Canada. By the way, who do you think will win Toronto? That's this week's Racer X Online Poll question.
As far as all of the other teams out in California go, Simon Cudby and Matt Ware have been working the SX tracks for team shots and photos and whatnot for the 2007 Amp'd Mobile Supercross Yearbook, which Racer X is once again producing. Stay tuned for some photo features, Racer X Films and exclusives, though right now they are too busy to actually send us anything!
Keep an eye out this weekend for an interview here with the gorgeous Mercedes Terrell, the model who won the O'Neal Model Search—she's into moto, she's single, and she's very easy on the eyes….
The local Red Bull Account Manager, Ian Frease, just dropped by with two new cases of Red Bull. And by "new" I mean these are the brand-new bigger cans of Red Bull, which are 12 ounces, opposed to 8.3. What's better than Red Bull? More Red Bull, of course!
We got a note from
Phil Alderton
: "I thought I would drop you a line and give you the good news that I am employed! I landed a sales position at Santa Clarita Motosports, a Honda / Yamaha / KTM dealership in Valencia. It's not in the racing industry, however I think it will be a good fit for me with all of the dealership experience that I have. These guys also own a Suzuki / Kawi shop in Valencia and are going to combine the two stores in a new location with much better access and visibility off of the 5 freeway near Magic Mountain in about six months. There has been some preliminary discussions already about moving me up to a management position if things keep going well! I also wanted to thank you for the continued support through the good and bad times. I really appreciate it! So, it's been a long dry spell but it looks like I may have found a home. I can't wait to dig in! I start this Thursday."
Also, Live Nation Senior Director of Supercross Todd Jendro sent us this note: "On Sunday, October 29, 2006 my riding partner Andy Chevalier was critically injured while riding at Sunset Ridge MX race track in Walnut, Illinois. Andy went over the bars and landed head-first and then the bike landed on him. When the EMTs reached Andy, he was unconscious but breathing. Andy was then airlifted to St. Francis Medical Center in Peoria, IL. He has suffered severe head trauma along with a bruised lung and spleen. Andy has been unconscious and in a coma since the crash and is still currently in Neurological Intensive Care at St. Francis. Andy's wife Denise has been at his side since the crash and his two children, Kylie, 8, and Jack, 6, are staying with friends and relatives while their mother is in Peoria with their father.
"Andy has insurance for most of his medical bills but NO short or long-term disability. Andy's wife receives his last paycheck this week and has depleted all of their money in the bank from savings. As a stay at home mom with two kids, she will be facing the hard facts of the insurance system, financial decisions, mortgage payments and bill collectors. I have arranged a fund set up in his name.
Andrew Chevalier Fund
c/o Angie McHale
1215 Red Clover Dr.
Naperville, IL 60564
Anyone wishing to make a donation via PayPal can send it directly to their account: adkjchev@msn.com.
For those of you that are not familiar with PayPal, go to www.paypal.com and set up an account. Click on "Send Money." Enter an amount and the above email address (adkjchev@msn.com).
Any help would be greatly appreciated. Thank you.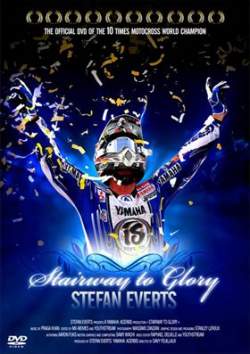 "And he's buy-hi-ing a stairway … to … glory….."
Check out the cover art for
Stairway to Glory
's international release. That's the name of the official DVD of
Stefan Everts
, which was made by Mx-Movies.
Action and excitement. Passion and emotion. That's what you'll find in this double DVD package dedicated to the greatest Motocross World Champion of all time – Stefan Everts." The comprehensive two-DVD release traces Everts' entire Grand Prix career, along with an exclusive interview, and also an hour-by-hour, minute-by-minute documentary of his last competitive visit to the Grand Prix in Namur, Belgium (which alone would be worth the price!). We'll let you know how to get it soon, or just keep an eye out for Stairway to Glory at www.s72.com.
Here's a short report from Dirtopia.com's Travis Kiger from last weekend's Lake Elsinore GP. You can also hit this link for some photos from said event.
Every November, thousands of motocross fans descend on the sleepy town of Lake Elsinore for two days of motocross racing in Southern California. The weekend of racing peaks at event called the Harvey Mushman 100, named after the legendary actor, Steve McQueen, who entered the race under the ghost name of Harvey Mushman in the 1970s. You might remember this race from the famous film On Any Sunday. Anybody can enter in this race. It's fun to watch the pro's race next to the heavy dude on the vintage dirt bike. There's even a guy who does the entire 100-mile race with his dog riding on the tank.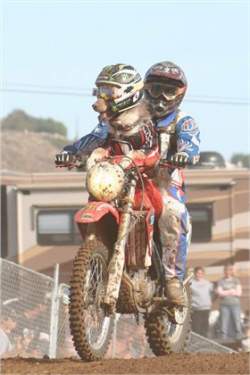 This is funny no matter how many times we see it
photo: Travis Kiger
From
Michael Rigdon
: "May I please ask your advice on best way to direct this information to AMA Pro Racing so they can evaluate this solution? Given the discussion about 450 four strokes being too powerful it seemed to me it would be only logical to make the bikes quieter to reduce the power. Amazingly this company is claiming they can reduce the noise while not affecting power output." Read the PDF file here.
Check out our new feature, "My First Bike." It will be featured every Saturday, and last week, Ron Hinson sent us his picture and told us a story about his first bike experience. If you work in the industry and have a picture of your first motorcycle, e-mail it to Fubar (mikef@racerxill.com).
JT (Foreign) Money is on the move again this week. The Butler Brothers' distant cousin is in Barcelona today, Vienna next week, then he will do Toronto and Vancouver, then Munich—and maybe even the North Pole before Christmas. Thomas will get to spend one half of Thanksgiving Day at home in Florida, then it's off to Austria on a 6 p.m. flight over the Atlantic Ocean.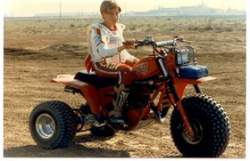 Ron's first bike!
photo: Courtesy of Ron Hinson
This week,
Andy Bowyer
crunched the #103 for in honor of
Sebastien Tortelli
, who announced his retirement last weekend at Bercy. Well, we had a couple readers send in their comments for the Number Cruncher Redux:
Challenging number this week. It seems that the low 100s were reserved for top Euros or top US guys who failed to score points due to injuries or riding overseas. Again, I defer to where I grew up, District 3. Thomas Rice sported #103 in 1980. He scored well in the 125 class at Broome-Tioga and went on to a string of two-digit numbers through the early '80s.
Josh Heintz. Chester Springs, PA
Jeromy Buehl (London, OH) used to run #103.
Shane. Albany, OH
The ISDE will be wrapping up down in New Zealand this weekend and it sounds like the Junior Trophy Team USA is still trying to hold on for a historic win. To see how it all turns out, keep an eye on Mark Kariya's reports over at www.cyclenews.com.


And check out the stars and stripes special Pro Moto Billet/Fastway Performance made for
Jimmy Jarrett
, a member of the U.S. ISDE Trophy Team.
Some of you may recognize the band Jukebox Zeros, whose music has been featured on a couple of Racer X Films. If you liked their sound, click here and cast your vote for their song. They're trying to make some waves in the world of punk, and if they pull the most votes this week, they'll get a bunch of radio airtime in Philly and a week-long front-page spot on interpunk.com. And look for more Jukebox Zeros on future Racer X Films.
And lastly, a note from our own Gregg Lowley:
Last Sunday I was traveling on the endless road that is interstate 70 from Lafayette, IN, on my way to Morgantown. Realizing there was absolutely no chance of making it home in time for The Simpsons, I decided to pull off in Columbus and grab a room, giving my beat-up 1993 Isuzu Rodeo a much needed break. As luck would have it, I happened to be staying one exit from what should be every motorcyclist's Mecca: the AMA Hall of Fame Motorcycle Museum.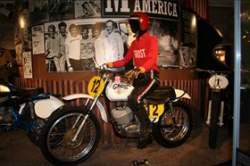 Barry Higgins' CZ
photo: Gregg Lowley
The following morning I climbed back into my truck, situated my dog in the back, sucked down a cup of hotel coffee, and battled my way over to Pickerington (you know what I mean if you've ever driven in Columbus). As I approached the AMA headquarters, I couldn't help but feel giddy. I was going to have a chance to see three incredible exhibits:
Motocross America
,
SuperMann
, and the Motorcycle Hall of Fame exhibit. I was prepared for sensory overload!
Let me say, my moto friends, I wasn't disappointed. Maybe you could compare it to walking into Notre Dame Stadium to watch the Fighting Irish take on Michigan in a classic football game—you can just feel the history. You go through the gate, and immediately run into Barry Higgins' 1969 CZ 360—the actual bike Barry rode in the famed Inter-Am series that coincided with motocross racing's acceptance by the AMA. You walk past bike after bike—somewhere in the neighborhood of 60 overall—the very machines that throughout the years contributed to the development of motocross into what it is today.
There was so much to take in: the Supercross exhibit (complete with a set of bikes "jumping" the main staircase), the tribute to the 2006 Motocross des Nations team, and displays featuring trading cards, toys and memorabilia, all dedicated to the sport. And if all of that visual stimuli isn't enough, the folks at the AMA take the exhibit to a "whole 'nother" level by piping the sounds of the bikes into the halls (I swear, there wasn't a four-stroke to be heard) and projecting racing images directly onto the walls behind the bikes.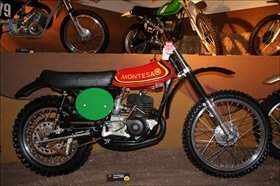 photo: Gregg Lowley
To be honest, I'm not sure how long the motocross exhibit will be on display, but I believe it is not very much longer. Do yourself a favor and check it out while you can. For the past three years I have been primarily focused on road racing (being the point-man on
www.roadracerx.com
will do that). Walking within arms-length of some of the most historical motocross bikes and accessories absolutely reinvigorated my love of the dirt bike.
And finally, my condolences go out to the entire state of Michigan, which in the words of Pat Schutte, took a knee today in honor of coaching great Bo Schembechler, who died on the eve of the Michigan-Ohio State battle for #1.
I'm sure that somewhere out in California today, guys like Nick Wey, Kelly Smith and Randy Valade thought of the old coach.
It's the end of an era; now he and Woody Hayes can start battling again in football heaven.
Okay, that's it for Racerhead. Thanks for reading. See you at the races.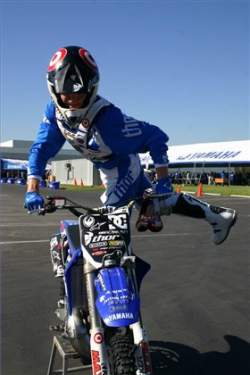 Nate Adams goes big
photo: Ping