Hello, everyone, and welcome to the Shift Number Cruncher. We have another good one for you this week. While this number isn't as common as last week's infamous #45, we feel like this racing number carries some weight. Like many of the numbers we have chosen, it is not just the great riders that have wore it, but also the amazing facts and history about the year it corresponds to. In addition, this number also manifested a suprising tendency and theme.
It's weird how each number we go with ends up having so many guys of similar distinction. Last week's number 45 produced comers and goers; this week number 93 turned the spotlight to a plethora of arenacross riders. Along the way, the year of 1993 was one of the most pivitol years in our sport's history: You may recall a certain individual with 72 supercross victories? His damage plan began in 1993.
Meanwhile, there was a class down at the Ranch that would produce most of the stars we'll watch on CBS this winter. But wait, there's more! 93 is quite an amazing number. Take a look at these riders that wore it, then check out some amazing facts about that amazing year in history at the bottom.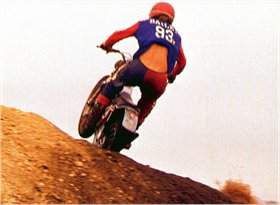 Gary Bailey
photo: Racer X Archives
This is the earliest picture we could find of #93. And coincidentally, it pertains to the number astonishingly well. Pictured here is
Gary Bailey
riding the wheels of this prehistoric dual shock-adorned Bultaco dinasaur. Check out the over the top motocross socks and the real leathers. "The Professor" is one of the true ambassadors of this sport and knows more about getting around a track faster than you do. And as a member of the #93 club, Gary represents part one of the only father/son combinations in global motocross history; David Bailey wasn't bad either!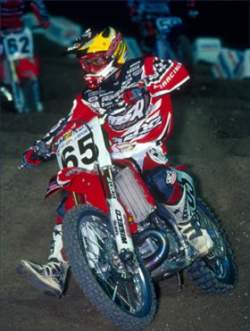 Grayson Goodman in '99, not wearing #93.
photo: Simon Cudby
Texas'
Grayson Goodman
was the 1994 Arenacross National champion. At one time, Grayson was regarded as one of the hottest prospects in the country but failed to find his way into stardom like some of his classmates: Jeff Emig, Damon Bradshaw and Ryan Hughes. Instead, he found a home racing arenacrosses and later on dabbled in freestyle before taking over his father's home building business. Some of Grayson's big moments in motocross are his appreance in
Steel Roots
(Bad Billy's favorite moto vid) and making several supercross main events in the latter portion of the '90s. As a certified F.O.J. or Friend of Jeremy's, Grayson earned and wore #93 in 1999.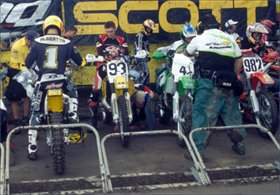 Damien Plotts
photo: Racer X Archives
Pennsylvania's
Damien Plotts
has been all over the place in his motocross career. From riding for Fast-by-Feracci Husqvarna to a stint as a Honda support rider in Germany, to racing arenacross, Plotts has seen more angles of our sport than most of us—usually with a big smile on his face. Here he lines up between a couple pretty decent guys at
Southwick
in 2000 on a Vertucci Performance-backed Suzuki.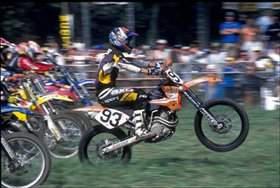 Clark Stiles
photo: Racer X Archives
The four-stroke revolution was in its infant stages when this photo was taken of
Clark Stiles
busting a big holeshot at Kenworthy's. Although, as you can see here, the two-stroker had to know they were in trouble when kids like Clark began ripping holeshots like this one.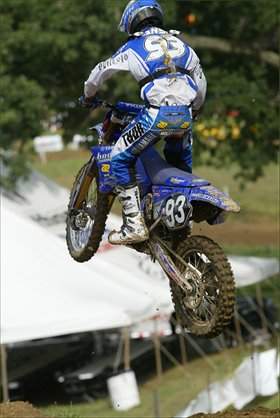 photo: Steve Bruhn
Running around LA in an orange Lamborghini (which is now gone), keeping company with bareknuckle fighters, and claiming "Mulisha" might not be the prototypical way of today's motocrosser but it works for
Josh Hansen
. And, you know what? He is a pretty good guy. I was standing in the freezing rain at
Steel City
this year directiing traffic, starving to death, being yelled at by just about everyone, and I'll be damned if Hansen didn't go out of his way to bring me a sandwhich and a cup of coffee. For no particular reason at all. I showed him some fast lines at Ponca City when he was on 60s and maybe he was paying me back.
In any regard, Josh and his father, Donny, are the second father/son duo in the history of the U.S. sport (after the Baileys) to win major races. He raced with #93 in his rookie season, and guess what number he has earned for himself for 2007…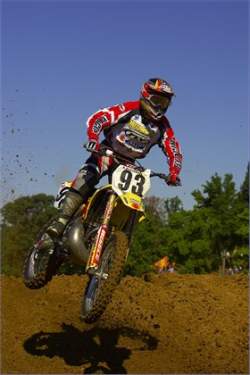 photo: Frank Hoppen
They call this fast arenacross standout from the midwest "The Sleepwalker" for the way he quietly makes his way to the front of most of the arenacross main events he enters. (Then again, Robby Floyd gave him that moniker, and he called me "Boom Boom" back in the day, so you can use that for what it's worth.) A super nice kid from a great family,
Tommy Hofmaster
entered some supercrosses in 2004 running the 93.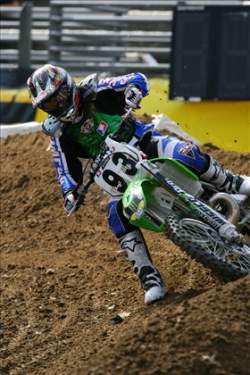 photo: Simon Cudby
Blissfield, Ohio's
Gavin Gracyk
was one of those kids that was supposed to make the jump from amateur to pro, then found the leap to be a little more than he maybe anticipated. Actually, a very ill-timed knee injury dropped anchor on his freight-training career and he has been fighting back ever since. A long-time Team Green rider, Gavin spent a year on Billy Whitley's Richond racing arenacross team and spent some time in Canada racing with number 93.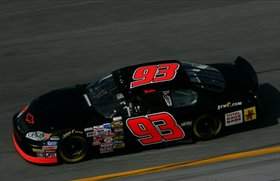 Geoff Bodine
photo: Courtesy of nascar.com
This is
Geoff Bodine
during his vein attempt to qualify for the 2005 Daytona 500. For those of you who have watched a NASCAR race and wondered who gets to drive that neat pace car, that would be Geoff. He was listed in the Guiness Book of World Records in 1989 for most wins in a season (55 wins, 1978 modified division). Geoff is also the man who brought power steering and the full-faced helmet to the legion of stock car type folk. How 'bout them apples?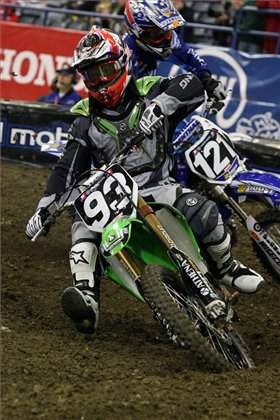 Teddy Maier
photo: Matt Ware
Like Gracyk,
Teddy Maier
is another young, fast kid that is still trying to break through the ice and establish his professional career. I've gotten to watch Teddy's career from the time he raced arenacrosses on his 60, to when he stuffed me and whipped it in my face with a look over when we raced the pro class at Lake Whitney in 2003. He has great days ahead of him in the upcoming winter arenacrosses. Maier was AMA #93 in 2006.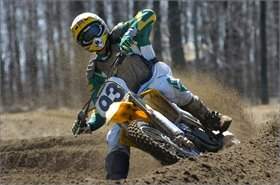 Tyler Bezzo
photo: Courtesy of Racer X Canada
Tyler Bezzo
wore #93 at the Canadian Nationals this year. Bezzo, who hails from Simcoe, Ontario, earned his first national number after finishing 11th in the second moto at the Gopher Dunes track--as an intermediate rider (B class)! Wearing his black and white pro digits in 2006, Bezzo's best finishes were a 19th in the first motos at Gopher Dunes and Sand Del Lee. Bezzo also won the 2004 250 Intermediate championship at the Walton TransCan.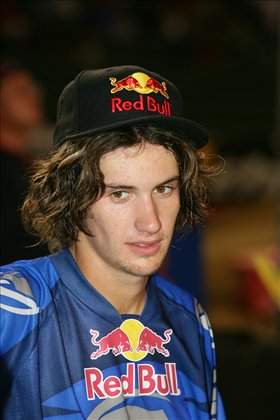 Lil' Hanny
photo: Simon Cudby
…If the AMA Numbering system is any indication, we may be in for an interesting year in 2007. While it's odd that it has been issued two times due to a clerical error, the most interesting thing I noticed was the cat that earned number 93 for the forthcoming year of racing. How strange it is that Josh has once again earned the same number of his rookie season! While this is a cool coincidence, the safe money is on Hansen running 100 when he takes it to supercross 2007.
With this being Halloween, I decided to dig up some spooky facts about 1993. 1993 marked the year that Marv Levi's Buffalo Bills became the first team in NFL history to lose three consecutive Super Bowls when they were defeated by the Dallas Cowboys 52-17 (and they would lose again in '94). While '93 was a bad year for Marv, it was a far worse year for John Wayne Bobbit.

1993 also marked the year of the infamous and tragic Branch Davidian Compound fiasco. I was 20 miles away at Lake Whitney, TX when that went down. It was also the year that Nirvana released their final albumn, In Utero. Coincidentally, Kurt Cobain has since passed Elvis Presly as the highest-paid deceased entertainer in the world. The ill-fated grunge sensation pulled in 50 million from the grave in 2006. 1993 would also see NASCAR star Alan Kulwicki and the WWF's Andre the Giant pass away.


Ah, but the spookiest aspect of Number 93 came as a surprise.
Timmy Coombs
, host of "
Racer X
Halloween Bash 2006," made his way into the office earlier in the week. I stopped him as he walked past my desk and asked him if he knew anything cool about number 93. He glared at me with his signature thousand-yard glare and held the gaze for a few seconds—long enough for me to look past his intense blue eyes and see the synapsis firing off in his brain. I held my ground and wondered what was going on in there and just before it got weird, he replied as he walked away, "Route 93 Mud Fleas, man."
Route 93 river crossing is the most infamous spot on the Blackwater 100 course where all the crazies pull bikes up the muddy banks. Tim is the 1988 Blackwater 100 Champion!