Headline of the year, from today's USA Today:"Palace Denies Spanish King Shot Drunken Russian Bear." Seriously. It's been that kind of day.
The whole Racer X staff has been working overtime this week, trying to finish an issue of the mag, the AX series program, and an issue of The Racing Paper, all while trying to avoid direct eye contact with one another after last weekend's trip to fabulous Las Vegas, where many of us spent some time being "that guy."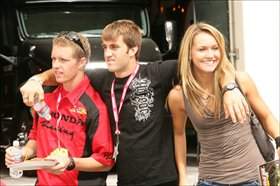 Davi Millsaps was all smiles in Vegas last weekend
photo: Simon Cudby
Before I get into anything, my sincere best wishes go out to Team Honda's
Davi Millsaps
. As you probably saw earlier today on Racer X Online, Millsaps broke his femur while riding on his track down in Georgia. I got a tip from a friend, called Davi's manager,
Lance Langston
, and caught him just as Davi was heading into surgery with
Dr. Berk
.
With Andrew Short already out with a knee injury until well into the 2007 season, and team advisor Jeremy McGrath suffering a fractured vertebra in his neck at his own race two weeks ago, Team Honda is now literally down to one healthy rider: Tommy Hahn. When it rains.…
The good news is that it's a clean break, and Langston told me they are guardedly optimistic that he won't be out too long. Then he put a very groggy Davi on the phone, who said (I think), "Don't let them dog me on the internet." I told him that everything I had seen after we broke the story was positive, and the Mototalkers were all sending out their best wishes. I also told him he was lucky he was good-looking, because Miss Supercross wouldn't otherwise want to be seen with a guy who limps.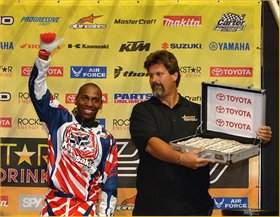 James was everywhere the money was in Vegas
photo: Carl Stone
On the track last weekend, the racing at the U.S. Open wasn't exactly Anaheim 2, but it was interesting. The fact that
James Stewart
managed to get the job done with somewhat easy efficiency does not bode well for the rest of the pack. Only
Ricky "Bobby" Carmichael
had something for Stewart, and he won't be factoring into any championship chases in 2007.
Stewart ended 2007 much the way RC ended 2005: he won Glen Helen, he led Team USA to the win at the Motocross des Nations, then he picked up a bunch of cash with a solid win in Las Vegas (though RC didn't leave town with a new Bentley like James just did, courtesy of Red Bull). The scary thing about the future is this: Stewart doesn't turn twenty-one until December 21, and he has no intention of going car racing anytime soon.
The one thing Stewart did lose was the Superpole on Saturday night, but only after trying to hit the whoops at what could be best described as an extraordinarily high level of speed and almost cartwheeling. That left the $10,000 from the folks at Toyota to end up in the pocket of Kevin Windham, who must have added a quarter of a million dollars to his bank account in the last two weeks.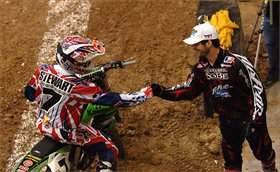 K-Dub and James give each other props on their fast laps
photo: Carl Stone
As for Carmichael, you have to give that guy a lot of credit. Even with all the car talk surrounding his weekend, he went out there and let 'er rip, and he very nearly passed Stewart at the end of Saturday night's finals. RC is fully committed to this NASCAR development deal—he's got a guaranteed, multi-year deal in place—but he's obviously committed to giving Makita Suzuki and his supercross/motocross fans all he can when he does put the Fox gear on.
For instance, Ricky has been home for exactly one day since he left for the Motocross des Nations in England. He's been constantly testing with Suzuki and his teammate Ivan Tedesco, and even his team manager Roger DeCoster told us in this week's Suzuki Between the Motos that Ricky is "as focused as ever. I just hope that we get the bike really, really good, and if we make the bike good, it will be more difficult for him to sit out of an event!"
In fact, Carmichael is flying back from California tonight with Ben Townley (who acquitted himself pretty well in Vegas in what was effectively his first U.S. supercross race) for a little time off….
Like tomorrow afternoon. Then he's getting in that car and going to work there.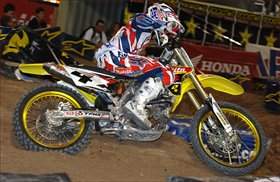 Carmichael was second overall in Vegas but top driver
photo: Carl Stone
RC barely has time to even wash his bike when he's out in California, but that's not a problem now that
Sean Bailey
, the son of the Icon himself,
David Bailey
, and a buddy have started a "motocross detailing service." MX Clean will come to your house (or Ricky's), wash your bikes with the best cleaners and attention to detail, just like the factory mechanics, "and best of all, you get a clean filter with every wash!"
$35 AMATEUR WASH
*Pressure wash with cleaners
*Chain cleaned and lubed
*Silicone plastic shine
*Air filter cleaned and oiled
$85 PRO WASH
*Includes amateur wash features plus;
*Pressure wash with plastic and seat off
*Check spokes
*Lube clutch cable
*Clean, lube and adjust chain
*Bleed brakes and forks
Call MX Clean today! 951 375-6480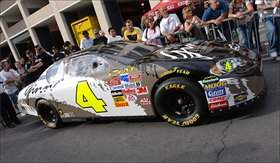 Wonder if MX Clean does cars too?
photo: Carl Stone
Sorry about dropping in a commercial like that, but Sean's a great kid, and I think his idea for his first business is pretty cool. His father is proud of him too.
Carmichael isn't the only motocrosser who has a think for four-wheelers. Racer X reader John James of Austin, TX, spotted this piece today from Australia on Chad Reed showing similar ambitions with V8 Supercars in Australia. V8's are the premier motor sport racing in Australia. Check it out.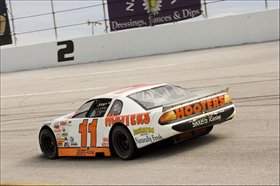 photo: Rich Van Every
Heck, even
Nate Adams
, the X Games hero and factory Yamaha freestyler, did some stock car driving this week in Florida with
Rich Van Every
. They were on a ¾-mile track in Lakeland at the Drive Tech Driving School. "Target made this all happen for Nate," said RVE. "The top speeds were around 120 and the banked corners offer some friendly G forces... It was sick!"
Okay, back to dirt bikes: Here's Ping's stuff: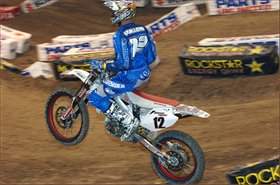 Wonder what a goon ride looks like in one of those race cars?
photo: Carl Stone
Team Solitaire has confirmed its lineup for the 2007 season.
Ryan Clark
will be returning once again as the team leader. That isn't much of a stunner since Ryan is the owner, operator, team manager, and team coordinator. I wonder if he haggles with himself when he's negotiating his contract. His partner will be
Jiri Dostal
. Jiri is coming from the SoCal race team and is excited about the new opportunity.
"I'm pretty stoked with the team," said Dostal after his first day of testing. "We already got a base setting sorted out, and we have several more days lined up to just test suspension. Ryan runs a good program, and he's always organized. That makes it a lot more fun to come to the races. Hopefully, we can both have really good results this year."
Ryan's teammate in 2006, Justin Buckelew, is headed to the AMA Arenacross Series on the Tuff Honda team. Justin and his new teammate, Danny Smith, will be contenders when the gate drops for the first Arenacross round in November.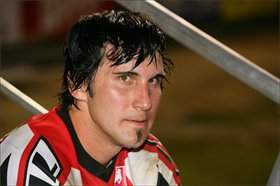 Jiri is joining Team Solitaire
photo: Simon Cudby
The Red Bull Ride to the Hills event is taking place this Monday, Tuesday, and Wednesday in Southern California. The annual event showcases some of the best freestyle motocross riders in the world competing on natural-terrain jumps in various locations. This year's event will be include the infamous locales of Ocotillo Wells and Glamis.
Nate Adams
,
Ronnie Renner
,
Mike Mason
, and others will join in the fun. Word has it there may be a top-level motocross racer there hitting the jumps as well.
The Wonder Warthog program has been a huge help to privateers in the sport. In 2007, the WWR team is going to a whole 'nother level. They have partnered up with the team formerly known as SoCal Racing, purchased a $1.4 million semi, and hired sixteen riders for 2007! Through a tryout and interview process, six riders were chosen as interns that will ride inside the truck and under the team awning. Those riders are: Jimmy Albertson, Chris Blose, Brady Sheren, Ryan Abrigo, Kyle Tobin, and Jack Marsack.
Also, ten more riders will have their bikes taken around, their expenses paid, and have a separate awning called the Hog Haven from which to pit. This pit area will be behind or adjacent to the main team riders. The program is amazing for riders who need a chance to get to the races on competitive equipment. Stay tuned for more about the program in an upcoming issue of Racer X Illustrated.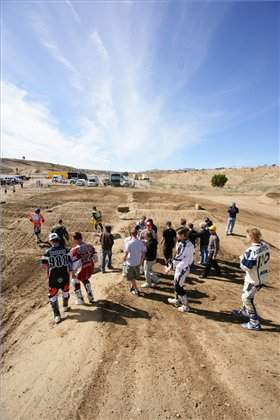 Wonder Warthog tryouts were pretty cool

photo: Simon Cudby

Ryan Villopoto is back in California and back on a bike after taking a break. The newly crowned national champion and MXdN winner headed back up to Washington and then to his cousin's house in Alaska to do some hunting. RV would have made Larry Ward proud, as he killed a black bear during his outing. He also shot, killed, and ate a deer while in Alaska. The poor little thing barely had antlers, so I will continue to give him a hard time for killing Bambi. Nice shootin', champ.
In the meantime, Ryan and Randy Lawrence are getting back to work to prepare for the 2007 Amp'd Mobile Supercross season. After watching Josh Grant ride the last two weeks, I hope both of these guys show up on the West Coast at Anaheim, because they're going to have some great races.
As for me, I'm off to the final round of the national hillclimbing championships in Tracy, CA, this weekend. I'll be riding a 625cc KTM with nitrous on loan from the Peterson family. Wish me luck.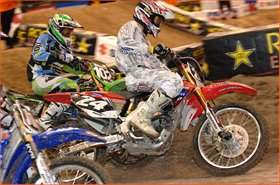 Josh Grant look extremely fast and confident in Las Vegas
photo: Carl Stone
That's it from Ping. And Speaking of Villopoto, that numbers thing is still floating around out there. BUT, there's light at the end of the tunnel:
Steve Whitelock
told me this afternoon that we can expect to see the numbers on Monday. It's all done, but he wouldn't budge on what digit (or digits) RV will be running.
Earlier this week, Eric Johnson spoke to Travis Preston about his return to the Factory Connection tent and SoBe/Samsung Honda. With Short and Millsaps now out and McGrath probably done racing, I wonder if Honda is pondering a reversal on Preston to make sure they have a 450 guy out there at Anaheim.
And what about Michael Byrne? He's looking for work too. And last Friday night, while bench racing with MDK's Nick Wey (who got hurt at Jeremy's race), I couldn't help but wonder why his phone still hasn't rung with an offer of a full factory deal. He's top-five material in supercross, and with RC leaving, well, he's top-four now. Why can't this man get a full factory ride?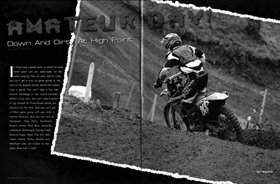 Bad Billy is featured in Amateur MX
Check out
Bad Billy
's first magazine spread—well, first spread in another magazine. He's in the opening shot for the
High Point
amateur day story in
Chris Hultner
's
Amateur MX
. Now all he needs is his own
TRP
cover.
Did anyone catch the madness in that road race last week, where Dani Pedrosa literally knocked his teammate Nicky Hayden out of the lead in the MotoGP championship series with one race to go by crashing right through him? Well, our colleagues over at Road Racer X have started a Go Nicky! Campaign to just try to help inspire Nicky to somehow catch back up to Valentino Rossi and win this title. They've dedicated pretty much all of Road Racerhead to the Repsol Honda rider. Check it out.
And to also see some of the well-wishers for to Nicky, click here.
Now, I hate to start closing this out short, but there's a West Virginia University Mountaineers football game on at 8 p.m., and everyone here is going home (or to Jason Fleming's trailer) to watch it. So let me point you to some other really interesting things on the web this week.
With Mike Goodwin finally about to go on trial for the murders of Mickey and Trudy Thompson in Los Angeles back in 1988, Los Angeles Weekly has written up a huge article on the case, which involves the man who basically invented supercross (Goodwin) and his old partner (Thompson). Check it out.
Also, Ludo from One Industries pointed me to Jean-Michel Bayle's personal website, which features an amazing library of photos from the enigmatic, fantastic French MX icon (who's now, believe it or not, into car racing too). JMB's site is http://www.jmb111.com/.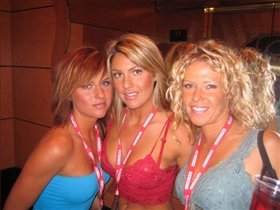 Here are three reasons why Las Vegas is our kind of town
What JMB is to motocross style,
Megawatt
is to bench-racing style. You've got to check out
Megawatt's site
.
And then there's Stefan Everts. Over on www.mxworld.be there's a pretty cool career review with some great shots of the ten-time world champion and all-time classy rider. You can also find a lot of Everts right here.
And finally, back to the Spanish king and the drunken Russian bear.
And here's a sad note from Craig Andredas:

District 5 Loses a Friend, Fan, & Rider; Cole McMahon, 24
Monday October 16th on his way to work as a school teacher and football coach at Fort Leboeuf High School in Pennsylvania, Cole McMahon died in a head on collision when another truck crossed the yellow lines and struck his own. Cole always always followed the motocross scene, but like most of his fellow college friends, there was always more time for riding than racing. While his stomping grounds was normally Mapleshade and local tracks, Cole was able to attend a lot of national events including High Point, Steel City, and the Broome-Tioga National, as well as the Indianapolis Supercross. I first met Cole while attending California University of Pennsylvania. We ran into each other at a friend's house and noticed the opposing motocross casual wear and started talking racing for a little while. I came to notice Cole was a huge fan of the sport and very knowledgable about District 5. The next thing you know all our friends are at the local college hangout talking moto and planning riding sessions. When our crew wasn't at the races, you could find us at the "spot" carving lines in an abandoned slate dump, Terrafirma-style, near the Monongahela river. He and my girlfriend Amanda would hang out in the press box while I was working supercross and it was always cool to have friends from D-5 drive out to the nearest race. Cole was a great friend and will be missed by all of us. I would like to also send condolences to his family and friends from Erie, PA. He will be remembered as a great friend, fan, and motocross rider of District 5; he may be gone, but he will never be forgotten.
Letters can be sent to his family at remembercole@gmail.com
Godspeed Cole
That's it, I have to go to Mario's Fishbowl to conduct a short beverage test before it's time to watch WVU beat the hell out of UConn at 8 p.m. on ESPN. And don't forget to watch the U.S. Open on Sunday afternoon on CBS! Check your local listing for times.
Thanks for reading Racerhead, get well soon Millsaps, and see you at the races.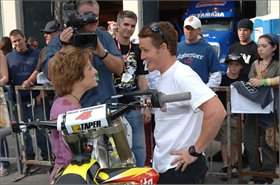 Mary Lou and RC
photo: Carl Stone