5 Minutes With ... Travis Preston
As a member of the then-named Factory Connection/Amsoil Honda race team, Travis Preston held off a young James Stewart to win the 2002 AMA 125cc West Region Supercross Series. In 2003 and '04, Preston continued to win 125-class races, and while running a limited 250cc schedule, he earned a few top-five finishes. In 2005 Team Honda drafted Preston on to the factory team. And while plagued by injuries his rookie year, he had a consistent 2006 campaign, placing seventh in the AMA Supercross Series and fifth in the AMA Motocross outdoor class. It wasn't enough to keep Preston from being let go by Honda at season's end. Fortunately, Travis has found new life—albeit a supercross-only one—with his alma mater, the now rechristened SoBe/No Fear/Samsung/Factory Connection/Honda team.
Racer X: Travis, what are you up to today?
Travis Preston: Shoot… Today, I went to the gym, I went on a road bike ride, and right now I'm doing errands for the wife.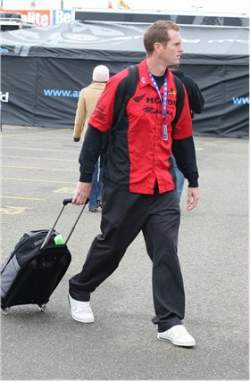 Travis packed his bags and is moving from Team Honda to Sobe/Samsung Mobile Honda

So you're now a member of your old team again. How did that happen?
Well, actually my old mechanic, Shawn Ulikowski, saw Ziggy [Rick Zielfelder] at the KROC [Kawasaki Race of Champions] Englishtown race and they started talking. Ziggy asked Shawn, "Does Travis have anything going for next year?" Shawn told him I was looking around, so Ziggy called me and we began putting something together.
You were fifth overall and had a number of strong finishes — including a third overall at Glen Helen — in the 2006 AMA National Motocross Series. Were you happy with it?
I thought my outdoor season was good. I was consistent. I was not Chad Reed or Kevin Windham. I was a notch below those guys. I was kind of under the radar this year and when it came time to do contracts for the 2007 season, my phone was not ringing.
As far as race teams looking for riders goes, your name seemed to come up a lot this summer. Was it a touch-and-go period for you?
No. You know at this point, financially, I've made some good investments, so racing wasn't my only source of income. I wasn't too worried about finding a deal. I talked to Honda and they told me what was going on in advance so I was able to look around. I had other offers, but after riding for Honda and Factory Connection in my career, I was kind of spoiled. The fun part of racing was being on a good bike and on a good team. I didn't want to take a deal where I was going to step back. I ended up at Factory Connection and all the same people are still there. It's going to be fun. The three years I was there ('01-'04) I learned a lot with the team. They knew me well and knew what to expect when it came to working with me. I guess there were less people there than at Honda and they kind of left me alone. I really like the team.
Are you impressed with the team's growth?
I definitely remember back when it was only Mike LaRocco, Chris Gosselaar and me. Now the team has two semi trucks and all these cool sponsors. I can get anything I need. I can get a car, a stereo, tires — everything!
Did you feel a lot of pressure there at Honda?
Nobody really puts pressure on you there. [Erik] Kehoe, Dan Bentley and Cliff White are great to work with. There are so many people there helping you. You'll be at a test and there will be 30 people and you. It's not really pressure you feel there. You see and know about all the effort and money that is put into the deal and I think that's where the pressure comes from.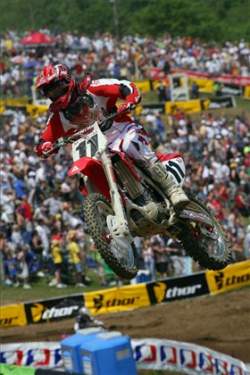 Preston will not be racing outdoors in '07

You placed seventh overall in the 2006 Supercross Series. You had four top-five finishes and were in the top 10 or 12 on occasions. Against the best riders in the world, that's saying something. Yet you seemed almost invisible this year…
I think part of that is the media — TV and everything. For instance, I was watching the Vegas Supercross the other morning and throughout the whole freakin' race all they showed was Bubba, Ricky Carmichael and Chad Reed. Those guys were a few seconds apart from one another and weren't even battling. Meanwhile, me, Ivan Tedesco and Nick Wey had a big three-way battle going on. I mean they couldn't go back for five seconds to show what we were doing? I think that has to have an effect on things.
What do you think about the print media?
The print media does a really good job. They level things out a lot better.
What will your deal for 2007 entail?
This year will be good. I'll just ride the 450F in supercross only.
Does it bother you that you won't be competing in the nationals?
It doesn't really matter. The money I'm getting does not change. With this deal I feel like I'm starting racing all over again. I'm excited about the supercross-only deal. I'll have more focus and energy by only doing supercross. When I'm done with supercross all the other guys will still have an entire summer of racing to deal with.
Will you race the World Supercross rounds in a couple months time?
At this point, I haven't planned on doing the Canadian rounds. I have not been on the bike one day since Glen Helen. I don't know if I'll be ready. If I'm ready to race, I'll go. I've been training hard now for two weeks and I'll get my bike in a day or two, so I'm ready to get going.
What will be your goal for the 2007 supercross season?
I'm looking for podium finishes, that's the main thing.
Do you have what you need to get on the podium?
Well, I had a good bike the last few years. Starts are the big thing in supercross. I need to work on my starts if I want to run with Bubba, RC and Chad.
For the 2006 season, we all know that RC will be in semi-retirement, Chad Reed will be working with an all-new race team, and James Stewart, while being the fastest rider out there, is prone to a mistake here and there. Could all this play into your hands?
[Laughs] That's the way I like things. I can come in and Bubba can cartwheel it.
How will it be having Kevin Windham as a teammate?
I've actually spent a lot of time with Kevin Windham. Through riding with Honda the last few years, I rode a lot at Kevin's house and we had a really good time.
How old are you now Travis?
I'm 28.
You still have plenty of time to pull down some big results.
[Laughs] I'm glad you say that. Usually when I tell people I'm 28, they think I'm old!