Hello, everyone, and welcome to the Rev Up. OK, I think its safe to say that we have finally entered the off-season. Our season just seems so strange when you look at it… I mean, theoretically, the "season" should be over when the checkered flag flies in the last moto at Glen Helen, but heck that isn't even close to signaling the end of the racing year when you take into account that the MXdN, KROC, the JMI and the U.S. Open of SX still have to take place before the boys can finally take a breather and spend some days holding the couch down.
Thus, I wanted to talk about this time of year we all like to call the off-season. One would think that the motocross industry slows down as we watch the leaves turn and begin warming our cars in the morning. I can tell you that from a perspective of working at a magazine publication, this assumption cannot be further from the truth. And also, since it's such a burning topic, I wanted to touch a little on the NASCAR season and offer some insight to what a "season" in that sport entails. So, instead of Revving it up lets detune a little and talk about whether or not the sport of motocross really does ever get a chance to idle.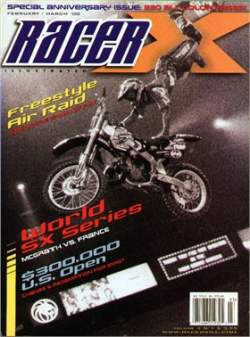 Carey Hart on the cover of Racer X
So, everything is all wrapped up, right? Ricky, James, Ryan, Ivan, Kevin and everyone can go home, buy some new toys, and get caught up on Grey's Anatomy and college football. Heck, maybe along the way they might get a chance to see those cool new Miller Lite commercials that Carey Hart is in!
That still blows me away. I met Carey at the Denver Arenacross in 1996. He was racing out of the back of a beat down Chevy van all by himself. I don't even think he made the mains, but he was super cool. Ten years later that guy is married to a rockstar and sitting next to Burt Reynolds of Smokie and the Bandit fame, Superbowl winning coach Jimmy Johnson and winning player Jerome Bettis, and the WWF's Triple H. Nice work, Carey.
Anyways, back to my point. James and the gang won't get to watch any of that because they are going to be inundated with testing, photo shoots, and training all the way to the drop of the gate at Anaheim… Wait, I mean Toronto! And that's like, next week, it seems.
Maybe that's why the sport thrives in two of the few places you can ride all year around. Those boys in California and Florida are already busy dialing in their machines for Supercross Odyssey 2007 (which begins in December 2006). And for Ricky – OK, lets talk about that.
If
Ricky Carmichael
has any aspirations of success in big-time auto racing, he has to start learning the trade right now. He has already been in a racecar, albeit a Late Model, way more than the general public knows. As we speed through autumn and head into winter, Carmichael is going to have to be the busiest man this side of the Great Wall of China if he wants to make everything happen the way he has it planned—the way everything usually does for the GOAT.
"Hey, Ricky, we need get that RM-Z450 dialed in for Toronto."
"OK, Mr. Carmichael, today we are going to work on entering and exiting pit road."
"Honey, get your butt down to Dairy Queen and get me a blizzard right NOW! We're all three hungry!"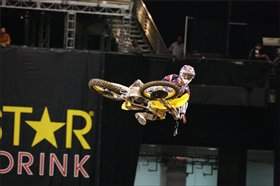 photo: Simon Cudby
It will not get any better for Ricky as he progresses (and he will progress) in his NASCAR career. You guys think motocross has a busy schedule? Please! The NASCAR boys race 36 weekends a year. And for guys like Carl Edwards, who race in both the Busch and the Nextel Cup series, it is almost impossible to fathom the horrendous schedule—one that will see him practice and qualify his Cup car in Fontana, California then take a police escort across town to the airport to jump in a leer jet and fly all night to Milwaukee, race a 300-mile Busch race, upon which conclusion he jumps directly back in said leer jet and head back to Cali to race the 500-miler, sans sleep. Rinse and repeat 36 times during the course of the year.
I received a phone call from Clint last night. I had been trying to get ahold of him all week since his race at Charlotte last Saturday night. "Hey, sorry, man, I just got back from testing at Homestead, Miami. We went to Vegas for a meeting with a new sponsor on Monday, and then went to Florida to test for two days. I just got off the plane and am headed home to sleep… I have to get up early and drive to Myrtle Beach for another sponsor meeting, then fly to Martinsville, Virginia for the 500..." Clint says, while talking a mile a minute before asking, "Hey man, what the hell time is it?" To which I replied, "It's 12:30 in the morning, man."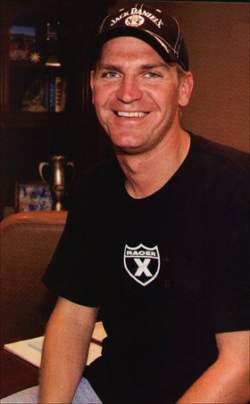 The author's brother, Clint Bowyer.

photo: Courtesy of NASCAR Illustrated
The life of a NASCAR racer is not all roses and daisies. It requires extreme personal sacrifice and forces a racer to give up any kind of real life all together. All in the effort to stand atop that car in victory lane with your fists raised in the air just one time. To put it in perspective, Ricky's new teammate, Mark Martin has been enduring this schedule for Roush Racing for 19 years, where he accumulated 35 race wins.
Ricky Carmichael
's professional career has spanned only ten years, where he has earned 140-plus wins. Things are about to get very different for our GOAT.
It ain't been no disco for me either. While we sit in this, the off-season, I have been busy helping contribute to the Toyota AMA Arenacross Series program. Writing the rider bios was one of my responsibilities and I was supposed to gather information such as what number the riders would be racing the series with. Well, for some guys this was a breeze. Defending champion, Chad Johnson will run the number one and the rest of the top 12 from last season will be numbered accordingly. Ah, but when faced with trying to find the numbers of Justin Buckelew and Danny Smith I ran into quite a pickle. While Danny had just raced at last weekend's U.S. Open with his 2006 AMA number 33, he wanted to use his 2007 AMA number for arenacross. Houston we have a problem – they haven't been given out yet! We had to send the program to the printer yesterday so Justin went with his amateur number 58 and Danny will just have to be 33.
I was all stoked all the same because the project was completed. "Ah, now its time to chill." Nope. Before I could log into motonews and waste some time Bryan Stealey, the managing editor for
Racer X Illustrated
, stopped by my desk and handed me a print out of the contact information for every freestyle rider in the world. "Nice work on the arenacross program. You need to do some things a lot better on this freestyle program. As soon as we finish that we have to get going on the supercross program, and hopefully you will be better by then. Get busy."
Off-season? Where did it go? Hellllooooo?
Thanks for reading, see you next week.
-Andy Bowyer