Thursday Rev-Up: Rumble in the Garden
Hello, everyone, and welcome to the Rev-Up. It's official: there is no off-season! As much as we like to talk and write about how this-is-the-last-time-for this and wait-till-next-year-for that, the sport of motocross has pretty much become a 365-day revolving globe of action.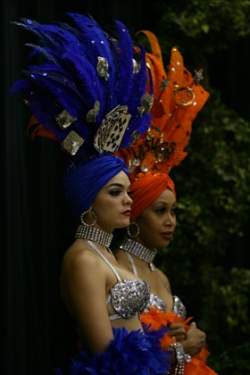 One of Vegas' finest attributes: girls!
As we trudge into another weekend of racing, I find myself having a hard time deciding if this race marks the beginning of 2007 or the end of '06. At one time I thought of the race as the first chance for the riders to show their cards for the upcoming season. Back in 2002, the race served as Carmichael's coming-out party as a Honda guy; last year it was the first time we had seen him ride supercross on a four-stroke.
A lot of unanswered questions seem to accompany the arrival of each U.S. Open. Ah, but it seems that the air of uncertainty has blown through. The Ricky vs.
Bubba
saga has already been written, read, and put to bed. The four-stroke revolution has come and gone. So what is there to get excited about for this, the ninth running of the U.S. Open? Quite a bit, doctor! This weekend is going to be awesome. Nobody throws a party like Vegas, and with a gate full of the best supercrossers on the planet lining up to do battle for a shot at $100,000, you can count on the city to be pumping this weekend. Let's talk about Vegas a bit and get revved up!
250F Class
Home to some of the biggest fights in the world, it seems fitting that Las Vegas plays host to the only two times we get to see the entire nation of tiddler specialist do battle indoors. This class has me shadowboxing, and I can tell you right now, there will be some drama on the track with this group.
Josh Grant
and
Josh Hansen
will be lining up on the gate together to continue their storied conflict of interest. Throw in an out-to-prove-something Ben Townley and a hungry-like-a-wolf
Tommy Hahn
and well, "Ding! Ding! Ding!" It's go time, folks!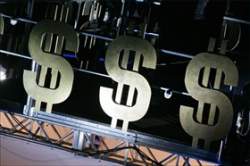 This race is all about the cheddar
This race will also mark the beginning of Sean Hackley's and Mathew Lemoine's careers. It's a pretty nasty event to jump into the fire, but what the heck? No better way to get your feet wet than to dive in headfirst. Eric Sorby is signed up as well, and that cat never fails to deliver some sort of altercation. One thing is certain: these guys are going to do a very good job of getting the capacity crowd jacked up for the big boys
450F Class
What was all of that talk about Ricky's last dance and the last time to see
James Stewart
and him do battle? These boys aren't done rubbing elbows by damn sight! This weekend there is still more area of unmarked territory. Which one of these warriors will get to claim the MGM Grand? It was all supposed to go down last year, but
Bubba
got sick and left Carmichael by his lonesome to shake off a pesky
Michael Byrne
.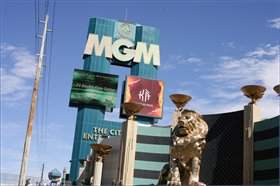 This will be the hot spot this weekend
Looking back, it's almost better that last year's event worked out the way it did. I mean, it was going to be hot, but this year is going to be nuclear. But we cannot turn a blind eye toward the Open's affinity for underdogs and surprise winners. Not many people saw Damon Huffman winning inaugural event in 1998 or Emig's privateer upset in '99, and very few thought "Iron"
Mike LaRocco
had another win in him in 2002. With
Kevin Windham
hot off his JMI victory, I think he has a legitimate shot at the title. He had to like that $185,000 check he picked up in Southern California! The Ragin' Cajun probably thinks a $100,000 one from Vegas would look nice hanging on the wall right beside it. How about that action? Ol' boy has a chance to win $285,000 in a span of two weeks of dirt bike racing. That's what I'm talking about.
And don't forget
Timmy Ferry
will be making his Team Green re-debut (that's where he ended his amateur career) and
Ivan Tedesco
will be in the house. Throw in the Cobra, One Punch, and the Burner and we have a pretty good-looking show heading our way.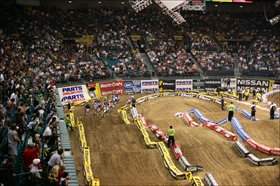 Not a boxing ring, but the site of a fight
just the same

All of this racing action is sweet and all, but everybody in the motocross industry knows that the U.S. Open is really all about the party. Once the race in the MGM Grand Garden Arena ends, the race to the circle bar begins. It's a weird weekend: only in Vegas is it normal to meet people walking to the breakfast buffet on your way back to your (or whomever's) room. It's Sin City, baby—the ugly home to every vice mankind has to bear. Las Vegas is that voice on your shoulder you usually ignore but find yourself having a delicious conversation with once you set foot in the casino. It's such an inviting place—all those billboards of triumphant faces with fists clenched with hundred-dollar bills or beautiful showgirls or whatever. The place is a brightly lit but somewhat dark and may very well be the home of not only Lady Luck but the devil himself! Either way, man, it sure is fun for a couple days!