Turmoil: a state of great commotion, confusion, or disturbance; tumult; agitation; disquiet: mental turmoil caused by difficult decisions.
Hello, everyone, and welcome to the Rev Up. My week got off to an ugly start. Shortly after filling up my Jack Daniel's coffee mug and finding my way to my desk and the comfort of my headphones, "Bad" Billy Ursic peeked his head around the corner and asked me a disturbing question.

"Did you hear about RC?"

I'm not sure if it was his tone or his wording that sent shivers down my spine, but instantly I felt that awful chill you feel when you are afraid something is wrong. I mean, in lieu of the kind of year it's been for injuries and freak accidents, the question filled my throat with acid.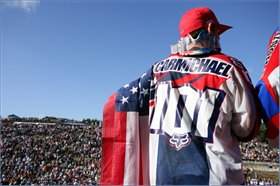 Will RC make it back to the MXdN podium?
photo: Simon Cudby
I had spent the weekend watching my bro compete at Richmond International Raceway and had yet to get the run down on
Glen Helen
. "No, man, what happened?" I replied. Billy went on to tell me that Ricky went down hard early in moto one and had to pull out of the moto and call it a day with an assortment of injuries. The first thought that went into my head was, 'Oh shit, the Des Nations!'
Well, guys, the team and the entire contingent of American motocross are now in a state of turmoil. Losing
Ricky Carmichael
before the MX des Nations is like what it would have been like if the Steelers had lost Ben Roethlisberger AND Jerome Bettis a week before the Superbowl. Actually, it's worse than that; those guys are good, but GOATs they are not.
Now before this week's column becomes too much of a bummer, let's take a step backwards and see how this may have happened. I promise when you reach the bottom of this page you will be Revved Up. Heck, you may even go so far as to buy a
Team USA 2006 T-shirt
(so we can get rid of the annoying pop-up).
How fast can you go on a 450cc motorcycle? The answer to the question of the year was finally answered in what I call the greatest moto ever. Ricky and James went toe to toe for 29 minutes on a perfectly groomed track under sunlit skies in Mt. Morris, Pennsylvania. It was 29 minutes of blinding speed followed by a monumental get off; too bad the moto was supposed to go 30 plus 2 laps.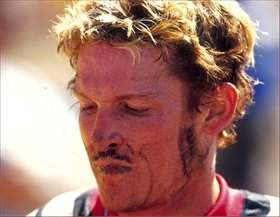 This guy is gnarly
photo: Simon Cudby
Two weeks later they were at it again, and this time it was Carmichael instead of "Stew" hitting the deck in moto one of the
Southwick
sand. Fast-forward to
Washougal
and it was another burly battle that ended with Ricky suffering one of the most incredible flying W's ever caught on camera. (All of you subscribers have a treat waiting for you when the new issue begins showing up in your mail boxes in the next couple weeks; let me just hint to you that the images by Tony Scavo give new meaning to the phrase "kung fu grip.")
What am I getting at? It's simple. All summer long people have been asking why and how James and Ricky can be almost a minute ahead of Chad Reed and Kevin Windham? The answer is all in the carnage. They are trying harder, riding faster, and absolutely refusing to let off of the throttle. You can only push the envelope so far. Those two have been watching it bend all year and both of them now know that eventually and inevitably – it will break. Now, does Ricky's last-race crash tarnish his legacy? Are you kidding me? Years from now, people will remember Carmichael for the way he stood up to any fight and tried his absolute hardest with every single drop of the gate. The fact that he rode this way his entire career through 15 championships and can walk away—sans limp—is nothing short of a miracle. On the other hand, this last crash has left him pretty banged up.

How bad is he? The information that I have gathered (and read from RC himself) tells me he is hurting pretty bad and will continue to hurt all the way until the gate drops in Winchester. The next obvious question is, Will he be able to race? Well, this is Ricky Carmichael we are talking about. Anybody remember those pictures of his foot and ankle when he won both motos at Glen Helen in 2004? How about going 1-1 at Budds Creek with stitches in his finger? Never mind the countless times he was banged up and never even told anybody about it. Trust me when I tell you that Ricky Carmichael can and will ride in pain—if possible. In addition, if there was ever a motocrosser that rivaled the great WWII soldier Audie Murphy in pride for fighting for his country, RC is the man. Although, this injury to his shoulder is unique in that it is to his "good" shoulder. He banged the left up three weeks ago at Broome, but way back when, RC broke his collarbone and the ensuing surgery pinched a nerve, which gradually made the muscles deteriorate. If you have ever seen a picture of Ricky without his jersey on, you have seen his "skeletor shoulder." Well, now his strong shoulder, the one that has been turned to steel over the years, is injured. He already compensates for his weak shoulder with his good one and now that it is hurt, well, this does not bode well for him making the race.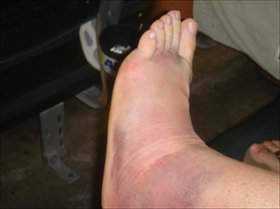 No problem shifting to a 1-1
photo: Scott Taylor
All of this is beside the point and really does not quantify our reasons for being in this tumultuous time. The real problem lies in the very real possibility that Ricky cannot race. What then? Who's going to fill those shoes? I have no doubt that Stew and "RV Park" can handle their chores with so much as a bat of the eye. That may sound like a "cocky American" opinion, but whatever—bring it on. I have been watching professional motocross racing for 25 years and I can easily tell you that those two guys will stomp a mudhole in all of them.
But we need our third man to bring a comparable amount of pain to the competition. The names that come to mind are Windham, Alessi, Hepler or Tedesco. But one of the biggest obstacles Team USA faces each year is not the competition, it is rather the cost of getting there. "Hot Sauce" can ride the same bike if RC can't go, and he was on the 2005 team. I guess that will be decided soon enough, though I've got my fingers crossed that General Carmichael can somehow answer the bell.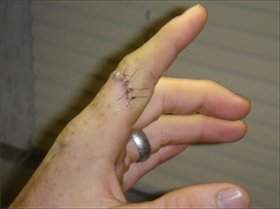 No problem clutching to a 1-1
photo: Scott Taylor
Regardless, we all need to get behind our boys right now. Team USA still matters, now more than ever. It is very important for us to win the Motocross Des Nations (if for nothing more than to keep Motodude quiet on Motonews, we have to maintain dominance). But no one wants to win it more than the man that is in Kissimmee, Florida right now doing physical therapy. I was at Loretta Lynn's when he gave his speech to the kids about how important that race is and how much it has always meant to him. As soon as he hit the ground at
Glen Helen
, he was already thinking about the race in England.
I don't know if he is going to make the gate, but if he doesn't and he says he just can't do it, well, coming from
Ricky Carmichael
, that's good enough for me, and I think we'll be just fine anyways.
Thanks for reading, see you next week.
-andy