Guess this is finally it. The 2006 Toyota AMA Motocross Series comes to a close on the always rough and challenging Glen Helen Raceway, which means the last day of the summer may be one of the toughest.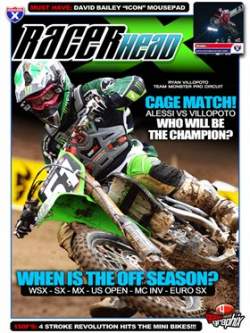 www.goonrider.com
The 250F title is still up for grabs, though not by much.
Ryan Villopoto
has a full moto lead, plus four points, over
Mike Alessi
. Of course, really strange things can happen—especially with #800 around. I don't need to go into what happened last year, but the final moto of 2005 remains the single most bizarre moment I have ever witnessed at a motocross race (though I was on the wrong end of the track to see it live).
Now that's saying a lot, because I was at the '94 Motocross des Nations when the leader Greg Albertyn hit a deer on a fifth-gear-wide-open valley crossing, turning the poor little guy into dinner.
And I was at Ponca City the year a guy (and I still swear it was Guy Cooper) raced half a moto without his helmet after it got so heavy from the mud that it fell off.
Then there was the time Shane Trittler did a somersault off the "building jump" at Las Vegas and landed on the back of Damon Huffman's bike. And I've seen Travis Pastrana do more bizarre things at races than I can even count.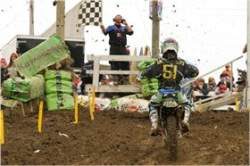 The Flying Freckle 3?
photo: Matt Ware
In the 450 class, it's almost over—the seven-year beat-down
Ricky Carmichael
has been putting on those guys. Tonight he will enjoy his tenth straight AMA National MX Championship (he had three as a 125 rider in the late 1990s) and celebrate with friends and sponsors.
Simon Cudby helped Scott Taylor and Fox Racing put together some of the AV pieces that will go with the show, and the rest of the Racer X crew made a very special video that we will share with you right here tomorrow. Trust me: It's pretty funny.
So James Stewart has one more chance to enjoy a prime-time battle with the man he's certainly pegged to replace. And as Andy Bowyer said in the Rev-Up yesterday, that could make Glen Helen one very special race.
As we've done all year long, Racer X Films will offer up a preview film tomorrow evening with highlights from Saturday's practice sessions, so be on the lookout for that and the RC piece I mentioned above.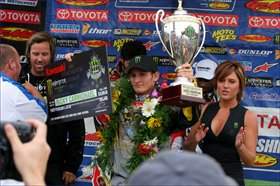 GOAT is going home soon.
photo: Matt Ware
Also keep a link open all weekend long to the timing and scoring at
www.amamotocross.com
, and the Racer X Webcast presented by
Cycle News
will start at 3:30 p.m. (EST) on Sunday, 12:30 locally.
One rider who will not be racing at Glen Helen is Team Honda's Andrew Short. He just had an MRI in California on the knee he tweaked at Steel City, and he while he does have slight damage to the meniscus, the doctor was inconclusive on the ACL. He will now fly to Colorado to a knee specialist on Tuesday for another opinion, and then determine what the damage and rehab is.
I tracked Andrew down earlier this afternoon for a 5 Minutes With interview. In case you missed it, here's what Shorty has planned for the next few months—depending on what he finds out about that knee.
Andrew also confirmed that he will be riding 450 full-time next year alongside Davi Millsaps on the Honda team.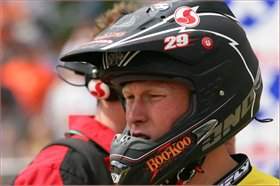 Short's summer season was shorted by one race.
photo: Simon Cudby
Looks like
Tim Ferry
will be on his new factory Kawasaki as early as this week. The plan for Tim is to start his 2007 SX testing next week in California, then determine whether or not he will debut on the KX450F at either the Jeremy McGrath Invitational or the Rockstar Energy Drink U.S. Open.
Bobby Nichols, the agent for Michael Byrne, said he is very disappointed in the AMA's new policy that keeps top twenty finishers in the AMA Supercross Series out of the Lites class. And with Ferry now the man in the #2 slot at Team Kawasaki, there aren't a lot of opportunities out there for a 450 guy. Here's hoping Burner puts on an inspired ride this weekend and gets something going again.
Barely related motocross story of the week: According to police in the Detroit suburb of Dearborn, Joe Cullen, who coaches the Detroit Lions' defensive line, was pulled over Aug. 24 and ticketed on suspicion of indecent and obscene conduct. What was he doing? According to ESPN Radio, he drove up to a Wendy's drive-thru naked this week.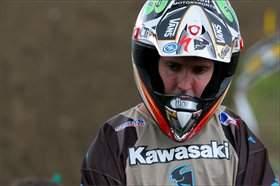 When the music stops, Michael might be without a 450 factory ride
photo: Matt Ware
What is it with Wendy's?
Eric Johnson dropped us this note about another top motorsports athlete getting ready to shift it down a notch after the weekend:
On Sunday, September 10, Ricky Carmichael will line up behind Bud Feldkamp's starting gate at Glen Helen in San Bernardino, click his Suzuki 450 into gear, wait for the gate to drop, then set off to ride the final AMA Pro Racing event of his astonishing career as a full-time racer. That same day, halfway across the world at the fabled Autodromo Nazionale di Monza in Milan, Italy, Michael Schumacher of the mighty Ferrari Formula 1 team will likely announce he will be retiring from Formula 1 at season's end.
The fact that the two racers—albeit from wildly different disciplines of motorsport— would be calling it quits on the same Sunday afternoon is stuff that can't even be scripted. Furthermore, both wheelman (Schumacher) and rider (Carmichael) would retire with records that very well may never be broken. Bring the also-retiring Stefan Everts into the picture, and we have the greatest collection of racing talent in history to call it quits at the same time.

Schumacher began his Formula 1 career sixteen years ago when he climbed into an off-song Jordan at the Belgian Grand Prix. He was 21 years old. In the years to come, Schumacher would win seven Formula 1 World Championships (an F1 record) and also ultimately own the record for most wins (89) and most pole positions (68). Schumacher, who was born and raised just outside of Cologne, Germany, would also become know as one of the highest-paid sportsmen in the world, pulling down over $30 million a year. As of Monza, Schumacher was still very much alive in the 2006 Formula 1 World Driver's Championship, just twelve points adrift of reigning Formula 1 World Champion Fernando Alonso of Spain. With four races yet to be run, Schumacher could very well be on course to World Championship number eight.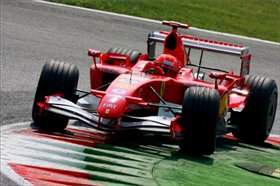 One of the all-time greatest auto racers, Michael Schumacher, may call it quits this weekend
Ricky's career numbers in motocross and supercross are arguably even more impressive and dominant than those of Schumacher's. Voted AMA Rookie of the Year after only one race in 1996, RC turned professional full-time in 1997 and immediately began winning. By the time the dust settled and the screaming subsided, he would own seven 25occ/450cc AMA National Motocross Championships, three AMA 125cc National Championships, and five AMA Supercross Championships. Furthermore, Carmichael won ten straight AMA National Championships in his career and an astonishing 96 AMA 250cc/450cc Motocross Nationals and 45 AMA Supercross main event wins for a grand total of 141 career wins.
Interestingly, in 2005, through the help of
Roger DeCoster
, Carmichael was able to meet Schumacher at the Indianapolis Motor Speedway when he stopped by during a mid-week practice session for the Formula 1 that was held that Sunday.
And speaking of cars, if you're wondering just how big
Travis Pastrana
is getting in driving quick little sedans around, check out the latest cover of
Grassroots
, a core auto magazine.
Racer X contributor John Hanson has a very cool new site up. Check it out: www.hansonimages.com.
So what number will Ryan Villopoto use next year if he wins? Too early to ask, and I didn't want to jinx him. But I do know that since #2 (McGrath), #3 (Brown), #4 (what's-his-name), #5 (LaRocco), #6 (Lamson), #7 (Bubba), #8 (Langston) and #9 (Tedesco) all scored points in 2006, they wouldn't be available unless one of the guys volunteered to move on that digit.
And with MC probably racing a few more SX events, Brown always going back and forth across the ocean, RC doing his part-time thing, and Stewart, Langston, and Tedesco in the primes of their careers, the most likely number to open up will be the now-retired #5 of The Rock or Lammy's seldom-used #6.
Villopoto and his family and Team Green prospect Austin Stroupe and his family took advantage of the trip east to check out the Joe Gibbs Racing facility on Friday. Gibbs is the owner of a very successful NASCAR team, as well as the coach of the Washington Redskins. The Villopotos were certainly impressed, as Dan and Kris, Ryan's parents, each wore Washington Redskins football sweat jackets at the races.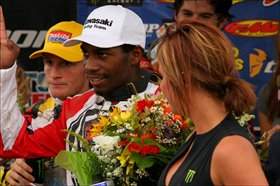 James holds the #7, so that one is off-limits for RV51 (or Alessi) to consider
photo: Matt Ware
This is another instance of motocross and NASCAR getting more and more familiar with one another. Expect to be hearing a lot more of this in the very near future.
James Stewart's absence on the Gibbs visit (he was set to attend) and the fact that he missed the AMA Team USA strategy dinner on Friday night after he missed his flight, had a few people talking that it may have had something to do with he and his agent, David Evans, parting ways.
But when I spoke to Evans this week, he had nothing but good things to say about his former rider, adding that a change in direction and more work around the Charlotte garages had more to do with the end of their working relationship. "James is a great kid, and I think he's got a lot of great things coming his way," said Evans.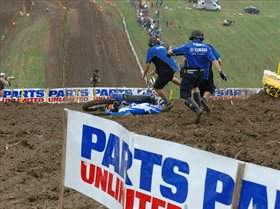 That's not the way to start your third national
photo: Carl Stone
Another kid with great thing coming his way is Team Yamaha's
Josh Hill
, although he didn't have a very good day in the mud at
Steel City
—"He crashed going into the first right-hander after the start and the bike wound up on top of him as he was face down in the dirt and could not move, although he tried!" said Carl Stone, our regular contributor. "I was thinking the pipe may have been burning him, but I'm glad that wasn't the case."
Hill came out and rode amateur day on Friday with Mike Alessi and his back-at-last teammate Josh Hansen in the hopes of learning the track more.
By the way, there's no rule keeping any pro rider from being on the track in a public race the day before a national, as long as anyone can sign up. What you can't do is rent the track or ride it alone.
But there's nothing to say you can't ride all you want on the Monday afterward! And that's exactly what Ryan Clark did on Monday. He stuck around and said that the Steel City track, finally dry after Hurricane Ernesto blew off, was absolutely perfect!
At dinner Monday night, Ryan had a really funny story for the Racer X crew:
"I passed Ricky at Steel City!" he told us. "At the end of the second moto, he lapped me while I was chasing after David Vuillemin, and then he started waving to the crowd and all because the race was almost over. So I totally started sprinting, got up behind him, and started yelling, and when he went high and outside on the double, I shot inside and passed him.
"The funny thing was that when Vuillemin saw him coming up, he probably slowed down a notch because he maybe didn't really think anyone else was coming after Ricky, but since I un-lapped myself, I took a shot and passed him. So thanks, Ricky!"
Tony Alessi mentioned in Alessi Weekly that Paul DeLaurier will not be Mike's mechanic after this race. Paul is now leaving Red Bull KTM team for L&M Yamaha to wrench for Chad Reed. Paul has worked with Mike since he joined the team, and before that he had a long tenure with Mike LaRocco at Factory Connection Honda. Paul had a tough day at Budds Creek this year, but he remains one of the most respected spanners in the pro pits.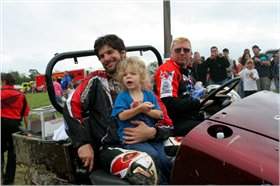 The Windhams really went to Chuck E. Cheese on Saturday night
photo: Matt Ware
Brooks and the Reed team have practically gutted the KTM squad that Larry used to manage. He has hired away
Dudley
the head engine-builder,
Jared
the suspension guy,
Josh Hansen
's mechanic,
Oscar
,
Deborah
the administrator, and
Loren
the truck driver. Wonder if
Kurt Nicoll
is next?
Okay, let me turn this over to Ping for some feather ruffling.…
The weather at last weekend's race at Steel City was odd. Hurricane Ernesto turned a usually pleasant time of year in Pittsburgh into a cold, stormy weekend. It also turned the racetrack into a swamp. Thank goodness for Hooters and their delicious wings, because most of the industry found their way to one of the local wingeries when practice was canceled. Actually, I'm not sure if there is such a thing as a wingery. Would it be called a boobery?
Either way, it sounds like it was a good time because I called DC to check in just as he was getting to the bottom of a bottle of wine, and the phone got passed around like it was the only lighter in the crackhouse. It was good catching up with everyone, though. It felt like I was there, wings in hand.
The strange part was this: Aside from the Monster girls, One Industries guys, and Toyota's Podium One people, one of the people in their watching football with them was
Ricky Carmichael
. Yes, Junior. He wanted to watch the WVU-Marshall game with DC, so the champ apparently sat in there for three hours sipping ice water while everyone else got liquored up like an Indianapolis Colts kicker. That's commitment.
RC swept the Monster Energy Kawasaki Triple Crown of Motocross, by the way, which meant something like $31,000 more in his wallet. Too bad that wasn't until Sunday afternoon, because the guys and gals at Hooter's probably could have used some help with the bill.
There were some interesting additions to the Steel City round. KTM had Zach Osborne, Nathan Ramsey and Josh Hansen back under their awning and all of them, including Mike Alessi, were riding 2007 model bikes. Unfortunately, it was a day all of them would have rather forgotten. Alessi lost more points to Ryan Villopoto, Osborne scored zero points, Ramsey had a bad first moto paired with a tenth, and Josh Hansen scored a 12th in the first moto but cased a jump in moto two and hurt his shoulder.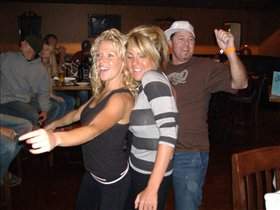 Looks like Sylvia, Christina and Dobey enjoyed the Saturday rain delay!
photo: Gina D'Ambrosio
Hanny ended up pulling off to get his shoulder checked out. The injury was minor and Josh is planning on riding at
Glen Helen
this weekend.
There was some speculation about what Jason Lawrence was doing on the track shouting and waving his arms at Hansen during one of the motos. The two riders have actually become good friends and have been hanging out quite a bit (I don't know about you, but that scares the hell out of me). Jason was cheering on Josh after his bike quit in the middle of the race.
Tommy Hahn also suffered an injury. I didn't hear details about it, but it looked like it was something with his right knee or ankle. Get well soon, guys.
If you live in Southern California, you have a big weekend coming up. The annual Moto Bowl was last night, amateur day at Glen Helen goes on all day today, Saturday is national practice and qualifying, Sunday is the national and Monday is the David Bailey benefit at Pole Position Raceway in Corona. The ride day is sold out on Tuesday, but don't miss the chance to drive go-karts against some of the top riders in the sport on Monday. There will also be some very cool David Bailey memorabilia for viewing and purchase at Pole Position.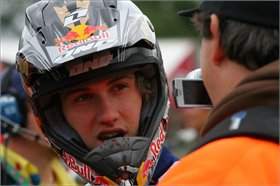 Josh or J-Law? Too close to call.
photo: Matt Ware
If you are heading to
Glen Helen
on Sunday and you are an action-sports enthusiast, you might want to keep a Sharpie in your pocket. The ASR (the biggest action-sports trade show of the year) trade show takes place this weekend in San Diego, and there will definitely be some of the world's best surfers, skaters and snowboarders coming to the race on Sunday.
The names Daniel and Vincent Blair are familiar to many who follow the sport. These brothers from central California have been top privateer riders for the past several years. Recently they have been getting more and more notoriety for their band, The Main Event. They have a new album coming out, and if you haven't bought it yet, check it out here: www.myspace.com/rockthemainevent.
You can also hear some of their music on www.racerxfilms.com.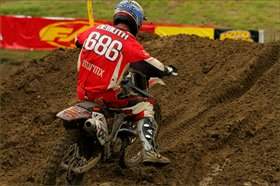 Word on the streets is that Josh and Leticia are broken up.
photo: Matt Ware
The word in the pits is that the SX-inspired get-together for
Josh Demuth
and
Leticia Cline
did not work out and they have parted ways. They met in March and married in Las Vegas, but now that September is here, it's history.
In other relationship news (because hey, admit it, some of you really want to know), Josh Grant's season is almost over, but his girlfriend Cameron's is just getting ready to start. Cameron is a San Diego Chargers cheerleader, and her team kicks off at Oakland this Monday night.
Cameron was at Steel City, and when Josh podiumed, he was handed a huge bouquet of flowers. He handed them right over to her—good move, 24.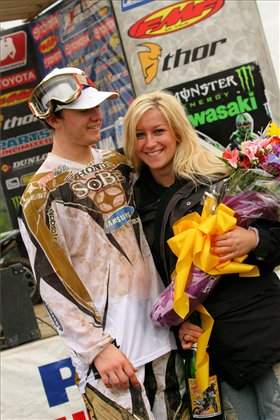 He's a pro racer, she's an NFL cheerleader, those are real flowers
photo: Matt Ware
That's it from Ping.
Hey, what happened to Juss Laansoo this year? Last year's AMA Rookie of the Year from Estonia, Juss has struggled with injuries this season, and he failed to qualify at Steel City. What a difference a year can make.
Broc Hepler now has a solid three-race win streak going here, but I'm betting against him at Glen Helen. I know he's more than capable, but the Pennsylvania Suzuki rider has the same problem there that plagued another Pennsylvania Suzuki rider, Branden Jesseman: He never does well at San Bernardino!
Last year Broc went 1-1 at Steel City, then 39-38 at Glen Helen. The year before that he podiumed at Steel City and then went 2-DNF at Glen Helen. I hope he breaks out of his GH funk, but the numbers are against him.
By the way, the Broc Hepler banner contest was a hit at Steel City. The Racing Paper gave away ten pit passes to the five best banner builders, and when #60 couldn't decide, we just went and got two more passes from the AMA (thanks!). Broc rode around on a mule with "Bad" Billy Ursic, Carl Stone, and me and gave the passes out himself. That was pretty cool.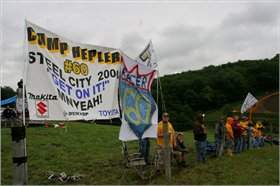 Camp Hepler? Give those people some pit passes!
photo: Carl Stone
Got a note from my friend
Slavo
over in Germany.
Bradley Graham
will be racing at the MX Masters race in Holzgerlingen for Team Kawasaki Sturm. He arrived there earlier this week and is looking forward to a good racing weekend. Check out
this link
to read more and to follow him over this weekend.
The biggest smile at Steel City may have belonged to Ryan Mills after he finished a rock-solid third in the first 450 moto in what was easily his best ride as a pro. He checked the late-charging Kevin Windham and got the whole Rockstar Suzuki team excited with his effort. The second moto didn't go so well, but Mills now has a base to work off for 2007.
And finally, here's a note from the Bonneville Salt Flats: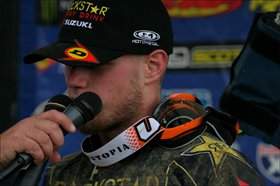 Ryan found his way back to the podium in the first moto
photo: Matt Ware
Longtime motocross enthusiast
Chris Carr
—the seven-time AMA Ford Quality Checked Flat Track champion—recently became the fastest man ever on a motorcycle, piloting his Ford Motor Company-backed BUB Enterprises streamliner to 350.8 mph at the recent FIM/AMA Sports – International Motorcycle Speed Trials by BUB, held at the famed Bonneville Salt Flats. Here's a photo of Chris and the BUB Enterprises streamliner taken by Road Racer X's
Mark Gardiner
.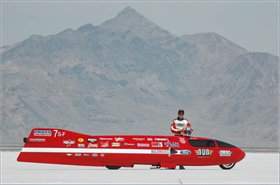 photo: Mark Gardiner
The cool thing is, Carr was at the KTM '07 Portland dealer meeting last weekend, sharing the stage with the likes of
Juha Salminen
,
Josh Hansen
, and
Nathan Ramsey
. Then he goes 350? Like I said before, Carr is an American motorcycling badass!
Okay, they tell me I have run out of internet. I meant to write something special about RC's last "real" national, but come back tomorrow and check out the little project we worked on last night.
Enjoy your weekend, see you at the races (or the WVU football game, where I will be tailgating with 6'6"240, the very cool rapper who made this football song with my friends Korey Jathara and Eric Jordan). Thanks for reading Racerhead.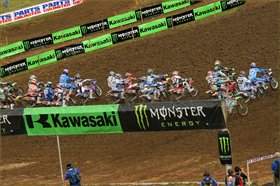 Thanks for reading Racerhead!
photo: Matt Ware