5 Minutes With ... Andrew Short
September 8, 2006 12:57pm
Several readers check in with the Racer X office to find out just what exactly was going on with Andrew Short's knee. So we tracked the Team Honda rider down this afternoon for a check-up.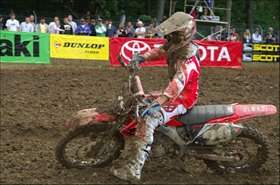 Short tore up his knee at Steel City

photo: Steve Bruhn

Racer X: Andrew, so, what the heck happened to your knee at Steel City?
Andrew Short: You know, I did the step ups going up the hill, and I lost my balance. It was really rutted, and I planted with one foot and it buckled on me and popped. I knew something wasn't right. It started hurting, so I rode back to the Asterisk rig to get it checked out and to see what was up. My mechanic was a little bummed because he thought my bike broke at first. But I flew home that night and got my knee checked out the following day. I found out that I have a torn ACL, and my meniscus is messed up, so I'm just waiting to get a second opinion because my team wants me to get it checked out from all the different angles and go from there.
Fred Bramblett of OMS told me that you were going to go to a specialist. What does it feel like is going on in there to you?
Well, it's kind of weird because my knee isn't swollen, and I'm not in a lot of pain. And I know a lot of people that been in the situation before with a torn ACL, they have some opposite symptoms then what I'm having. But, I'm kind of confused. I went to my Doctor out here in California, and I trust him. But, I also want to get a second opinion, because it's a long time to sit out if you get it fixed—it's six months they say, to have it fully healed if you have the surgery. So, I'm going to go to a Doctor in Colorado and get it checked out for another view on it.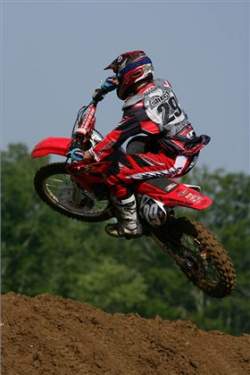 Short is moving up to the 450 class full time in 2007

photo: Simon Cudby

I know when Ben Townley did his, it was a long haul, but your knee is something you just can't screw around with, especially in motocross. Now he's back.
Yeah, it's funny, too, because there are a lot of different opinions. I talked to Jeremy McGrath, and he said he doesn't have an ACL, and I know Ernie says he doesn't have one. There are a lot of people that say they don't even have an ACL and it never gives them problems; and then there is the other half who says you have to get it fixed and you have a long career and you need to get it fixed immediately. I have a lot of choices to make right now, so I'm going to try and get a lot of opinions so I can make the best decision.
Well, I wish you the best with that. I hope the news you get on Tuesday is good news.
I'll just keep getting different opinions until I hear the one I want.
As far as the season goes, you had some up and down motos, but you clawed your way back into contention there. Are you satisfied with how you managed to stay in there even though you had some problems here and there?
Yeah, I guess I was satisfied. Obviously as a racer you always want to better yourself, and I feel like I made a lot of mistakes this year. But on the upside I learned a lot, and I felt like I was a strong rider and I got myself back into contention, but I shouldn't have been in that position in the first place. I'll definitely take that into the next season. But I had a tough season. I came really close in supercross to winning the championship, and I kind of blew it there. In the outdoor season I struggled; I thought I'd be a lot higher in the points and in contention more for wins than I was. It was a good year, and I stayed healthy for most of it, which was great.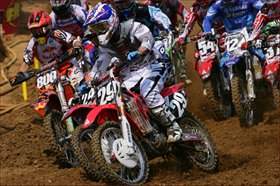 Andrew holeshots a moto at Budds Creek earlier this summer

photo: Simon Cudby

I know a lot of people are probably surprised at Villopoto's speed in the middle, and Hepler's toward the end, and Alessi won the first three motos handily. Why do you think we had so many guys making runs? You seemed to be the guy in the middle of each of those.
I think it's great for us in the Lites class. We have a lot of depth and talent, and we're all pretty similar in speed, which makes for great racing every week. I think when somebody doesn't have a mental advantage, knowing that they're a clear-cut winner, it makes for great racing. In the 450 class, the top two guys are on a whole different level than the rest of them. It's almost like a time trial for everybody. I just think knowing that nobody out there has a clear advantage is nice. I think Villopoto has been the fastest overall throughout the season, and Alessi has definitely has his flashes, along with a lot of other people that you mentioned. I think it made for an up and down season, and there are a lot of riders that can win—there are just a lot of variables that go into it.
As far as your 2007 season goes, if things work out with your knee, do you hope to start with things out in the west, or do you think the extra time might allow you to look forward to the east.
I'm actually moving up to the 450 class full-time next season, so I'm not sure if I'm going to make the start of the series. There are a lot of different avenues I can go down, and I don't know if I'm going to take 4-6 weeks off, or 4-6 months. I have a lot of decisions to make right now, and I don't know what's going to happen. But I do want to get my knee healthy and strong again, because I do feel like I'm young and that I have a lot of years ahead of me. I want to make a smart decision for not only now, but for down the road. But moving up to the bigger class, I definitely want to be prepared for that.
Our fingers are crossed for you, Andrew. Good luck. And tell Jackie we said hello.
Thanks, DC, I appreciate it.