Welcome to Racerhead. DC is off in Wisconsin building a motocross track with Brand Manager Mike "Fubar" Farber. Parts Unlimited is holding their annual dealer meeting out near their headquarters in Janesville, and DC and Fubar are going to make the track Jeff Fox has on his farm look like Steel City will next Sunday morning. And let me tell you, those boys are making a BIG sacrifice going out there. See, WVU was just named the #3 party school in the nation. And Madison, which is just about a half hour from Janesville, was named #4. So DC and Fubar had to downgrade a notch on the party scale for the next few days. Sorry, boys.
First things first: We got the webcast at Broome-Tioga dialed in. The Racer X Webcast presented by Cycle News is always going to be a chore to put together, because the announcer's tower at a motocross track doesn't have the same tech a broadcast suite does at a supercross.
After Millville's meltdown, Tim Cotter went to the test track and worked on settlings. Testing is key, folks. It all worked much better than Millville, although I nearly saw it all crumble again on Sunday morning. One of the water trucks was coming off the track at Broome, and the top of the water tank hooked on the phone line connecting the announcer's tower to the telephone poll. The truck was about to rip the phone line out and kill the webcast! But luckily, Pro Circuit's Jim "Bones" Bacon was there, and he noticed the truck getting caught on the line. Bones then used his ten-foot reach to unhook the phone line from the truck just inches before the whole thing snapped. So give Bones credit for saving the show.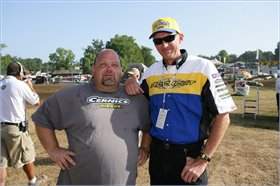 Jim "Bones" Bacon (right) saved the webcast in NY
photo: Simon Cudby
Anyway, the phone line stayed intact and the webcast worked. I even hooked my iPod up to the sound board so we could pipe in music (and thanks to the folks at Live Nation and Supercross Live! for giving me the iPod—I'm way too cheap to have bought my own).
With music and the internet rolling, my confidence was restored. I'm so cocky about this webcasting business right now that we engineered a live karaoke webcast on DMXS on Wednesday night. Kevin, David, and Ping called in while our own Assistant Designer Dave Brozik was running karaoke from Gibbies in downtown Mo'town. My celebrity roommate Andy "Kato Kalin" Bowyer and I belted out all-time Bon Jovi classic "Wanted Dead or Alive" while Brozik held the phone at the correct distance needed to create the proper sound quality. According to the DMXS boys, people were actually typing along to the lyrics in the DMXS chat room. So we have now planted the flag on the undiscovered country of live karaoke webcasts.
Also on DMXS was Josh Hill. Wow, what a difference a week makes. At Millville, the kid looked out of sorts, showing speed in flashes but also finding himself in the wrong place at the wrong time quite often. Josh just barely cracked the top twenty, while fellow first-timer Ryan Dungey went 8-8 for seventh overall!
But you can forget everything you saw from Hill in Minnesota. He showed his true form at Broome-Tioga when he put in the fastest laps of anyone in the first moto on way to a runner-up finish, then he ran solid in moto two for fifth. You could still spot a few bobbles here and there, but still, this is just an amazing performance for a rider in his second national.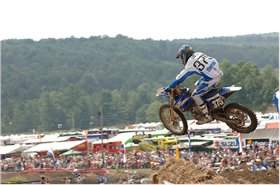 Josh Hill was flying at Broome
photo: Carl Stone
Dungey went 13-13. The kid is definitely consistent.
Hill made two points on DMXS: he's actually more comfortable on a supercross track than a motocross track (look out!), and he and manager Jimmy Button are going to go down to the local car dealership and spend that Broome bonus money on a new ride.
Okay, I was kidding about the second one.
Also have to give credit to Broc Hepler. He's coming off a major injury and is ready to move to a new team next year (it's not official yet, but the word is all over the place). Broc had every reason to just cruise around fifth through tenth place all summer and come back strong next year. But he has shown a lot of determination and confidence, as he never wavered from believing he should run up front. Now Broc has won two in a row, with his home track at Steel City dead ahead. Hill and Hepler. Yamaha has to be happy right now.
Then there's Mike Alessi. How did this happen? You can count on him to get starts and ride smart and not make mistakes, and yet he made a huge one by crashing out of the lead just seconds after grabbing the Racer X Holeshot. The crash ruined his machine and sent Mike back to the pits—in tears—his points lead history. Of all the ways this wild 250F points chase was going to go down, I'd say this was the least likely. Mike just doesn't do stuff like this.
And can you believe Ricky Carmichael notching his tenth AMA National Motocross Championship ends up this far down in Racerhead? It wasn't supposed to be this anticlimactic. When James Stewart hung a W on RC at Hangtown, it looked like the greatest season ever was about to begin. Unfortunately, that didn't work out. Stewart mentioned this at the Binghamton press conference. He's had some great battles with Carmichael recently, but nothing was as intense as round two at High Point.
"At High Point, we were still battling for a championship," said Stewart simply.
Stewart has had his problems this summer, but don't think for a moment that he's not still an amazing, amazing motorcycle rider. He's back and going really fast, but what we're really seeing is just how good Carmichael really is. The GOAT is just, well, the GOAT.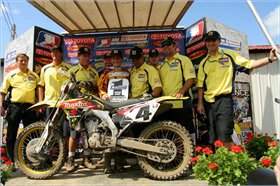 RC won his 10th and final AMA title last weekend
photo: Matt Ware
And maybe that's why this is the perfect time for RC to step away. As mentioned in his
Alpinestars Monday Conversation
with
TFS
, Ricky was able to battle with
Jeremy McGrath
and Stewart and come out with championships. What more could he prove? It doesn't matter who comes up and wins titles in the future, we all know Stewart and McGrath are from another planet, and if you can win a title against them, you don't have to prove anything to anyone else.
The question following Carmichael around at every race is: Will you be back racing here next year? But that took on a different feel this year as rumors swirled that Broome-Tioga has hosted its last AMA National. Well, I can tell you that the official word on Sunday was that nothing is official yet. But I'm sure we'll know soon.
U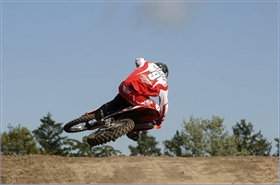 The Dusty Scrub
photo: Allison Kennedy
nfortunately, something else is officially done. The all-powerful Blackfoot Honda racing team up in Canada is finished. It's been a great run for Blackfoot up there, as the squad notched a whole pile of #1s with
Jean-Sebastien Roy
and really took the sport to a new level. But now the race team is closing up shop. Surely, JSR can get some support again, either down here or up there. And
Dusty Klatt
, the young rider who finally ended JSR's reign by taking this year's title, is looking for U.S. work.
Okay, let's turn this over to Ping:
Will there be an exodus of riders to Europe next year? Well, Mike Brown is already signed up to ride the MX1 class in 2007 and David Vuillemin might just be joining him. The Motoworld Racing rider currently has offers to ride for factory teams in the MX1 class, and he is considering them.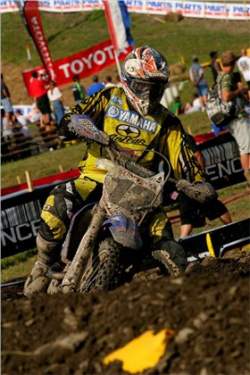 DV12 going to MX1?
photo: Matt Ware
"If I stay here and race, I am going to be racing to maybe get on the podium or be a top-five guy," said Vuillemin. "If I go to Europe, I can be a World Championship contender. Now that [Stefan] Everts is out, the series is really opening up, and for the first time in a long time there isn't a clear favorite for the championship next year. I like it here, but I wouldn't mind going back and trying to win a world title for a year or two. I should know in the next couple weeks what I am doing."
At least that's what I think he said.
Tim Ferry is also on the verge of signing something. The Moto XXX rider couldn't comment on his prospects but said that he is excited about his opportunities for next year.
Controversy continued to follow Mike Alessi at Binghamton this weekend. The Red Bull KTM rider pulled the holeshot in the first moto and then crashed to the inside of the second turn. He picked his bike up, climbed back on, and then shot his bike into the track, hitting several riders and breaking his clutch perch off in the process. Alessi says his clutch was broken from the first fall and that the bike jumped out from under him while witness say that the clutch didn't break until after he launched it into passing traffic. They seem to think it was another Alessi meltdown similar to his Glen Helen fiasco with Ivan Tedesco last year. You'll have to watch the race this Monday on OLN and form your own opinion. Either way, Mikey was forced to pull out of the moto and he was visibly and audibly upset. I feel bad for him.
The most impressive ride of the weekend went to Yamaha's newest team member, Josh Hill. In his second professional race, Hill posted a solid 2-5 for third overall. The scary thing is he says he is much better at supercross than outdoor motocross. Hill seems like a very cool kid, and he obviously has the talent to be successful. Keep your eye on him.
I'm in Denver, Colorado, for the AMA Supermoto National at Invesco Field. The track runs through the parking lot outside the stadium and has a cool uphill, downhill, and an actual set of supercross whoops. I love it when Marc Peters builds the dirt sections. There should be some serious crashes from the road racing contingent tomorrow night and Saturday. If you are in the Denver area, make sure to check it out this weekend.
Thanks, Ping.
The silly season talks never end, and there has been a lot of discussion about the Fifth Dragon—Yamaha of Troy—switching brands to Suzuki. We spoke to YoT team manager Dave Osterman this morning to see what's going on.
Racer X: Dave, is the team switching to Suzukis?
Dave Osterman: The team is not switching to Suzuki, and that's official. We're going to be riding Bultacos [laughs].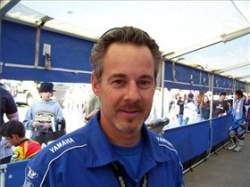 YoT's Dave Osterman

photo: Mike Farber

I heard a rumor of YoT getting an energy-drink sponsor. Can you confirm that?
No, we're going to pride ourselves on being the only team without an energy-drink sponsor—that's our angle. We're going to have ugly display girls and no energy drink. That's our deal. No, we're working on some stuff, but I can't say anything yet.
What's the team roster looking like next year?
Rider-wise, we're doing some crunching too. You probably heard of Andrew [McFarlane] getting some offers, but we've just got to wait. I don't mean to be so secretive, but that's just how it works.
Any plans for the weekend off, Dave?
We had a whole trip planned with all of my guys this weekend. We were going to go fishing, drink some beers, go to Mammoth, and ride mountain bikes and stuff, but my one mechanic is almost married, so he kind of killed the whole deal. In lieu of that, we'll probably still ride and then drink some beer later on. But we did some testing with Metcalfe yesterday, and we're supposed to go again tomorrow. We're still working hard. Andrew is down in Florida at Reed's place, Walker is doing a four-stroke race, so it's really not a weekend off. I talked to the U.S. Open guys yesterday, and maybe we'll do that race. I'd like to do that, but as far as who is in which slot, it's hard to say. Unfortunately for us, it's just kind of last-minute, which is frustrating for me—I have enough gray hairs. But we're for real, and I plan on giving Mitch, Factory Connection, and WBR as many headaches as we can in '07—that's what I'd like to do.
Wonder Warthog Racing is going really, really strong for 2007. First, a very wealthy benefactor named Dana K. stepped in with big financial support for the team. Then Synergy Racing Technologies—the group that runs the SoCal Racing team—joined up, allowing WWR to house some top privateers at their rig next year. Team Manager Darrell Saldana and SoCal/DeCal Works owner Ron Joynt are big supporters of the privateer. With WWR and Synergy Racing Technologies working together, they're able to launch a big effort next year.
First, the team scored a beautiful new rig from a bankruptcy auction. WWR leader Scott Kandel says the truck was used for a drag-racing team, and it's valued at $1.4 million, but they grabbed it for $300,000!
The SoCal team will still consist of Jacob Marsack, Jiri Dostal, and Clark Stiles. But WWR will provide two more rides thanks to money provided by Dana K. They call this their internship program, and they're getting applications from top riders like Chris Blose, Ryan Abrigo, Colton Facciotti, Brady Sheren, and Gray Davenport. They'll announce the team on October 1.
Then WWR is going to roll out an addition program called Hog Haven. They'll select ten riders and will transport their bikes from race to race and give them a place to pit. For more info on all of this, check out www.wonderwarthogracing.com.
The Full Circle Foundation just released details on some of the items that will be auctioned off at Pole Position Raceway in Corona, California on September 11 to benefit the legendary David Bailey.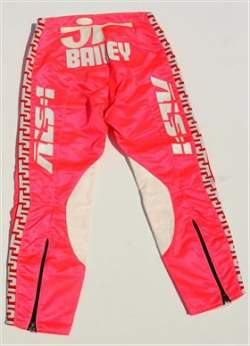 Kevin Walker donated these mint Bailey pants
photo: Matt Ware
The event will begin at 8:00 p.m. on Monday, Sept. 11, the day following the AMA MX National at
Glen Helen
. Check out www.racep2r.com for directions to Pole Position Raceway, and make sure you check out www.davidbaileymx.com for daily updates. There is also still time to donate items to the Full Circle Foundation. Please send them to Pole Position Raceway, Attention David Bailey Auction, 1594 Bentley Dr., Corona, CA 92879.
Some cool items have already come in. Greg Primm will auction off this cool poster of DB. And Kevin Walker, the legend with 11 AMA National Titles at Loretta Lynn's, is sending in these pink JT pants. The cool thing is, Walker got these pants from Bailey when he was a kid, and now he's donating them back to help DB out!
DC and I just saw the OLN TV show for Loretta Lynn's this week. We're doing the announcing for it. I can tell you the show looks awesome, and the GMMI crew doing the producing really captured the spirit of the week-long event in a one-hour show. And you'll get to see all the top amateurs in action, including Hill and Walker, Jeff Emig, Sean Hackley, Matt Boni, Wil Hahn, Kyle Chisholm and many, many others. It's a must see. Here are the broadcast times:
OLN TV Broadcast Saturday September 2, - 3:00 PM
Loretta Lynn's Amatuer National Championship (1hour)

OLN TV Broadcast Wednesday September 6, - 3:00 PM
Loretta Lynn's Amatuer National Championship (1hour) (repeat)

OLN TV Broadcast Thursday September 7, - 4:00 PM
Loretta Lynn's Amatuer National Championship (1hour) (repeat)
Check this out: WVU has not only been voted a top party school, but the football team is looking like National Championship contenders. Good times here. A local rapper named 6'6 240 has been getting some cred for his "Blue and Gold" song. Credit to our friend Kory Jathara for helping with this mix (Kory penned the story on the Dallas Supercross in the magazine a few months back). Click this link to hear the song.
Moose Racing has redesigned their website: www.mooseracing.com.
Have you been looking at the Racer X Files section of our website? This week's feature story is a 1998 interview that DC did with RC. Go and read it and you'll find out that, well, a lot of the predictions from eight years ago were dead on. We got an e-mail about it:
AWESOME!!! I just wanna say thanks for running the old RC interview. I hadn't discovered Racer X when that one came out [maybe not in Canada yet]. Man, you guys look like fortune-telling geniuses with that one! Heres hoping for a silmilar RV story in a few years. Keep up the awesome work. Thanks, eh.
Bryce Shupac
This week, Racer X Publisher Scott Wallenberg stopped in at the offices of Scott USA in Sun Valley Idaho. No, Bevo was not there, but Scott USA Motocross Marketing Manager Reidar Oyen gave him the quick tour of their current building and took him a few blocks away to show the beginning of construction on an all new facility that should be completed late next year.
A couple of Scotts are actually big players at Scott USA. Scott Watanabe is the General Mgr./Vice President, Motosport Division; Director of Engineering & R&D. That's probably the longest job title in the business! He's also the proud father of Winter Olympic competitor Graham Watanabe.
Scott's Scott Montgomery
photo: Scott Wallenberg
With his Cannondale days over,
Scott Montgomery
now heads up the Scott USA Bicycle Division and still follows the sport of motocross through the pages of
Racer X
. Scott is the son of
Joe Montgomery
, the visionary and all-around good guy behind the Cannondale brand.
Hope you enjoyed the tour of Scott with Scott and Scott, Scott.
Don Nederman dropped us this note: "I found out who Davi Millsaps was referring to when he made a shout out to Freddie Karrle on the podium. Freddie is the younger brother of Getty Karrle, who has actually qualified in a few East Coast Lites SX mains. Getty and Freddie have been training at MTF. I guess Freddie was over-training with his brother and contracted spinal meningitis, which almost took his life. Apparently, he is out of the woods but he won't be able to ride or train for another year. Keep him in your prayers along with Ernesto, James and David."
Thanks for the note, Don. I was wondering why I didn't see Karrle at Loretta's.
Yes! A note from
Jamey Grosser
!
"I'm ready for the 118 number cruncher! Funny, at the awards ceremony in Vegas—Millsaps didn't thank me for his championship—I kept the 118 a lucky number all those years. God only knows I got lucky a time or two racing the 118. Doesn't anyone keep score of girls anymore?"
The P.C. (People's Champ, 8 times)
Stefan Everts' last Grand Prix at the Citadelle at Namur took place a couple of weeks back. Plons posted up this cool "atmosphere" video of Namur.
Canada's MXdN team is not going to be all it can be—again. The two top riders, Dusty Klatt and Jean-Sebastien Roy, will not make it again this year, as Blackfoot is dropping off the Canadian circuit at the end of this season. So the team will be veterans Blair Morgan and Marco Dube, plus Colton Facciotti.

Have you checked out the etnies/Racer X Photography contest? If you haven't, go here to check out and vote on the 11 finalists. It's now up to you to decide who wins the grand prize, which includes a full-spread in the December issue of Racer X, as well as a bunch of cool stuff from etnies and Racer X Illustrated. (The ten runners-up will share a spread in the same issue, and they'll also get some cool swag.)
Click on the image to order your MXdn T-shirt
Whew. I might have made a mistake when I sent out the APB for help on Racerhead. This is one of the longest ever! Okay, enjoy your weekend and don't forget to watch Broome-Tioga at 6 p.m. on OLN this Saturday. And the GNCCs are on OLN at 3 p.m. And don't forget Loretta's on TV next weekend.
Oh, and don't forget to show your support for Team USA with these limited-edtion T-shirts. Click here or on the image to order yours.


We'll all see you at the races.