Welcome to Racerhead. DC is out of the country attending a wedding in Belize, of all places, which is either south of Mexico and near South America or maybe south of Cuba down there in the Caribbean. We don't know. Either way, I (Jason Weigandt) will take over for the day, with "Bad" Billy Ursic ready in the bullpen in case I can't go the distance.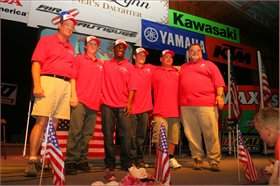 The MXON is on!
photo: Simon Cudby
But we're not really hurting for information right now. I just finished a whirlwind ten-day trip from
Washougal
through Loretta's, which is the same trip many of the other road warriors in this industry embarked on. And I've said this before about the week down in Tennessee: It's the hardest week of the year, and also the most fun. And that goes for the racers, the workers, the families, everyone. The heat, the pressure, the hours, it all gets to you after a while, but at the same time, once it's over you're sad because you just know you won't have that much fun again for 51 weeks.
Plus, when you get back, you have so much bench-racing to do! When I come back into the office after a national, we have one day of racing and two classes to discuss. After Loretta's, we have 33 classes and six days of racing—and what's more, we're discussing different riders than we normally do, so there's so much to talk about.
All of which leads to a great week to write Racerhead.
DC covered quite a bit from Loretta's here last week both in Racerhead and with last week's Suzuki Between the Motos. But we write this on Friday, which means we still had one huge day of racing to cover on Saturday. And what a day it was. First, after torrential rain on Friday (with a whole bunch of thunder and lighting thrown in the mix), somehow, the track was in nearly perfect condition by 7 a.m. on Saturday. The MX Sports crew has spent years re-engineering the drainage system for the track down there, and it paid off, as the place was only a tiny bit moist Saturday morning. It wasn't a mud race.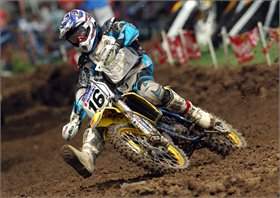 Tyler Wharton took his first LL title last week
photo: Tony Scavo
Texas'
Tyler Wharton
took the first title of the day by putting up a solid third-moto finish in his 125 Schoolboy Stock class. Later, his younger brother
Blake
won the 85cc (14-15) Championship, ending his week long battle with
Terren O'Dell
in a dead heat (O'Dell won their other class, 105cc Supermini). This gave the Wharton brothers two titles at Loretta's in the same year—the same day, even—which is just amazing. There have been a few other brother duos to pull this off, including
Keith and Greg Bowen
at the very first Loretta's 25 years ago. Still, it's a great accomplishment, so congrats to those boys.
The most dramatic battle of the day came in the Women's class, which was kind of predictable since this class brings the fireworks every single year. You can go way back to the all-time duels between Mercedes Gonzalez and Lisa Akin-Wagner, or go right up to last year's dramatic Jessica Patterson-Sarah Whitmore struggle, and you'd be hard-pressed to find better racing than in the Women's class. And this year might have been the best yet!
"Everybody wants it bad," said Tara Gieger after grabbing the title. "There are only a few of us that are making a living on this, so everybody wants to be up there. It really makes the sport a lot better, having such competition deep in the field, instead of three or four of us running out front. It makes the races a lot better. And we've all been racing each other for the past six or seven years, so we know what to expect and we know how to step it up every year. But it seems like everyone steps it up to the same level!"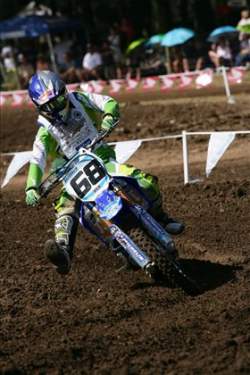 Tarah Gieger was on the gas in TN
photo: Simon Cudby
Gieger came into the race with some major heat on Patterson, as the two actually got into a brawl after their first WMA moto at
Washougal
. Then JP's mechanic,
Eddie Ray
, got into a scuffle with Gieger's agent, and then they hopped on a plane and went to Tennessee for practice on Monday. The two rivals agreed to put
Washougal
behind them at Tennessee and race clean, and they did, but you just know that whole deal just made them want this title even more. And of course they battled to a 2-1 and 1-2 tie after the first two motos, making the third race on Saturday afternoon an all-time classic.
Gieger got a good start and rolled in behind Leah Cantrell, while Patterson got a horrible start and ran into a wall of riders. JP$ dueled with Whitmore, Elizabeth Bash and Ashley Fiolek in one of the greatest races you'll ever see. At some points, all four riders where in the air over the same jump at the same time. And Fiolek was battling on a bored-out CR85!
It was incredible, but Patterson was finally able to get around and go after Gieger, who ran into lappers. She got right to her on the last lap, looking for a place to pass, but Gieger upped her pace on the final lap and held her off. And just for good measure, Cantrell bobbled on the very last straightaway on the track and allowed Gieger to sneak by for the moto win by half a bike length.
It was unreal.
Other major highlights of the week include
Trey Canard
just lighting it up in the B classes, winning all six of his motos (the only rider to do that for the week). He was pretty pumped: "Man, I just don't even know what to say," said Canard. "I've been coming here for a long time, and I have never won anything here. To do it, it's just awesome. I've been training so hard this summer, and I had a good week at Ponca and got a lot of confidence. This has been my best week of racing ever!"
Canard got the 125 B Mod title, while Austin Stroupe, the favorite, crashed out. Stroupe went down while battling Canard in moto one, and then crashed really hard in moto two while leading. He was battered and bruised but managed to tough it out in the 125 B Stock class to win that title. Also, Team Green's PJ Larsen went down hard in the 125 B Mod moto and broke his femur. Big bummer there.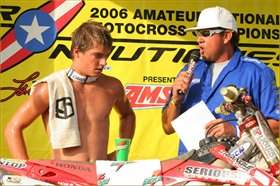 Broc Tickle is racing this weekend in Minnesota
photo: Matt Ware
The four A classes featured the
Josh Hill
show in 125 A and 125 A Pro Sport. Hill survived and early loss to
Will Hahn
to win both titles. The 250 Pro Sport class looked to be all
Kyle Chisholm
's until his bike blew up in the third moto. This left good old
Jeff Emig
to duel
Matt Boni
for the title, but Emig fell. Boni was ecstatic with this championship. And the 250 A title went to longtime Loretta's bridesmaid
Broc Tickle
, who has won motos and come so close so many times in the last three years, but finally got it done this time.
Tickle and Hill will make their pro debuts this weekend at Millville. We have heard that Sean Hackley's plans to ride Millville are not going to happen, but that's okay, because Hackley received the biggest award of the week when Toyota named him the first recipient of the TMX Award. Hackley was hand-picked to grab a Toyota-funded ride for the MotoworldRacing.com/PPG Yamaha team in 2007, and the kid deserves it. He had some bad luck early in the week knock him from title contention, but he dominated the final 250 A moto on Saturday and turned in the fastest lap times of the week. Hackley is also very polite and well-spoken, and he should do a great job promoting Toyota and his team. Congrats, Sean (and by the way, we hear Sean is even better at supercross than he is at motocross, so Paul Lindsey's team may have gotten quite a deal here).
Hill won the AMA Horizon Award, while the Youth Horizon Award went to Suzuki's Jessy Nelson, who cleaned up in the 85cc (7-11) classes. Credit also goes to his teammate Eli Tomac who was super pumped to grab an 85cc (12-13) title, while New York's Justin Barcia took the other (12-13) championship.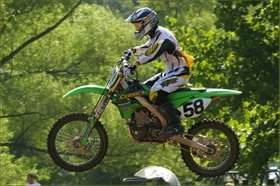 Evans took his second career LL title in the Plus 25 class
photo: Matt Ware
The Vet Horizon Award went to
Jimmy Evans
. In a sea of ex-pros racing the Vet classes, Jimmy's 1-1-1 sweep of the 25+ class was as dominant as it gets. Jimmy's also been racing at the ranch since 1984, so he's earned this one.
As for the rest of those Vet classes, they were indeed dominated by the big ex-pros. Emig handled Kevin Walker for the 35+ title, Doug Dubach went 1-1-1 in his Loretta's debut riding the 40+ class, and Asterisk's Tom Carson won the 45+ class in his Loretta's debut (ironically, Tom turned pro in 1982, the year Loretta's began).
All of this talent coming back sure makes for great racing, but it's pushing some of the traditional favorites back a few spots. Emig, for one, has a suggestion on fixing that. "I hope all of the guys come back," said Emig on the podium. "I hope if there was any skepticism about coming back and racing here, I hope they saw how much fun I had coming back here and doing the Vet classes. Maybe we can pump it up and MX Sports will have to have a Vet Pro Class and give these 35+ guys a break!"
The Foley family had a great week down at Loretta Lynn's. While Kevin did not bag that tenth title that he was hoping for, he and his wife, Allison, and their lovely little girl, Emma, raised more than $15,000 with their RSRF through Kevin's Race 4 Rett fundraiser. Friends and well-wishers really stepped up, as the motocross industry always does. All told, Kevin totaled 28 laps in the Senior +40 class. For those of you who made pledges, checks can be made out to RSRF and mailed to:

Allison Foley
4900 Prospect Ave, Suite 130
Yorba Linda, CA 92886

Please be sure to include an address so that RSRF can mail you a tax receipt. The Foley family thanks everyone for being so cool.
The gang at Fox Racing was also on hand at Loretta Lynn's, and they put together some really cool videos of some of their top riders down there. Warren Johnson acts as host and introduces some of the riders and racing, with Ian S. manning the cameras and the edits. It's good stuff! Check it out at www.foxracing.com.
Okay, I could (or I already did) go on forever about Loretta's. It was a great time, and I'm pumped that we're now within 50 weeks of the 2007 event. But we're also within days of Millville, and it should be an awesome race since James Stewart is riding the rejuvenation machine after his Washougal win, and Ryan Villopoto and Mike Alessi are nearly deadlocked in points in the 250F class. And remember, Andrew Short is only 30-some points back, and he flat dominated at Millville last year. I can barely wait to get there and see what the Whoop Monster has in store for those guys. Hmmmm. I think I've got a great topic for Simon Cudby and myself to cover in a Behind the Motocross video this weekend….
In Eric Johnson's Great Races about the '84 Daytona Supercross, the brief story left out what had happened to O'Mara's Honda teammate Bob Hannah. As Racer X contributor Trent Howie points out, Hannah was the early leader of the race, not Johnny O. In fact, Eric talked to Hannah about this very race, and the Hurricane said this:
"Daytona '84 was one of my worst supercross race memories. If you recall, I was leading by a great margin and I had a smooth line which was very close to a chain link fence that used line part of the track back then. Everything was going really well and then, about halfway through the race, some kids leaned on the fence too hard when I was going by and I caught my front brake lever on it. That was it. It cost me a torn-up arm, a broken ankle and a three month setback. That was, far and away, my worst supercross memory."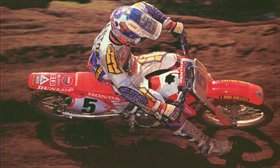 We can't forget Jeff Stanton!
photo: Paul Buckley
Also, we have received some emails regarding the Shift Number Cruncher column from this week, on #5. We had a reader point out that
Mark Barnett
ran #5, and also that
Jeff Stanton
once wore it too. That is true, but just remember that the Number Cruncher isn't supposed to be a mechanical list of every rider who has ever run a certain number. It's just a cool little feature on a few of the highlights that number has had over the years. That said, Stanton's big #5 on 1994 was pretty cool, but hey, you know Stanton's best number ever was the classic Camel Supercross blue-and-gold number-one plate.
Hey, were those X Games out of control good or what? The events there always feature something crazy (like the double backflip) or something close (like the down-to-the-wire rally car race, which actually had Colin McRae doing a flip, which made it crazy too). I'll tell you, I've never been more proud to own a Subaru WRX than I am now, except I have the wagon and people still tell me it's a grocery-getter. I guess I'll just have to strap the groceries in a little tighter when I roll the thing.
Apparently, not everyone is proud of Travis Pastrana's backflip accomplishment. Check out this story from a veteran sports columnist who makes the same point many, many motocross fans have before.
"Bad" Billy got some bad news involving one of the all-time greats, "Mad" Mike Jones:
Hey Bill how are you? Mike was involved in a really bad crash during a jump show in Canada. He was hitting an 80' gap off of a ramp jump and his foot accidentally hit the shifter and kicked the bike down to first gear of the face of the ramp before he left the ramp. Needless to say he came up about 10 feet short and crashed very bad. He broke his leg severely in several places and just had surgery on his leg. He has fixators holding his leg together. He also severely broke his jaw in many places as well. They had to do 3 surgeries on his jaw, actually removing half of it and rebuilding it with pins and plates. He currently has gone through all his surgeries and is stable. His jaw is wired shut right now and he has the fixators all throughout his leg. He will be alright but obviously is going through a lot right now. Anyway, that is the long and short of it. He is in Presbyterian Hospital in Pittsburgh. Let me know if you have any more questions.
Thanks
Allen Lamacz
Ouch! Get well soon, Mike. See you at Steel City.
DC sent us this letter:
Pulling off double backflips on a motorcycle are no longer reserved for the hallowed ground of X Games legends like Travis Pastrana. In fact at least a million others could rightfully claim to have mastered the trick.
I-play has just announced that it's popular "Freestyle Motocross" mobile game franchise has just eclipsed more than 1 million copies since its leap onto mobile in April 2005. And now that the X Games are over, fans can still re-live the thrill and excitement of motocross stunts from almost anywhere on the go.
FMX and FMX-II absorbs players into the freestyle motocross world. Using sophisticated physics, you can race through gritty urban locations and environments ranging from snowscapes to desert dunes, all the while pulling off dangerous stunts at high speeds to progress to the next level.
You don't have to wait until the next X Games to catch Big Air. FMX and FMX II are available via download on all major wireless carriers and consumer handsets.
Best,
Victoria Miller
Kohnke Communications
Earlier this week the motocross industry was saddened the news of the passing of Jim Pomeroy in an automobile accident. To read more about the accident, click here. Godspeed, Jim.
We're hoping you all checked us out online last week for the Live DMXS/Racer X webcast of the announcement of AMA Team USA presented by Loretta Lynn's. So by now you know it's RC, JS and RV on the team, and with that information, Mike "Fubar" Farber was able to find time to get an official AMA Team USA T-shirt together. Fubar was surely "ztrezzed" getting this all together, but it's worth it. Check it out right here.
In late-breaking Grand Prix news, we just heard that 20-year-old Billy MacKenzie has signed a one-year deal to ride for Jan De Groot's Kawasaki Racing Team.
Looks like MX2 World Championship points leader Christophe Pourcel is staying in France after all—for one more year, anyway. Team Grand Prix Kawasaki Racing announced their '07 lineup today: Christophe and Sébastien Pourcel, Gregory Aranda, and top Euro girl Livia Lancelot. The press release read:
"After weeks of negotiations, Christophe Pourcel has just confirmed that he will contest the 2007 MX2 series with Kawasaki, after signing a three year deal with the factory. Christophe will spend next season in Europe and also in the US, where he will train in winter time and probably race the first US Supercross before coming back in Europe for the GP's. He will later move definitively to the US where he will continue his brilliant career with Kawasaki."
"I think that this choice was the best for all of us," said Pourcel the younger. "I mean me, my parents, my team GPKR and Kawasaki. Of course I look first to my personal interests, but I also thought to my parents who supported me since the beginning when I did my final choice. Kawasaki offered me a great deal for three more years, and I think that the transition from Europe to the US will be easier with one season mixed and then two years with team Pro Circuit Kawasaki. We'll have this winter and next year time to get used to the US way of life, even if it wouldn't have been a problem for me to go full time there after the next Motocross of Nations. I always raced with Kawasaki and I'm glad to continue with them, I think that's really good for both of us and I want to thank Kawasaki Motors Europe, Kawasaki Heavy Industries in Japan and Kawasaki USA for their efforts."
A note from this week's terrorism-inspired hell and Tony Gardea of Next Level Sports Inc.: Ryan Dungey missed his first flight and barely got on a second one due to security and how jacked-up the airports are today. What a way to make a pro debut, even if it's only the travel part! Still, he should do just fine.
This just in! Belize is indeed south of Mexico, at the top of South America. Enjoy it, DC, and we'll see you next week.
For the rest of you folks, we'll see you at the races.