Between the Motos: Ryan Dungey
Have you ever heard of Ryan Dungey? If not, take note, because you'll be hearing a lot more from the 16-year-old Chaska, Minnesota, resident. See, before ever racing an expert race, Ryan has already signed a factory contract with Makita Suzuki to compete in the 250F class. His contract begins this weekend at Millville, Minnesota, and runs throughout the 2008 season.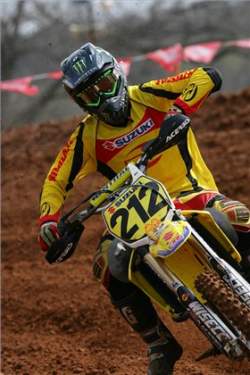 Meet Team Makita Suzuki's newest recruit, Ryan Dungey.

photo: Simon Cudby

Racer X: Ryan, what's up?
Ryan Dungey: Oh, I'm just driving home from Competitive Edge. I was out there doing some riding.
Last year around this time you were celebrating a win in the Schoolboy class at Loretta Lynn's; this year you're preparing for your professional debut with Team Makita Suzuki. What a difference a year can make, huh?
Yeah, definitely!
A lot of people may not know who Ryan Dungey is, so first off, give us some background about yourself—your age, hometown, stuff like that.
I'm 16 years old, from Chaska, MN. I grew up there my whole life and have been racing since I was 6. I've loved racing ever since. I'm homeschooled right now, and I'm looking into getting a GED and all of that in the future.
Last year it came as a surprise to many when you won the Schoolboy class—I think it was even a surprise to yourself, right?
Kind of, but not really. I knew I was a top contender there and knew I could win. I just focused on it, and the time came and I put three good motos together and won it. When I won it, yeah, it was kind of hard to believe. I never thought that I would ever win Loretta Lynn's, because before that I was just never a dominant rider. But I turned it around more on 125s.

How exactly do you go from Schoolboy-class champion to factory rider in a year?
I just put my time in, worked hard everyday. All I did was live, eat, and sleep motocross, and that's what I want to continue to do the rest of my career. That's what I love to do.
Tell us how you were approached by Roger DeCoster.
We actually kind of met Roger a year ago at Millville. We just talked to him to see what's up. I just wanted to meet the guy. He really didn't know who I was, so it was good to let him know who we were. But I don't know how he really heard about my riding. We just went up and talked to him at Vegas, and we asked him for a shot, and he said, "Yeah, I'd be willing to give you guys a shot." Everything went well at the testing, and here I am.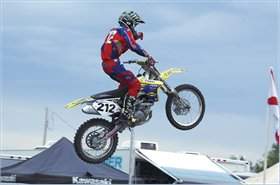 In his final race as an amateur, Dungey took two titles in the expert classes at Ponca City.

photo: Chris Hultner

What did you do to impress Roger?
It was at Glen Helen after The Prequel, and the track was all rough and dry. Ricky was there, and that was about it. Suzuki R&D was there testing too. But I met Ricky and rode the whole day and everything went good. I was just being myself. I wasn't going to be someone trying to go faster than what I can handle. My focus going into that day was to be myself, ride smooth, smart, and aggressive, and just be me. I was a bit nervous, but it kind of went away and I was just myself.
At that point you were still in the B class, right?
Yes.
What was your first A-class race?
Mammoth Mountain. It was my first year there too. It went good. I was looking to get a win, but I ended up getting two second overalls; behind McGrath in 250 Pro, and Josh Hill got me in the 125 class. We put a new tire on for the second moto—no excuses—but I spun off the line, and by the time I got in second, Josh Hill had a pretty good lead, so I couldn't catch him there.
I understand you raced Ponca City. How did that go?
Ponca went good. I was consistent, top-three almost every race. I ended up with two seconds and two first overalls. So I was really happy to finish off the season for Cole Gress at American Suzuki, and myself.
Were you disappointed that you weren't going to be able to battle with your amateur rivals Austin Stroupe and Trey Canard in the B class at Loretta Lynn's?
Yeah, I was. I was really looking forward to that the whole year, but stuff happens for a reason. I think I'll be seeing plenty of those two in the future, though.
How has the testing been going?
Very good. It's a great bike, and it's very fast—I love it. It's a very big improvement over what I'm used to.
How's your fitness? I mean, you were probably training for the 20-minute-plus-two-lap motos, and now you have to race two 30-minute motos. Are you ready for that?
Yeah, I've been training really hard, road biking and running. I've been putting in my motos at the track, and I feel really fit. I think that you're not going to really tell where you're at until you race with those guys, because those guys ride a fast pace. I think I'm ready, but I know it's going to be different. I think after Millville I'll get a good understanding of where I'm at.
What can fans expect from you this Sunday in Minnesota?
For me, my goal is to go out there, be myself, get qualified for the two motos, and just go out there and ride smart and smooth. I just don't want to get over my head. I think if I ride like I know how to, I'll be up there. But I'm hoping to get up there in the mix before the end of the season, and I'm really excited for it.
Well, being from Minnesota, at least you have some experience on that track, right?
Yeah, I rode there a few times. I love that track. It gets really rough, and that's when I like it.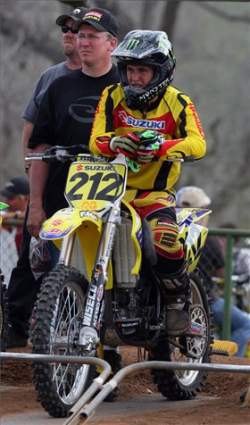 Dungey will continue to wear Answer Gear

photo: Simon Cudby

Have you ridden the new 2007 RM-Z?
No, not yet. I'm not sure when we'll ride those.
Are you looking forward to supercross?
Yes. I have a little time in supercross, but I'm really looking forward to riding it full-time.
What kind of gear will you be wearing this weekend?
I'll be wearing Answer gear. Big E at Answer has been really good to us, so I don't see no reason in changing. All the other stuff as far as '07 goes, I'm not really sure about.
So has it sunk in yet that you're going to be a factory rider this weekend?
At first it was weird, but I think I'm more ready and prepared now. In the last few months I've been working really hard, and I'm really pumped for it and glad that I got this opportunity.