Privateer Profile: Ashlee Woskob
While the motos continue to reel off at Loretta Lynn's, one rider who is missing out on the action is State College, PA's Ashlee Woskob. The 23-year-old Yamaha racer had qualified for the 125 and 250 A Pro Sport classes, but he was unable to make the 12-plus-hour trek to Tennessee because his RV broke down on his return trip from New Berlin, NY, and the Unadilla National. Although he's disappointed, Woskob is still in good spirits, anticipating his next race in Millville, MN, for Round 9 of the AMA Toyota Motocross series. We got in touch with this steadily-improving privateer for today's installment of the Sponsorhouse.com Privateer Profile. Show him and his sponsors some support by clicking on the links at the bottom of the page.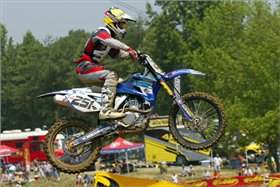 23-year-old Ash Woskob scored his first national points with an 18th place finish in the first 450 moto at Unadilla

photo: Zak Lowery

Racer X: Ash, I saw your name on the entry list for Loretta Lynn's, but you're not racing. What's going on?
Ashlee Woskob: Well, my RV broke down on the way back from Unadilla. The U-joints and yoke went out in it, so I really didn't want to go down there in the back of a pickup truck. So I figured I'd get it fixed up so I could make it to Minnesota. If I wasn't here working on fixing it up, then I doubt I'd make it to Millville. So it's all fixed up now, and I'm looking forward to that race now.
At this point, do you feel that the pro national is a little more important than the amateur nationals?
Well, I don't really know. I don't know if one is more important than another, it's just that I had to choose and I felt that I'd rather try and get more points and hopefully get a national number for next year.
You've raced Loretta Lynn's in the past—how have you finished there?
I've raced there twice, and my best finish was 10th overall in 125 B Modified. I then qualified last year, but I broke my wrist and wasn't able to attend it last year. I really don't like that track, to be honest. I know it's the most important one, and I don't feel that I'm above the amateur national scene, but I just want to concentrate on racing professionally right now.
Speaking of Unadilla, although it didn't go well with your RV, you did finish 18th in the first moto and scored some valuable points. Congratulations!
Thanks, it was great. I was running in the top 15 for most of the first moto. Just being up there with those guys that you read about and look up top—it was just awesome to be up there and going their speed. It felt really good and gave me more confidence. Just because you read about them doesn't mean you can't run with them. I always knew I could do it—now I proved it. I just plan on getting better every weekend, keeping my head in it, and stay focused to make it to the top someday. I'd like to finish in the top 20 every moto from here on out, and to stay consistent.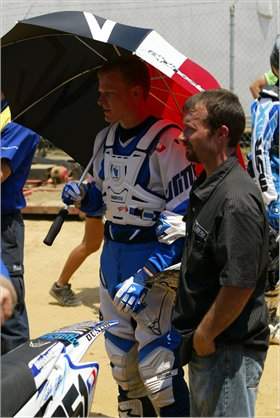 Woskob tries to stay cool prior to the start of his first moto at Budds Creek

photo: Zak Lowery

It looks like you were on your way to another good finish in the second moto too, but then something happened.
I was in sixth place off the start. I had 18th pick, but I was running late and got the 25th pick. I got a good jump off the gate and I came out right behind Carmichael. I had never experienced anything like that before. I came around in eighth the first lap and then a rock got stuck in my rear brake and clutch cover, and it stalled my bike out. By the time I got the rock out and got going again I was probably 30 seconds behind the last-place guy. I tried my hardest and made it back up to 26th. So it would've been a really great weekend, but getting in the top 20 was good enough for me.
Unadilla is known for its rocks, so what does it feel like getting roosted by Ricky Carmichael's factory Suzuki 450?
Have you ever played paintball without a shirt on? Probably not, but I think that's about what it feels like [laughs]. I came off the track with bruises all over my collarbone and arms. It was definitely the most painful moto, for sure. Even with the chest protector, they still manage to get by. For next year I'll definitely be running more rock protection, for sure.
Give us some background about yourself, Ash. How long have you been racing and how did you get started?
I've only been racing for five years. My brother got a CR80 back in '99, and I was too big to ride it, but I jumped on it a few times and I just loved to ride it. My dad would never let me get dirt bikes, so I had four-wheelers all my life. I got my first dirt bike in 2000—it was a YZ125. Ever since then I was hooked. From 2001 on, my goal was to become professional.
Are your parents supportive of your racing now?
Yes, my mom and my wife, Sarah, both support me 100 percent and help me financially. My brother is my mechanic, so he comes with me everywhere I go. During the week I'm pretty much by myself, practicing and working on my own stuff. But as far as the weekends go, my family helps out a great deal. It's my full-time job now, but it's not really a job, because I love it so much.
Do you ever find it difficult to make ends meet?
Sometimes it's hard, because it costs so much to do what we're doing. I can be working a 9-to-5 job and making more money, but if I can make it at this sport I'll be fine. That's my drive—to do better and better so I can do this for a long time. I work at it 12 hours a day. Everything I do from the time I wake up till the time I go to bed. If it's working on my bike, the track, training, riding, whatever—my life is dedicated to racing motocross.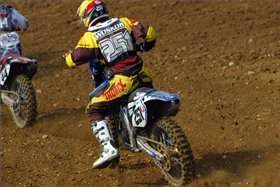 Ash gives chase to Justin Buckelew, a rider who he has read about in magazines for years.

photo: Zak Lowery

Tell us about your hometown.
I live in State College, PA. I'm only three miles from downtown State College. I have a track near there too. But I was born in West Palm Beach, FL, and I moved up here in '93. But I plan on staying up here. I like it up here and we're pretty close to a lot of the nationals. So being a privateer, it's a pretty nice place to be, other than the fact that you have to go somewhere in the winter.
What would you be doing if you weren't racing professionally?
Probably excavating. My dad ran an excavation company and managed apartment buildings. I'm not too into sitting in an office, so I'd probably be excavating. I've been running equipment all of my life, and I enjoy that. We also tried the farming thing—we had about 1,000 cows—but I didn't like doing that either.
Who would you like to thank, Ash?
First I'd like to thank my wife, Sarah, my mom and brother, and all of my sponsors.

Ash Woskob's sponsors: