Bench Racing Ammo: Loretta Lynn's
The office is pretty quiet around here this week, as a majority of our employees are in Hurricane Mills, TN, for the 25th running of the AMA/Air Nautiques Amateur National Championships at Loretta Lynn's. There's an awesome week in store for the 1,386 competitors—42 riders in 33 classes—and their families and friends, and you can catch up on the daily action by logging on to www.mxsports.com every day (and our DMXS-produced MX SportsCenter at www.racerxfilms.com).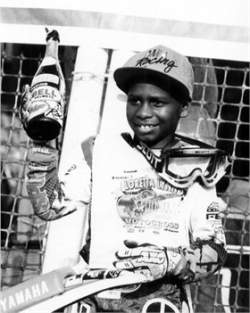 James Stewart started winning at Loretta Lynn's in '93
photo: Racer X Archives
If you're not familiar with Loretta Lynn's, let me explain: It's an amateur motocross event that utilizes a three-step qualifying format to narrow each amateur class down to 42 of the best racers in the country. All riders who qualify then gather this first week of August every summer and compete in three grueling 20-minute motos; the combined scores determine the overall champion. It's a huge accomplishment just qualifying for the "Big Dance," which has been running strong since 1982, but once you're there, the competition gets ten times harder. (How's this for a vet class? Jeff Emig, Trampas Parker, Denny Stephenson, Doug Dubach, and super-am Kevin Walker!)
How important is winning a championship at Loretta's? Well, for this week's installment of Motosport Outlet Bench Racing Ammo, we've decided to take the riders who are currently in the top 10 in points in both the 450 and 250F classes and tally their Loretta Lynn's championships.
450 class
1. Ricky Carmichael – 9
2. Chad Reed – 0 (Chad grew up in Australia)
3. Davi Millsaps – 9
4. Kevin Windham – 8
5. Travis Preston – 0
6. James Stewart – 11
7. David Vuillemin – 0 (David grew up in France)
8. Nick Wey – 8
9. Tim Ferry – 7
10. Josh Summey – 1
250F class
1. Mike Alessi – 11
2. Ryan Villopoto – 1
3. Andrew Short – 1
4. Josh Grant – 1
5. Andrew McFarlane – 0 (Australia)
6. Brett Metcalfe – 0 (Australia)
7. Nathan Ramsey – 0
8. Troy Adams – 0
9. Matt Goerke – 2
10. Broc Hepler – 4
As you can see, a majority of the top factory racers in each class have multiple championships from Loretta's, which means it's a pretty good litmus test for future pros. They will all admit that it has helped pave their way to the professional ranks, because if you do well at this race, the whole nation notices.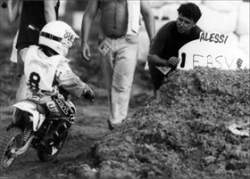 Tony Alessi guides Mike to his first Loretta Lynn's championship in 1995
photo: Racer X Archives
As for the best rider to come out of Loretta's, both Team Kawasaki's
James Stewart
and Red Bull KTM's
Mike Alessi
have an argument, as they are tied with 11 titles each, the current record. (Though that record is in danger of being broken this year by Tennessee's Kevin Walker, who is going for titles 12 and 13.)
You don't need to have a championship from Loretta Lynn's to have a successful professional career, but as the numbers show, it sure helps.