Thursday Rev-Up: Confidence
Hello, everyone, and welcome to the Rev-Up. It's hard to believe there are only five more rounds remaining in the 2006 season. When you think all the way back to Anaheim 1, then on to Hangtown, all the way to where we are now, it all just seems like it went by so fast. All the same, we still have five more rounds to go until the final curtain drops on this unbelievable season.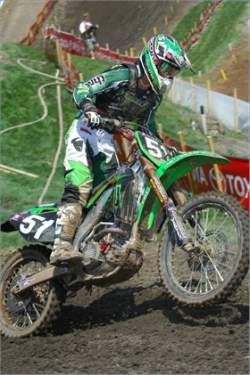 It's homecoming for Ryan this weekend.
What began as a season filled with uncertainty eventually manifested itself into yet another year of dominance and virtual predictability—especially in the outdoors, as Ricky Carmichael and Ryan Villopoto have played the role of class bullies and taken firm control over their respective divisions. This strikes me as amazing. Of course, Ricky is the greatest rider we have ever seen, and there were a lot of people predicting that Villopoto was going to be fast, but come on! These guys are dominating! The bikes are so equal now, and all of the riders are so talented, and yet we still have two guys that can start in the middle of the pack, make their way to the front, and simply put up the sails once they get there. How does this happen?

At Hangtown, James Stewart beat Ricky fair and square, and some were saying "the reign is over!" But now here we are after eight rounds and RC has a 69-point lead. Excuse me? And it's even nuttier in the 250F class. This is supposed to be the class with the most parity we have seen in decades. The preseason hype centered on the possibility of 10 guys having a shot at the win at each round. Nope. Villopoto has put a sound beating on the field each of the last four races. If his motor didn't blow up at Southwick, he would be way out front. Alessi has stayed close with a moto win here and there, but momentum belongs to Villopoto. The damage doesn't appear to be diminishing, either. Ryan waxed them in Colorado, and as we draw close to Washougal for his home race, you should not expect to see much quarter given by the flying Monster Energy/Pro Circuit Kawasaki rookie.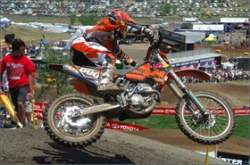 Mikey needs to get back the confidence he had at Hangtown.
How does our sport keep producing riders that completely dominate their classes? I think it all has to do with confidence. That may seem like a simple way to look at it, but in a sport that requires as much mental strength as motocross does, I believe it is a resounding explanation. There are no restrictor plates to keep the bikes close together; there is no halftime; and there is no time out. It is you and your machine against 39 others. Motocross is about as personal as it gets as far as motor sports go. It's you against them. If your bike is not as good as another's, it's still possible to compensate by riding just a little bit harder. A motocross rider learns every characteristic of his competition. He knows which guys make mistakes when you pressure them. He knows which guys ride well with a holeshot, which guys ride well in the mud, and which guys get tired toward the end of the race. Once you have your competition figured out, so to speak, your job becomes much easier. When you go out and use this to win races, your confidence skyrockets. When you can get up in the morning with the mindset that you know in your heart that you are the fastest rider on the starting gate, your job is already halfway over. That confidence automatically sets your mindset into motion of doing what it takes to win.

Ricky and Ryan might be modest in their pre-race interviews and speak softly about their expectations for the race; they might say something like, "Yeah, well, those guys are riding good, and I hope things continue to work out for me." But inside, they are really thinking to themselves, Those guys are toast!

What does it take to gain this mindset? Sometimes it's just one win, baby. Just a taste of what victory at the highest level feels like. No trainer, sports psychologist, or team manager can give you what taking the checkered flag can. Are we already entering into yet another period of domination?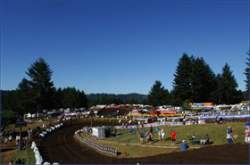 Washougal is one of the most picturesque venues on the tour
Carmichael and Villopoto will travel to the beautiful confines of Washougal knowing they have the momentum. But hey, things can go the other way as quickly as they came. All it takes is one bad moto for things to take a turn for the worse; one little slip can see all of that power change hands in an instant. Ryan Villopoto and Mike Alessi know exactly what I'm talking about.

When round eight kicks off this Sunday afternoon, there is really only one more title left to win or lose. The race is all but over in the 450F class, and when Andrew Short lost an engine last weekend, his title hopes went up in smoke along with it. Ah, but the championship fight between # 51 and the last man still standing—#800—is something to get revved-up about! Something tells me this could still go down to Glen Helen, but only if Alessi starts winning again right now. Through it all, I believe the rider that comes out on top will be the cat that has the most confidence.

Thanks for reading the Rev-Up. See you next week.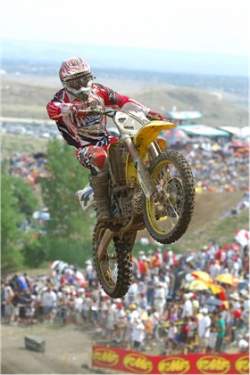 Could this be the last time this guy races Washougal?