Where are they Now: Willie Surratt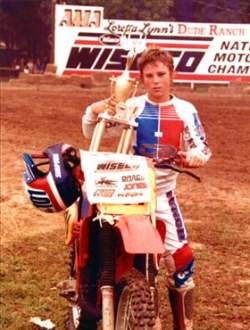 Willie Surratt at Loretta Lynn's

photo: Racer X Archives
Willie Surratt was one of the next big things in motocross in the early 1980s. The Southern California rider was big, strong, and wildly talented on a motorcycle.
"I started racing when Mom and Dad got divorced," Willie jokes. But it turned into much more than a hobby. He started racing professionally in 1985 at the local level and was immediately competitive. In 1986 he hit the AMA Supercross Series and won four 125cc main events on a Honda. He didn't win the title, but he won more races than anyone—including the eventual 125 West Region Champion Donny Schmit.
The next season, Surratt signed with Team Suzuki. Racing against riders like Kyle Lewis and Mike Craig, Surratt won the 125cc Western Region SX title. He had a multi-year contract with Suzuki, but then they fired him after the '87 season. Surratt fought a legal battle with the Japanese manufacturer over the following years, but he had a bad taste in his mouth about racing in the States, so in 1989 he moved to Italy to race the World MX Championships. He won Italian motocross and supercross championships, but his best season in GP racing came in 1991, when he finished seventh overall in the 125 class. After a brief stint back in the States in '93, where he would finish 10th in the 500cc nationals, Surratt closed the book on his racing career.
"I had a couple of my buddies get hurt riding, and when that happened I was pretty much over it," Surratt says. "The sport just didn't have the money that it has today. There were a few guys making a good living and then there was a group of us that were making about $50,000 a year. Behind us, guys were just paying to race. I was basically just making enough to get from one race to the next and I got tired of begging for tires and parts."
Since then, Surratt has competed in some of the vet nationals and has also done some testing for American Honda. He is also finding himself at a lot of amateur races lately, but not for himself: His son, Ryan, is a very fast young rider. "He told his grandpa he wanted a bike and he got him one," Willie says. "I was like, 'Thanks a lot, Dad!' But he's been getting faster and faster, and I don't push him at all. I don't want to be one of those dads. I know the consequences of this sport. If he wants to jump something, I'll tell him what I think he should try, but I don't push him into that kind of stuff." As far as going off to big races like Loretta Lynn's, where Willie was once a dominant prospect, Surratt explains, "I told him if he can't win here at his local track, than we aren't driving across the country to race. When he is winning here, then we'll make the trip."
Today, Willie owns his own trucking company, Surratt Trucking. He mostly moves dirt, and he helps Marc Peters of Petersbuilt on occasion with soil for his test tracks. When asked if he has any thoughts or regrets on his career, Willie replies, "I think I left Europe a little too soon. I actually liked Italy. Maybe I even stopped racing a little prematurely. Racing was tough, but it was sure more fun than hauling dirt around!"