Bench Racing Ammo: RC's Best (and Worst) Tracks
As Ricky Carmichael soldiers on through his last full season on the AMA Motocross circuit, pieces are starting to fall in place as to what exactly his plans are for 2007 and beyond. Besides rumors circulating of RC signing a three-year deal to drive in the ARCA Series for the Joe Gibbs race team starting in 2007, RC is starting to leave hints as to which outdoor nationals he plans on racing next year. And judging from what he said in the Unadilla post-race press conference Sunday afternoon, it doesn't seem likely that the famed Unadilla track will be on RC's calendar in the future.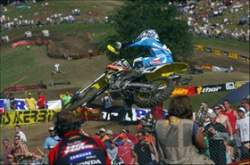 Is this RC's last time at Unadilla?
photo: Steve Bruhn
But why doesn't RC want to return to the most famous motocross track in America? It's probably not because of his past results, as he has won six of seven nationals in the Premier class here –his only defeat coming in 2003 by Factory Connection Honda's 450-mounted
Kevin Windham
. (You can read more about that race in Eric Johnson's
Renthal Great Races
feature which ran last week.) And in the tiddler class RC is 2-for-3 at 'Dilla on his Kawasaki KX125. His only loss there in that class came in his rookie season, 1997, where he was also beaten by
Kevin Windham
. K-Dub went 1-1 wearing #7 on a YZ125, and RC went 2-7 for fourth overall after crashing early in the second moto.
So with Ricky winning 8 out of 10 career races at
Unadilla
, he's basically batting .800 there! With that in mind, let's look at his success rates at some of the other national tracks.
At
Hangtown
, RC was riding a four-year winning streak into the '06 season opener, but the streak would not reach five, as
James Stewart
took the overall at the opening round back in May. He also had four consecutive
High Point
wins coming into the 2006 Monster Energy
High Point
National, and now the streak is five. All told, RC is 6-for-10 at
Hangtown
and 7-for-10 at
High Point
, and all three times that he lost—'97, '00, '01—it was raining.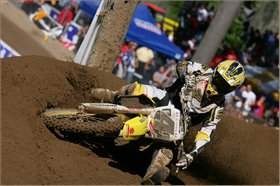 Southwick has been good to RC
photo: Simon Cudby
Sandy
Southwick
is probably the Floridian's best track: 9 wins in 10 appearances. RC has seven consecutive overall wins at MX338, which means he is undefeated on 250/450 equipment there. Out of the 14 possible motos, he has won 11 of them. As for the three moto losses, the first was the first moto back in 2000, and the past two seasons he finished second in the first motos—to
Chad Reed
in '05 and
James Stewart
in '06—but still laid claim to the overall by winning the second moto going away. He also won there on his 125 in '97 and '99, but was beaten the one and only time there by New England legend
John Dowd
in 1998.
RC has never lost a 250/450 race at
Budds Creek
, which is music to Team USA fans—the 2007 Motocross des Nations will be held there. RC's only loss there came in the mud on a 125 in 1999, and the winner was Tallon Vohland.
Carmichael has won the past six
Red Bud
Nationals, which means since '01 he's won once on a Kawasaki, three times on Hondas, and twice on Suzuki. But in 2000, RC got beat straight up by factory Honda's Sebastien Tortelli, who went 1-1 in Michigan that year. On the 125, he won twice ('98 and '99), losing only to Windham as a rookie in '97.
Washougal
is not one of Carmichael's better tracks—he's only 6-for-9 there! He lost here in 2003 and 2001—both times to Windham. And Brock Sellards took the '99 125 National from RC when his 1-3 gave him 45 points to Carmichael's 44 from a 2-2. Ironically, RC probably passed more guys in this race than anyone has ever passed in an AMA National, as he came back to second in both motos from dead last after getting pounded both times in the old right-handed first turn at
Washougal
, getting up last both times. As a result, he passed 76 riders in two motos!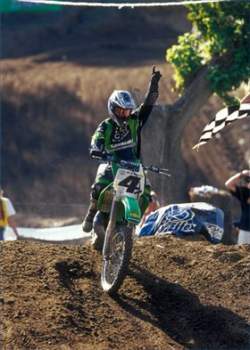 RC celebrates a win at Millville in 2001
photo: Simon Cudby
Carmichael can match his
Southwick
success at
Millville
with a win there in August. As it stands, he's won 8 out of 9 times, as the '99 AMA 125 National winner there was
Nick Wey
.
Broome-Tioga
could also see RC notch a 9-for-10 career. Like
Southwick
, Ricky's only loss here came in 1998 to
John Dowd
, who became the oldest man ever to win a 125 National when he beat RC at Tom Hurd's Binghamton track on August 30, 1998.
Steel City
is known for being one of RC's favorite tracks, and he's currently on a seven-year win streak, which started in the 125cc class in '99. After winning in the 250cc class in 2000, RC dropped down to the 125cc class in 2001 to get the 125cc all-time wins record from Mark "The Bomber" Barnett (which Stewart then shattered in just three seasons in '04).
And
Glen Helen
, which will host the series finale in September, RC has won eight times in nine visits. His only loss came in 2001 when he famously cartwheeled down over the hill one first moto start after hitting an errant hay bale.
Which brings us to
Thunder Valley
at Lakewood, CO this weekend. Turns out it's RC's only undefeated track: He's one-for-one on the newest addition to the Toyota AMA Motocross circuit!