Great Races: The 2003 Unadilla National
It was the April of 2003 and Kevin Windham, a big black stocking cap on his head, stood by himself in the corner of the Glen Helen pits. He looked like one of those people one might see at a cocktail party: a person off in a corner, out of their element, and at a loss for words. To a certain extent, it was understandable: Windham had not put in laps on an AMA supercross or AMA motocross track in 417 days—the last one being the Georgia Dome on February 23, 2002. There, on his last practice lap that afternoon, he hit the ground in a frightening crash, his femur shattered.
Windham then retreated home to Centreville, Mississippi, and practically fell off the face of the planet. For six months, nobody inside the sport—not even his closest friends and colleagues—heard a word from him. Kevin had seemingly given up on the sport. That autumn, however, word began to leak out that he was riding local races on one of the revolutionary new Honda CRF450R four-strokes. Shortly thereafter, it was announced that Jeff Surwall, Windham's longtime business manager, and Rick Zielfelfer, proprietor of Factory Connection, had formed a Honda satellite team that would see Windham compete in the 2003 AMA 250cc National Championship Series aboard a full-on factory Honda CRF450R.
For motocross enthusiasts, the news was cause to rejoice. That summer, Ricky Carmichael had ruthlessly dominated the 2002 AMA 250cc Nationals, winning not only all 12 nationals, but all 24 motos as well! It was the biggest whitewash/stomp-off in the 30-year history of the sport. As fate would have it, it was Windham who had last beaten Carmichael in the nationals, doing the deed at Washougal on July 29, 2001.
Now, here Windham was on an impossibly bright spring afternoon in San Bernardino, California, waiting for his bike to be unloaded for a tire test both he and his new teammate—Carmichael—were about to participate in to sort out their bikes for the fast-approaching opening round of the 2003 AMA Nationals. Poised to start the season on a CR250R two-stroke, Carmichael, then the big man on the Honda campus, wasn't exactly thrilled to have Windham and his powerful four-stroke on his team.
"Well, kind of," replied Windham when asked if he and Carmichael were getting along. "We tested yesterday and we said maybe one or two words to one another. I've said hey to everyone here at the track today except for him. I don't know … I mean, we're now going on noon and we haven't said anything to each other yet, so I don't really expect to have much conversation with him before the day is over. But that's good, you know? I hope to get in his head, and I hope to be his competition. I don't think we're enemies, but we don't really have to be friends, either. You don't force conversation upon people who aren't your type of guy. We're fine. We'll get the job done and hopefully put Hondas one and two on the podium."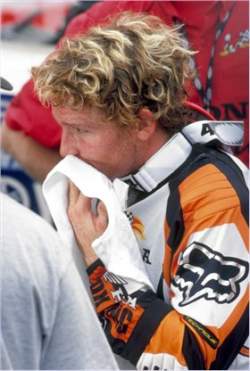 For the first time in 21 events, Carmichael had been defeated in an AMA 250cc National.
Later, on the other side of the same pit area the two would work out of in a month's time, Carmichael was asked if Windham had what it took to run with him come the
Glen Helen
National.
"I guess we'll just have to wait and see," Carmichael replied. "I guess he has a comeback going with Factory Connection or something like that. I don't really know if comebacks ever work out, but we'll see."
Since 1977, crew chief Cliff White had been working with the American Honda Motor Corporation. White was tuning for Jean-Michel Bayle during the early 1990s when the French-born rider was at odds with Honda rider Jeff Stanton. Seemingly not a race went by where Bayle (who stole Stanton's 250cc National and Supercross Championships away in 1991) and Stanton weren't on the verge of screaming at one another. Now here was White, trying to keep the waters calm between two talented and motivated competitors.
"There's going to be feelings about each guy, but sometimes that helps," White said. "Sometimes a little tension motivates people. It can work both ways, but it can be good.
"Kevin seems to be much more focused and claims he's ready to do the deed," White continued. "And I'd like nothing more better than to have him succeed and do well. We'll give him every opportunity we can give him to prove himself."
Hours and a hundred or so testing laps later, Windham sat in a lawn chair and thought about his return to the fray at the Glen Helen National opener.
"Yeah, the gate will be full here," he said. "The bikes keep getting faster and the jumps keep getting longer, and our bones are made of the same stuff. But honestly, and with no disrespect to the other guys, I don't think that any of these guys are thinking of me or even of each other. Realistically, Ricky won every race last year, so everyone has this feeling of 'Let's just worry about Ricky.' But I really hope that a lot of guys come out and put in strong performances just for the sport's sake. No matter what happens this year, I intend on making a full comeback to the point of doing full seasons again. I want to have fun with it and ride like I know how to ride."
Before 25,000 fans, Windham led the opening moto of the
Glen Helen
National. To see him motor away to a comfortable lead and click off the laps in his inimitable, poetry-in-motion style was a thing of beauty. Unfortunately, he and the 450 would get sideways off a jump, landing on a hay bale and hitting the ground. The crowd moaned. But Windham got to his feet, dusted himself off, kicked the big 450 to life, and took off to place 14th. In the second moto, he led the opening stages before being reeled in and passed by Carmichael.
Two months later in New Berlin, New York, it all came right for Windham when he beat Carmichael and won the Unadilla National. For the first time in 21 events, Carmichael had been defeated in an AMA 250cc National. One race later, he would do it again, winning both motos over the CR250R-mounted Carmichael at Washougal.
But Windham's winning streak was a short one, as Carmichael would not lose another national for the next 27 in a row, a streak that spanned from July '03 until May of 2004, when James Stewart finally stopped the juggernaut with a win at Hangtown.
Kevin Windham has won a half-dozen supercross races since his two-race winning streak of 2003, but he has yet to win another. With the tour returning to Ward Robinson's Unadilla Valley Sports Center this weekend, maybe the stars will line up again for the man from Mississippi.