Has anyone had a shorter season than Ben Townley? After sitting on the sidelines for nine months while he moved from KTM in Europe to Pro Circuit Kawasaki, then dealing with major knee surgery and rehab, BT101 finally got the doctor's OK to ride Red Bud. He acquitted himself well, finishing third in the second moto, and he was looking forward to Unadilla—a track he's ridden before—and showing U.S. fans what all of the hype was about.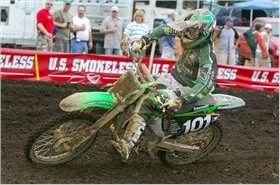 Ben's bad luck runneth over
photo: Steve Bruhn
But this week Townley cartwheeled at
Ricky Carmichael
's practice track, separating his shoulder and basically ending his AMA season two motos after it started. Ben told me yesterday that he's headed home to New Zealand to heal up, and that it would probably be six weeks before he got the OK to even ride again. Too bad, because Townley would have been up there this weekend, and probably each race from here on out.
You know you're having a bad season when Josh Hansen has more races in the books than you do. What does #100 + #101 equal? Apparently, #199.
Speaking of Travis Pastrana, he's been busy getting ready for a full menu (hopefully) of racing and jumping at the X Games coming up in early August. Pastrana will do some monster-trucking at Loretta Lynn's on Sunday night, July 30, then watch at the AMA/Air Nautiques Nationals at the ranch for a couple of days before heading back to Los Angeles to jump, trick, Supermoto, and rally-car race all around the Home Depot Center.
Also at Loretta Lynn's, the AMA will be naming Team USA 2006. It seems like Carmichael and James Stewart are the shoo-ins to lead the team—it's probably their last chance to ride together on Team USA—but the third spot remains the big question mark. There's been chatter that RC might drop down and ride a 250F just to have a Johnny O'-like shot at beating everyone else on a smaller bike, but he also wants the best team to go, and right now, Kevin Windham doesn't seem to be as fast as he was last year.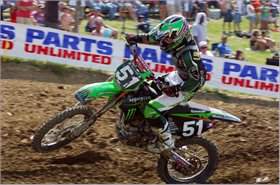 Villopoto for Team USA?
photo: Steve Bruhn
That means that a choice between either 250F points leader
Mike Alessi
or the red-hot
Ryan Villopoto
. With Alessi, you know you're going to get a great starter who knows his way around Europe and will have the full backing of KTM over there. But with Villopoto, you have an obviously fast learner who seems intimidated by nothing and no one. Also, it seems like we're seeing RC paying more and more attention—they always seem to hook up in Saturday's combined practice—to a kid that he's already said reminds him of himself at a young age.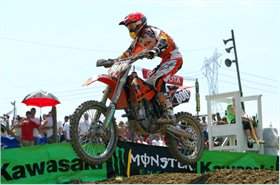 Or Alessi?
photo: Steve Bruhn
It seems like no matter what the final choice is, we'll have a fast third man on the squad. We will also have a lot of moans going up from those who think it should have been the other guy.
And speaking of Team USA in 1986, One Industries and David Bailey were working together on a rare video of the race, using Gary Bailey's film with David's narration of the day he and Ricky Johnson and Johnny O'Mara put on an American motocross clinic for the rest of the world in Maggiora, Italy. But given David's recent health problems, production was stepped up, and now Dream Team is on sale, with every dime going to help David and his family through his current health crisis—One Industries is donating the production and shipping costs.
I've seen clips from this amazing film, as well as the free preview over at www.oneindustries.com, and it gives me chills every time I see it—1986 was a wonderful time for American motocross, and the MXdN race that year was the most dominant performance any nation has ever put on in that race. This video is a must-have no matter what the cause; getting your hands on a copy of it and also helping David Bailey just makes it even more of a must-have!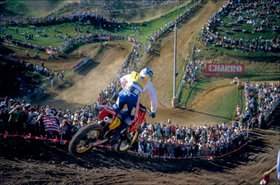 The Dream Team DVD sales will go directly to help David Bailey
photo: Racer X Archives
By the way, anyone who wants a free
David Bailey sticker
at
Unadilla
this weekend, just stop by the
Racer X
booth and throw a dollar or two—or even just a quarter—in the David Bailey bucket and we will hook you up with some of the really cool stickers that One Industries made for Bailey when they released the Bailey '86 helmet. Please stop by and help the Icon out.
You can also get your Ernesto Fonseca Powerband at the Racer X booth. Two weeks ago at Red Bud, Fubar sold 276 of the red bracelets for $5 each, which meant another $1,380 that fans helped us raise for Ernesto's rehabilitation. If you haven't grabbed one yet, make sure you do before summer is over.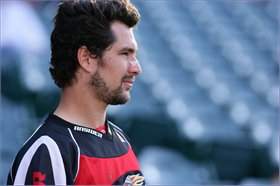 Ernesto will be a busy man next week when the circuit comes to Colorado
photo: Simon Cudby
Fonseca, by the way, will probably be a busy man next week when the AMA circuit visits Colorado, where he is rehabbing. He's hoping to come out to
Thunder Valley
and visit with his fellow racers and the fans. Here's hoping it all works out, because the races just haven't been the same without "Lobito" around.

Back to Team USA and the MXdN: One Industries is giving away a trip for two to the race as a way to celebrate the 20th anniversary of the triumphant win there for the dashing red Hondas of Bailey, Johnson and O'Mara. It will go to one of the purchasers of the Maggiora-MXdN 1986 David Bailey Trooper helmet (which shipped today, by the way). Here's the thing: The only people eligible are those who already bought the helmets, which completely sold out one week after they were announced! If you were one of the folks who grabbed up this lid, an official postcard will be included in your helmet box. Fill it out and send it in, and your and a friend might be going to England in September with the AMA tour.
If you did not purchase one of the helmets but just want to go to the MXdN, check out www.amamotocross.com and scroll down to AMA Tours to get with a bunch of moto-loving fellow Americans headed to England. Wait, my turn to drive.…
Now would probably be a good time to explain to you that I am in the backseat of the SUV, rolling north on Interstate 81 towards Unadilla. Matt Ware and Andy Bowyer are up front, and we're picking Simon Cudby up at the Binghamton Airport late this afternoon. After a weekend off, the Toyota AMA Motocross Series is back up and running with a visit to the notoriously rough Unadilla Valley Sports Center.
There's been a lot of rain in the Northeast, and now it looks like it's going to be a hot, muggy, brutal weekend of motocross—just the right formula for another heated battle between Carmichael and Stewart, as well as that wide-open 250F class.


If you can't make it, make sure you check out our exclusive practice preview over at Racer X Films tomorrow evening. We will be putting together another one of our popular (and free) online films to show you what the oldest track on the AMA circuit looks like, who's going fast, and what to expect on Sunday.
Also, don't forget to visit www.amamotocross.com all weekend long for lineups, lap times, results, and everything else when you check @The Wire Live! And if you have time on Sunday afternoon, the Racer X Webcast presented by Cycle News will begin just before 1 p.m. (EST).
Will we see another Carmichael and Stewart battle? Remember, this was the track where Stewart's summer of 2005 really hit rock bottom. He was carving Unadilla up, trying as hard as he could to keep Carmichael behind him, but still riding a KX250 on a track as fast as this one, it was inevitable that RC would catch him on his 450 thumper. He did all right, and when Stewart tried to strike back quickly, he ended up landing right on Ricky's back after their lines crossed. What followed was a long ride back to the pits in the back of Doc Bodnar's Mule.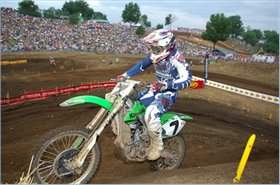 Unadilla may be just what James needs to catch back up
photo: Steve Bruhn
I wrote in my "Reason for Being" column later on that the
Unadilla
crash surely must be rock bottom for the phenomenally gifted Stewart, and while he had more problems in the year—another big crash at Broome-Tioga, then an illness at the U.S. Open in Vegas—James has had quite a year since then. Kawasaki handed him a 450 and he won more supercrosses than anyone, and he ended RC's 27-race outdoor winning streak at
Hangtown
.
Now he's going back to the scene of the crime, so to speak, with a chance to erase it from memory and maybe get inside Ricky's head a little bit. It's common knowledge that Carmichael doesn't really like this weekend's track, and that makes him a little more vulnerable. While the championship is certainly out of reach for James after scoring zero points at High Point and then breaking down at Southwick and skipping Budds Creek altogether, James and Kawasaki could use a win here as a real launching point to maybe taking more wins from Carmichael's Makita Suzuki before his last full season is over.
Unadilla would also be a good spot for Windham to show up again. He came back from obscurity to beat RC here straight up in 2003, the story of which is told by Eric Johnson in this week's Renthal Great Races . Now is the time for Windham, who only has one podium so far this year, to make something happen.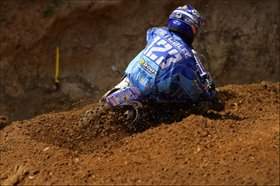 Will Unadilla mark a breakthrough for Metty? What about McFarlane?
photo: Simon Cudby
Remember three years ago when
Ryan Hughes
and
Mike Brown
and
Grant Langston
were all battling for the AMA 125cc National Championship? This is the race where then-KTM rider
Brett Metcalfe
apparently got a signal to help Hughes out after Ryno had a bad moto. Now Metcalfe is hovering around the podium every race, and he really should have won
Southwick
. The point is, with some good starts and looking-ahead racing, this might be the weekend for Metcalfe to finally get himself a moto win (or maybe more). His teammate
Andrew McFarlane
has never been to
Unadilla
, but after seeing how well he rode at
Hangtown
and
Red Bud
, it could be just the right mix for him, too. If you're a Yamaha of Troy fan, take your pick between #123 and #124.
Okay, we're getting off to go to Target near Gettysburg and buy some video cassettes. Time to turn this over to Ping for a little while….
The guys at DMXS Radio turned me on to what I believe is the funniest website created since Al Gore himself created the World Wide Web. I've never been a huge Chuck Norris fan. Sure, his roundhouse kicks are a thing of legend, but Walker: Texas Ranger was a bit of a cheese-fest and Delta Force was, well, lame. Still, there is no denying the fact that Chuck Norris is the greatest, most feared man on the planet. At least that's what this website is dedicated to establishing. If you've never seen this, and you don't laugh until you pee then you don't have a sense of humor: www.chucknorrisfacts.com. I already bought a T-shirt.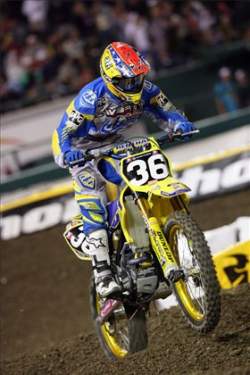 Is Ryan Sipes going to ride red next year?
photo: Simon Cudby
The silly season has begun, and it involves teams as well as riders.
Ryan Sipes
alluded to the fact that he is in talks with Factory Connection Honda for next year. That might put
Joaquim Rodrigues
on the unemployed list.
Yamaha of Troy is also rumored to be in talks with Suzuki. Troy Racing, the company that Brett Metcalfe and Andrew McFarlane are contracted with, also sells Suzukis. They are using their rising two stars as leverage to strike up a deal as Suzuki's support team. Metcalfe had been in talks with Pro Circuit, going as far as signing a letter of intent, but YOT has a first right of refusal written into all of their contracts and they are exercising that right with Brett.
Also, if Pro Circuit is talking to #123, that means that one of their riders is on his way out. Villopoto and Townley are already signed, so that means either Chris Gosselaar or Troy Adams could be on their way out. Both riders will surely have offers somewhere else.
One surprise is that Nick Wey hasn't had any offers for 2007. The top privateer, and in many cases the top-finishing Honda rider, would be a great choice for Honda or Yamaha, who seem to have seats to fill for next year. Honda, however, may still be in negotiations with Chad Reed and his team (including Nathan Ramsey). Early speculation has Grant Langston going to Yamaha and being their only 450 rider under the tent, with Broc Hepler and Josh Hill riding the 250Fs. However, if Reed and Ramsey do put something together with Honda, then Yamaha would certainly need to hire another rider to back up Langston.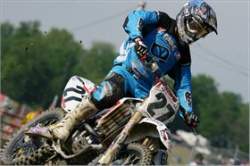 Why doesn't this man have a factory deal?

photo: Simon Cudby

Ricky Carmichael and Ivan Tedesco are staying at Suzuki (RC will be part-time in both series) and Kawasaki has re-signed Stewart and may keep Michael Byrne around again as well.
No word on whether or not KTM will in fact have a 450 team here next year. Remember, Sebastien Tortelli was supposed to ride it against Stefan Everts all summer and then bring it back here for 2007, but Tortelli only made it to three GP races before his bad luck crossed the ocean and caught up with him in Portugal. That may knock KTM's return to the premier division in America back another year.
Another rumor I keep hearing is about some kind of five- or six-round supercross series that will supposedly taking place next summer in between the outdoor national rounds. The venues will be in soccer stadiums at locations close to where the previous or following outdoor nationals would be, and the tracks would be longer, slightly faster versions of what we see during the winter. Who will compete? What will it be called? Will the factories support it? Hey, I'm not even sure it's going to happen. But I have heard about it more than once.
With Mark Johnson leaving the sport of motocross once again, Bill Keefe has signed on as the manager of the Motosport Outlet team. Keefe was the owner of 1980s modification company Klemm Research and is the father of amateur rider Tyler Keefe.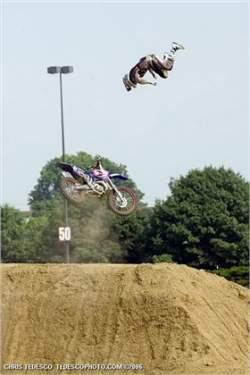 Twitch's ugly crash was well underway when Chris Tedesco snapped this off.

photo: Chris Tedesco

Jeremy "Twitch" Stenberg is recovering from his ugly crash at the opening round of the Dew Action Sports Tour. He compound-fractured his tibia and fibula in his left leg and broke the talis bone in his right ankle. Here's what the FMX star had to say about the accident:
"I think I just let the pressure of the event get to me. I wanted to flip this jump that I hadn't flipped yet. When I came up to it I didn't have a good feeling about it but I usually just do it and make it happen. When I hit the face, it was steeper than I thought it would be and I was leaning too far forward. I twisted the throttle a little too hard and ended up going a lot higher than I thought I would. The bike kind of threw me off in midair and I was thinking, get to your feet. I pretty much landed past the landing on the flat and I knew my leg was broken immediately. I could feel it burning really bad and I could feel something warm running down my leg. I knew it was blood."
Twitch hopes to be ready for the X Games, but he knows that the chances of that happening are slim. He has been getting X-rays on a regular basis to see how the bones are healing, and his stitches and cast come off today.
That's it from Ping, who's had a bad week: He went to Glen Helen on Thursday to ride with Ryan Villopoto and Randy Lawrence, only to have his bike blow up pretty much as soon as he got there. Sorry, Ping.
It's cool to road-trip like this to familiar places. I've been coming to Unadilla since the USGP here in 1985—a race where I got Jacky Vimond's pink jersey, which I still have in my office. But between Morgantown and Unadilla is a lot of history. Besides Gettysburg, site of the pivotal battle of the American Civil War, we drive close to Three-Mile Island—the nuclear plant that almost did a Chernobyl in 1977—and the Pennsylvania Farm Show Arena, which was the site of probably the first "arenacross" in America. It was called Motorama and was promoted by a guy named Armend Hochstetter, I think. And Bevo Forti lives around here somewhere, as does John Savitski and Tony D.
Anyway, amateur racers all over the country are getting ready for the big summer national season, which starts for many at the Ponca City NMA Nationals and then moves to Tennessee for the 25th Annual AMA Air Nautiques Amateur Nationals at Loretta Lynn's. The NMA's Ron Henrickson has been working hard at Ponca City, getting the Oklahoma facility ready for its annual race. Amateur MX's Chris Hultner traveled there recently to check on the progress and interview Ron about the upcoming event. You can check it out at www.amateurmx.com.
Also, Racer X Managing Editor Bryan Stealey caught a story online about Grady County in Georgia, which is where Cairo and training facilities like the MTF and GPF rest nearby.
"Despite the noise controversy that surrounds Grady County's five motocross tracks, riders from all over the United States are converging on Cairo to train for the largest amateur motocross race in the world," said the local news report. "Now the Grady County track is benefiting riders and the community…. A win at the Amateur Nationals at Loretta Lynn's could launch a lucrative professional motocross career. That dream has brought riders from all over to Grady County."
The Georgia practice tracks like Davi Millsaps' are busy with ambitious young riders right now.
photo: Simon Cudby
"Just trying to get my jumps down, my corners, and yeah, the guys are making me faster so it's making me a little bit better on the track too," said
Alexah Pearson
, a 14-year-old rider from California.
"Conditions closer to what riders will see in Tennessee brought Alexah's family from California. Sean Lipanovich's family moved here permanently. "We all moved here so I could just train for motocross," said Sean Lipanovich, a 15-year-old rider….'"
Wow. Now sure what to make of that. I just read that to Bowyer, riding shotgun up front, and he said he remembers going to the Cairo area and Ricky's house all the time before Loretta's, but only for a week or two. Moving there permanently? Only if that Pro Circuit contract offer came through after high school, which it never did.
By the way, just heard on the radio it's supposed to be 95 degrees on Sunday. 'Dilla is going to be scorcher!
Even further up north, it's time for Round 6 in Canada. This is from Racer X Canada's Brett Dailey:
Round six of the CMRC Canadian National Motocross Championships kicks off this weekend at Shadow Valley Raceway in Morden, Manitoba. This is the final round of the MX2 West championships and Nevada's Jimmy Nelson looks to be a shoo-in for his first Canadian title. Nelson has won five of six motos and holds a commanding 44-point lead over Richmond Kawasaki teammates Teddy Maier and Gray Davenport, who are tied with 117 points each. California's Eric Nye is in fourth but only three points out of second overall so this will be quite a battle this weekend between Maier, Davenport, and Nye.
This series has been dominated by American "hired guns" with Jeff Northrop, Michael Sleeter and Kevin Johnson in fifth, six, and seventh respectively. The top Canadian, Yamaha's Kyle Beaton, is back in eighth overall. Quite a switch from Dusty Klatt's two straight MX2 West titles in 2004 and 2005.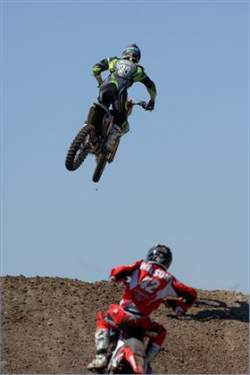 Nevada's Jimmy Nelson might land himself a Canadian title
photo: James Lissimore
The Morden, Manitoba, track is a new addition to the schedule and a welcome addition as well. Promoters have been working tirelessly on the track and the wide-open GP-style layout will surely be a hit for both racers and fans.
In the premier MX1 class, Honda Canada Blackfoot Racing's Dusty Klatt comes into Morden with an eight-moto win streak. His teammate and five-time Canadian champion Jean-Sebastien Roy won the opening round in Quebec, but Klatt has won every moto since. Even after finishing second to JSR at the opener, Klatt said that has never been happier and more eager to race in his career. Last weekend, he crashed while leading the first moto, picked up his bike, charged back through the pack and went on to win by 40 seconds over JSR, so you can bet he is enjoying himself even more these days. Klatt enjoys a 31-point lead with four rounds remaining. It's no secret that Klatt wants to come to the U.S. next year.
Check out our Monday Conversation with Klatt for more details. Behind Klatt and JSR in the series standings, we have Darcy Lange, Blair Morgan, Simon Homans and Colton Facciotti in third through sixth, respectively. Unfortunately, Lange broke his thumb last weekend and just underwent surgery, so his outdoor series is likely over. The top American rider is Gavin Gracyk, who holds down seventh overall. Quite a contrast to the U.S.-dominated MX2 West series.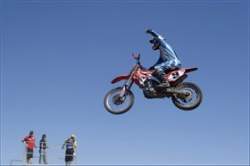 Dusty Klatt is looking for a break in America next year. We've seen him ride—somebody needs to grab him!
photo: Allison Kennedy
Richmond Kawasaki's Colton Facciotti dedicated his podium finish last weekend to Billy Whitley's son, Hunter Whitley, who was injured in a practice crash. The staff at Racer X Canada would like to send our best wishes and encouragement to Hunter and the Whitley family in this time of need.
Here are a few more links that may interest you, and look for a Friday photo update on www.racerxcanada.com tonight, which will include more photos of the track and riders and teams.
Top Pics from Regina, Saskatchewan
Photo Report from Regina, Saskatchewan
Check out this Fran Kuhn photo from the 1988 San Diego SX. That's five single-digit heroes—Micky Dymond (6), Jeff Stanton (8), Jeff Ward (1), Ron Lechien (4) and Rick Johnson (2)—coming off the gate! Fran, the main man behind Inside Motocross, sent this over from his new scanner, which means you can expect to see more great pics from the past like this in the near future.
Wrote Fran, "If anyone wonders why there could never have been a perfect season before
Ricky Carmichael
, maybe this is enough to start the debate. Maybe it had something to do with the notion that more than one guy wanted to win!"
So all told, how many major AMA titles did the riders in this shot add up to? Look for my guess further down.
Back to that Fran Kuhn photo: I count 24: Dymond got two 125 titles, Stanton took three SX crowns and three 250 MX titles, Wardy won one of each—125, 250, Open MX and SX—and totaled out with seven, Ron Lechien had a single 125 MX title, and RJ racked up seven altogether, which equals
23
. That's amazing…
… almost as amazing as the fact that Carmichael is working on the 15th of his career!
If you're going to Unadilla or any other AMA Motocross races this summer, do not forget to check on Toyota's Tundra Zone Moving Forward Seats, which are available for all fans in attendance. In order to be eligible, fans must register at the Toyota Zone. A name will be selected prior to the races and the winner will be contacted in order to accept their new and improved seats.
Primm MX Collection's Greg Primm has teamed up with Vintage Iron's Rick Doughty to create a very unique fundraising opportunity for their good friend David Bailey, in the form of a tribute bicycle to the former champ's achievements in the sport. The bike will be a highly modified version of the aluminum-framed Felt Cruiser and will strongly resemble David's Grand National Championship works Honda. (We've seen it, and it's maybe the coolest bicycle ever.) This one-off piece moto memorablia will be auctioned off on eBay as soon as the finishing touches are complete, with 100 percent of the proceeds going to David Bailey. Stay tuned for photos soon.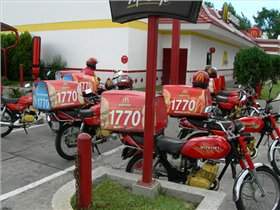 Two-stroke staging area or McDonald's parking lot? Too close to call.
photo: Matt Davis
Here's a funny note from
Matt Davis
of Throttle Jockey: "Just wanted to give you a special report from Antigua, Guatemala. Paula, Ava and I where doing a tour of the old capital of Guatemala and came across a
Racer X
sticker on one of the local two-stroke street bikes…. Yes, two-stroke! Almost all of the motorcycles here are—even the McDonalds delivery bikes!" (By the way,
parqueo
means parking).
Here's a note Andy Bowyer got on this week's Shift MX's Number Cruncher, which was #47.
"I love the number cruncher pieces but how could you miss Kevin Crine, who had #47 in 1995 and 2002? Keep the number crunchers coming." James Rolland
Good call, James. It's hard to list all of the guys who ever wore a certain number, but we definitely should have thought of Crine, a longtime local hero who lost his life in a car accident near
Budds Creek
last winter.
By the way, there is a weekend-long benefit ride going on at Doublin Gap MX Park near Shippensburg, PA, plus a rider-gear auction that will include lots of stuff gathered by Rod Yentzer and Amy Welch, the wife of longtime Maryland pro Tom Welch. (Racer X was glad to contribute the signed Ricky and Bubba jerseys that Mike Farber grabbed at the Red Bud National.) The auction will be from 4-6 p.m. Saturday and then more Sunday morning from 8-10:30 a.m. If you're in the area and want to do some motos and also help raise money for Kevin's family, please try to swing by there over the weekend.
On another note, the Yentzers are holding a race in the middle of the Carlisle (PA) Bike Show on July 22. There's a guaranteed payout of $2500 between the two Pro classes--$600, 300, 200, 100, 75, 50 guaranteed—and they will feature all motocross bike classes. For more info on this race, which will go off in front of about 30,000 bikers (!), call 717.249.6036 or visit www.doublingap.com.
Also this weekend, it's Evel Week out in the Northwest. If you think as much of the tender daredevil as we do, then make sure you check out www.knievelweek.com.
More help for David Bailey will come this weekend when former Husqvarna factory rider Andy Stacy hosts the grand reopening of TUF Powersports in Illiniois. (www.tufpowersports.com)
Andy wrote, "Additionally, to benefit David we are going to sell raffle tickets at $5 apiece and give away a One Industries Bailey Trooper replica helmet. I am also going to have another donation jar for the public and will match 100% of whatever it creates. Wes Parker from UFO is working on a display that will use the One Helmets and one of David's #45 Moto-X Fox Kawasaki Jerseys, plus a brand new Bailey T-shirt I bought at a fundraiser that was happening for him at the Daytona SX in '87." I am also looking for my copy of the "When the Going Gets Tough" video. We will try to send some pictures.
Did you watch the World Cup? Probably not, but if you stuck around for the finals, you probably saw the craziness that went down with Zinedine Zidane, the great French player. He head-butted an Italian defender, Marco Materazzi, in the chest after the Italian apparently said something about his mother and/or sister (reports are still unclear). It's triggered a week of debate about soccer this and that, and as Jimmy Button found, it already inspired one online video game: http://www.wallak.net/zidan/.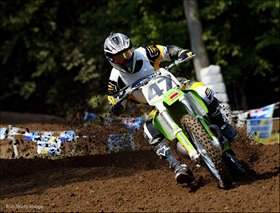 photo: Rob Watts
Another Number Cruncher note: "Don't forget about 'Fro in '03!" He was talking about
Jeff Emig
's Loretta Lynn's comeback effort, where he pulled out the same number he wore when he battled there against
Damon Bradshaw
as an amateur in 1988.
The Bay Over The Hill Gang has made a donation of $500 to the Full Circle Foundation David Bailey Fund. We are hoping this will be just one of many Vet motocross organizations across the country to give a little something back to one of our hero's of motocross. This announcement is made in the hopes of leading our fellow Vet Motocross associations to also give to the David Bailey Fund. For more information about the Bay Over The Hill Gang visit www.bayothg.com.
Ebay Sale Item of the Week

Someone is selling Jeff Ward's 1992 KX250, or at least one of the bikes he used that year. The highest bid Wednesday was $3550.
Well, my battery is dying and we're stuck in 5 o'clock traffic in Harrisburg, which means it's time to end this and pull over and send it in. Thanks for reading Racerhead. Make sure you check out the Unadilla video tomorrow night. Otherwise, see you at the races.