Between the Motos: Scotty LaLonde
In the last year, Toyota has made huge strides in the motocross industry. They are the title sponsor of the AMA Motocross Nationals, they are heavily involved in Amp'd Mobile Supercross, they are the event title sponsor of the upcoming Lakewood National in Colorado, and they are well into the "TMX 20" program that will conclude at Loretta Lynn's early next month. How do they keep track of it all? Podium Marketing's Scotty LaLonde helps out with that. He's a motocross enthusiast from Colorado who also happens to be a forward-thinking marketing specialist. He's the guy we rang up to find out more about all of Toyota's motocross-related "Moving Forward" programs.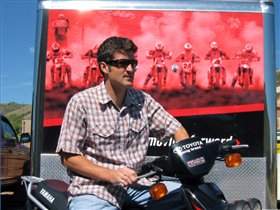 Podium Marketing's Scotty LaLonde is always moving forward

photo: Courtesy of LaLonde

Racer X: Scott, a lot of our readers have been emailing us and they want to know what's going on since we posted the first of our "TMX 20" with Jimmy Albertson yesterday. Why don't you give us an overview of what the Toyota program is going to be about with Loretta Lynn's here in the next 19 days.
Scott LaLonde: First of all, thanks for highlighting those 20 athletes—they're well deserved and their accomplishments speak for themselves. But we've identified the Top 20 based on an MXSports power-ranking system. We're looking at several different classes. For instance, we're taking four from 125 A/ Pro Sport; four from 250 A/ Pro Sport, four from 125 B and 250 B, so on and so forth. And based on those rankings, the top kids in each of those classes have been selected to participate in the "Toyota 20," which is a shootout-type evaluation at Loretta's to identify one kid that we'd like to move forward, as Toyota's slogan goes, into the pros. That individual would be receiving a full Toyota-endorsed ride on the Motoworld Racing.com PPG Yamaha team for 2007. We'd actually help them in the last four nationals and then help them throughout supercross and motocross in 2007.
When Toyota decided to get involved in motocross, I don't think anyone in their wildest dreams would've guessed that you guys would come on as the force you have. Whether it's the Toyota Zone for privateers in supercross and nationals, or this TMX20 amateur program, or what you do out at Thunder Valley for the national there, you guys are in it for the long run, it seems.
Thanks. First of all, I think the days of signing a check and hanging a banner and calling that a sponsorship is gone. You really need to get in there and activate whatever you invest, as far as property and a program goes. And that's something that we've tried to do and certainly we're learning a lot in this first year. I think what we're doing at Loretta's is an extension of all that, and it's an extension that really can drive down to the amateur, grassroots level heart and soul of the sport. We wanted to get involved with those athletes from an early-on basis. The top kids that are 15 or 16, Toyota is a top-of-the-line perfect first vehicle, and in this sport everyone needs trucks. I think with the Tacoma and Tundra, we have a great offering there.
All motocrossers need pickup trucks. It's hard to drag a trailer around when you're going practicing a few times a week. It seems like motocross and pickup trucks were made for each other.
Exactly, and I think that the Tacoma kind of got that rowdy flair, and it seems that the younger kids gravitate toward that. I don't want to get too in to product here, but that four-liter V6 gets super fuel economy, and in today's day and age that's awesome. And in 2007, the big thing for Toyota is that we're launching the 2007 Tundra, which you'll see at Thunder Valley. It's a big part of why we're involved and we're excited to offer that to everybody because it has a huge towing capacity and a lot of power.
You mentioned Thunder Valley. Race promoter David Clabaugh is a friend of yours—you're both out in Colorado—and Toyota has really gotten behind the Lakewood National, if I understand correctly.
Yeah, David and I both live five minutes from the track. David is the promoter, obviously, and we're good friends and help each other. We definitely bounce things off of each other, on both sides of the business. We're super progressive on this. For instance, we're going to have jumbo-tron TV screens at that race, which is a first, I believe, for an outdoor national, and we're looking forward to putting that together. We're blessed because we're close to a metro area (Denver), which gives us the ability to do some of that stuff. And Toyota's recent spin on involvement in two-wheeled sports I think started last summer at Thunder Valley, and it has certainly grown. Now Toyota is the title sponsor of the event at Colorado. We're just really looking forward to putting another good year together and seeing what we can do and continue to learn and grow and take it to another level.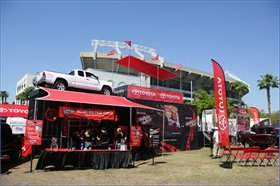 The Toyota Zone in the supercross pits is a privateer's oasis

photo: Matt Ware

Backing up again, the Toyota Zone has been one of the freshest and most unique ideas for the pits that I've seen in a long time. I know as a journalist that I stop by every now and then, but I see all kinds of privateer pro riders and families taking advantage of that. How did you guys think of that? I mean, just going directly to the privateers with a lounge area, internet service, lunch and drinks, and just a little factory area for the non-factory riders is a really neat deal.
Yeah, I think that was something that was really true-to-heart from the people at the Engagement Marketing Group that's responsible for all of these promotions and sponsorship. Those guys really care, as do we, and I think we're just looking for, "Hey, what else can we do? How can we add some more credibility?" We do want to sell product—that's why we're here—but how can we convince or let people know that we really do care and we want to try and make this sport a better place? The history of what everyone has done in the sport to get it to this point is unreal, so we just want to continue on.
Are you coming to Loretta Lynn's yourself?
Of course! We have two RVs rented and we're real excited about it. We've got a lot of people from Toyota coming, and there's a lot of buzz about the week at Loretta's. We're going to have some top executives camping with us, and we're looking forward to the decision of what athlete we'll place for 2007. They'll get a Toyota truck and there will be a nice awards ceremony Friday night as part of the fashion show, and that'll be pretty cool. We also have some other athletes that we're working with, and those athletes will be at Loretta's and we'll also recognize them. They're not working through the contest system, but we've actually selected and identified them as "Moving Forward" athletes, and we'll endorse them in the same way that we do with the kid we place on the Motoworldracing.com team.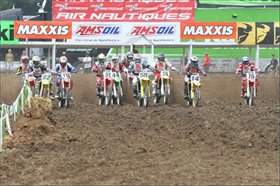 Toyota will announce the winner of their "Toyota 20" at Loretta Lynn's in August. The winner gets a ride with the Motoworldracing.com Yamaha team for 2007.

photo: Matt Ware

What happens if the rider who turns out to be the star of the show already has a factory contract for 2007?
Well, that could happen. What we've done is that the Toyota 20 has been selected on performance first of all, but then they have to accept that they want to participate and in the rules it says you cannot have a 2007 contract. So we're taking that into consideration.
I should probably already know this, but I don't: How exactly does the power ranking work?
The power ranking is a formula that MX Sports has put together to determine rider rankings in a culmination of how they performed and how much competition was in their regional. In the case that there is a tie, we go down and look at the area qualifier.
Tell me more about your company, which is not Toyota, but rather Podium Marketing.
Well, Podium Marketing is a small marketing agency out of Colorado, and I work with David and Thunder Valley, we did some work with Bridgestone, and Toyota is a big client of ours, obviously. But we work hand-in-hand with the guys at Toyota to create and administer programs on a variety of levels. So, a lot of that stuff you see is a collection of a lot of good, talented people working hard with our company and all parties involved to come up with these types of programs and ideas.
Well, next time you see David, tell him that I still need his shirt size for the Ben Roethlisberger Steelers' jersey he's going to wear when he comes and flags at Steel City.
That's right! We'll be there, for sure! I'll definitely get with him.
Well, we look forward to seeing the rest of the Toyota 20 here in the next 18 days—Jade Dungey is today's featured rider—and we appreciate everything you guys do in the sport, from the privateer zone to what you're doing with Loretta's and for the fans at Thunder Valley. It's nice to have a very progressive hands-on company believing in our sport the way Toyota does.
Thanks, Toyota is really happy to be here.