Welcome to Racerhead. Half the office is on the way to Red Bud, the other half on the way to Steel City for an amateur race this weekend (but not before we watch England in the World Cup tomorrow morning—come on, England!). Red Bud, of course, is an American motocross classic, and so is the next round of the series at Unadilla. And it's a good thing Unadilla is in two weeks and not this weekend, because as you can see in this picture that Racer X reader Jim Frederick sent in from Highway 88, right above Binghamton, the wet weather on the East Coast is creating quite a mess—and a whole new "Gravity Cavity!"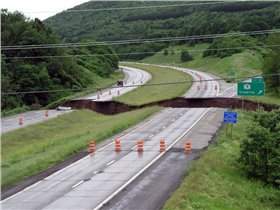 There's a new "Gravity Cavity" near 'Dilla
Unadilla
's
Greg Robinson
actually checked in to let us know that everything will be fine in New Berlin, NY, in two weeks—there was a lot of water this week, but it's all run off, and the race will go on as planned.
As for this weekend, the weather has been kind to Red Bud, and the Ritchie family has been getting ready all year long for the fifth round of the 2006 Toyota AMA Motocross Series. There are some new jumps and tweaks to certain sections, and the weather should be just perfect. And with James Stewart coming back from his brief hiatus, not to mention Ben Townley's AMA motocross debut and Ryan Villopoto inching closer and closer to Mike Alessi, this race could be an instant classic.
As you probably saw at Budds Creek or on the OLN show, things are really heating up between Alessi and Villopoto. That puts Alessi in a vulnerable position, in my opinion, because he's already on probation with the AMA from what happened last year at Glen Helen with Ivan Tedesco. In World Cup terms, he has to be careful because he gets the yellow card next time, whereas Villopoto hasn't had a warning yet. But after Budds Creek, I have a feeling he has one coming, as on the podium he hinted that his takeout of Alessi was payback for the way the Alessis treated them throughout their amateur days.
It also seems like it's time for Josh Grant to pick it up a notch. I've been expecting him to win a moto ever since Hangtown, but it hasn't come together yet. With good starts and a fast track like Red Bud, it might be the combination he needs. Hey, it worked for Ryan Mills last year.
And speaking of Mills, wow, what happened since then?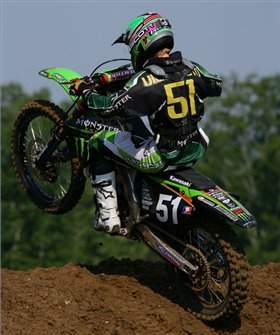 Four nationals down, and RV51 has won two of them
photo: Simon Cudby
And while we're on the subject of Alessi and Villopoto, not only did these two races as kids, but they also raced
Christophe Pourcel
, who is currently leading the MX2 World Championships. There are some in Europe who think Pourcel could be the next
JMB
, and it will be interesting to see how he measures up to Alessi and Villopoto now, as these two outclassed him at Loretta Lynn's on 85cc machines a few years back.
And while you can always count on Ricky Carmichael to give it his all, the revelation in the 450 class is how hard Team Yamaha's Chad Reed has been working and pushing, because while he may not have won a moto yet, he's putting in maximum effort; this after Hangtown, where he commented that the nationals aren't his thing.
And while all the emphasis has been on the battles going on here, Stefan Everts is halfway through a perfect season over in Europe, in his 16th year as a pro, which is incredible.
And while we already mentioned the return of Monster Energy/Pro Circuit Kawasaki's Ben Townley, another rider making a much quieter return this weekend is SoBe/Samsung/Factory Connection Honda's Joaquim Rodrigues, who suffered a broken tib/fib earlier this year at the Honda test. Joaquim's return also marks the debut of Chad Sanner as his mechanic.
"He doesn't really say much, but he's riding really well," Chad said about J-Rod earlier today from the hotel parking lot in Michigan.
But as one of their team riders returns, they'll be missing the services of another as Billy Laninovich is out for the rest of the season with a knee injury. Get well soon, Billy!
And we just got a note from SoCal Racing/DeCal Works' Ron Joynt, who said his team rider Jake Marsack broke his hip yesterday while practicing. That's a shame, since Jake just earned his first outdoor national points of the season last weekend at Budds Creek after he went 20-18. Get well soon, Jake.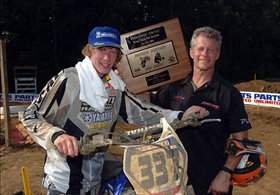 Get well soon, Jake!
photo: Carl Stone
You can watch the laps and the results and splits and just about everything else all weekend long at
amamotocross.com
. And the Racer X Webcast presented by
Cycle News
will be up and running on
mxnationals.com
beginning at 1 p.m. EST on Sunday afternoon, with
Tim Cotter
,
Rob Buydos
and
Jason Weigandt
bringing you all of the action live.
You can also check out
racerxfilms.com
for
Matt Ware
's practice video on Saturday.
With last weekend off, the guys were either healing (James), boating (Ricky Carmichael) or out at the NASCAR race at Sonoma (Kevin Windham). K-Dub met up with Eric Johnson up there at the road course, and he took Windham around to meet guys like Dale Earnhardt Jr., Clint Bowyer, and more. Windham also talked at length with Boris Said, who went out and scored a ninth-place finish in the SoBe Gold/No Fear car.

By the time the weekend ended, Windham had set up a road course test in the #60 Fusion car – co-owned by Mark Simo, Frank Stoddard, and Said – sometime after the road course race at Watkins Glen, NY, on August 13, according to an article in the Orange County Register (and thanks to Aaron Potter for pointing it out).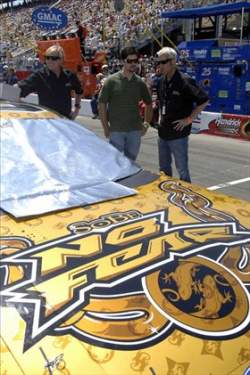 Looks like Kevin Windham is thinking NASCAR down the road
photo: Eric Johnson
"We are trying to find some way to squeeze it all into my schedule. But I can't pass this opportunity up," Windham told the newspaper as he watched Said's car go through technical inspection Sunday at Infineon Raceway. "Who would? I would love to drive cars like this once my motocross career is over. But I still have a few good years left on the bike, and so that means motocross will be my main focus."
Did you see that brutal crash of Jeremy "Twitch" Stenberg at the Panasonic Open in Louisville, which was part of the Dew Action Sports Tour? Twitch could have used a parachute on that one! He crumpled his left leg upon impact, earning himself a trip straight to surgery. Now he's healing up at home. You can keep up with the X Games medalist with his blog.
Last weekend also marked the conclusion of the 2006 Mammoth Mountain Motocross races, and once again Jeremy McGrath showed the youngsters why he's called "The King," besting such rising talent as Josh Hill, Michael LaPaglia, part-time off-roader Bobby Garrison, Tyler Keefe, Ryan Dungey, and more.
McGrath, who also won the Vet Pro class the weekend before (bettering the likes fellow SX winners and former factory riders Doug Dubach and John Dowd), took two classes—250 Pro and Open Pro—showing that he could still go out there and get some decent scores in a pro national.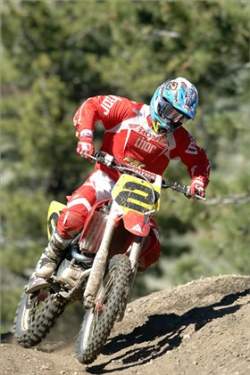 Jeremy was motoring at Mammoth
photo: Kinney Jones
McGrath's story, by the way, is one that you will see in the 2006 Loretta Lynn's souvenir yearbook, which will celebrate the 25-year history of the AMA/Air Nautiques Amateur National MX Championships. But there must be a lot of other Loretta Lynn's graduates who went on to enjoy success in other areas of life. For instance, 1982 entry
Brian Juhnke
is now the owner of MotoworldRacing.com, and the aforementioned
Clint Bowyer
, a former minicycle hotshoe, now races at the highest level of stock car racing. And someone told me that
Brett Melton
, a former Honda CR80 racer and Loretta Lynn's champ, is now a professional golfer.
Did you race at Loretta Lynn's and then go on to enjoy success in other parts of life? Would you like to share your story with the motocross world? Please let the gang at MX Sports know about your story by writing them at: success@mxsports.com.
David Pingree was a graduate of Loretta Lynn's, and while he now works here at Racer X, I gotta give the man props for doing such a good job on the OLN television shows. Ping has been saying some pretty funny stuff, and in just four races, I think he's really starting to come into his own. I just wish he'd save some of his zingers for his monthly column! He also did the Honda CRF450R intro this week with Simon Cudby, and they posted a pretty cool video of it over at RacerXFilms.com. Make sure you check it out.
There are also films from this week of Makita Suzuki's Ivan Tedesco, who plans on returning at Millville, MotoworldRacing.com Yamaha's David Vuillemin—last week's practice winner—and 250F title contender Brett Metcalfe.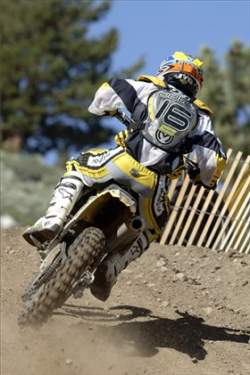 John Dowd gets around for a 40-year-old former pro rider
photo: Kinney Jones
There's also a really, really dirty film on there—from the mud-drenched Wisp GNCC that was shot by
Matt Ware
and
Jason Hooper
.
John Dowd
traveled from the beautiful weather out at Mammoth Mountain to the cloudburst that was Deep Creek, Maryland, and actually acquitted himself quite well, scoring fourth overall in his first-ever GNCC. (And before that, he raced at the
Southwick
National and scored a convincing sixth overall.)
Dowd racing the GNCC wasn't the biggest news of last weekend for off-roaders. Instead, it was the fact that David Knight will be landing in America this fall and staying, taking over the spot on the KTM off-road team currently held by GNCC #1 Juha Salminen.
According to a post on Knight's website: "After a meeting with KTM's Kurt Nicoll, David is now confirmed as leaving the World Enduro Championship in 2007 and travelling across the pond to take over Juha Salminen's ride in the GNCC Cross Country Championship. It is partly because of this that David will NOT be contesting the ISDE this year in New Zealand. Knighter will instead defend his Endurocross title in Las Vegas this November."
Up in Michigan, the gang at Baja MX opened the track to any visiting pros who were in town early for the Red Bud Classic. Team Honda's Davi Millsaps, Michigan's own Josh Woods, and the kid that Ping has taken to calling "Snack Pack," Red Bull KTM's Zach Osborne, were among the many who took advantage of the offer.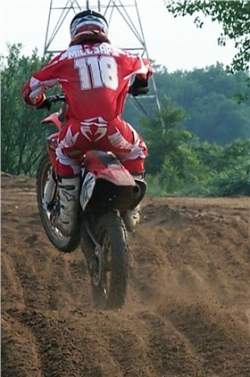 Davi Millsaps got to Michigan early enough to enjoy Baja MX
photo: Courtesy of Baja MX
Woods missed
Budds Creek
, by the way, because he was sick. He will return to
Red Bud
this weekend, and he should be ready to use his
Red Bud
roots to try to make something happen in the 450 class.
Let's turn this over to Ping for a minute:
I know Josh Hansen is sick and tired of everyone talking about his Lamborghini. I guess that's what happens when you drive around in a mostly middle-class neighborhood like Lake Elsinore in a bright orange Lambo. Well, we can all just quit flapping our gums, because Hanny was spotted this week cruising around in a Bentley. I don't know anything about it other than the fact that he seems determined to outdo himself every month.
Outside of Hanny's world, the rest of Southern California is hot. The temps have hit the triple-digit marks and I feel like I'm living in Africa out here. The manufacturers' 2007 models are rolling in, and Honda was the first to introduce their 450. The rest of the brands should be quick to follow. KTM has a completely new 125, 144, 250 two-stroke, and 450. The 250F has many of the chassis changes as well but keeps the same general power plant. All of the four-stroke models come with electric starters on them, which seems like a long-overdue addition. The points that many riders lost, most notably James Stewart, trying to kick their bikes back to life cost them dearly. The interesting part about the new KTMs is that they have only an electric starter. There is no kickstarter, so if the battery dies, you'd better be at the top of a hill or able to push your bike really fast. The boys in orange assured me that the battery has more than enough juice to start a bike dozens of times without losing a charge. The KTMs are due in the States in July.
The Suzuki 250F is also all new, and for the sake of Suzuki fans everywhere, it better be yellow magic. Keeping their 250F model unchanged in 2006 hurt their sales and put them a year behind the curve in development. I'll bet RC has some input on that thing in the next year or two.
Yamaha is expected to be the last to have their new bikes here, with a media release date of sometime in October. That's a long wait—I wonder what they have up their sleeves. Typically, if a bike is mostly unchanged, it will have a mid- to late-summer release.
Mitch Payton has already been riding the pre-production Kawasaki 250F, and he assures me it's a great bike. The Team Green guys have great bikes to work with already, so 2007 should be even better.
Keep an eye on Racer X Online for more Racer X Tested features and intro films.
Thanks, Ping!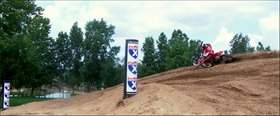 Corey Slavic enjoys a Baja MX bermshot
photo courtesy of Baja MX
And this is from
Regis Harrington
: "With racing resuming this Fourth of July weekend, MXinsiders wanted to do something with a bang. So, we have put together a unique way for you to be able to bench race with a legend. Here is your chance to chat with one of the most interesting and talented riders our sport has ever seen. Listen to the race during the Racer X web cast by Cycle News and join us over at
www.MXINSIDERS.COM
in the 'War Room' to chat with Ron "the Dogger" Lechien himself. Members will have the chance to ask questions and get the opinions from the man all while sitting in the luxury of your home. Non – members can view the chat to see what he has to say. Accompanying the Dogger will be Danny Massie, Director of Maxima Racing Oils to answer any and all technical questions you may have on any Maxima Product.
Want to see some cool old-school pics of David Bailey from 1986, along with his comments about the '86 MXdN at Maggiora, Italy? Check out www.onehelmets.com.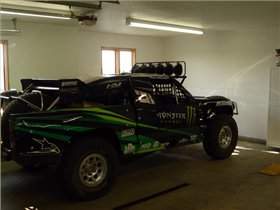 RC might be riding out at Red Bud in one of these
photo: Tim Ritchie
Also, if you're going to
Red Bud
this weekend, please stop by the
Racer X
booth and pick up one of the red
Ernesto Fonseca
Powerbands. We have been selling the bands for $5 at each race, with all of the money going directly to Ernesto's family and his enormous hospital bills. On Wednesday, we were able to deliver a check for $3,750 to Ernesto and his wife,
Carolina
, through
Erick Bartoldus
at Answer Racing. They were touched to know that so many fans stopped by during the first four rounds of the series to grab a Powerband and help out #10.
Ernesto's close friend Ricky Carmichael is up for an ESPY this year from ESPN. Take a moment to go vote for The GOAT! He's up for Best Male Action Sport Athlete.
Congrats to TJ Parcells, who is moving from his gig at Thor MX over to Spy Optics to do MX- and snow-goggle development. TJ is a big fan of West Virginia University football.
Miki Keller from the WMA let us know that the FIM Women's World Cup is this weekend in Sweden. Jessica Patterson flew over for the race and Katherine Prumm is somewhat healed and ready to race, should be interesting. Katherine is coming back to race the rest of the WMA Championship as well.
And AMA Sports' Ryan Holliday let us know that next month, at the FIM Junior World Cup in Finland, right after Loretta Lynn's, Blake Wharton and Kyle Cunningham are going, and there may be two more fast young Americans named later.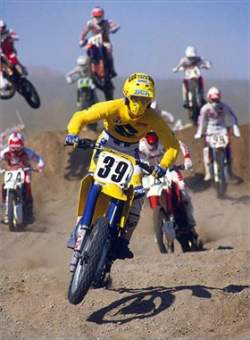 Here's another #39 for the Number Cruncher, Scott Burnworth!
photo: Fran Kuhn
We got a funny note on this week's
Shift MX Number Cruncher
, #39: "What about the 'Original Burner'? Where's the love?!" It came from former Yamaha and Suzuki factory rider
Scott Burnworth
and included this
Fran Kuhn
photo to show us that he wore the number
Bob Hannah
made famous, too.
And then we got a note from Minnesota, we think: "Love the Number Cruncher, just looking out for one of the true ambassadors of early MX. Tommy Benolkin from Minnesota wore #39 during the 1981 season (his first year on Team Kawasaki) where he finished 5th overall in the 125 Nationals." That came from Tim McLaughlin.
I know that coming up in the near future, Andy Bowyer will be crunching #22, #47, and another one of those distant three-digit numbers, so if you know of anyone other than the obvious on the first two, please let him know: Andy@mxsports.com.
Blair Marlin, one of the surfing industry's most recognizable team managers, has been named Director of Surf at WMG Management, a division of Wasserman Media Group. The former DC Shoes Surf, Moto and Music Team Manager is leaving DC Shoes after over five years to join Wasserman Media Group.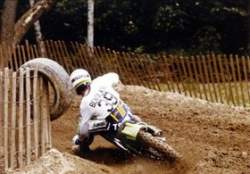 One of Minnesota's finest also wore #39
photo courtesy of Tim McLaughlin
Photographer
Kevin Healy
was kind enough to hook us up with that holeshot photo of
Phil Alderton
that we used for Wednesday's
Between the Motos
with the Yamaha of Troy team founder. For more of Kevin's stuff, check out:
www.healyphoto.com
.
In last week's Where Are They Now? we searched out Trampas Parker, America's first two-time World Motocross Champion and explained how he's coming back to Loretta Lynn's as a vet this summer. Well, Tim Wallace and the gang at Holeshot mag were kind enough to share a photo with us of Parker at the Loretta Lynn's Regional at Freestone MX in Texas. Trampas will be going up against some serious competition down there at the ranch, and it's great to see a bona fide American motocross hero still out there going fast.
Parker, by the way, will be riding a BooKoo Honda in Tennessee. He checked in from Italy this week and said he's really looking forward to getting out there and riding with guys like Jeff Emig and Denny Stephenson and Doug Dubach. He also told me that he believes that MX Sports needs to make a change to the class structure: "Having all of us old pros and factory guys out there will be great for the fans to watch, but it really isn't fair for guys who have been B riders all their lives."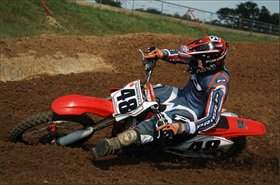 Parker is coming back to Loretta Lynn's in August
photo: Tim Wallace
Personally, I was against having A and B at Loretta Lynn's because as you get older, you get slower, but Trampas is right: Too many old pros are coming out to ride—which is great, but also problematic. And after I discussed this at length with
Fox Racing
's Northeastern rep
Randy Dodig
, who did not start riding until his 20s and will never get to Loretta Lynn's due to the competitiveness of the vet classes, I'm seeing the need for a change.
MX Sports also needs to change the class names: 125 A needs to be 250 A, 250/Open needs to be just Open, and having a "Four-Stroke" class in this day and age just seems redundant.
Now, I need to turn this over to Cameron Steele, who had some sad news for us yesterday:
Wanted to drop a line to let the moto industry know that Toby Thiel passed away from injuries he sustained in an auto accident near his home in Murrieta, CA.

Toby wasn't a major star in the world of moto but he was quite talented and was a part of the early days of freestyle motocross. Toby was known for his ability to talk as well as ride and also made a way for himself as a part-time announcer. He was featured on the same show that Sal Masekela of the X Games started with, Planet X, and was the first live announcer of FMX at the 1999 X Games in San Francisco. Toby competed in the Bluetorch FMX events, some of the ESPN X Games qualifiers, and was one of the first riders to jump a four-stroke in competition.

From an early age it was obvious that Toby had skills, as he was one of the top BMX riders in the country when he turned his focus on motocross. He was one of 12 riders to make the 1000 Mile Jump, which was a video project that chronicled Micky Dymond, Brian Manley, Mike Cinqmars, Trigger Gumm, Ray Sommo, Brian Ferrell, my brother, and me traveling the Baja Peninsula riding dirt bikes and causing a ruckus. Toby was also part of other early moto videos Sick Air and What Up.

A late-night misadventure into an intersection cost Toby his life when he was hit by another car after he ran a red light and was subsequently ejected from the car he was driving. He was declared brain dead last night and his body is functioning on machines at Loma Linda Hospital, where Toby will give his heart and a new hope to someone later today.

Toby Thiel is survived by his children, daughter Kameron and son Ford. Godspeed, brother.
Services for Toby Thiel will be Sunday July 2nd at the Saddleback Church at 5 p.m.
Saddleback Church
1 Saddleback Parkway
Lake Forest, CA 92630
949-609-8000
All who would like to remember Toby are encouraged to attend.
Okay, time to get ready for the Fourth of July. Have a safe weekend, God bless America, and Reeeed Buuuddddd! Thanks for reading Racerhead.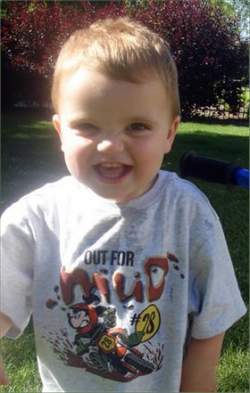 That's little Kody Wallenberg, running a Disney moto shirt
photo: Scott Wallenberg