Where Are They Now: Trampas Parker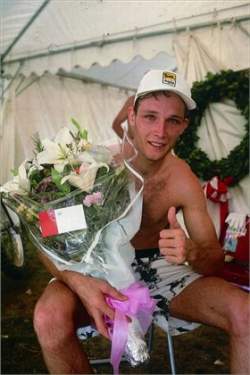 Trampas Parker came out of nowhere - literally - to win the 1989 125cc World MX Championship
photo courtesy of Moto Verte
I will never forget the day I picked up
Cycle News
in April of 1989 and read the shocking results of the Italian Grand Prix. "In The Wind" said something to the effect of "Italian-American Parker Trampas wins the 125cc World Championship opener" What? Who? There were no half-Italian, half-Americans fast enough to beat Alex Puzar or Dave Strijbos named Parker Trampas. Something must have been wrong here.
Turns out that the FIM turned the newcomer riders' name around—it was really Trampas Parker—but that still didn't ring any bells. I was writing for
Cycle News
and
Dirt Rider
at the time, and I was very in tune with the GP tour, having been to a few races over the years, and now had friends I used to race with like Billy Liles, Bobby Moore, and Mike Healey over there trying to make something happen.
This Trampas guy, riding a Farioli KTM, apparently dominated both motos, and the Europeans were scratching their heads, too. The newspaper said he was from Shreveport, Louisiana, so I pulled out my Loretta Lynn's program and spotted this in the Hall of Fame: Chad Parker (Orange, TX) '84. I checked out his old sign-up slips and there it was: Trampas Chad Parker.
After further investigation, the mystery was solved. Chad Parker was a Team Green rider from Louisiana who had moved to Texas, won a class at Loretta Lynn's, and then kind of fallen through the cracks. He moved to Italy in '87 and took a job with Liles, who was living in Italy and going after the 500cc World Championship. Parker was riding local Italian races and doing all right, and then he got Farioli KTM to give him a shot at the first GP of 1989.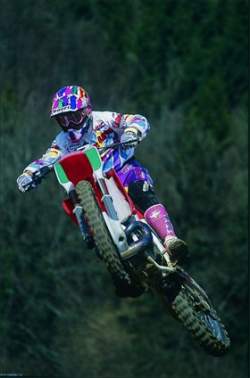 Parker showed that '89 wasn't a fluke by earning the 250cc world title on a Honda in '91
photo courtesy of Moto Verte
What happened next is one of the most amazing stories in motocross folklore, and it still hasn't ended. Trampas Parker went on to become the first American to win a 125cc world title that year; two years later he added the 250cc world title, making him the first American in GP history to ever take two world championships. And a few years after that, he won a 500cc GP, making him the only rider in U.S. MX history to do that. He should and will be in the Hall of Fame soon.
Trampas still does the occasional Supermoto race in Europe, and he's also working on a couple of very cool new motocross products through an Italian aftermarket company. He lives in Italy, but he has plans to move back soon.
Parker visited the Atlanta SX in February, then also dropped by the Racer X booth at
Budds Creek
this weekend to say hi. And he's not done racing: Trampas came back from Italy twice this year to do the Area and Regional qualifiers for Loretta Lynn's—the place where Trampas Parker's amazing motocross story started.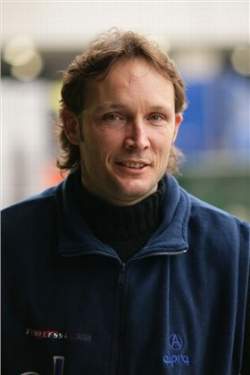 Parker lives in Italy today but will return to race the vet class at Loretta Lynn's, a race he won in 1984 as a schoolboy
photo: Simon Cudby