What a weekend we have in store for us motorcycle enthusiasts. From the 2006 Toyota AMA Motocross National in Budds Creek, Maryland, to the AMA Superbike and Supermoto series in Tooele, Utah; MotoGP in Spain to an ATV Stampede at Steel City, along with countless other local and regional motorcycle events, this weekend is packed full of action. But more importantly, Sunday is Father's Day. If you can, talk to your father and let him know you care, and thank him for getting you involved with motorcycling (if he did).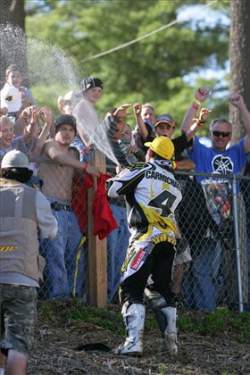 RC celebrates his second victory of the 2006 AMA Toyota Nationals
photo: Simon Cudby
And before I go any farther, let me explain why I've been called off the bench for this week's edition of Racerhead. See, our starting quarterback,
DC
, is on assignment in Spain at the Circuit de Catalunya to cheer on some kid from Kentucky who is tied with an Italian guy named Loris for the lead of the 2006 MotoGP series. Of course I'm talking about Repsol Honda's
Nicky Hayden
, an Owensboro, Kentucky, native, who is tied with Ducati's
Loris Capirossi
at 99 points apiece. It should be a great race. Have fun over there, DC, and happy Father's Day.
But back here in the States, it's third down and nine to go in the 2006 Toyota AMA Motocross Series, and Makita Suzuki's Ricky Carmichael holds a 14-point advantage on Yamaha's Chad Reed after his second straight victory. Wow, it's weird saying it's only his second straight victory, isn't it? It's usually his 25th or 30th.
And in the 250F class, Red Bull KTM's Mike Alessi is exactly where he wants to be—25 points ahead of second place, Team Honda's Andrew Short. But Short is coming off his first overall victory of the season and looks to be gaining some much-needed momentum after a difficult past two months where he lost a West Region championship to Grant Langston and had a rough first moto at High Point.
So you're probably wondering why I'm using so much football jargon. Well, for the past few days, every time I turn on the television, I hear about the unfortunate motorcycle crash that Pittsburgh Steelers starting quarterback
Ben Roethlisberger
suffered on Monday. Big Ben sustained fractures to his upper and lower jaw, a mild concussion, a fractured nose, fractured facial bones, multiple head lacerations, and multiple abrasions and contusions. He also lost two teeth and chipped several others—all after he collided with a car while riding his Suzuki Hayabusa in Pittsburgh with NO HELMET. Although it's not a law for motorcycle riders in Pennsylvania to wear a helmet, and I don't want to get into politics and rights, I think it's a no-brainer that he'd probably be fine right now if he was wearing a helmet. Aside from that, it's good news that he has been released from the hospital and is expected to make a full recovery. Here's a sneak photo of him after he left the hospital.
You can also bid on his helmet, which is for sale on eBay. Check it out
right here
.
And speaking of major players being sidelined, the AMA Toyota MX Series will be moving forward without James Stewart. In the past, many people questioned his heart and determination, but I think last weekend proved all his naysayers wrong. After auguring himself into the soil at High Point—a crash that would leave most of us bedridden for a long time—James came out swinging and gutted out a first-moto win at Southwick, arguably the roughest track on the AMA circuit. So rough, in fact, that even Southwick legend Doug Henry admitted, "It was pretty bad, but it's sand—it's rough. But I enjoyed it, for sure."
But in the second moto, while running a solid second, James' KX450F seized up and he crashed—on the last lap! It was another crucial DNF, but luckily, he had lapped enough riders that he managed to finish 11th, salvaging 10 points and fourth overall on the day, resulting in him being 60 points behind RC.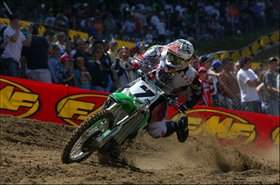 This didn't help James' knee
photo: Steve Bruhn
But late Wednesday night we received a press release from Kawasaki stating "
James Stewart
out for
Budds Creek
." You can read it
here
.
James talks about his weekend at Southwick on his website, as well as an encounter with a GOAT or two. It's pretty funny, so check it out.
For a full Southwick race report, be sure to read the Kawasaki/Racer X race report to get Andy Bowyer's take on what went down.
One thing you won't read about in Andy's race report is the weekend that Doug Henry had. After nearly winning the AMA Supermoto in Shawano, WI, Henry hopped on to a Leer jet provided my Monster Energy and Scott Sepkovic and flew to Massachusetts. He slept in his Fun Mover with his family on Saturday night and the next day raced a Monster Energy-backed YZ450F to 14-21 moto scores.
"Those guys are moving pretty good," Doug told DC after the race. "It's amazing how much the sport has picked up. I think these 450s are just getting so much better than they were when they first came out. The handling and the power curve, these guys are really riding these things way faster than I did." Doug would know, as he pioneered the modern four-stroke movement when he developed the YZ400F.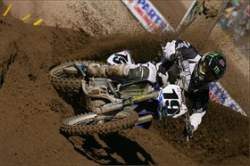 Doug Henry had a busy weekend
photo: Simon Cudby
Another rider (or should I say driver) that came out to
Southwick
was Red Bull/Cernic's/Team 199's
Travis Pastrana
, who posted a 36-29. It was the first national Travis had raced since
Glen Helen
in 2003 (I think), where he finished 37-40 in the then-250cc class. Travis is currently tied for the points lead in the 2006 Rally American National Championship with
Andrew Pinker
. DC Shoes'
Ken Block
is in third.
Every year at Southwick, you can count on the local riders really stepping up at the national. And I'm not just talking about Doug Henry and John Dowd. In the 450F class, Tony Lorusso finished 16th overall; Mike Treadwell finished 19th overall; and Chad Charbonneau finished 22nd overall.
In the 250F class, Chris Pugrab finished 17th; William Ainsworth finished 19th; and Justin Rando finished 22nd. Congratulations to all of these guys for earning some well-deserved national points.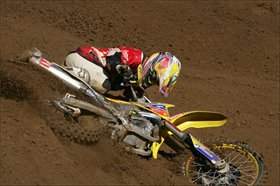 Travis felt right at home at Southwick
photo: Simon Cudby
But we have to also talk about the Junkyard Dog,
John Dowd
. At 40 years of age,
Dowdy
went out and finished 6-7 for sixth overall, as he was the second-finishing Suzuki rider in the class. Word is that
Dowdy
may be doing some off-road racing very soon, but more on that later.
It was a very busy weekend for Dowd's mechanic, Ron Bushey. See, Ron used to be Dowdy's full-time mechanic but is now working for Kyle Chisholm on the Richmond Kawasaki team. Well, Chisholm had a break from the Canadian MX Nationals and wanted to race Southwick, but Ron already promised Dowd that he'd spin wrenches for him. The solution: Bushey wrenched for both riders throughout the weekend, and they finished sixth and seventh overall in each class. You can read more about Kyle's awesome Southwick race in this week's Privateer Profile.
I know it's been a great week for team Moto XXX owner Jordan Burns, who dropped us a note pointing out that every member of their team finished in the top 15 of the 450 class at Southwick. Tim Ferry is getting stronger and faster with each passing week and finished seventh; Kyle Lewis finished 12th, Juss Laansoo finished 13th, and Josh Summey finished 15th. Good job, and congratulations to the entire Moto XXX team.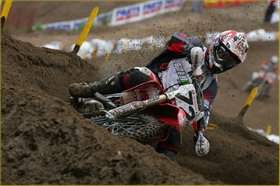 Moto XXX's Josh Summey
photo: Simon Cudby
Now on to
Budds Creek
, the site of the 2007 Motocross des Nations, which I cannot wait for. Speaking of the des Nations, which riders do you think will make up Team USA this year?
Kevin Windham
seems to be struggling, and you know how the AMA makes up the team
really
far in advance. I think it's obvious that we'll send RC and Stewart, but how about the third guy? Will it be Alessi? Villopoto? Short? Millsaps? Pastrana?
Earlier this week, I got a letter from Racer X reader Tommie Allison.
Dear Bill,
Since last week's confirmation of the MX des Nations dates for 2007 at Budds Creek, I have been trying to track down information about the event so we can book our rooms and start making plans. Unfortunately, I have been unable to locate any information regarding said event. I apologize for bothering you with these issues although I can't help but think that if we want to stay anywhere even remotely close to the track, we better book our rooms now. I am writing in hopes that you can be of some assistance to me. First, can I assume that as a result of the quantity of teams and spectators that will be occupying the event, that there will be no on-site camping? Also, will we be permitted to enter the track on all three days - September 21 - 23? Basically, I'm trying to figure out if I need a room for multiple days. If you can't answer these questions, I was hoping that you could possibly direct me to someone who can. I just want to make certain that I am able to attend this monumental event in the most convenient way possible.
Tommie
Tommie, first of all, the event is indeed set for the weekend of September 21-23, 2007, located in St. Mary's County and St. Charles County, and the bigger towns for hotels are Waldorf, LaPlata, and Solomon's Island. And they will certainly have camping at the track, as an amateur motocross program is planned for the days leading up to the event. Admission is available for all three days, and ticket sales will begin in January. For more information, please visit www.buddscreek.com.
And as far as this weekend goes, I'm putting my money on RC in the 450 class. I'll take
Chad Reed
second and
Davi Millsaps
third. As for the 250F class, it's a crapshoot. After all, we have three different winners in three races, and now you can add Makita Suzuki's
Broc Hepler
to the mix, as he is set to make his return to racing after a broken foot sidelined him for several months. Broc will also be running some new gear this weekend, as he's going back to the company that supported him throughout his final years as an amateur, Shift MX.
And don't count out Annapolis, Maryland's Nick Evennou, who is making his 2006 season debut aboard a Sano/PPG-supported Yamaha YZ250F in the Lites class, wearing #647.
To see how fast everyone is going, all you have to do is visit @The Wire Live on www.amamotocross.com where all of the laps and race results will be counted down beginning tomorrow afternoon. To listen to Sunday's race, click on the Racer X Webcast, presented by Cycle News, at www.mxnationals.com It's an East Coast race, so that means the racing starts at 1 p.m. Sunday.
A note from DC:
"Sorry I couldn't help out with Racerhead, but I am in Spain trying to get a handle on this MotoGP thing before the big race at Laguna Seca coming up. I did, however, discover as very strange phenomenon over here: While Rossi is God and Dani Pedrosa is Spain's new favorite son, they are still celebrating a year in our own Jeremy McGrath's life. And strangely enough, it's not any of the years you would think, like 1993 or '96 or 2000 or anything.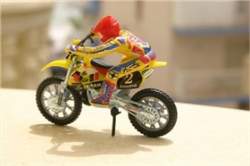 McGrath is still King of Spain
photo: DC
"Instead, it's 1997 that Spanish motocross fans like to commemorate. How else to explain the fact that the toy store next to the San Sebastien "Playa" Hotel I'm staying at has a counter full of Jeremy-on-Suzuki toys. He's even wearing No Fear (though he in fact wore
Fox Racing
stuff that year). That's about as crazy as
Jonathan Beasley
switching
Ricky Carmichael
's gear on his MXdN '07 shirts from Fox to Thor!
"Also, I got a note from Jim Myerson on a mistake I made: 'On your June 8 website edition of "Where Are They Now?' about Brian Lunniss, you erroneously stated the #46 bike he is wrenching on belongs to Jeff Jennings. It is in fact Roger DeCoster's bike. That photo was taken at the 1975 Superbowl at the L.A. Coliseum. As further evidence, at the left of the photo you can see Jim West's Maico, #28X. Thought you should know.'
"Good point, my bad! Maybe we can get Andy to do #46 in the Shift MX Number Cruncher or, better yet, the #28 of the late Jim West."
A friend of DC's is looking for an early 1980s YZ100. Anybody out there got one? Let us know at letters@racerxill.com.
Thanks for the note, DC. Adios.
On another note, I was invited last weekend to attend the 2007 KTM XC model line launch at Washougal MX Park in Washougal, WA. The launch was held in conjunction with round seven of the WORCS series, and it was my first time attending one of those events. Team Green's Ricky Dietrich took his first win ever, besting Team Suzuki's Mike Kiedrowski and Team Green's Lance Smail. Look for more on the '07 launch next week here on Racer X Online.
August is quickly approaching, and the qualifying process for the 2006 Air Nautiques Amateur National Championship at Loretta Lynn's is well underway. We'll turn to Qualifying Coordinator Andy Bowyer to give us some updates:
First off, Ryan Holliday, the director of competition at the AMA, brought this exciting information to our attention:
"Ryan Dungey who was slated to ride for the U.S. at the Junior MX World Championships is now going pro at Mammoth, skipping Loretta Lynn's and racing his first national for Roger DeCoster at Millville, possibly earlier. From his Mom, apparently he's already tested with Suzuki and they plan to sign him. Since he could not get qualified for the A class, he will have to miss Loretta Lynn's this year."
Although this is good news for Ryan, it adds salt to the wound of Team Suzuki's effort for tallying championships at Loretta Lynn's in 2006. Already, Cole Gress and his team have lost Nico Izzi and Ian Trettel. With Ryan now dropping out, nine possible championships go with him and his fallen teammates.
Former Yamaha of Troy Team Manager Phil Alderton dropped us a note telling us that he won the Plus 45 class at the Southwest Loretta Lynn's Regional at Glen Helen. It seems this year's event is going to be a who's-who of motocross.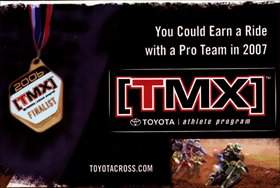 Check out toyotacross.com
And we want to remind you guys about the Toyota TMX program. It's not too late to get signed up to be a part of this opportunity. This your chance to earn a factory ride with MotoworldRacing.com Yamaha team! In addition, a select few will move forward into the elite position as Toyota Sponsored athletes. Clink on
www.toyotacross.com
to sign up today.
Thanks, Andy. For more updates on Loretta Lynn's, be sure to check out "The Pulse," written by Andy every week over at www.mxsports.com. You can also get the results of all the qualifiers there, too.
Here's a link showing why motocross is such a cool family sport.
And now a note from Ping, who just pulled into Miller Motorsports Park in Utah for round four of the AMA Supermoto series.
"This is an incredible complex," he says. "Word is that this guy dumped $86 million into this place, and it's really amazing.... When I pulled in, the first thing I saw was Pastrana's rig. No word if he's racing, but I assume he is."
Ping also talked to Ivan Tedesco this week, and he said he's just been rehabbing on his shoulder and everything is going well. He doesn't want to say or guess what round he'll be at next, but in the meantime, he bought a big ranch in Texas, about 30 miles north of Houston, and is currently building his practice tracks.
Earlier this week on Mototalk, there were some inquiries on the whereabouts of Brazilian Honda factory rider Antonio Balbi Jr. Well, we were informed by his close friend Adilson Gaspar that "Balbi won a Brazilian round last weekend at Cachoeiro do Itapemirim, near Rio de Janeiro State. He is now leading the series again after missing one round due to racing at Mt. Morris. He is leaving this afternoon and heading back to U.S."
And for this week's lead in the ongoing search for Jo Jo Keller, we received this from Racer X reader Matt Mitchell: "I spoke to someone this weekend that said he shoes horses (furrier??) for a living in Plympton, MA."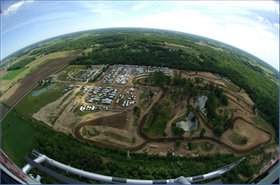 Baja Acres
photo: Tony Scavo
Baja Motocross Racing Facility and Dynamic Powersports are having a free private pro practice on Thursday June 29, from 11 a.m. - 4 p.m. The 1.5-mile track will be rough from the Wednesday public practice. The track will be irrigated and Baja's top flagging and medical crew will be on staff.
Note: This practice is for pro riders only for the 5th round of the AMA Toyota Motocross Nationals at Red Bud. Info at bajamx.com or 989-871-3356.
Tony Gardea
let us know about a special offer that Vans has created to help support
Ernesto Fonseca
. Vans is running a web-based promotion from June 15-August 31, donating $5 from the sale of each Bend 2 and Dunbar model shoe. The promotion is tied to sales from the web site only. Please visit
www.shop.vans.com
and help support our fallen comrade.
Check out the retro cover shot on the new Moto Verte. That's French icon Jacky Vimond from 20 years ago:
And speaking of magazines, we read every magazine and newspaper known to man (almost), so we're looking forward to adding another one to the list, which is being started by
Steve Cox
and
Scott Rousseau
:
www.mximag.com
. Good luck, guys!
And now here's a word from our own Jason Weigandt, who just recently launched a brand new website. You can read all of his rants at www.blogandt.com, because it's the place to be!
The Suzuki GNCC Series is gearing up for a big race a week from now. The Parts Unlimited Wisp GNCC takes to the mountains of Western Maryland, and it should be another classic. After Juha Salminen dominated the first four rounds of the series, the comp has stepped it up in the last four, and the races have been knock-down, drag-out fights. Last weekend's race in Kentucky may have been the best yet, as Charlie Mullins and Barry Hawk led early while Juha recovered from a horrible start. He finally caught them and the race was on, and what a race it was. The trio stayed practically glued to each other all the way around the track until the final corner, as Juha crossed the line just two seconds ahead of Charlie and Barry.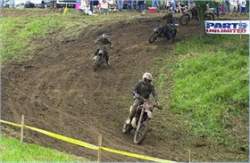 photo: David Scearce
But last year, Juha struggled mightily on the rocks of the Wisp and Hawk won. Will he get revenge or is there something about the Wisp that doesn't work for Juha? We'll find out.
This just in: Word is that John Dowd is racing the Wisp. Should be an awesome showdown between one of the toughest men in motocross and one of the toughest tracks in off-road racing. Yes, Junkyard Dog is going GNCC racing!
Check out this press release from the guys at No Fear:
Concord, NC – (May 1, 2006) - No Fear Inc., the Carlsbad, California-based action sports lifestyle brand, will contest a four race schedule in the 2006 NASCAR Nextel Cup Series. To be named "No Fear Racing," the team will be owned and operated by Mark Simo, Frank Stoddard and Boris Said. No Fear Racing will be based out of the company's new east coast corporate headquarters in Concord, N.C. Located adjacent to the Roush Racing campus, the new team will receive technical support, motors and cars from Roush Racing.
Sponsorship will come in the form of No Fear's highly successful energy drink, SoBe No Fear.
Driving the No. 60 No Fear Ford Fusion throughout the four race schedule will be NASCAR Nextel Cup and Busch Grand National veteran driver Boris Said.
No Fear Racing will debut at the Dodge/Save Mart 350 at Infineon Raceway the weekend of June 24-25. Six days later, No Fear Racing will compete in the Pepsi 400 at Daytona International Speedway. On August 6, the No Fear Ford Fusion will race in the Allstate 400 at The Brickyard, and a week later, at the Sirius Satellite Radio at The Glen.
Our man
EJ
also noted, "What's kind of cool is that Boris, the driver, once rode a full-on National at
Unadilla
. Boris, Mark Simo and pretty much all of us here came involved in this NASCAR deal all come from motocross backgrounds."
Finally, we'd like to send a big get-well-soon to TFS, who has been under the weather for a few days.
Well, that's about it for this week's Racerhead. I hope you enjoyed it. Have a safe and fun weekend, and Happy Father's Day!