Privateer Profile: Kyle Chisholm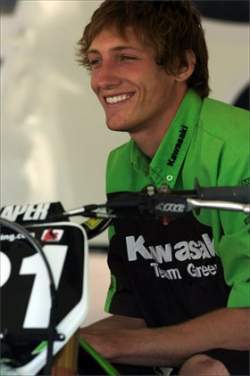 photo: Courtesy of Racer X Canada

Seminole, FL's Kyle Chisholm is coming off the most memorable weekend of his career thus far. In his first AMA Toyota National this year, this 18-year-old Richmond Racing Kawasaki pilot finished 7-9 in the 250F class for a seventh overall. It was a career best for Kyle, who is also currently leading the points in the CMRC Canadian National Motocross MX2 East Championship. We talked to Kyle this week as he prepares for a Loretta Lynn regional qualifier in Pell City, Alabama, this weekend. Be sure to show Kyle and his sponsors support by clicking on the links at the bottom of the page.
Racer X: Kyle, a 7-9 for seventh overall at Southwick—that's not too shabby. Congratulations!
Kyle Chisholm: Thanks, it was good! That was the first U.S. National that I've done this year, because I've been racing in Canada. The first two weekends, I had to miss Hangtown and High Point, but I won my two races up there, racing for Richmond Kawasaki. So I went to Southwick on my own, and I plan on doing a few more. I can't go to Budds Creek this weekend. We're actually getting ready right now to go to a Loretta Lynn's qualifier—I'm racing the Pro Sport classes for Team Green. But yeah, Southwick was good. It was my first one, and hopefully I can do that at a few more of them.
So were you pitted out of the Richmond Kawasaki rig up there, or were you full-on privateer status?
No, I was full privateer. I was actually pitted with John Dowd. My mechanic, who has been working with me all year through supercross and up in Canada with Richmond, is Ron Bushey. He was John's mechanic for quite a few years, and he promised John that he'd be his mechanic if he raced and if it didn't conflict with my races. And I wanted to do Southwick, so he ended up taking my bike from Canada, and he was the mechanic for both of us there, just out of John's Fun Mover. My dad was actually gone with my little brother at a race, so it was just me and my mom and my girlfriend. Ron had a buddy help him out, but for the most part, he worked on both of our bikes.
That has to be a first: a mechanic wrenching for two riders who would finish in the top 10 of each of their classes.
Yeah, I don't know if they give away a mechanic's award for outdoors like they do in supercross, but he definitely deserved it this past weekend.
So those have to be the best two motos of your career thus far.
Yeah, pretty much. Last year I think I got a 17th in a moto, but I only did three races last year because I was still doing amateur stuff. And last year was my first year back after being out for almost a year with hurting my arm—I broke my arm twice. But yeah, I did a few last year and this was my first one this year, and it was good. I've been training hard at home for Canada, and it's paying off.
So what's the main reason you did so well at Southwick? Is it mostly because of the training and the fact that you live in Florida and ride sand a lot, or were you practicing with John Dowd the week before the race?
[Laughs] I think it was a little bit of everything. Everyone always says that people from Florida can ride well in the sand, but actually, the majority of our practice tracks aren't really sandy. If anything, they're probably half and half. There's either really hard dirt or sand. So I ride more on the hard-pack than on the sand, so I'm not too hard on my bikes. But I admit, I do have experience in the sand, but I've been training really hard and riding a lot at Stewart's house. He has Laninovich down right now, so I've been riding with those guys. And just for a couple days, I went up and rode with John [Dowd] before Southwick. I've just been trying to ride with as many fast guys as I can.
For being over 40, John still goes pretty good up there, doesn't he?
Yeah, for sure. I don't even know what to say! I hope at 40 I'm still in that good of shape and I'm able to do that.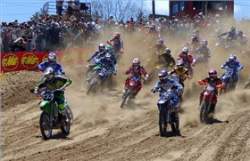 Chisholm claimed the Racer X Holeshot Award in the first moto at Southwick

photo: Steve Bruhn

Take us through the first moto where you pulled the holeshot and ran up front for a while.
Well, Alessi was in the middle by the box and I was in the middle of the left side. The start was weird, with the clay and then the asphalt and then the sand, but I got a good jump and I leaned back over the asphalt and I looked over and I had nobody to my inside, so I kind of controlled the inside. And he was the only one coming from the outside and we kind of got there at the same time—and I think we bumped a little bit—but he ended up getting pushed out, and I think I beat him over the line by half a bike length or something. It took me till the second or third turn to realize I was actually winning, but it was a very exciting feeling. I led for about a half lap. I wasn't really nervous; I was just so happy I got the holeshot, and I just told myself to focus. After he got by me, I tried to follow him for a few laps. And then Short got by me and I just tried to stick with them. It worked for a while, but I ended up having a problem with my tear-offs. I had, like, 14 tear-offs on, and the whole clip fell off, so I had to pull them all off so I could see. I had to slow down to pull them off, and a couple more guys got me, so I didn't have any tear-offs for over half the moto. It ruined my rhythm, but I still ended up seventh, and I was happy with that.
Tell us more about how the racing is going north of the border.
We started on the East Coast, and I think this weekend is the start of the West series, but I'm racing the 250F class. It's kind of like supercross here, where you can only pick one region to race the 250F class in. I'm just doing the East and we've had two rounds so far, and I won both of those. I have a 19-point lead now, and it's a short series—there are only four races total that count. We have two more, and I think they're in August, right after Loretta Lynn's. But in the meantime, I'm going to be doing some U.S. races and Loretta Lynn's.
For some of our readers who aren't quite familiar, give us some background about your racing career up this point. For as long as I can recall, you've always been one of the top amateur racers in your class.
Yeah, I grew up racing against Davi Millsaps and Mike Alessi. It was pretty much us three throughout our whole amateur careers, up until the last year of it, really. On 50s and 60s, we always battled. I remember one year at Loretta's, Davi won, I got second, and Mike Alessi got third. And then the next year we went and Alessi won, I got second, and David got third. Me and Mike swapped motos where I went 2-1-2 and he went 1-2-1. So I always battled with those guys in amateur nationals. I then moved up to big bikes before them because I was always a bigger kid—I think I moved up when I was 13. It was tough moving up that early because I was battling with guys like Ryan Sipes and those guys in the B class, where they were like 16 or 17. And when I turned 16 in December, it was our last year before going pro, but then I broke my arm really bad. I had a compound fracture of my humerus, and I was out for six months while all those other guys were turning pro. So I was out for six months and it wasn't healing right. I got to a point where it didn't hurt me too much, so I just started riding, and I wanted to race my first national. So I raced Steel City, and I think I finished 15th or 16th in the second moto, so I was pretty happy with that. And right after that, I went home and was doing a local race and re-broke my arm. So I was out for about six months after that. I basically had a year off of riding. I ended up meeting Dr. Augustine from the Asterisk Mobile Medic Unit, and he's from Jacksonville, FL, which is about four hours from my house. So I drove up there and he did a surgery on my arm, which involved taking part of my hip bone and grafting it into my arm. But it's been about a year now since that, so I'm trying to get back on track.
Does your arm feel 100 percent now?
Yeah. I have to get the plate taken out. He said sometime when I have some down time in my career; it'd be good to get it out. But it doesn't bother me. He said as long as it doesn't bother me, I don't have to get it taken out.
You've been a Team Green Kawasaki rider forever, it seems. But this year, I believe, is the first season I've seen you wearing gear other than Fox.
Yeah, the bike is the same, but pretty much all of my other sponsors are different. This is the first year riding for Moose, and they're an awesome company. I got to meet a lot of new people and the Fox people were really cool about it. They still sponsor my brother, but I'm still friends with Todd Hicks and everyone up there. They understand that I'm at the point of my career where this stuff happens.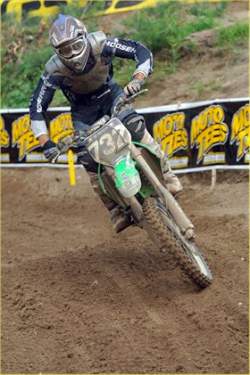 Look for Kyle at Red Bud later this summer

photo: Steve Bruhn

What's the next AMA Toyota Motocross National we'll see you at?
The next national for me will be Red Bud. My family is going to take our motor home and I'll be a full privateer up there.
I wish you luck up there. You have anyone you want to thank?
First off, I want to thank God for giving me the ability, and my mom and dad, my whole family, and my girlfriend. And thanks to all of my sponsors who've helped me out this year!
Kyle Chisholm's sponsors:
Richmond Racing
Light Speed
Athena Racing Gaskets