Every time I see the #6, I think of Steve Lamson. He's one of the all-time great 125cc riders, ranking fourth on the AMA wins list with 21 race wins, and also holding a couple of AMA 125cc National Championships. He's in the twilight of his career now, though he still rides pretty darn good. In fact, he got some points at Hangtown—basically his hometown race—with a full-on privateer effort. Anyway, with 6-6-06 coming up next week, I thought instead of people getting all whacked out about The Omen coming out, or just any kind of devilish situations, we should just declare June 6, 2006 as Steve Lamson Day.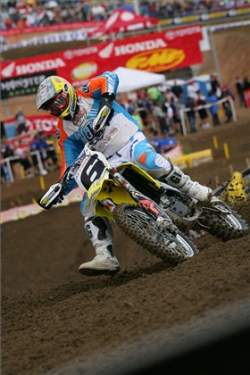 Let's here it for Lammy!
photo: Simon Cudby
Lamson has held the number for several years now—ever since the AMA offered those semi-permanent numbers. He even won his last national wearing #6 when he was a privateer Honda rider in 2000 at
Hangtown
, and he wore it in 1996 at Jerez, Spain, as part of one of the most successful teams were ever sent there:
Jeff Emig
on the #4 Kawasaki KX500 (remember those?),
Jeremy McGrath
on the #5 CR250R Honda (his last major outdoor race for Honda), and Lamson on the CR125R. One of the nicest guys on the circuit, he's now adding coaching duties to his brilliant resume.
With a nod to Andy Bowyer's weekly Shift MX Number Cruncher, here are a couple of more famous #6s.
Broc Glover was a superstar for Yamaha, and he ran the #6 proudly a few times in his career. Jeff Ward also wore the digit toward the end of his brilliant career, which saw him get seven major titles to Glover's six.
David Bailey was another extra-special racer who wore the digit, and One Industries basically brought those memories back to live the Bailey '86 lid—that was the number he wore in his war with Rick Johnson at the Anaheim '86 race.
Later on, Jeff Emig was running #6 when he won his first AMA 250 Supercross. It was at the weird Las Vegas SX of 1995, better known as "the night the lights went out in Vegas." I remember Ron Tichenor also wearing the number at one point, and even Roger DeCoster, The Man himself, back in 1973 when he was racing Trans-AMAs against Adolf Weil.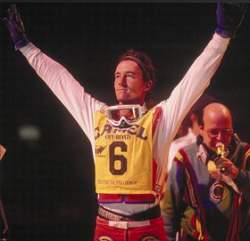 David Bailey wears his #6 at the
Paris-Bercy SX.
photo courtesy of Moto Verte
And then we can't forget
Ricky Carmichael
, who wore #6 on his way to the only undefeated season in 125cc AMA Supercross history. Carmichael absolutely crushed the competition in the 125cc East Region in 1998, marking his first of many records to come. But most of the photos from that year were taken outdoors when he was wearing #1.
But Lamson is still the man in my book, because he's worn it more than anyone, and he's still out there banging the drum slowly, squeezing a few more races out of his long career because he just loves doing this. Hard to argue with a man like that—especially with Steve Lamson Day coming up!
Before we get into much more, here's a reminder to watch the Kawasaki/Monster Energy High Point MX Nationals tomorrow afternoon on OLN at 6 p.m. (see, another 6!). You've no doubt heard all about the battle RC and James Stewart had, as well as Stewart's big, BIG crash—director BJ Smith said they have incredible footage of the crash that basically changed the entire outdoor season in only the second race!—so make sure you watch.
Also, the 250F class will go off on Monday at 5 p.m. (EST) also on OLN. If you haven't seen Ryan Villopoto at speed at a dry track, this one is going to blow your mind, too. Even RC himself was talking about Villopoto last night, saying that when he watches the kid, he sees a lot of himself on that Kawasaki. He's right.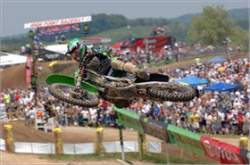 RC says watching Villopoto is like
watching himself.
photo: Carl Stone
No rest for the wicked. No sooner had
High Point
ended and Morgantown emptied out of racers and big rigs than we were on our way to Florida.
Scott Taylor
of
Fox Racing
invited me down to the company's annual sales meeting, and when Stewart had to scratch due to his bruised body after his
High Point
crash, I got upgraded to co-host alongside RC and
Greg Fox
. All of the company's sales reps—inside and outside—got together at the Cocoa Beach Hilton for a sort of awards show/strategy session for the 2007 selling season.
Before everything got started, though, Taylor took RC and Greg Fox and friends out to a swamp-boat place where we blasted around the bushes of the Banana River to flush out some alligators. I have never seen one of those creatures in the wild, but we saw about eight of them! It was a little unsettling, especially since the cologne JH Leale was wearing smelled as if it were made by Purina.
While we were out searching for gators, some of the other Fox folks were setting up the stage. They had RC's Team USA bike (which the champ himself trucked across the state from Tallahassee) and one of James' bikes, but definitely not the one that he rode at High Point, as it must lay in pieces somewhere.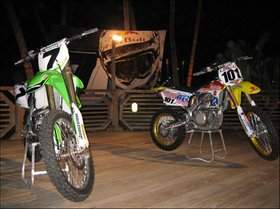 Team USA bike and a James Stewart bike in Cocoa Beach.
Photo: Ursula Carmichael
The party started out with a slide show produced by
Simon Cudby
, with pics of Carmichael, Stewart, and
Travis Preston
, who said in the company video, "What do you get when you put #4 with #7? You get 11, and that's me,
Travis Preston
." And then the always-funny Honda factory rider added, "I don't know, maybe Fox didn't think those guys were selling enough gear, so they had to hire me."
Then Greg Fox brought me on stage to introduce RC, and the three of us sat down and went over a slide show me and "Bad" Billy Ursic put together of RC and James through the years, plus a few really funny photos of Pete and Greg Fox when they modeled for the company in the early 1980s ("because my dad was too cheap to hire a model!" laughed Greg).
RC talked about battling Stewart at High Point, his unbelievable crash that Ricky said he was lucky to avoid (which he also covered in this week's Racer X Films offering of his High Point afternoon), and also his plans for Team USA. He said James is coming, and he can't wait to meet up with his friend Stefan Everts again, only this time for the last time. Then RC cracked a beer (sorry, he's allowed) and hung out with all of the reps and friends for the rest of the night. It was a pretty cool deal.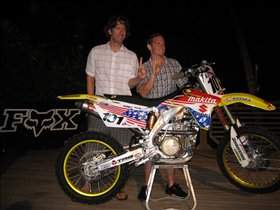 Greg Fox and Ricky signal just how many major titles Carmichael now has.
Photo: Ursula Carmichael
This morning, Carmichael got up, went for a run on the beach with Leale, and then jetted away to his beach house in Destin on the other side of Florida for a short vacation. He planned on playing some golf, hanging out on his boat, and just having a break before he comes back from
Southwick
.
And waiting for him there will be James Stewart. David Evans, James' agent, let us know that it looks like he's going to be ready, and that automatically makes Southwick a must-see motocross race. Those two have spent a lot of time riding in the sand—the old Diamondback Motocross Park, America's roughest track, is right over the bridge from where I'm typing this—and each must still feel like they have something to prove. It's going to be epic!
Sandy Egger is also here for the show, and when she's not working at Fox, she works with Tommy Hahn. She told me that Hahn will be on the sidelines for a little while, though it's not as bad as it sounds. Hahn broke his elbow on the first lap of the first moto at High Point. He had surgery yesterday, and doctors optimistically told him he could be back on the bike within a month.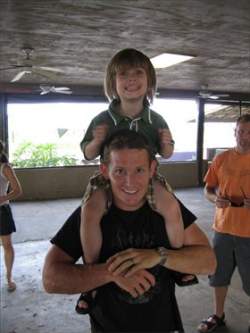 That's Vance riding The GOAT.
photo: Ursula Carmichael
A sad but strange set of accidents took the life of a 14-year-old motocross racer from the Altoona, Pennsylvania, area. Investigators are trying to figure whether the first crash or the second one at Miles Mountain MX caused the death of
Ryan Foreman
. To read more about this unfortunate mystery, check out this
newspaper story
.
Okay, let me turn this over to Weege for a little while.…
Well, last week I said I was a little worried that the 250F class was going to turn into a Mike Alessi runaway, but I think High Point proved otherwise. Yes, Mike did pull through to win the first moto, but I'll take that race as perhaps a hint as how the season might unfold. Mike may end up on top, but there's going to be a real fight before he gets there. As always seems to be the case around him, he just seems to put himself in the right place at the right time, while you look at the competition and say, "Oh man if that guy hadn't (fill in the blank with various mistakes made), he could have won!"
In this case, Chris Gosselaar was the early leader in the first moto on his Monster Energy/Pro Circuit dream ride, but unfortunately, he caught his leg in a rut and re-injured the ankle he twisted in Las Vegas. Goose was running a pretty hefty splint on the ankle by the time the second moto rolled around, and he was using crutches. What a bummer. (Li'l Goose was also bummed because he thought he had the $500 Racer X Holeshot bonus, and he in fact did have the lead once they got through the big first-turn sweeper, but as you can see in Carl Stone's photo, it was #800 at the stick.)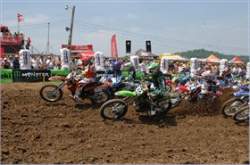 It's Alessi by a wheel for the Racer X Holeshot Award in moto one.
photo: Carl Stone
Then
Josh Grant
was out front looking like a hero, until he did the same thing – hooked his ankle in a rut and twisted it. Grant's tough, and he was able to recover and finish in third, but he was in some major pain. As he hobbled his way onto the podium, he immediately had a seat on one of the Monster Energy Kawasaki KLX110s they had on stage, because standing wasn't too comfortable for him. Big credit to J-Grant to getting third in moto two, also, and scoring some points. If Josh can just avoid these washouts and tip overs and such, he could win this whole thing.
When Josh fell, it lit a spark in both Grant Langston and Alessi, who started battling hard for the lead. But Langston managed to pull away from Mike. It was a pretty impressive performance from Langston, who was in no condition to race just a week earlier.
I talked to him after the race about his dramatic improvement compared to Hangtown. He said the biggest difference was the different track conditions between the two races. Where Hangtown had steep downhills and sharp, square edged holes ("just what I didn't need," said Langston), High Point had a more rounded bumps and softer dirt, thanks to the saw dust mixed in.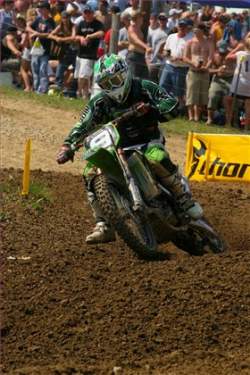 Grant was back—this guy rides hurt better than anyone.
photo: Matt Ware
"The track last week was just brutal," Langston said. "The bumps weren't so sharp here. It was an enjoyable track. I'm happy. I had fun, and it was a great race. My goal was a top ten last week and a top five this week. I fell a little short, but I did everything I could to be ready."
The track helped, but the biggest difference for Langston was just being in the battle. "When you're out front, man, your adrenaline takes over," he said. "Because I was leading it, I felt good. When Grant fell, I got this adrenaline rush. I could feel it, and I got ... I wouldn't say my second wind, but at that point my fourth wind! But then when I fell, all of a sudden I was tired, I was in pain, and I was delirious."
Yes, after Langston got the lead, he ended up washing out and going down. And then, suddenly, the #800 was in the lead and took the win. But if the other guys hadn't just (fill in the blank with various mistakes made), they could have won it!
But Alessi actually made a rare mistake of his own early in moto two, so he returned the favor: He bumped J-Grant's rear wheel and went down. Mike hauled for three laps to climb back toward the front, but I think he used up all of his energy there, because he didn't move up as quickly for the rest of the moto. He got around his teammate Ramsey and they tag-teamed into the top ten together, but late in the moto, Ramsey passed Mike back and held it to the finish. Gotta give credit to new Red Bull KTM boss Casey Lytle – no team tactics this early in the season.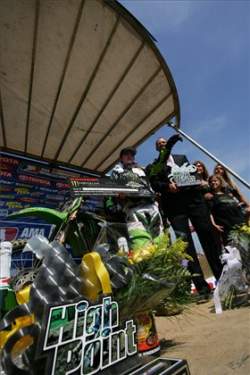 Ryan Villopoto holding his Monster Energy/Kawasaki bonus check.
photo: Simon Cudby
All of these mistakes opened the door for the other contender in the series,
Ryan Villopoto
. And let's not take anything away from him – he could have won the thing even if no one had gone down, because he was flying. I wonder if they haven't just removed the rev limiter from his KX250F, because no one winds the bike out like "Villopodium" (and for what it's worth, no one doesn't wind it out like Alessi—he chugs his bike around in the mid range like it's a 450. That might serve him well next year.).Anyway, Villopoto got bad starts in both motos, but his speed and the competition's mistakes gave him 2-1 scores and an overall win in just the fifth national of his career. This kid is going places.
This year, the post-race press conferences at the Toyota AMA Nationals are broadcast on the web, and it was a pretty interesting collection of 250F riders up there. Alessi was joined by Villopoto and Grant, two of his old amateur rivals. And his other old amateur buddy, Davi Millsaps, was on the 450 box. So it was a good day for American amateur motocross, because a bunch of the most recent graduates were all proving themselves at the highest level. I even heard someone say how good it was to see the Lites class actually produce three actual young kids on the podium, instead of all of the veterans and international interlopers that have dominated the class over the years.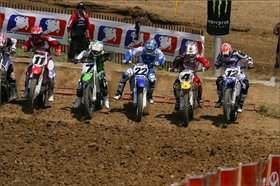 RC and Stewart would later be more than a minute ahead.
photo: Simon Cudby
Tough day for
Hangtown
podium boy
Brett Metcalfe
. He said he just "didn't have it" in the first moto, but some bike changes had him feeling better in moto two. Unfortunately, he came together early in the moto with
Kelly Smith
, and while he didn't fall, he managed to bend his bars really, really bad. I'm telling you, the right side of the bar was bent like a Harley ape-hanger! He still managed tenth overall via 10-11 scores.
Sadly, Metcalfe's Boost Mobile/Yamaha of Troy teammate Branden Jesseman has fallen on hard times again. After missing Hangtown with a foot injury, Brando got back on the bike a few days before High Point and crashed. The result? Another broken wrist. Branden should be out for two months.
Here's a note from my bosses at Supercross Live! For all of you fans that love (and I mean LOVE) to share your opinions on the live supercross webcast, this is your golden opportunity. Fill out this survey, tell Live Nation what you think, and get entered to win a prize pack.

(And you don't have to say good things about me. Really. You don't have to. I mean, if you want to, go ahead. But you don't have to.)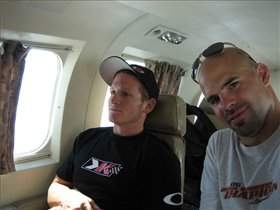 Here's what the view looks like from the top--and from across the private jet.
photo: Ursula Carmichael
Thanks to the Weege for his report.
When we crunched the #17 on the Number Cruncher this week, Andy Bowyer mentioned that Rick Johnson had broken his hip at the Pontiac SX in 1983. But Denny Stephenson, a true student of motocross history, said that he recalled that it was actually the St. Louis National where RC got hurt. Andy said he'd look it up, but here's Denny's letter:
"Hmmm…. And the plot thickens. LOL I thought it was St Louis because I raced a Loretta Lynn's qualifier there and battled with good old Billy Fosnock all weekend. The place was flat and they dug out these big pits that you would race down into and back out the other end. I remember asking RJ about the place years later and, if I remember right, it was in one of these pits that he crashed and dislocated his hip. At least that's my story. I've suffered enough concussions to sideline the Steelers, so I could be wrong."
Who's right here—the boy from Kansas (Andy) or the boy from Nebraska? Who remembers? Let us know: letters@racerxill.com.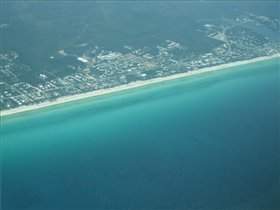 photo: Ursula Carmichael

Roger DeCoster had a great Memorial Day Weekend at High Point. His son Kitsch, a U.S. Marine, came to visit. Kitsch has been to Iraq and back, and on a weekend where our nation honors its war dead, it was good to see him in one piece and hanging around the Makita Suzuki truck. Roger has another son, Nigel, who works in foreign relations, and his youngest son—12-year-old Mika—is one of the best young tennis players in the world!
And speaking of the old school, the pre-race ceremonies at the 30th Annual High Point National included a wonderful parade lap around the track by some of the heroes of the past, including Broc Glover, Jeff Stanton, Chuck Sun, Ryan Hughes, Mike Fisher, Tom Carson, David Hand, Denny Swartz and more, all on old bikes that Parts Unlimited's Rob Buydos helped line up.
One man who participated who was not a racing legend but is still one of the best Pennsylvania motocross people ever, George Quay. The man who used to wrench for Team Tamm and founded Keystone MX Works, and later Pro-Action, was smiling from ear to ear in his open–face helmet, a Jofa hanging off and the old-school Yamaha jersey. He was riding the #23 Yamaha—not sure if it was the one Marty Moates won the 1980 Carlsbad USGP on, or one of Broc Glover's Carlsbad bikes. George said he was thrilled to be included, even if it was the first time he ever laid wheel on that track during an AMA National.
Keep an eye on Racerxfilms.com this weekend, and we will post a piece on the opening ceremonies. Also look for more from
High Point
, including a piece with
David Vuillemin
, the privateer hero for Motoworldracing.com PPG Yamaha.
Okay, now something brief from Bad Billy:
How about an update about this weekend's Northeast Regional qualifier at High Point Raceway? Today was practice, and the track was moist and tacky - near perfect conditions, very similar to last weekend. The fields surrounding the track are filled with RVs and trucks - it almost looks like the pro national! There are over 900 riders showing up, vying for a spot on the gate at the 2006 Air Nautiques Amateur National Championships at Loretta Lynn's.
Some of the top riders I noticed was Team Green's Austin Stroupe and P.J. Larsen, both Carolina boys who are threats for titles later this summer. Cernic's Honda's Zack Miller looked fast in practice, along with William Duffy, Michael McDade, Shaun Skinner, Darryn Durham and Phillip Nicoletti. The list goes on. If you want to check the results from the weekend, visit mxsports.com next week.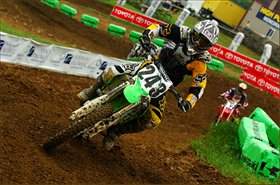 Ursic hopes to qualify this weekend in a very talented amateur field.
photo: Tony Scavo
Finally, a really troubling piece of news from
Racer X
reader
D. Andrews
of Chicago. He wrote to tell us about a bill being introduced in the Arizona legislature would ban supercross in Arizona!
The bill reads:

A. A city of town shall not sponsor or allow to be held within the city or town a motor vehicle competition outside of a closed-course motorsport facility at which the sound level exceeds 90 decibels at any time.
B. For the purpose of this section, "Closed-course motorsport facility" and "motor vehicle" have the same meanings prescribed in Section 12-556.

The legislation then repeats for Counties with the same language. The language in 12-556 is:

1. "Closed-course motor sports facility" means a closed-course speedway or racetrack that is designed and intended for motor vehicle competition, exhibitions of speed or other forms of recreation involving the use of motor vehicles.
2. "Motor vehicle" means an automobile, motorcycle or other vehicle that is propelled by power, other than muscular power, that is used to transport persons and that operates within the confines of a closed-course motor sport track.
Andrews added, "We need your help to defeat this initiative. Please take a minute to e-mail your State Senator and House Representative right now. You can access the e-mail address for all Arizona Legislators at the following link: http://www.azleg.state.az.us/MemberRoster.asp"
That's it. I've got a plane to catch—and not my own. Thanks for reading Racerhead. See you at Southwick, and have a great Steve Lamson Day!