Welcome the Number Cruncher, brought to you by Shift MX. Blasting your way this week is a number I have chosen to crunch in honor of my favorite hair-metal band from the '80s. For my money, it doesn't get much better than when Kip Winger screamed out, "I didn't catch your name (whoa!)/It'd be a shame not to see you again." Ahem - anyway, the number for this week is the incredible 17. Once again, I believe you will be astonished by how many of the sport's all-time greats have raced and won with this number. Here is the first Number Cruncher for #17.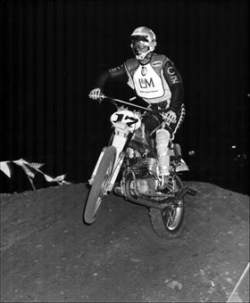 Tony DiStefano
photo: Dick Miller Archives
Wow, check this one out! This is Tony DiStefano competing at the 1974 Superbowl of Motocross. This was his breakout year, and he battled Jammin' Jimmy Weinert for the 500cc national title. He came up short, but one year later he started a three-year run as America's top 250cc rider, winning three straight outdoor titles.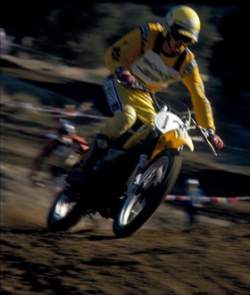 Broc Glover
photo: Dick Miller Archives
Broc Glover rode the #17 YZ125 Monoshock Yamaha to the AMA 125cc national title, beating Danny LaPorte on a tie-breaker from the win. It was the first of six AMA National Championships for the Golden Boy.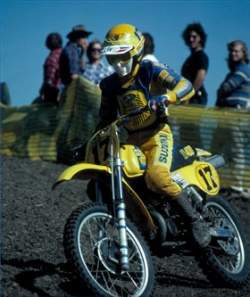 Kent Howerton
photo: Dick Miller Archives
This is Kent Howerton running the #17 at the Sears Point Trans-AMA in 1979. Yes, that's an RM400!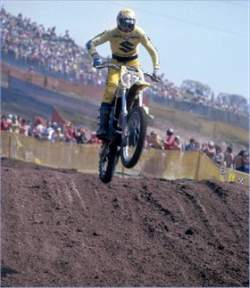 Bryan Myerscough
photo: Dick Miller Archives
Check out this stylish #17 on the Suzuki coming right at you! This is none other than Flyin' Bryan Myerscough, who raced to win 125cc nationals in the late 1970s and 1980. Unfortunately, health issues hindered the minicycle champion's professional career.
Not so much Bad Boy here, Ricky Johnson wore the #17 in 1984 when he won the 250cc National Championship. This was the last year U.S. factory Yamahas were yellow. RJ had a high number because he broke his hip the year before at the Pontiac SX. He rode the #5 white Yamaha in supercross the next year, then went red in '86. The rest is history.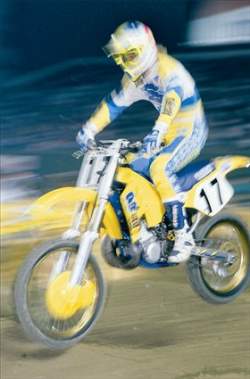 Larry Ward
photo: Dick Miller Archives
One of the craziest supercross races ever. Bradshaw, Bayle, Stanton, and just about everybody else led in this race, but it was home-state hero Larry Ward who came out on top in one of the most heartfelt supercross victories of all time. "Big Bird" was beside himself with joy and pulled off some interesting, albeit strange, freestyle moves on the side of the track, which consisted of Larry standing up and surfing on the seat of his RM250.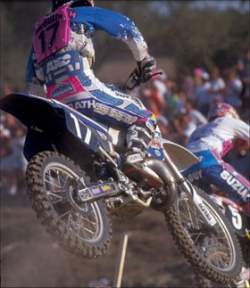 Jeremy McGrath
photo: Chris Hultner
Jeremy McGrath has only raced with a few numbers other than #1. His amateur number was 125, and he used it to win his first 125 West Region Supercross title in 1991. That was as good as it would get that year for Jeremy, as he would suffer a horrendous crash at
High Point
. Oddly enough, it was on the same jump that
James Stewart
yard-saled on last weekend. Of course, he ran #1 in the 1992 supercross series, but in the outdoors he was #17.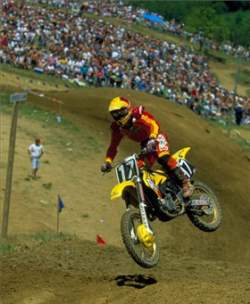 Ezra Lusk
photo: Davey Coombs
This was a tough year for Ezra. Come to think of it, the scary-fast Georgian didn't have many years that weren't tough. Although in this particular year, we saw Ezra take one of the worst rag-doll crashes ever caught on film, at
Budds Creek
. The year did have some high points, with some East Coast supercross wins and getting to wear the 20th anniversary Fox gear. He was also riding what was at the time one of the most revered machines in the tiddler class, the RM125.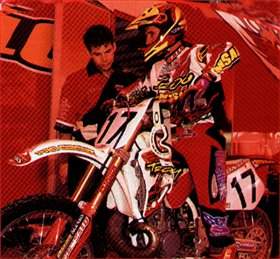 Mike Craig
photo: Chris Hultner
Mike Craig had a pretty good year in '96, finishing fifth overall in the 125cc nationals aboard a Honda of Troy-backed CR125R. He was known for his unbelievable whips on the Honda that year and was teamed up with Larry Ward, Casey Lytle,
Mike Brown
, Brian Swink, and Jeff Willoh on the Fifth Dragon.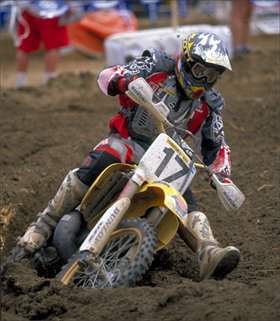 Robbie Reynard
photo: Chris Hultner
Currently, the #17 resides with Robbie Reynard. Robbie has always been one of my favorite riders. I grew up racing in Kansas and tracks all over the Midwest. After a few years, I began to be one of the dominant riders at my local tracks and thought I was starting to be quite the fast guy. It took only one trip down to Oklahoma and a meeting with Robbie Reynard to gain a realization and a respect for the difference between a fast regional rider and a national champion. To this day, I get pumped up when Robbie gets a good start and leads a few laps (like he did at
Hangtown
) and puts that picture-perfect riding style on display. I got to see Robbie walking around the pits this weekend at
High Point
and also got to walk up and wish him a happy B-day. His shoulders, forearms, knees, and elbows were covered with scars, and he walks like a robot. Robbie didn't get the best hand in the poker game of professional motocross, but he has played that hand the best he could and has never given up. Keep an eye out for the 17 as it circulates the outdoor facilities of the Toyota AMA Motocross Nationals. Thanks to Robbie Reynard, the #17 still has a lot of magic left in it.
So which number do you want broken down next in the Shift MX Number Cruncher? Do you have any additional information on the #17 riders we crunched this week? If you do, just drop me a line at
letters@racerxill.com
and we might mention your additional input on this week's Racerhead!