Where Are They Now: Davey Yezek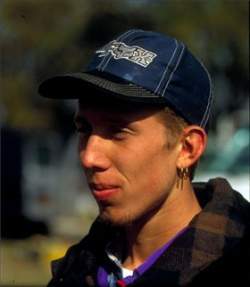 Davey Yezek
photo: Racer X Archives
When I was growing up racing amateur motocross in District 5, one rider I always looked up to was Mt. Pleasant, PA's Davey Yezek. Although he doesn't have any major championships or wins to his name, Davey always found time for his fans and was one of the most down-to-earth riders on the circuit.
After going to a few races to watch his uncle, Davey Yezek's motocross career got off the ground with a Suzuki JR50 when he was 5 years old. His parents would take him to all the local races and his mom, Mary, would even help work sign-up and scoring to help pay Davey's entry fees. He then moved on to a Yamaha PW50, which was the bike to be on at that age. In fact, Davey recalls the days of his dad modifying his little PW for added power. "My dad was one of the first guys to start soupin' up 50s, along with Colin Edwards' dad," he recalls.
Davey rapidly progressed and was a Team Green Kawasaki rider throughout his amateur career and one year into his professional career, where he scored a third-place at the 1993 Indianapolis Supercross and then narrowly missed winning two championships at Loretta Lynn's.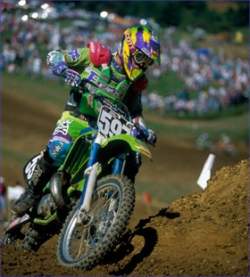 Davey was one of Team Green's top riders in 1993
photo: Racer X Archives
"I should've won Loretta's in '93," he says, "but I only had one of each bike all year, and Sheak beat me. It was me, Scott Sheak, Brian Deegan, and Jason McCormick. My dad and I actually welded the frames just to go to Loretta's because we didn't have the money to buy new bikes, and Sheak had two brand-new Pro Circuit bikes. I would start like 23rd each moto and catch him at the end. If it was a half-hour moto, I would've won. There's no doubt in my mind that I was the fastest guy there, it's just that my bikes were junk."
But finishing second overall was good enough to gain the attention of Honda of Troy boss Phil Alderton, who was in the early stages of building the Honda of Troy Empire. Yezek signed a contract with them for the 1994 season, but before he even got to race an AMA supercross for the team, his career took a turn for the worse.
"I signed with Troy and I immediately got an offer to go to the Barcelona Supercross, which at the time was a big deal," recalls Davey, who was offered $1,500 in start money just to attend the race. "But at the last minute, Dave Arnold from Honda called Phil Alderton and told him not to let me go because I was only going to have a stock bike. I went anyways, and I was racing against Stefan Everts and all of those guys. I was pitted with McGrath and had no mechanic – I was 18 years old, all by myself with no mechanic. So I get there and was blown away by this track. I was riding a stock bike, and I would hit the triples, and I'd bottom out. I went to the LCQ, and I could've qualified easy, but I stayed in fourth so I didn't qualify because I didn't want to ride that bike anymore. After the race, I was getting undressed and then Jeremy McGrath came up to me and said the promoter gets to choose one guy for the main, so he chose me. I then raced the main and broke my wrist, so that ruined my off-season and I couldn't test or practice."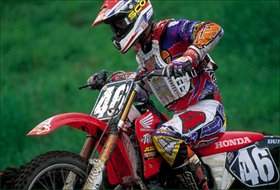 Yezek was one of the first riders on the Honda of Troy team in 1994
photo: Fran Kuhn
After returning home, Yezek was overly anxious to get out on his brand-new Honda of Troy factory CR125R. "I cut my cast off two weeks prior to the Orlando Supercross in '94 and raced it," he says. "I passed Lusk and Reynard in the first heat and then cased a triple and broke my wrist and sternum. That ruined my year with Honda of Troy.
"If you could look back and change one thing in your life, mine would be not going to that race in Barcelona on a totally stock bike," Yezek admits.
He finally healed up properly and returned as a privateer with F&S Suzuki, a dealership based out of Dayton, OH. He instantly took a liking to the Suzuki and started posting some solid results. He was a top privateer and his lowest national number was #37. He also finished third overall in the 1995 Eastern Region Supercross Series, behind Mickael Pichon and
Mike Brown
. Things went well for the next year or so, but prior to the '97 season, when Yezek looked like he could possibly be in the running to score another factory ride, tragedy stuck and he broke his back.
"In '97 I stayed with Mike Metzger out in California," Yezek explains. "I was leaving Metzger's house to drive back home to Pennsylvania, but then I decided to race the next day and that's when I broke my back. I was recovering from that for over a year, and all I did was go out with my friends and drink. It just became a problem and I just lost all motivation for racing. I was never 100 percent again."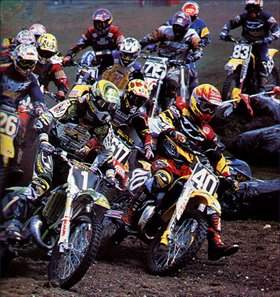 Yezek (#40) pulls the holeshot over Mickael Pichon at the '96 Daytona Supercross
photo: Chris Hultner
In the seasons that followed, Davey would return to racing professionally, and he even scored a few more national numbers - #64 being his lowest, while racing for the LCR Yamaha team - but he never regained that drive and motivation, and he finally decided to call it quits in 2001.
"My last race was in 2001 at
Unadilla
," he says. "I qualified easy, and in the first moto I started moving up through the pack, but halfway through the moto I said, 'That's it, I quit.' I pulled off the track and haven't raced since then. I still follow it, but I haven't gone to any races because I think it would just aggravate me too much because I'd miss it too much."
So where is Davey Yezek now, five years after racing his last pro national?
"I just do heating and air-conditioning work with my dad. He's getting ready to retire soon, but I'm not sure if I want to continue doing that stuff," Davey laughs. "I still want to ride - it's just too damn expensive. I still follow the sport through you guys, though. I wish at the time when I was doing good that you guys at
Racer X
were around for me to get some publicity, because back then all you had was
MXA
and
Dirt Bike
and they wouldn't cover us East Coast guys. Mike Jones would get second place at a supercross and you wouldn't even see his name in the magazine."

Yezek also would like to thank Jeff from F&S Suzuki and Shane Slother for their support.