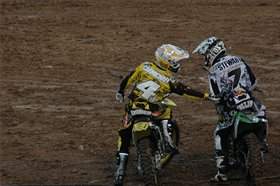 Time to take it outside
photo: Chris Favro
A week is all we got to catch our collective breath. After a ridiculously close supercross series that ended with three men just two points apart, it's time to leave downtown for the outskirts of town, past the suburbs and out into the country. That's where motocross happens, and that's where we start over at all-even. Everyone is leading or everyone is losing, depending on whether your Monster Energy can is half full or half empty.
That's because on Sunday afternoon, the 2006 Toyota AMA Motocross Nationals kick off with the 38th running of the Hangtown Classic—the longest-running professional motocross race on this continent. All weekend long, you can keep up with the lap times (practice, qualifying, motos) on @The Wire Live on www.amamotocross.com. And come Sunday at 1 p.m. out West (4 back East) you can listen to the Hangtown National on your computer through the Racer X Webcast, presented by Cycle News. The program can be heard on www.mxnationals.com.
As for TV, the opening round of the AMA Toyota Motocross Championship presented by FMF will air next Saturday, May 27, at 6 p.m. (EST) on OLN. The 250F class gets their due on Tuesday, May 29, at 5 p.m. (EST) also on OLN. Don't miss them!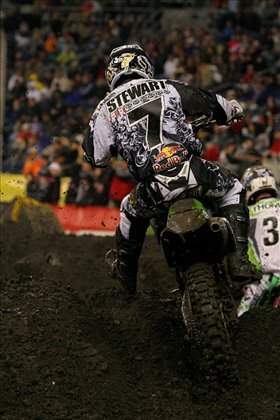 Is James now the best mud rider on the AMA circuit? We might have more evidence come Sunday
photo: Matt Ware
Maybe we will get a chance to see if
James Stewart
, who won San Fran and Seattle, can continue to establish himself as the best mud rider in America again. I don't say "the world" for one reason:
Stefan Everts
.
For the sport's two biggest stars, Ricky Carmichael and Stewart, the cans must be half full (the Red Bull can in James' case, of course). Stewart just ended the series with some solid rides, winning Seattle and Las Vegas and earning himself the World Supercross title. He's never been faster … actually, it could be argued that no one has ever been faster.
Carmichael, on the other hand, has done pretty much exactly what he's done in every AMA Supercross Championship he's won since his first one in 2001: He sprinted to the halfway mark in the series while his competitors struggled to keep up, got to Daytona and sized things up, and then backed it down a notch to where he did just enough to win the title, all the while using time in between main events to get ready for the outdoors, where he absolutely dominates.
That always worked well for him, too. As a result of his outdoor prowess, Carmichael has never even had to race the last round of an AMA Motocross Series to clinch the championship—he' been given the #1 plate in each of the last nine years before he ever got the final round!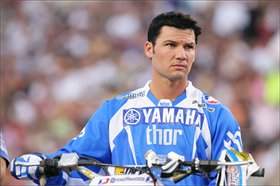 Will Chad's heart be in chasing after the Floridians this summer?
photo: Simon Cudby
But that was then, when his main competition included
Kevin Windham
, who he's long had covered outdoors, and
Chad Reed
, who has never actually won a national since he won
High Point
in the 125 class back in 2002—his first year in America. Windham is still battling back from his broken arm, which saw him miss most of the supercross season. Reed, meanwhile, made it pretty clear this week that he doesn't think much of outdoor motocross compared to supercross, and his record shows: more than a score of main-event wins, compared to that lone outdoor years ago. It seems like Reed should be amped up about the summer tour, looking for another chance to show he can beat Carmichael and Stewart without them both falling, as happened in both his two SX wins this year (and with his new team still not married to a manufacturer, now's a good time to show his true worth).
It's still a question mark as to what brand Reed and Nathan Ramsey will be riding on their private team next year. He's looking for factory equipment, a la Jeremy McGrath at Chaparral Yamaha. This could get interesting.
So did Carmichael let Stewart build up too much confidence? Will he find himself in an even tougher fight than he had on his hands at the end of the SX tour? Will the KX450F be as potent outdoors in its national debut as it was when it showed up under Stewart in Canada last December? Guess we'll find out soon enough. What a great time to be an American motocross fan!
If that weren't enough, the 250F class—the Toyota AMA Motocross Lites?—has too many fast riders to list without leaving someone out. In reverse alphabetical order (so people don't think I'm betting on #800 like Andy Bowyer did in the Rev-Up, the obvious favorites are Villopoto, Short, Langston, Grant, Brown and Alessi. And then there are guys who could sneak in there like Walker (if he can keep from crashing), Ramsey (if he gets a good start), Mills (who won a moto last year), Metcalfe, his Yamaha of Troy teammate McFarlane (who was second in the MX2 Grand Prix series last year), Lawrence (who knows?), Laninovich, Jesseman, Hahn (just needs to be patient), Troy Adams (remember him?) and a whole list of other guys. This division is wide open.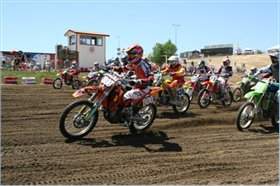 Mike's a good bet for at least one holeshot this weekend
photo courtesy of Alessi Weekly
By the way, I'm not betting against
Mike Alessi
—he flies up there, and he has something to prove—but I think it's too close to call. But I will bet that he gets at least one of the two $500 checks up for grabs with the
Racer X
Holeshot Award, which we are proud to be offering for each class throughout the season.
We didn't mention Broc Hepler in that last paragraph. He was a question mark, but it appears now that he won't be racing until at least Southwick, according to an interview we saw on MXA's site this week. The word on the streets is that while the foot isn't healed up enough for him to race, it is looking good enough for Yamaha to have reportedly signed him to a three-year deal. You'll hear more about this later, as well as the deal that rookie-to-be Josh Hill has in place.
Wow, mentioning Hill just reminded me of Bobby Bonds, the ill-fated, injury-plagued, can't-miss kid of just five years ago. Bonds was incredibly fast, though AMA motocross fans didn't get much of a chance to see the Californian. In fact, the only memory many have of #129 comes from his incredible effort against Grant Langston at Hangtown back in 2001. Bonds battled with Langston throughout the race before he touched the real wheel of Langston's KTM with his front coming down a hill, and down he went. The injuries mounted quickly for the 16-year-old and he never got a chance to show much more of his amazing potential. I don't mention this because of Hill, who I think has vast potential; I mention it because of Hangtown.
Not sure what the status of SoBe/Samsung Honda rider Joaquim Rodrigues is for the weekend, but one of his friends from Portugal dropped us a note to show us just how big J-Rod is back home. Rodrigo Castro sent a copy of the May issue of FHM Portugal, with an interview on that nation's favorite rider.
If you want a sneak preview of what
Hangtown
looks like, tune in to Racer X Online tomorrow evening for a practice preview, as well as something new and fun to feast your eyes on from
Simon Cudby
.…
And speaking of fun, new stuff, we spent a few days ramping up a few short feature films on the Racer X Films site. There's a cool clip of RC practicing on his SX track, a little trip to Baja with Malcolm Smith and friends, and a look at Castillo Ranch Ride Day. They are there for your free viewing pleasure, and it's more about quality than quantity, for now anyway. So bear with us—we're magazine guys and motorcycle riders—and will come up with some things you're really going to like. After all, Racer X Films is not yet three days old. I can only imagine what it will look like in three months, let alone three years. Stay tuned.
And speaking of Simon, if you'd like to ask our ace shooter anything, now's your chance: He's the subject of our next Racer X 10Q. Send your questions now!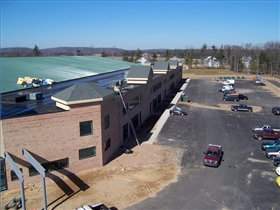 New England's new indoor motocross facility
photo courtesy of mototownusa.com
Speaking of cool new things, if you haven't heard about Mototown USA, you might want to check it out. Mototown USA is in Windsor, Connecticut, which is not far from
Southwick
. What it is, though, is possibly the largest indoor motocross facility in the U.S. It's a brand new structure, complete with a 12,000 square foot motorcycle and accessories shop, a custom bike shop, Gold's Gym, fast-food restaurants and more. The Grand Opening is June 9-12, which is the same weekend as the nearby
Southwick
National (which does not have an amateur day, by the way). With its year-round rounding, it just might spark a new crop of fast New Englanders in years to come.
Check this place out
.
Missing from Hangtown will be Ivan Tedesco, of course. He hurt himself at the last supercross, where he still managed to grab up a solid fourth in his first year on the big bikes, and he was set to back Makita Suzuki teammate Carmichael on the 450s here, but now he's sidelined for summer. Stewart also lost his wingman when Kawasaki teammate Michael Byrne went down in practice in Las Vegas. Burner is hoping for a quick return….
Just got the press release from Kawasaki: "Michael Byrne is expected to be out of competition for a minimum of eight weeks due to a dislocated right thumb…. Byrne is expected to make his return by the sixth round of the AMA Motocross Championship at Unadilla Valley Sports Center near New Berlin, N.Y. July 15-16."
Also on the sidelines is Ben Townley, as we discussed last week. The New Zealander is busy rehabbing his knee in Florida, and he's been watching the DVDs that B.J. Smith of Chet Burks Productions and OLN sent down for him to study.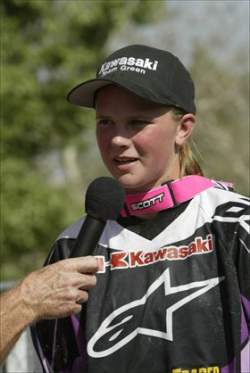 Katherine Prumm was a revelation at the WMA opener
photo: Andy Trecki
And speaking of New Zealand, the WMA girls now know what they're up against in the form of Kawasaki rider
Katherine Prumm
. The 17-year-old went 1-1 at the series opener last weekend at
Glen Helen
, and she will be back this weekend for another go before she and her father head home.
Our own Sarah Whitmore finished second overall in the opener, which featured a lot of inconsistent finishes by series regulars like Jessica Patterson, Tarah Gieger and Tania Satchwell.
By the way, if you're a WMA fan, make sure you stop by their booth at Hangtown to pick up the full-color 2006 WMA Souvenir Yearbook, which was produced by the Racer X staff and donated to the girls. It features defending champ Jessica Patterson on the cover and has all of the information on the series and the riders that you'll need to follow them this summer. You can also keep an eye on the series website.
Hey, here's some food for thought: It has been since Glen Helen 2004 since James Stewart last won an outdoor national. Astonishingly, it has been since July 27, 2003 at Washougal that Ricky Carmichael lost an overall at an AMA National. That day, he went 2-2 behind Kevin Windham's 1-1. RC currently has two perfect seasons in a row in which he won every overall. Will he be able to maintain that streak this season?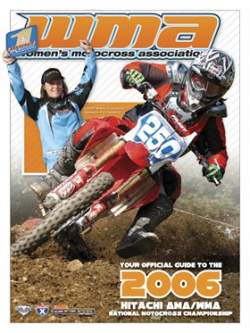 Look for yours at the WMA booth at Hangtown
This from
Owen Provence
and the WBR gang stating that the team recently switched from K&N Filters to Twin-Air. And as we posted last night, they have also signed
Brian Gray
to join the squad, which just had a great finish via
Ryan Morais
at the SX-ending East-West Shootout.
Let me turn it over to Ping here.…
The tracks in Southern California have been busy the past two weeks. If you hit the right tracks on the right days, you could have ridden with Ricky Carmichael at Competitive Edge, Chad Reed at Perris, and just about every other top rider on the circuit at one of the other courses in the area.
One rider you won't see this weekend is team Makita Suzuki's Ivan Tedesco. Ivan underwent surgery yesterday (Thursday) to repair damage done to his shoulder in a crash at the Las Vegas Supercross. Something tells me that Suzuki will still be well-represented by their other rider. He's fast.
If you're wondering who will step in and take the place of Tedesco in that battle at the front of the pack, I have the answer: "The Duke," "Doughnut," "Maverick" or whatever you want to call Davi Milsaps, the new Racer X cover boy, is going to be a player. The word is that he has been faster than Kevin Windham at both of the test sessions that they were both at. Faster than Windham? If that's true, we are going to see Davi on the podium this summer.
While Reed is definitely going to be in Sacramento, there is a strong rumor circulating that he will pull out of the series early if he isn't in contention so that he can get his injured shoulder fixed. Have first and second place in a moto ever lapped the third-place rider (other than the San Fran SX, of course)? We might see history this weekend. The 250F class, however, will be stacked and will be great racing, for sure.
Brian Deegan will make his return to motocross this weekend with the Richardson's RV team. Richardson's RV is also the sponsor of WMA stars Sarah Whitmore and Tarah Gieger. How's that for juxtaposition? The Metal Mulisha sergeant and two really fast girls will be under the same tent at the races! Marc Hauser definitely has the spectrum covered. Seriously, it will be good to see Deegan back on the track. He may not be racing for wins in the 450 class, but he has a lot of fans and he certainly adds some color to the weekend.
Deegan may be best known in racing circles for his ghost ride across the finish line when he won the '97 Los Angeles 125 Supercross, but for a while there in the mid-1990s, when he was riding with the Chaparral team and Moto XXX Suzuki, he was very fast outdoors. What's going to hurt him now is the fact that most freestyle runs last maybe two minutes—less than the time it takes to make one lap around Hangtown. Regardless, Deegan told Eric Johnson he's stoked about the prospects of returning to his racing roots.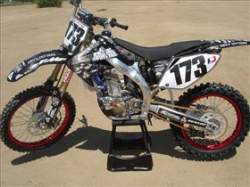 Deegan will be on one cool chopper
photo: Brandon Zundel
"
I feel an excitement I have not felt in years," Deegan said. "You know, going to the track and watching to see who is fast. Motocross is all about raw competition and that's what's driving me. That's all coming back to me. I've been dreaming about this the last five or six years and my dream is about to come true. This is Ricky Carmichael's last season and to be there, on the same track with him and guys like James Stewart, is going to be killer. I've been given the chance to do this, so why would I pass it up? Hopefully the fans will all understand why I'm up there and what it's all about. It's all about having fun."
Josh Hansen bought a new car. Apparently, Josh needed something to get himself to and from physical therapy for his back. He wanted something comfortable yet economical. He thought about maybe going with a nice sedan or maybe even one of those hybrid vehicles that can save you hundreds at the pump. In the end, Hanny went with the Lamborghini Gallardo. It's a $450,000 ride that he got a "great deal" on. At least he went with a subtle color: bright orange.
And now here's a Prequel follow-up from roving photographer Carl Stone.…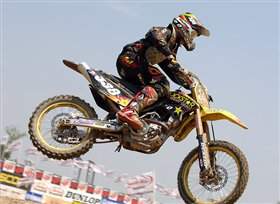 Lawrence was fast, but now he's on the sidelines.
photo: Carl Stone
"I am not sure what to call the classes now (I still call them 125 and 250!) but we got to see an impressive ride from
Jason Lawrence
in his first moto on the 250F.
J-Law
started the moto in, like, 17th and went on a tear to the front of the pack. But he never came out for moto 2 after he tweaked his ankle/heel. Now, of course, he's out of
Hangtown
.
It was good to see Troy Adams out riding again--first time I had seen him ride since his injury. He looked as strong as ever and he took 2nd for the day. He for sure is a great addition to Mitch's Pro Circuit Kawasaki team, even if he hasn't been able to actually race yet!
YOT's Andrew McFarlane was having a good day also but in moto 2 he had bike problems and had to pull off. I think the best moto of the day was moto 2 of the 250F class, by the way. About the halfway point Martin Davalos had the lead with Brett Metcalfe right behind him. They raced the rest of the moto only bike lengths apart. I am sure Brett was hoping Martin would make a mistake, but he rode solid and never did. Davalos won that battle but Metcalfe won the war and took the overall. It was a great race to watch. And Daniel Sani finished on the podium with third overall.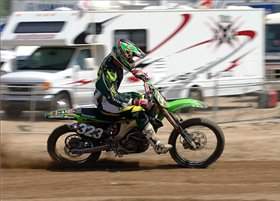 Adams will be making his 2006 racing debut this weekend.
photo: Carl Stone
Next up was the 450 class and
Josh Grant
's impressive rides. Funny thing: I was at the race early in the morning and watched practice but never did see Grant, but then I was on the track for moto 1 and saw the #24 bike out front. I was like 'WTF? Where did he come from?!' Josh looked like he was out there just riding around, fast and very smooth and at the same time pulling a big lead. He easily won both motos and after the 2nd moto when he took off his helmet he looked to not even be breathing hard. Yeah, I would say
Ryan Hughes
has him ready for this weekend at
Hangtown
!
When I asked Josh why I did not see him all day, he said he was at his house playing pool and decided to come out and watch the race. When he got to the track and found out the 1st moto was not for two hours, he asked his mechanic Naveen to run to the shop and get his bike he wanted to race! Well the 450 was all ready to go, so that's what he raced.
I got this picture of Casey Lytle in his first official race as KTM team manager. He's a good guy, and he's got podium-cred as a racer, so I hope this works out as well for him as it did for Larry Brooks, his predecessor.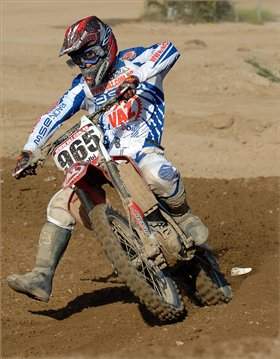 Antonio and Mariana run the same #965
photo: Carl Stone

Antonio Balbi (#965) took second place with awesome ride also. It took me a few laps to realize he was not a lapper! His sister Mariana raced earlier in the day with the same number (which I thought was cool) and took third overall in the WMA National class. The brother and sister Brazilian team were a big hit!
Rounding out the 450 podium was Darcy Lange (though the scoring sheets said "Derecy" I think), so that's not a 450 podium we are used to seeing!
After the races I was walking through the pits and a truck pulled up and the driver said "Hey Carl, you get any good pics of me today?" It was Joe Oehlhof. I looked in the back of the truck and saw a Suzuki in the back with a #49 on it. I was like, that was you? Oops! I did not even know it was you out there! It was amazing and great to see how well he rode after seeing him all last year with that halo on his head. He took fifth overall and said he felt great and was looking forward to next weekend.
It was also round one of the WMA series. There was also some great racing in the pro class. At the end of the day it was the hard-charging New Zealander Katherine Prumm taking the top spot on the podium. Racer Xer Sarah Whitmore would take second and the Balbi girl would finish third.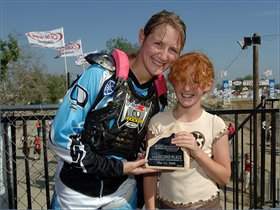 "Sarah Smile" puts a smile on one young fan's face at The Prequel round of the WMA
photo: Carl Stone
One last thing: Whitmore saw this little girl fan that was a fan of hers who came up to meet her and get an autograph. She walked away with not only Sarah's autograph, but Sarah's trophy as well! Good stuff!
Now, back to our regular programming.…
Sadly, Ernesto Fonseca will also be missing from the lineup this weekend. Fonseca continues in his recovery from his severe back injury at a hospital in Colorado. But he will not be forgotten by the Hangtown faithful this weekend—the Dirt Diggers have organized a benefit auction for the Honda factory rider. If you're going to the event, bring a little something extra for Ernesto.
To keep up on Fonseca's progress as he fights back from his devastating injury, please visit www.ernestofonseca.com.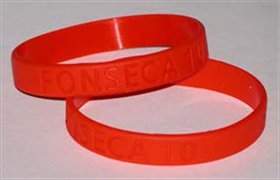 Pick up an Ernesto Fonseca power band at Hangtown this weekend
By the way,
Fubar
will have some of the red wrist powerbands at the
Racer X
booth for anyone to purchase for a $5 donation.
Big E
from Answer will be hooking us up with the bands all summer long, so when the Toyota AMA Motocross tour comes to your town, stop by the booth and help out #10 by picking one up one of his wristbands.
Brian Deegan is not the only 125cc supercross winner from Nebraska making a racing comeback of sorts: 1990 East Region Supercross Champ Denny Stephenson is ramping up a return to Loretta Lynn's in the vet classes. Steve Kaster snapped a couple of photos of Denny, who works with Smith Goggles and also Speed TV and CBS Sports, as he won both of his classes at his area qualifier in Athelstane, Wisconsin.
Once he gets to Tennessee, Stephenson will probably feel like he's in a real national again. Doug Dubach will be there for the first time, and two-time World MX Champion Trampas Parker will be returning for the first time since he moved to Italy and his amazing story started to take shape. Heck, MX Sports even got a call from Ronnie Lechien about coming back to the ranch the first week in August!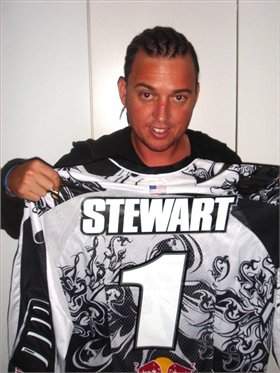 Now that's following through on a bet! Well done, Beeks
photo: Langers
And now this from
Langers
: No one can ever say that
Fox Racing
's
Chris "Beeker" Onstott
isn't a man of his word. After making a bet with
James Stewart
that he would have corn rows put in his hair if James won a supercross title this year, the plan was for Beeker to have his "new do" done in time for the supercross banquet the Sunday after the Vegas finale. Unfortunately, do to a combination of a late night / early morning session with his "study group," and not being able to find a barber that was up to the task on the Sunday, the corn rows didn't happen for the banquet.
But Beeker kept his word and showed up on Wednesday with the fresh new look just in time for this weekend's Hangtown opener. What's he going to do if Bubba wins the outdoors? Any suggestions?
In more retro racer news, 1980 AMA 500cc National Champion and Team USA star Chuck Sun is coming back east for the 30th Annual High Point National next weekend. Sun will join several other past heroes of High Point, including Jeff Stanton and Broc Glover, for a ceremonial lap around the track. High Point was the site of Sun's first AMA National win. The Hall of Famer is now the National Off-Road Sales Specialist for Tucker-Rocky Distributing.
The Racer X Vet Series kicked off last weekend at Motosports Park in Byron, Illinois. Over 300 riders turned out for a superbly prepped track at one of the nation's oldest motocross tracks. Perennial winner Andy Stacy did it again, winning in both +35A and +40A.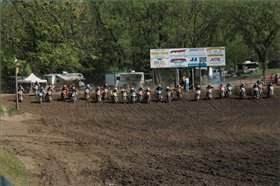 Charge of old school brigade at Byron, Illinois
photo courtesy of mxworksbike.com
The +50 class saw Ohio's
Denny Swartz
(# 54), known for being the last man to win an AMA National on a Maico, dominate with a 1-1 performance. Other notables in the +50 included Tuf Racing's
Dave Antolak
(#45) and
Racer X
's own
Scott Wallenberg
(#100), who stopped by his old stomping grounds and picked up a fourth-place in one of the motos.
Another highlight was a vintage bike display featuring three exotic works bikes from the www.mxworksbikes.com collection of former pro Terry Good and an outstanding 1981 490 Maico from moto announcer Pete Reitsch and a beautifully restored Monark and Penton from the collection of Rod Gorzny. Next stop for the Racer X Vet Series is June 10th at Millville, MN, for round two.
Just got the Alessi Weekly newsletter and it's good to see Danielle back in the picture. We were really worried for a while there.
What's cool is that Mike Alessi is back out at Hangtown doing amateur day, just as he and his dad and brother have always done.
And speaking of the Alessi boys, the Pourcel brothers over in France seem to have grabbed another gear—especially Christophe, who won the German MX2 Grand Prix last weekend. Someday, the Pourcel boys are going to meet up with the Alessis, and it's going to be one helluva interesting day at the races.
And here's an
article
about
Steve Lamson
and the impact that
Hangtown
has on the local Sacramento economy from the
Sacramento Business Journal
.
Check this out: "The 38th annual motocross competition east of Rancho Cordova draws about 27,000 spectators and about 1,000 riders. The May 18-21 competition is the longest-running, and one of the largest, outdoor national motocross events sanctioned by the American Motorcyclist Association. It's also big business. Hangtown pumps an estimated $4 million into the local economy, through sales of food, gas and ice, hotel stays, meals at restaurants and vendor sales. Hangtown is one of the five largest money-making events for Rancho Cordova's hotels and restaurants, said Curt Haven, the city's economic development director. The event also makes nearby Folsom's top 10 for generating business and the top five for attendance, said Mary Ann McAlea, vice president of the Folsom Tourism Bureau."
Okay, so who's got the 450 class covered at Hangtown this weekend? Vote here.
For a truly bothersome story, check out what happened to this rider.
If you're in the Morgantown area during High Point weekend, you'll definitely want to check this one out:
Okay, that's it, gotta get out to the amateur races and fool around with my video camera. If you can't make it to
Hangtown
in person, be sure to listen live online. See you at the races.