Thursday Rev-Up: Vicarious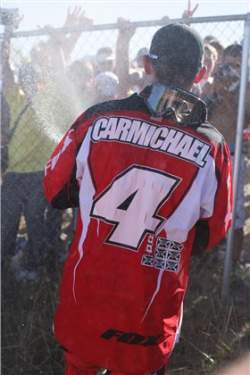 Carmichael hasn't done this in a while. He's due.
Hello, everyone, and welcome to the Rev-Up. The 2006 Toyota AMA Motocross Nationals will arrive in beautiful Sacramento, California, this weekend. And with it comes the pain. Turn out the lights—the party is over. Say goodbye to 50-second lap times, laser shows, and "Are you ready for supercross?" Say hello to disked-up terra firma, blisters, 30+2, braking bumps, and all those things that make motocross what it is.
Supercross has manifested itself into a beautiful (and profitable) marketing animal, and it has brought motocross into the homes of mainstream America, but it all started under the sun, not the lights. Outdoor motocross is the soul of our sport. It's what made us who we are. Motocrossers in general carry a noticeable machismo about them. We do not have this demeanor because our gear looks cool or we have a pickup with a shiny dirt bike in the back and an even shinier female in the front. We're bad because we know what it's like to hold the throttle wide open down a five-story cliff with our feet flapping off the pegs. We have eaten more dirt than we have escargot. Most of us have never been told, "You have such soft hands." We're motocrossers.
We're also unique because we have the ability to live vicariously through our heroes more so than any other sport. Not every basketball player knows what it's like to dunk; there are players in the major leagues who have never hit it out of the park. Heck, there have been quarterbacks who have had careers (mostly on the bench) in the NFL and never thrown a touchdown. While some of us have never hit a supercross triple, we have all ridden outdoor motocross. Most of you reading this have blasted through a loamy berm, charged down a bumpy hill, and pulled a holeshot. I think this makes us the best fans.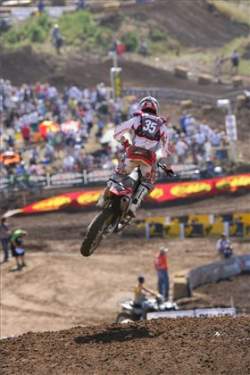 Will he holeshot again?
Well, race fans, it's time to take it outside. There is a score that needs to be settled. We've got two supercross champs now, so a question needs to be answered: Who is the baddest? Let's talk about the elements that lead us to that question in particular and get Revved Up for the madness that is coming our way at
Hangtown
!
250F Class
Now, I'm going to go out on a limb and predict that this class will have the most intense racing action. (Okay, turn off the sarcasm switch.) Seriously, though, on any given Sunday, there is going to be at least a dozen cats on the starting line who can win the moto. Not 12 guys who have a shot at pulling a holeshot or leading some laps - I'm talking about a dozen animals who have legitimate chances of hosing down the crowd with champagne late this Sunday afternoon!
Of course, there are the favorites. We have the old-school guys: Grant Langston, Mike Brown, and Nathan Ramsey. We have the new-school guys: Mike Alessi, Josh Grant, Tommy Hahn, and Ryan Villopoto. And then we have guys in the middle of it all, like Broc Hepler (who is a big question mark with his foot injury), incoming Grand Prix rider Andrew McFarlane (another question mark), and hit-or-miss dudes like Branden Jesseman, Chris Gosselaar, and Brett Metcalfe.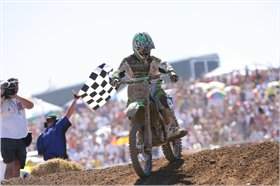 This cost Grant the title in 2005. Will his wrist do the same in 2006?
But getting down to brass tacks—and remember, this is not a popularity contest. I'm going to have to go with
Mike Alessi
as my favorite to get it done this weekend. Mike hasn't done much winning in 2006. As a matter of fact, the only thing he has won is an off-road event! Mike was 15 feet from winning the second moto in last year's
Hangtown
opener. With Langston's bad wing, I don't think Mikey Boy will have to worry about any torpedoes this time around. What will he have to worry about? Grant and Villopoto!
450 Class
Two weeks ago in Vegas, somebody asked Tyler Evans what he would be doing this summer and if he had plans for the outdoor nationals. The burly, tattooed talent replied, "You kidding me? I'm doing what most of us do in the summer: having surgery and healing up for next year's supercross series." Unfortunately, Ivan Tedesco will be joining One Punch under the knife and missing this year's outdoor national series. The supercross series rookie of the year and 2005 AMA 125 National MX Champion would have been a nice dog to have in the fight, and so would Chad Reed, but by the sounds of it, his heart isn't into outdoor motocross—which is maybe why he's never won a premier-class national in three years in the class.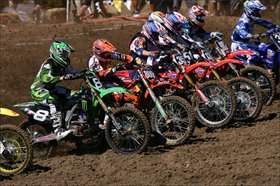 Langston, Alessi, and Grant. Could be the podium this weekend.
Davi Millsaps
is going to bring some much-needed star power to the division. I think "Duke" has a few tricks up his sleeve and will stand on the steps on several occasions. He'll have the weapon of choice with the omnipotent CRF450R, and if Davi shows up with stamina, he will be knocking on Reed's door—maybe even
Kevin Windham
's.
But who am I kidding? We all know what this class is about: Carmichael vs. Stewart, Chapter 4. It's beyond Thunderdome. Two men enter, one man leaves. It's just about to get ugly, folks.
I've been attending the Hangtown National for the past 10 years. And during this last decade of decadence, I have never seen anybody hold the throttle on the downhills on longer than Carmichael does. Nobody has been able to match Ricky's speed. Well, James Stewart will this weekend. James is going to be armed with a downright rude Kawasaki KX450F—its outdoor national debut—and an even nastier disposition. Ricky can play a better game of chess, but I don't think Stewart is in the mood for board games. James wants to punish Carmichael. He wants to do what he did in the Canadian supercross rounds. And I think he has a chance to do just that … for a couple rounds, at least. It's a loooong season in the outdoors. James failed to get it done in AMA supercross because he crashed too much and made mistakes. He cannot afford to make such mistakes this summer. For one thing, at the speeds he will be going, they may be severe.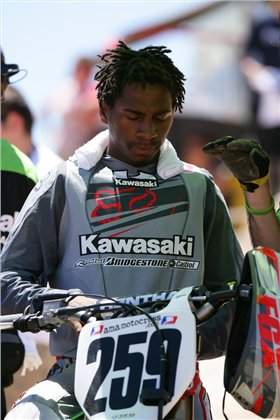 What a difference a year makes.
So what do you think? Do you think Carmichael is going to let "the kid" beat him? Do you think ol' # 4 has the speed to run with the seven? Listen up, folks: This is probably the GOAT's last full swing at a series. He is the undisputed, undefeated, heavyweight champion of the world—nine outdoor titles in nine years as a pro! Each time he has faced an adversary who challenged his speed, he has stepped it up. If somebody draws up to his side, he simply doesn't shut off. He simply doesn't let go of the damn throttle. Thus, we have a problem on our hands: James and Ricky are not going to shut off the gas till they see Elvis. This Sunday afternoon, both of these guys are going to be charging down the downhill bar to bar, fourth gear wide open, aiming for the same inside rut a the bottom. One is going to make it, and one is not.
So here we go, ladies and gentlemen! The great outdoors are upon us. If you cannot attend the Dirt Diggers facility, I urge you to go online and listen to the live Racer X Webcast at www.mxnationals.com, then watch it next week on OLN. One way or the other, you have to experience this. As motocross fans, it's our duty to live vicariously through the boys this weekend. They'll be railing the corners and blasting up the hills, all the while soaking in the sun. It's going to be beautiful. If you're not standing on the hillside, fire up your computer and close your eyes and go there. See you on the other side!
Thanks for reading the Rev-Up, see you next week.