Welcome to moto two of the Number Cruncher, brought to you by Shift MX. From the feedback we received from last week's debut, we are not alone in enjoying looking back at the history of motocross numbers. Racer X received such a large response and great feedback after crunching Lucky Number #7, so we decided to take a request for a number to crunch this time around:
"My favorite number is # 111, because when I went to my first race I didn't know I needed a number. So I used electrical tape and made 111. Later on the joke with my friends was that I was sooo fast they gave me 3 ones. Also I would get hurt whenever I rode with a different number. If I ever won a number 1 plate I don't know if I would run it, because of the superstition about getting hurt. Thanks. Hammer."
Okay, Hammer, here comes this week's installment of the Shift MX Number Cruncher, featuring your #111.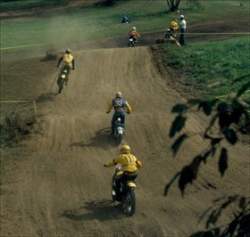 That's Roger DeCoster, wearing the #111 on his works Suzuki RH360
photo: Dick Miller archives
The number 111 is very rich in history. Typically reserved by the AMA for visiting Grand Prix stars, some of who were world champions at the time of their arrival in America, #111 has been with us since way back when "The Man" himself, Roger DeCoster, rode in the mid-1970s' glory days of the Trans-AMA Series. DeCoster had an assortment of numbers during his autumn tours of the states, including #17, #6, #69 and #104, but the #111 really took hold for the five-time 500cc World MX Champion.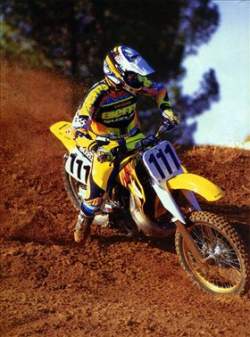 Greg Albertyn landed in America with the a #111 on his plate for each of his three world titles
photo: Chris Hultner
Later on, when Greg Albertyn made his full-time American debut in 1995, he wanted to run the #111 for the whole season, saying that it stood for his three world championships. Most of you readers may recall this time in recent motocross history, but I would gamble that only a few of you remember the name of another rider who showed up three years before Albee did – with the same number, same bike brand, and same riding gear. He was the son of a legand named Harry…. Ok, times up. It was none other than Stefan Everts. So now that you have a taste, here are some of the biggest moments in motocross history for the number 111.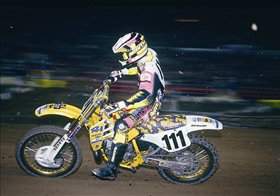 That's Stefan Everts, not Albertyn, on his five-race tour of the '92 AMA Supercross Series
photo: Courtesy of Moto Verte
Before that, the great Jean-Michel Bayle wore the prized digit when he showed up at a few selected AMA Supercross and outdoor national events in 1989. JMB was still on the Grand Prix circuit at the time, but he let the world know that he was all about moving to America by running U.S. flags on his helmet and riding gear. Bayle remains one of the biggest enigmas in motocross history, but his speed and natural talent have never been a question mark. He won the first AMA National he ever entered (Gatorback '89 in the 250 class) as well as the Unadilla 500 National at the end of the season, wearing #111 in both.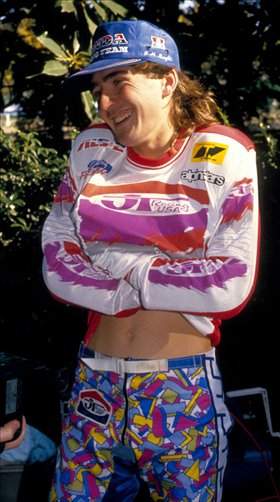 Jean-Michel Bayle was first brought to America by DeCoster, the man who first made #111 look cool
photo: DC
It would only take two seasons for Bayle to get up to speed, and he won all three titles that year while wearing #8. One season later, and before America could pick their jaws back off the floor he was gone. Coincidentally, it was during that same '91 "Year of the Frenchman" that an American named Trampas Parker was about to win his second world title, this time in the 250 class over in Europe. But Parker came back to the states for one national—Red Bud—and wore the #111 on his HRC Honda in the 250 National there.
Two years later, in 1993, the AMA decided to allow Glen Helen to try something new at it's first-ever national: a supercross-style qualifying format with one main event for each class. And on the starting gate for the 250 class was #111 again, only this time it was being worn by Tuf Racing-backed Suzuki rider Mike Healey, who had just returned to the AMA circuit from the GP scene. Healey didn't do so hot, and neither did the one-moto format. Coincidentally, the name of the co-promoter of the event was Roger DeCoster—he always seems to be around when #111 is at play!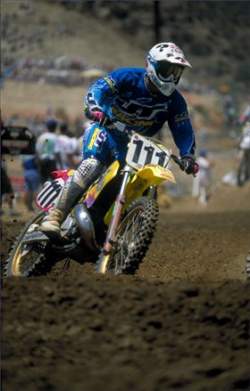 That's Mike Healey running the three ones at Glen Helen '93
photo: Courtesy of Racer X archives
For a few years after Greg Albertyn gave up the digit and dropped down to #16 and then #8, before ultimately earning #1, the #111 was worn by AX star and longtime Michigan hero Todd DeHoop. But when Grant Langston came to America in 2001 as the reigning 125cc World MX Champion, he was being very highly touted, and KTM had great expectations on the South African. But the year would end up being one of quick success and monumental failure: Grant lost his chance at his first supercross victory at Houston when he did a last lap one hander, failed to get his hand back on the bars and went down hard, but then he won the next round in Dallas! Later on, he would win the first two rounds of the 125 National series, but then lose the title in the last round when he suffered a broken wheel and lost the championship to Mike Brown. But he kept the digit through 2003, where he finally added the 125 AMA National title that got away on the #111 KTM.
The #111 has been affixed to more than just motocrossers. For instance, Juha Salminen may come from a different world of racing, but his riding skills and current domination of the GNCC Series have given some recent glory back to the #111. As defending series champion, Juha has won six consecutive GNCC races to start this season and 15 out of 19 races since he arrived here less than two years ago. The Flying Finn, who makes his way through the trees faster than anyone on the planet right now, made a recent trip to Glen Helen to test some KTM parts and get a taste of some moto. But don't worry, he's staying in the woods.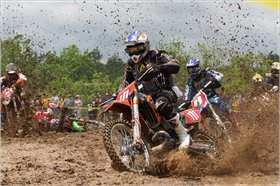 Juha Salminen is going to need even more ones for that KTM!
photo: Jason Hooper
Currently, the #111 resides on the front of Jay Marmont's KTM SX250F. Jay hails from Australia and is trying to find his way on the U.S. circuit. Unlike most before him, though, Marmont hasn't seen much luck out of the triple one, but he is banking on the 2006 Toyota AMA Motocross Nationals to be a breakthrough year and put himself, and maybe the old 111 back on the map.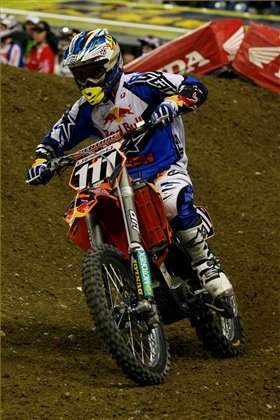 Jay Marmont hopes to get #111 back up on the podium
photo: Matt Ware
Those are some of the highlights for #111 (and yes, we are aware that TFS wears #1111, but that's another number—and XXL jersey—for another time). So which number do you want broken down next in the Shift MX Number Cruncher? Just drop me a line at: Letters@racerxill.com
Thanks for reading, see you next week!