Between the Motos: Brant Russell
Brant Russell has come a long way from Indian Dunes. The California native, who grew up around motor sports, is the vice president of sales and marketing for Yoshimura, which has made huge strides in the motocross world over the past few years—they now provide Team Honda's factory exhaust systems, as well as those for the WBR Suzuki team. Russell is a well-rounded race enthusiast, as I found out when we flagged him down long enough for this week's Suzuki Between the Motos.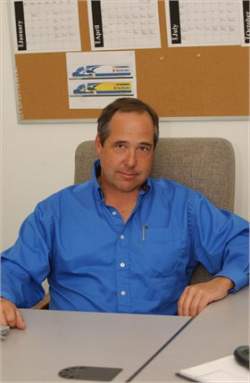 Brant Russell at his desk
photo Courtesy of Brant Russell

Racer X: Brant, what was your entry into the motorsports industry?
Brant Russell: Well, my father owned race-car teams in the 1960s. He ran a lot of the Porsche factory sports car racing teams and we raced the USRC and on to Can Am racing, so on and so forth. And all through that time, my brother and I were racing motorcycles and riding and all of that stuff. And then, in the late '70s, my brother and I started racing a lot again, mostly at Saddleback and Indian Dunes and all of those Southern California tracks. And neither one of us were ever any good at racing, but we were good at crashing and getting hurt! So after a while we stopped doing that. And we really liked the industry, so both of us kind of stayed in it as time has gone by. But back in 1979, I started a company called HPS, and we sold all kinds of plastic disc guards and brake guards. We actually created the Brake Snake and a bunch of stupid impulse sales items. I sold that company in '84 to Gary Richter, of Richter privateer fame. His father actually invented the Krager wheel thing and all that. But anyways, I was the marketing director over at Richter Privateer for a bunch of years. I then went off and worked in Hollywood driving cars and stuff like that. I then came back in with Noleen Racing and worked with Clark Jones and Larry Ward for a lot of years. Anyways, I'm still at it.

Hold on, back up a second.… What does one do when he drives cars in Hollywood?
Well, I worked for Jim Kirby Film Services, and we were a precision driving group. There are all kinds of different categories. So we would be the guys that would drive around and spell out words out in the desert or do driving where you don't hit things, which would be a stunt driver. Basically we would get yelled at a lot – we were good at doing that. And we would be the guys that go in and wipe down cars with lead shots, make the speedometer do crazy things, drop trucks out of helicopters and have them drive up hills with another truck on their back.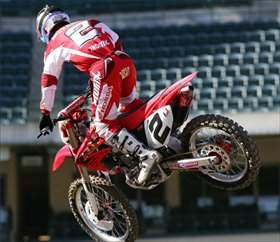 Jeremy McGrath is using Yoshimura pipes this year as a Honda factory rider
photo: Simon Cudby

I'm glad you got out of there before you had to get involved with like the movie Supercross.
[Laughs] Yeah, I recently saw that. It was an interesting film.

Ryan Clark says in his new column of the movie, "That's two hours we'll never get back."
Yeah, it was a little sketchy.

So as far as Yoshimura goes, how difficult has the transition been? First of all, it's a very broad company with the road racing and the sport bike stuff and everything, but how difficult was it to go like everyone else has had to in the industry from two-stroke to four-stroke?
Well, for us it was easy because we never done two-stroke! We have 50 years of history with four-strokes and never have gotten into two-strokes at all. For us, it was kind of an accident – a serendipitous bliss, I guess, where we were just poking along doing our road race stuff, and all of a sudden the whole world started heading off into the four-stroke thing. It started off when Yamaha was developing years ago. We were doing pipes and some initial developmental work and a bunch of different people and projects. People started coming to us, and being the brilliant business people we are, we said, "Hey, we can do this." So we started doing it.

You said it was serendipitous, but what a huge sea-change for the industry. Since it happened and you embraced it, what are some of the things that you noticed first off that were different between motocross and supercross and sport bike and drag bike racing?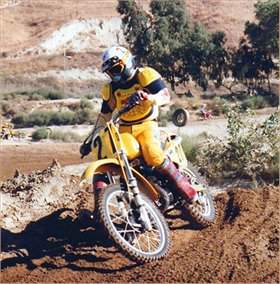 That's Brant, old-school at Indian Dunes (and gotta love those Scott boots)
photo courtesy of Brant Russell
A whole lot of things, actually. Obviously, number one would be going from multiple cylinders to a single cylinder. There are a lot of issues there as far as gulping a huge, giant charge of air in the valves and all that. In supercross, you have a lot of issues as far as preventing bogs, which as we all know can be rather painful if it happens at the same time. And motocross, a lot of two-stroke guys were all of a sudden racing four-strokes. Take Larry Ward, for example: We were building a bunch of motors for him when he was at Moto XXX. Larry is a great guy and a fantastic rider, but he has a supercross habit of holding the thing wide open in the air and landing with a full throttle to get a little bit of extra "umph" going into the corners. And with the four-strokes, especially those early ones, he'd land and scatter the transmissions and valves. It was just a mess. But I also remember his first race at
Glen Helen
on the 250F Yamaha: It was like a kid on a mini-bike. Big old Larry Ward, 6' 3" or so, literally going wide open around the track and never letting off – miraculously, he survived the race without blowing the thing up, but man, he blew up so many of those bikes.
Was Mike Brandes riding one of your bikes there one year, too?
Yes, Brandes was riding them.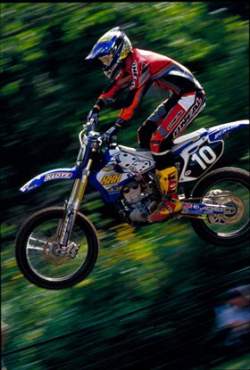 Yoshimura's first AMA National Motocross win came at Red Bud '01 with Moto XXXer Larry Ward
photo: Simon Cudby

Another really tall guy who got like fourth [in 2001] if I'm remembering correctly.
Yeah, I'm not sure if he was on one of our bikes or not. He rode for us, and then he went over and Mike Young was building him some stuff. I can't remember if he got that good result on our stuff or not, but he's a great rider.

Being around the industry, even though you guys weren't doing a lot at first, in your wildest dreams, did you ever imagine that you'd start out in 2006 with Jeremy McGrath riding your stuff?
Actually, no. But it's funny, because I was Jeremy's first agent years and years ago. I was the guy who put Tide detergent on him when he was riding Kawasakis.
Wow, that was pre-Jeff Surwall!
Yeah, it was way before that. You know, it's just amazing. If you been in this business for a long time, it's neat how you see these guys that come out of nowhere. I think my big claim to fame with Jeremy was when he and Jack came over to our offices, we were representing a bunch of Indy Car teams, F1 teams, and stock car guys – we were doing some motorsports management back then—and when he came to us, I gave him the incredibly brilliant advice to quit racing motorcycles and go race cars because there is more money in it! Fortunately, he didn't listen to me. He, Jack, and Anne and Tracey—they're all fantastic people and it's just so neat to see what he's done in the sport. To actually have a pipe on a bike that he's riding is always just incredible.
I can remember the first time I had a conversation with Jeremy. I was pounding in stakes at High Point in 1990 and he came walking up over a hill with Gary Semics, who was coaching him, and he saw I was overwhelmed with sticks – so he grabbed the pile of stakes and helped me out. But I can honestly say now, 17 years later, he's the same guy.
Oh yeah, isn't it true? I mean, I've known so many of these guys from way back in the early '70s, but Jeremy is one of those guys where he has never changed a bit. He's the nicest guy in the world. I think if you look at Jack and Anne and everybody, they're all real nice people, and I think they grounded Jeremy well.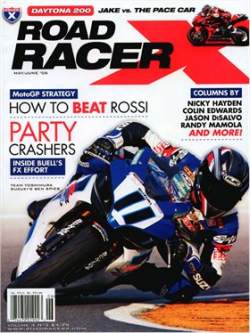 Ben Spies, one of Yoshimura's top sportbike races, graces page one of the latest Road Racer X

Speaking of Jeremy and your affiliation with him, I think we kind of owe you either an apology or an explanation. Jeremy's want to help out has led him into the fight with the Riverside County board of supervisors, and he worked with Chris Jonnum and Racer X on a story about it in the June '06 issue. And when we illustrated it, we ran photos of Jeremy racing this year, not thinking that some people might be misled. Believe me, the idea there wasn't to say Jeremy has loud pipes; it was to say here's Jeremy fighting to keep our land. I hope that no one there got the impression that we were throwing you guys under the thumper bus.
Well, no. Some people got a little excited about it, but then everything is just fine.
Isn't that really just the biggest issue now for the whole industry, as far as this four-stroke phenomenon goes—staying ahead of the performance curve while also keeping them quiet enough to be able to ride in Riverside County, let alone anywhere else?
Yeah, absolutely. It's a real problem, as well. I know a lot of people in the industry say that's its just a political issue and it's a manufactured issue, but I don't think so. I live up in the mountains above L.A., and on Sunday's evenings, the local kids will be buzzing around all up and down my streets because it's rural, and if you have a couple guys on big 450s out there, and with a 101 db pipe, it's obnoxious. So we're going to end up with no area to ride if it keeps going like that. Fortunately, I think the AMA has shown a lot of leadership with the rules that we have going on where we're incrementally sneaking down on the sound level. I think that's a good thing for a lot of reasons. Had they just come out a couple years ago and said that everyone got to come out with a 90-decibel pipe or something, people like Pro Circuit, FMF, and us, we could do that, but it would kill a lot of the smaller pipe guys and it would hurt a lot of people in general. As it is now, supercross this year have been a lot quieter, and next year it's going to drop down again. So I think we're definitely headed in the right direction, for sure.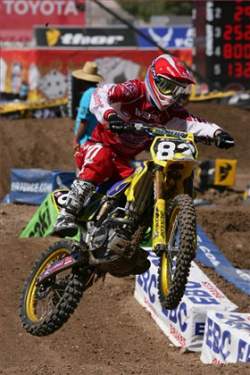 Team WBR's Ryan Morais carded a fifth in Las Vegas
photo: Simon Cudby

Well, I spotted a story yesterday. People think this is a California issue, but if you're a NASCAR driver in North Carolina—which is like being a hockey player in Canada—you name your ticket. But Joe Nemechek is in a pitched battle with his neighbors, who don't care who he is because he's got a track in his backyard that they find too loud. Talk about strange bedfellows, you have McGrath on one coast and Joe Nemechek on the other. They've probably never met each other, but they're dealing with the exact same thing—noise.
Absolutely, and we all have to react to it. All of the more responsible types—and hopefully we're included in that—we're going to do everything we can do ride fairly quiet bikes and keep things on the trails and do the "good neighbor" kind of stuff. But there are always a few people who are going to screw things up for everyone else. With the AMA rules where they're incrementally dropping the noise limits, if the playing field is equal for every manufacturer, we're going to make pipes to that specification so you're not going to be able to purchase louder pipes. The only way the whole problem is going to go away is the AMA keeping these rules in place for quieter systems, and they're doing that. So I think we're on the road to having the problem become a non-issue, soon.
So, for anyone reading this, what advice would you give someone who wants to get into the motocross industry, or the motorcycle industry in general?
Well, it's easy. There are so many avenues and ways to get into it. It's just unlimited. Once you're in it, the only advice is to keep it as pure as possible. Years ago, Jody Weisel told me the three secrets of motorcycle aftermarket was product, product, and product. I think that was good advice. Every company in our field that is successful, it's the companies that are core racing companies that have a very clear focus of what they're doing and who really concentrate on racing and don't worry about the business end of things. So you need to keep the focus very core, very pure.
And always remember why you got involved in the first place.
Oh, yeah! Here at Yoshimura, there are probably only two people who have ever been to college, but it's all racers and ex-racers. The vision here is absolutely pure. I mean, if it has to do with racing, we'll do it. If it doesn't, we won't.
Can you name some of the other riders on the dirt and on the tarmac who you're working with this year?
We're the sponsor of the factory Honda team, and WBR Suzuki with Ryan Sipes,
Ryan Morais
and Mike LaPaglia. I think they're adding some new people as we speak. There are numerous privateers – I think we're up to 180 different people who we're sponsoring. We sponsor the Suzuki ATV team of Doug Gust and Jeremiah Jones. We sponsor
Travis Pastrana
and Kevin Schwantz in Supermoto, and in road racing we have some good Australian racers, including Mat Mladin and Ben Spies, who may be the future when Mat slows down. We also have Aaron Yates, and we sponsor the Jordan Suzuki team.

Does Michael Jordan ever call and say, "I need more horsepower! I need more ups!"?
[
Laughs
] No, he doesn't, but I'm sure he's always looking for that. That guy is a phenomenally successful and dynamic person. He runs a very good organization, and he's very serious about it. And for motorcycling in general, having people like that associated with our sport is phenomenal.


Well, keep it pure, Brant, and thank you.
No problem. Thanks a lot, Davey.