Between the Motos: Rick Humphreys
You may have never heard of Rick Humphreys, but let me tell you, the man is close friends with the biggest stars of American motocross. Supercross champs, national champs, Team USA stars, Grand Prix heroes—they all know Rick…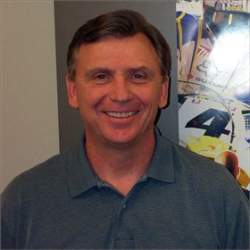 Toyota's Rick Humphreys

photo: Courtesy of Humphreys

Of course I am talking about stars like Marty Smith, "Bad" Brad Lackey, Kent Howerton and more of the old school moto gods. That's because Rick promotes vintage motocross racing and often works with these gentlemen; he's also an accomplished racer himself.
As for the Ricky Carmichaels and James Stewarts and Chad Reeds of the modern MX world, Rick is probably going to be working with them soon too. When he's not doing moto himself, he is the Truck/SUV Marketing Manager for Gulf States Toyota, and Toyota has joined motocross in a big way in 2006. The 2006 Toyota AMA Motocross Nationals begin next weekend, and will see the continuation of the battle that shook supercross to its core this spring.
It was at the Dallas SX that I caught up with Humphries, who was watching the action with fellow fans and Toyota marketers Scott Lalonde and Gina D'Ambrosio, and started doing a little bench-racing between heat races.
Racer X: Rick, how are things going with Toyota?
Rick Humphreys: It's a great time to be involved with Toyota. Everyone wants to be involved with a winning team, and right now Toyota is a winning team and they have a lot of great new products.
How's your own racing going? I saw some of your skills recently on www.evovintage.com.
Excellent. I didn't do the Pro-Am this year – it just got to be so much work and I did it all myself. You're laying a lot of money out there and you haven't had a lot of spectators. Bu the pros have been great. You fly them in, you pay for their hotels, give them start money, and you do all that. The big problem was finding them good machines, and it's hard to find a good vintage machine. So I'm thinking about a different way to do it and I may do it again.
But the racing is great. I've been promoting for 13 years and it's more of vet club than a vintage club, but we still do a lot of vintage and it's really getting big. A lot of the Vet guys are just trying to find something other than the 27-moto format and being there from 6 a.m. – 6 p.m. And it's got a good name in Texas and it's been great.
Tell us about your weekday work with Toyota.
Well, I work for the factory – I'm the Truck Marketing Manager for the region. I started in the banking business and I got recruited out of the banking business to go into the car business. So I worked regional for a couple years and if you do a good enough job the factory notices you and tried to hire you to try and do for the factory what you do for the dealership. So I started working for the factory in 1983 and I've been with them ever since.
The last few years Toyota has radically changed the market. They're getting ready to go into NASCAR, the Moving Forward program with motocross and supercross – how much fun has it been to be part of that transformation?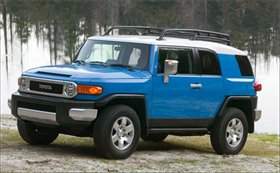 Toyota's new FJ Cruiser
photo: Courtesy of Toyota
It's been a great ride. And for the longest time we wished that they would have been more aggressive. But their method and process is really starting to come to fruition. It's been such a great ride, because I remember 1980 in the retail business that some of their product was pretty questionable. But over the years it has been such a great ride. And just one thing that they've done recently is the FJ Cruiser. Toyota has been very conservative with their style and design, but their quality, dependability and reliability has always been there. The FJ Cruiser is really a departure because of the retro idea that came back from that FJ 40. And that really gets us excited. We thing the Tundra is an awesome vehicle; we thought the T100 was a great vehicle. But now we look at the new Tundra that's going to come out in February, built in San Antonio – it's going to do to the full-size truck business what the four-stroke has done to motocross and supercross. It's going to crush the half-ton business.
Finally we're going to see a change, and it really comes from the American engineers having more say in what's being built. The American engineers designed the FJ 40; they designed this double-cab and they're building the next bigger Tundra. So the American engineers are having more say because we're becoming the market for Japan worldwide. So, it's great to be on a winning team.
As far as the company, are you starting to see a return on investment in this new generation?
Well, five or six years ago they started to focus on the next generation. I was involved in the Scion launch, and they were already geared up, recognizing that Gen Y was going to be coming through the pipeline. Sixty-seven million kids are going to be coming of driver's age and they're going to be getting driver's licenses. We determined that the kids look at a Toyota of what you did with a Buick. "Hey, I'm not going to buy a Buick – that's what my mom drives." And they thought the same about Toyota, so we needed to do something to capture the youth market. Adrenaline sports is one way. We're sponsoring Nate Adams, NASCAR, the Craftsman Truck deal, motocross. So, it started five or six years ago, but now we have a new Vice-President of Marketing, and his name is Jim Farley. He brings a whole lot of youth and a whole lot of risk. He's really willing to take some risk and he's willing to listen to the 20-year-olds to find out what they like. I think Scion really set the mark for us to realize that there is a different way we have to sell vehicles and there is a different way we have to interact with our consumer and we have to just change the paradigm and the way we've been doing business. You and I go into a dealership, negotiate, do the back and forth. The Y Generation doesn't want to do that. They build it on the internet, print it up and go to the dealer. That's what they want and that's what we're giving them.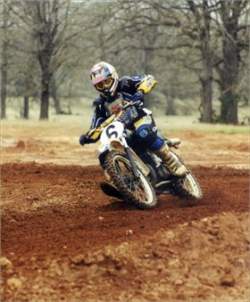 Rick loves his Husqvarna

photo: Courtesy of Humphreys

How much music was it to your ears as a life-long motocross enthusiast when you found out this push was coming and it would be involved with motocross, supercross and Loretta Lynn's?
For me, I was around in the '70s when they were involved, but in the early '90s they got involved for three years and I was around then. I was a district manager, so I got to do the interviews and all that sort of thing. But with their involvement now, I'm the Truck Marketing Manager and it's a truck program, and I can't explain how much fun it is to be involved with Toyota and have them involved in adrenaline sport and have me be the guy they go to and be the guy who represents Toyota in this region for all of these sports. I do all of the Bass fishing, the Bass Pro Shops, the gold, the hunting – I'm involved with all of that. But this, this is way too much fun. Being a rider and being a promoter, it's the buzz of a lifetime.
Last question: What is your favorite all-time motocross bike?
Well, I've been a Husky guy all my life and I still have a couple in my garage that I'll take out and race when Kent [Howerton] comes around. But it's a Husky – that's just the way it is!