Monday Conversation: James Stewart
Kawasaki's James Stewart was one half of the happy ending to one of the greatest supercross seasons ever. He shared the limelight with Ricky Carmichael by taking he Amp'd Mobile World Supercross GP title, so both of them got #1 jerseys and big trophies.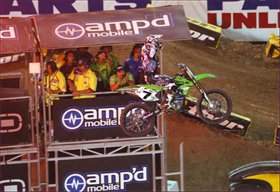 With the world watching on live TV, Stewart crosses the finish line to take his first title in the 450 class, the World Supercross GP Championship

The Las Vegas finals in 2006 were a story no one would have dreamed of a year ago: There was a three-way battle for the AMA title, the racing was live on Speed TV, Amp'd Mobile phones, XM Radio, and the internet. Carmichael's legendary career is reaching its end just as Stewart's is starting to peak, and it all came down to 20 laps. When it was over, Stewart was the winner in Vegas, taking the World SXGP title and edging out Reed for second in AMA points. Stewart and Carmichael stopped after the finish in the main and hugged each other, then turned to the crowd and bowed together. The coolness just seemed to never stop. We caught up with Stewart at the AMA banquet on Sunday night for this season-ending Alpinestars Monday Conversation.

Racer X: James, what an exciting season!
James Stewart: Yeah, for me, the season has been awesome. I achieved what I wanted, to come in healthy and stay strong the whole season, and I came out with a title. I always wanted to get at least one of these. Racing with Ricky and everybody has been an honor. I'm just happy.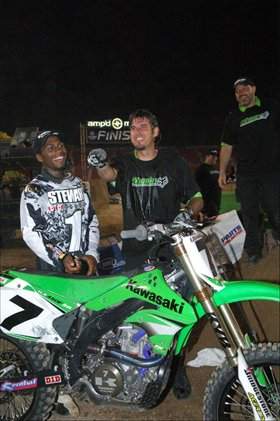 Stewart soaked his mechanic, J-Bone, after the podium ceremony. Team manager Mike Fisher managed to stay out of it.

The way the last main event played out, you had the lead right away, so did you pause to watch behind you and keep an eye on Ricky and Chad?
No, it was out of my control. My only hope was one of those guys going down. I'm not one of those types of guys that would just got out there and clean somebody out and try to win the title. I wanted to fight fair. I got the holeshot and did my own deal and came out with a victory.

You mentioned Friday in the press conference that this World Supercross GP meant the most so far because the top three of you all raced it. Do you think it's going to become more significant in the future?
I have to consider it so. The top five in the AMA series are the top five in the world. I feel like they're both equal. It was just two extra races - they should just combine them all together. I'm happy. If anyone is going to try and take that away from me ... I busted my ass all year. I raced against everybody, so there's no reason I shouldn't be happy for it.

Do you think this year for you parallels Ricky's 2001 a little bit? That was the year he learned to hang it out in the 250 class and stay on the bike most of the time.
Yeah [laughs]. I think so, for sure. For me to be able to do it a little quicker, I think it took him three years to be able to do that, and to race him in two years and beat him at some races is awesome. I felt like I had the speed all year and just made a few mistakes that cost me a little bit, but like I said, I'm happy with everything I've done this year.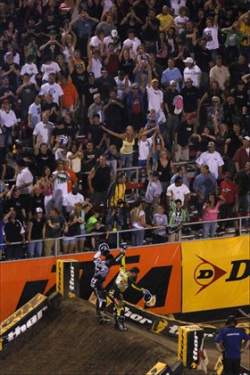 Stewart takes a bow with the GOAT

Are you disappointed that Ricky is going to do partial seasons after this year and you and he won't get to throw down for 16 races? Or 17?
No, I'm glad he's gone, actually [laughs]! No. No, to me, I told Ricky as soon as I got off the bike and we hugged each other, I just wanted to tell him that, "You are the most fun person I have ever raced with in my life." I have great respect for him, and it was an honor to race him. He said the same thing about me. He might stick around and race - you never know. If he does good in the first few races, we may have another series battle. It should be fun.

This thing when the two of you took a bow together, did you have that planned or what?
We didn't have it planned. I don't know if he could have guaranteed he was going to win the championship, or me. Vegas hasn't been my best place. We did it, and it just felt like it was the right time to do it. We gave the fans a bow. That might be the last time you see us out there riding as hard as we can.

Are you going to make the outdoors as close as supercross was?
That's my plan. You know, last year, things weren't going my way. I feel like I'm healthy right now, and it should be good. We'll find out at Sacramento. It's definitely not going to be a runaway. I want this season to go down just like supercross did, to the last race, and may the best man win.

Enjoy the banquet and that world championship.
Thanks, I will!