Bench Racing Ammo: Viva Las Vegas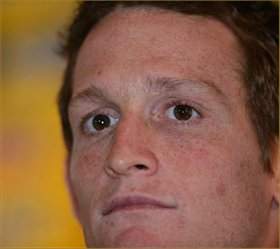 Makita Suzuki's Ricky Carmichael is looking for AMA Supercross Championship number five
photo: Simon Cudby
While sitting in the airport early Sunday morning on our way home from the Seattle Supercross, we happened upon AMA Race Director Jay Mitrowitz. And after a brief discussion with Jay, it's now official: The series cannot get any closer than it is right now!
After all, it's all tied up. But no matter how many times we say it, it's still hard to comprehend. The 2006 Amp'd Mobile AMA Supercross Championship is tied with one round left! Tied! Zero points separate the top two riders! It just doesn't get any better than this, does it? Okay, it does!
James Stewart
is just five points back, so he's waiting for the pressure, or the desperate times, to force RC and CR into an error. So in reality, we're looking at three title contenders this Saturday night.
The race is on SPEED live (LIVE!) Saturday night, so if you cannot attend the race, you can still witness it as it happens. Expect this weekend to be a watershed moment for the sport – live TV hits at the same time as the greatest title showdown in history.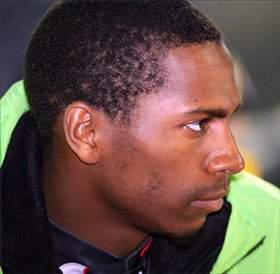 Team Kawasaki's James Stewart is looking for his first AMA Supercross Championship
photo: Simon Cudby
So first, let's look at what has to happen for things to, um, happen this weekend. With Reed and Carmichael tied for points and five in front of Stewart, Stewart basically needs to win the race to help his odds. No doubt Carmichael and Reed are prepared for that and realistically expect their battle to be one for second place. It has to be. If Stewart wins and either Carmichael or Reed finishes second, then the rider who gets second edges Stewart by two points to win the title. What's even crazier is, whoever finishes third will drop from a tie for first into third in the final standings!
For example - and we're just using this hypothetically because we have no idea how this weekend will work out - if the race ends like this ...
1. Stewart
2. Carmichael
3. Reed
... then the points end like this:
1. Carmichael 338
2. Stewart 336
3. Reed 336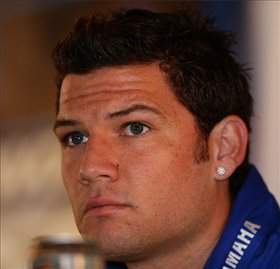 Team Yamaha's Chad Reed is gunning for his second AMA Supercross Championship
photo: Simon Cudby
Stewart has seven wins, so he will win a tiebreaker. Carmichael has six wins, and obviously, if he wins his seventh on Saturday, he would also leave as the points leader. But if Carmichael or Reed falters even a bit and neither finishes second, and Stewart wins the race, then Stewart will win the title.
Stewart was asked in the press conference what needs to happen for someone else to finish second, and he said, "Burner has to step it up huge!" referencing his Kawasaki teammate
Michael Byrne
, who has one podium this year.
For real, though, if that were to happen, it would end like this ...
1. Stewart
2. Byrne
3. Carmichael
...and the points would look like this:
1. Stewart 338
2. Carmichael 338
Stewart would win the title because he would have eight wins to Carmichael's six.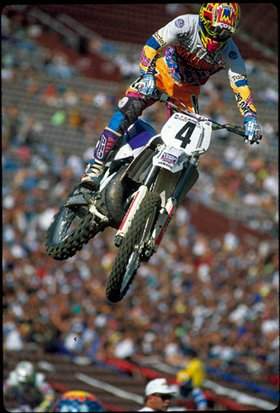 Damon Bradshaw lost a heartbreaker to Jeff Stanton in '92
photo: Racer X Archives
Of course, this gets even crazier if all three have problems. Then the calculators are going to be burning up as Carmichael and Reed battle to beat each other while trying to preserve that five-point lead over Stewart.
We can't wait!
It's hard to imagine it all coming down to so few points, but now that it has, you can think of a myriad of situations where the players all scratched out a few extra positions to stay in the hunt. Reed's fifth in the mud in San Fran sticks out, but don't forget his gritty ride in Orlando. After busting his shoulder before Daytona and then riding on it, he was in even worse shape in O-Town and dropped back to nearly 10th at one point. But he dug deep late to pass guys like Windham, Byrne, and Preston to finish fifth.
Carmichael looked down for the count two weeks ago in Dallas, but he managed to pass Preston and Windham late in the race to score two more points. And Stewart's hard crash in Daytona could have resulted in a DNF, but he stayed out there and dug out a sixth.
And by the way, the Amp'd Mobile World Supercross GP Championship is on the line here, too, and Stewart holds a 12-point lead there. So we're looking at the strong possibility of two different champions crowned on Saturday night.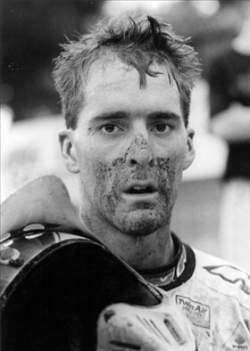 Jeff Stanton was on the winning end of a couple close championship battles
photo: Racer X Archives
But wait! There's more! Now that we have that out of the way, let's look at the historical implications that the series has right now. First of all, the AMA series has never been tied going into the final round, which makes this final race one for the ages. And the World SXGP has never gone down to the final round. Who would've thought six months ago that it would all come down to one final race?
Let's look back throughout the years to see if the series has even been anywhere near this close.
In 2004,
Kevin Windham
won Vegas to finish just nine points behind Reed on the season. But Windham was aided by a now-infamous 25-point penalty against Reed for illegal fuel.
In 2003, when Reed rallied to win the final six races of the season, Carmichael was able to hold on and win by seven points. But RC knew where he needed to finish down the stretch, and the title was never in much doubt.
In 1997, Team Kawasaki's Jeff Emig came into Vegas with a 13-point lead over the King of Supercross, Jeremy McGrath. Emig finished fifth while McGrath, fighting a foot injury, finished seventh. Emig beat MC by 15 points.
In 1992, we witnessed one of the most dramatic chases ever: Team Honda's Jeff Stanton toppled Yamaha's Damon Bradshaw in one of the grandest finales to a season. Bradshaw entered the race with a six-point lead and merely needed a podium finish to win the title. But Bradshaw locked up under pressure and Stanton stepped up to win the race, emerging as the champion by three points. That's about as good as it gets, but there were few people who didn't expect Bradshaw to win that day. Most of the excitement came after the race.
David Bailey edged out Mark Barnett by two points to win the AMA Supercross Championship in 1983
1990: Stanton edged French import Jean-Michel Bayle by seven points to take his second consecutive 250cc SX championship. Stanton grabbed the holeshot and cruised to sixth in the L.A. finale with the points lead firmly in his grasp.
1985: Kawasaki's Jeff Ward edged Broc Glover by two points for his first 250cc SX championship. This was a wild one, as Ward crashed in the main, got up, and started riding backward! He managed to right himself and beat Glover by just two points – which might be the margin this year, too. And Ron Lechien was just six points back! If any season can match this year, you have to go back 20 years to find it.
1983: David Bailey beat Mark Barnett by two points for his first and only 250cc SX championship. Barnett got off to a terrible start in the final and it seemed like Bailey had it all locked up, until Barnett turned on the afterburners and nearly rallied to win the title.
There have been some good ones – but we may end up looking at Saturday night's as the best finale ever. Enjoy it!