Where Are They Now: Mike Healey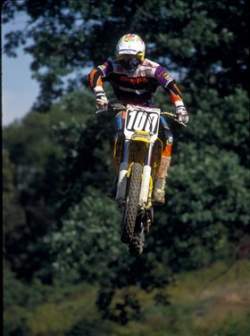 Mike Healey at the 1992 Steel City National
photo: Jim Talkington
The inaugural year of the AMA 125cc Supercross Series was 1985. When all was said and done in the division, it was young minicycle standout Bob Moore defeating his Team Suzuki teammate, another former 80cc superstar named Mike Healey, by 15 points. While Moore would head off to Europe the very next year to ride the 125cc Grand Prix Series (placing fifth as a rookie), it would take Healey, who was putting in time in the U.S. with Suzuki and then an off-song Cagiva, another two years to meet up with Moore in the Old World. With his wild hair and Guns 'n' Roses friends, Healey (nicknamed "Gunner" by the Euro press) would immediately start having an impact on the world tour.
In 1989, Healey and Moore teamed up on KTMs, along with a third, almost completely unknown American named Trampas Chad Parker. By season's end, Parker was the first American 125cc World Champion, while Healey placed third and Moore fourth. In 1990, Healey placed fifth in the same series - Donny Schmit won it this time - but Healey was getting bigger.
Still with KTM for 1991, Healey was dispatched to the 250cc class. With his long long hair and and earrings, he was quite the sight to behold in Europe. Nonetheless, he was on the gas, so much so that Healey lost the World Championship by a heartbreaking four points, once again to fellow American Parker.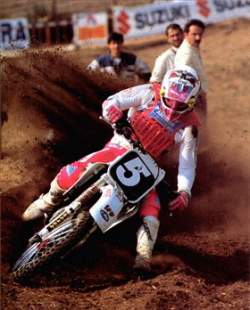 Healey teamed up with Trampas Parker and Bob Moore on KTMs in 1989
photo courtesy of World Cross
In '92, Healey was hired on to tail-gun for Stefan Everts on the mighty Bieffe Suzuki factory team. It turned out to be a failed experiment: Crashes and broken equipment (not to mention riding in Everts' imposing shadow) put and end to this stray cat's GP career. He did have one last flash of brilliance that season, though, winning the second moto of the
Steel City
National aboard a beater RM125 practice bike (which we told you about last week in our
Great Races
feature).
In 1993, Healey placed fifth in the curtain-closing 500cc National Championship. He haunted the pro ranks for a few more years before settling in in his hometown of Costa Mesa, California. Today, the friendly rider teaches motocross schools and keeps an eye on other minicycle prodigies (and he's also become one heck of a golfer). Although he never won a major championship, the flamboyant Healey had a memorable career and was beloved by fans all over the world. For more, check out
www.mikehealeymx.com
.