Between the Motos: Chris Durham
PR2 started as a hobby for two friends who both had a strong background in mechanical engineering and a deep passion for motorcycling. Chris Durham and Jeff Peinhardt formed PR2 racing in 1999 and it has since grown to be a major force in amateur motocross. Their primary focus is engine and suspension modifications, and you can see most of the top amateurs in the country using and endorsing their products and services. We caught up with Durham, head of the suspension division, for today's installment of Suzuki's Between the Motos. You can learn more about PR2 by visiting www.pr2racing.com.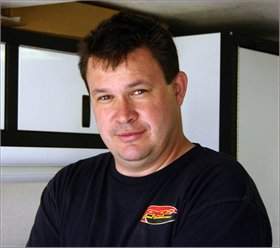 Chris Durham heads the suspension division of PR2 Racing
photo: Kara Hartman

Racer X: Chris, first of all, what is PR2 Racing?
Chris Durham: PR2 stands for Precision Racing Resources. We do high-end engine, suspension, electrical, carburetion, exhaust, and chassis modifications. We have two divisions based here in Pennsylvania, and one focuses on engine and one focuses on suspension and chassis.

Where exactly are the two shops located?
The suspension division is the one I head up, and we're located in Butler, Pennsylvania. The engine division is located out East in Quarryville and is headed up by my "absolute genius" partner, Jeff Peinhardt.

How did PR2 get started?
Well, it got started by accident [laughs]. Jeff and I both had a real passion for motorcycling, and we both had formal technical backgrounds. We started experimenting with motorcycle modifications just as a hobby because we loved doing it. We did it for ourselves and for our friends, and we've been doing it for a long time. We ended up helping out some pretty high-profile people that were struggling, and we were able to provide solutions for the problems that they were having, so we finally decided that this is what we wanted to do. Jeff and I worked for two technology companies that were outside the industry, but because of our passions for motorcycling, we decided to come together and formally started offering our services to other people in 1999.

Since then, it seems your company has really grown in to one of the foremost aftermarket modification companies in amateur motocross. We're deep in to the 2006 season already, so tell us where you've been so far this year.
Everywhere! I've been to Texas and Vegas covering the amateur nationals. You know, when we set out to do PR2, our plan was to be the provider of works-level parts and services for amateur racers. An amateur racer that wants the best available – that what we set out to be. We're not a cheap shop, and we don't want to be recognized as a cheap shop. We're not the inexpensive guy. Our goal is to be the best at a fair price, but along with that, our target was to build relationships with the manufacturers at the amateur racing level, which has allowed us to be exposed to new technologies and the best riders in the ranks. So we truly have the best test riders riding all of the stuff that we do. The average guy at a local race on any given weekend, if they come to us for a solution, chances are that it has been developed by some really great riders at the top level that are riding the same machine as they are, not Ricky's bike.

So being head of the suspension division, what is your background and qualifications?
Jeff and I both have backgrounds in mechanical engineering, hydraulics, and manufacturing.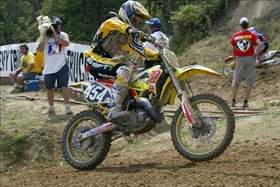 Suzuki factory rider Broc Hepler used and endorsed PR2 products throughout his amateur career
photo: Steve Bruhn

We talked to you at Steel City a couple weeks back and you flew straight from the World Mini Grand Prix in Las Vegas to that race to support your two sons, Darryn and Shane, who have both been doing really well lately. Are you happy with their progress in racing?
Yes, I'm happy. But because I'm so busy with our business, I really don't have the time to spend with them. And if I didn't have a lot of really good help from a lot of really good people in the industry, like Jeff Cernic at Cernic's Racing, I couldn't do it. A lot of people probably think that they have the greatest stuff in the world, but it's actually not as good as it could be because it doesn't get the attention because I don't have the time to do it. But I really want everyone to know that what we offer isn't slighted to anyone that has to race against any of our sponsored riders or my own children. I think some people may think that, but that would just be bad business for us. But my boys are quite handy when we need to develop or test new products. I really don't like to be a bragging parent, but they're doing a good job. They're earning and working hard for what they get.

What are your goals for your two sons?
Well, I'm really tainted by a lot of the people that I deal with every day. Some of the people with the insane obsession for their kids to be the next Ricky Carmichael – it's real; there are lots of them out there that will stop at nothing. Dealing with some of those people on a daily basis makes me not want to be one of those people. But on the flip side, I've gotten to work with some of the best amateur riders who are now some of the top professional riders. I got to work with them when they were on minibikes. The way we work with our top riders is that we have a very personal relationship with the entire family. You get to know the family, and you get to know how they develop their racers. I learn from them.

And some of the top riders you've worked with in the past include Broc Hepler, Jason Lawrence, and Ryan Sipes, to name a few. So who are some of your top riders these days?
Well, from the time Nico Izzi was on a 65 'til 2006, he was with us, but we just had a mutual parting of that relationship. But he has won over 20 national championships using our stuff, but it was time for both of us to move on. We have Ian Trettel, Jason Anderson, Adam Cianciarulo, Blake and Tyler Wharton, and Shawn Rife. I just hate naming names, because I know I'll probably forget someone, but I don't mean to. But we won 13 out of 30 titles at Loretta Lynn's last year, and we had 27 riders on the podium, and that took many great racers using our equipment to accomplish that.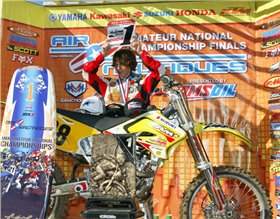 Current Rockstar Suzuki rider Jason Lawrence used PR2 to capture two B-class championships at Loretta Lynn's in 2004
photo: Steve Bruhn

Well, that's definitely the best measuring stick of all the amateur races.
Yeah, that's the one that counts. But we're at every one of the major amateur races, and it's just something we decided to do, so we're following through with those goals.

Where did your passion for racing come from? Did you race yourself?
I've raced since I was a kid. I raced local A class, and I won some District 5 A-class championships. I came up through just like everyone. I rode some pro nationals, qualified for a couple, but I was never that good. I just enjoyed it as a hobby. I'm 40 years old now, but from the time I was in my early 20s, I had a very good career. I didn't aspire to be a professional racer – I just raced because I could afford it and I enjoyed it. I kind of had a different motivation than other people.

So why did you finally decide to call it quits?
Well, I just wanted to support my kids' racing and devote my time to the business. Heck, I don't even have time to eat right anymore. But I will say this: I had the guys at Answer Racing send me some riding gear, because I am going to start to ride. I decided I gained too much weight, and I'm not going to go on some exercise program or going to the gym – I'm just going to grab one of the boys' bikes during the week and ride a little bit. And I told Jack Mills that I'm going to go riding with him. But I picture myself flying off the bike if I jump. That's my mental picture, but I'm doing it anyways!

Hopefully, that doesn't happen, Chris. Before we wrap it up here, do you have any goals? Will we one day see PR2 having a professional race team like Pro Circuit?
We will when we're ready, but we won't 'til we are. When we decide we're going to go there, we're going to go in to do well, and we're going to be prepared. We're just not ready yet, and we're not going to get egg on our face by being unprepared. It's really easy to fail, so I'm just going to tiptoe on that one

If someone wants to maybe get sponsored or they want to contact PR2, what's the best way to go about that?
Sponsorhouse.com is the best way, but you can always e-mail us through our website, www.pr2racing.com, or give us a call.