Bench Racing Ammo: SX Scenarios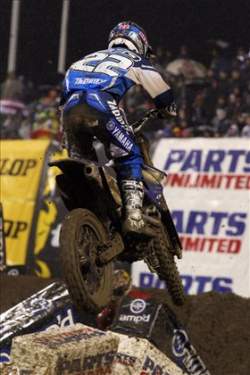 Yamaha's Chad Reed gutted out a fifth-place finish in San Francisco and salvaged his chances for the AMA championship
photo: Matt Ware
Who would've thought that throughout 14 rounds of AMA Supercross racing that the top two in the overall standings would only be separated by two points? TWO POINTS! And the third-place rider is only 10 points out of first! Well, the first complete season of the "perfect storm" is almost in the books, and what a season it's been.
What's it going to take for Makita Suzuki's Ricky Carmichael to capture his fifth AMA Supercross championship? After a costly mistake in Dallas and a sixth-place finish, RC now has Yamaha's Chad Reed hot on his heels and ready to pounce.
But before we get in to the different scenarios that have to happen in these two remaining races, let's give credit where it's due: Chad Reed. He has ridden through a third-degree separated shoulder and just never quit – even in the muddy conditions of the San Francisco SX. And each time Denny says that Reed's title hopes are finished, it seems to fuel Chad's fire even more. Seriously, who would've thought that, with two rounds left, Reed would only be two points down to Carmichael?
So, who is going to win the Amp'd Mobile AMA Supercross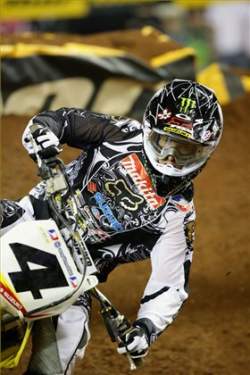 Prior to Dallas Ricky Carmichael had a 12-point lead. Now he only had a two-point advantage over Chad Reed.
photo: Simon Cudby
Championship? Let the assumptions begin. After 14 AMA races, it's pretty obvious who the single fastest rider is, but the fastest rider isn't the most consistent, and it's long been proven that consistency wins championships. Ricky and James have six wins apiece, but all of Ricky's wins came after Stewart had crashed. On the other hand, Reed has two wins, but both came when RC and James both crashed: St. Louis and Dallas!
First off, let's assume that Stewart wins the remaining two races, Ricky finishes second both times, and Reed finishes third. Stewart will finish the series in second with 336 points; Ricky will finish with 340 total points and win his fifth SX championship; and Reed will finish third overall with 334 points. What if Ricky goes 3-3, Reed 2-2, and Stewart 1-1? Reed beats Stewart by two points, and James ties Ricky but clinches second based on most wins. And what if it's 1-2-3 James, Chad, and Ricky, then 3-2-1? Still RC's title.
As we've seen this year, anything can happen, but that scenario probably will not. But no matter what does happen, it's going to take a minor miracle for Stewart to win the AMA championship. But as far as the World Supercross GP standings go, James is in control of that series and will likely win it, joining Carmichael, Heath Voss, and Chad Reed as champions of that international series.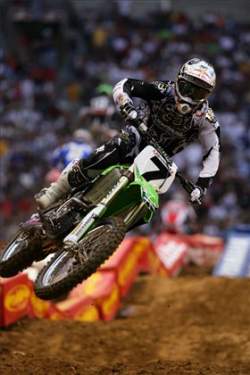 Kawasaki's James Stewart is leading the Amp'd Mobile World Supercross GP points but is 10 points down in the AMA series.
photo: Simon Cudby
And with this ultra-competitive season that we've had, it's interesting to note that no rider this year has won more than three races in a row. It may seem that it's been a while since this has happened, but in 2004, neither champion-to-be
Chad Reed
nor
Kevin Windham
was able to string together more than three consecutive wins. And even more amazing, back in the '97 season, no rider put together two consecutive wins!